Well by affordable, I do mean relative to the other celebrity restaurants at Marina Bay Sands. The recently opened Long Chim takes the space that was formerly Guy Savoy. The thing that struck me most when I first heard that Bangkok based Michelin-Starred Australian chef David Thompson would be opening a restaurant in Singapore, was the rather unflattering name of "Long Chim". Long Chim means "come and taste" in Thai, which is the restaurant's invitation for you to come and try out its street food inspired Thai dishes.
I'm afraid my photos don't do justice to the food this time round, as the restaurant was dark and bathed in yellow hues. You're best checking out the mouth watering dishes on the Long Chim website itself.
Our friend from the UK was in town, and we were torn between impressing our friend with the Chinese cuisine at 9Goubuli (also at MBS) or checking out something new, ie Long Chim. Turns out said friend is a fan of Thai food, so the choice was easy. Interesting to note that the English are more used to spicy food, as compared to say the New Zealanders, probably due to the large population of Indians and Pakistanis.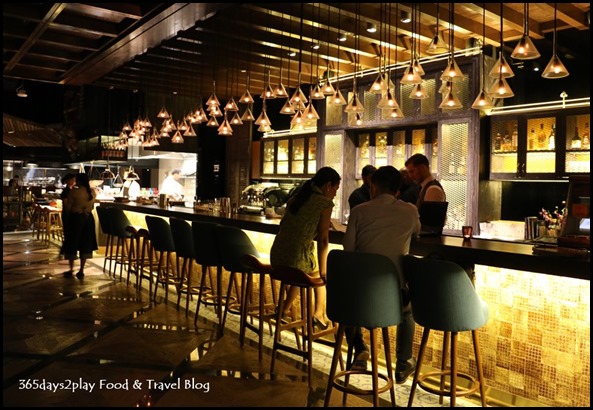 Long Chim boasts a very impressive entrance, despite its humble motto of featuring street food inspired cuisine. The wait staff will ask you if you're going to have a drink first or head straight to dinner, which reveals David Thompson's roots.  We took a long time to decide on the dishes to try because the menu is just 2 pages long, with the 1st page being more of single pax dishes type.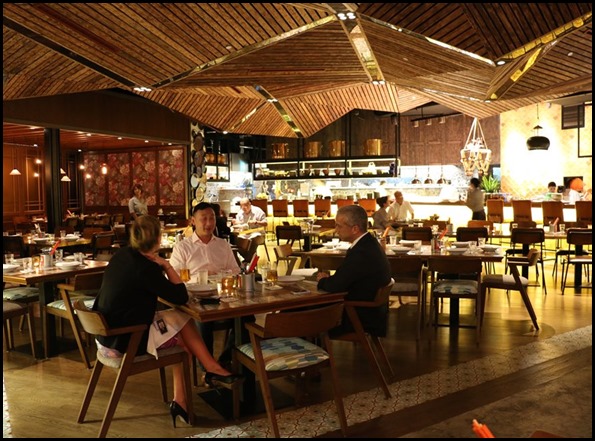 Recently awarded the No. 7 spot on San Pellegrino's Asia's 50 Best Restaurants 2015 and 13th on World's 50 Best Restaurants 2014 for his restaurant in Bangkok, Long Chim is Chef David Thompson's first venture into casual dining. At first glance, the menu seems affordable, as most of the dishes are around $20+. But then again, it's comfort food in casual plating that we're talking about, even if the food does please in general.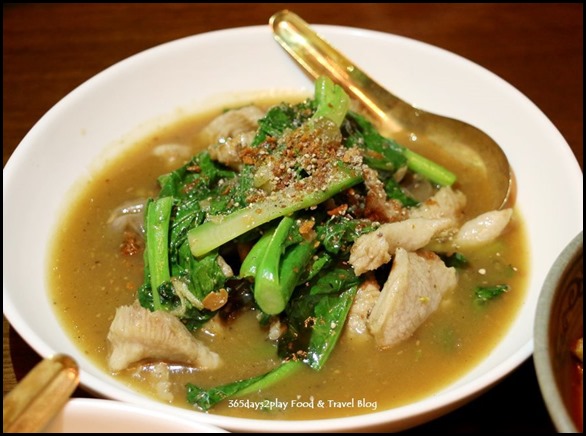 Charred rice noodles with pork and yellow beans $24
This dish was excellent. The pork was supremely tender, the vegetables crunchy and the sauce appetising. The only thing is that we should not have ordered this as a main meal, as the noodles were wasted on us, since we were also sharing rice.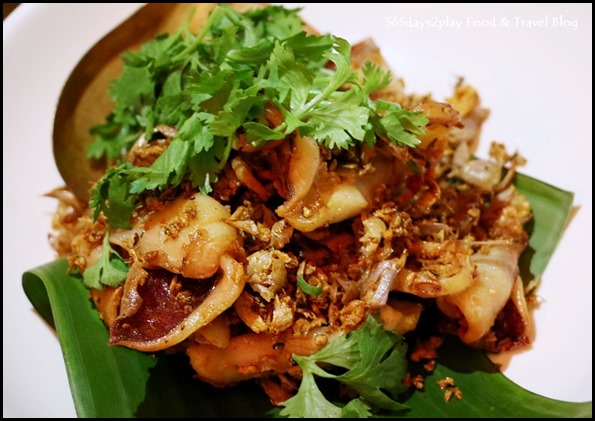 Deep-fried sun dried squid, garlic and peppercorn $26
Again, another really delicious dish. The squid had a really nice bite to it, and the fried to a crisp garlic and peppercorn gave the requisite heat and slight bitterness. I kept going back for seconds!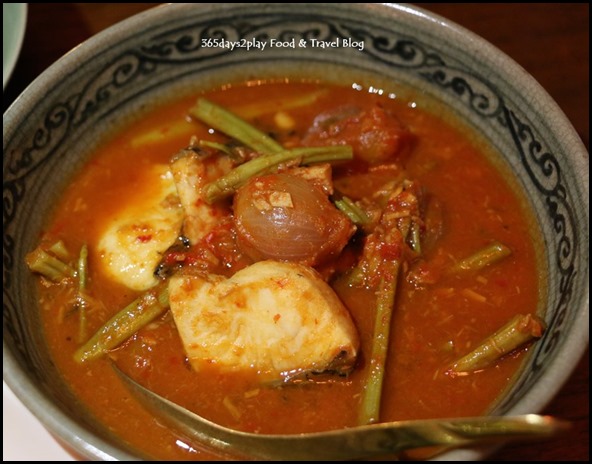 Sour orange curry of snakehead fish with water mimosa $26
This dish didn't go down so well with us. At first, sour curry sounded interesting, but it turned out to be something similar to "Assam", or the watery soury spicy soup thing as we know it. We were hankering for real curry and this did not hit the spot. The curry was also too soury. The only saving grace was the tender pieces of snakehead fish.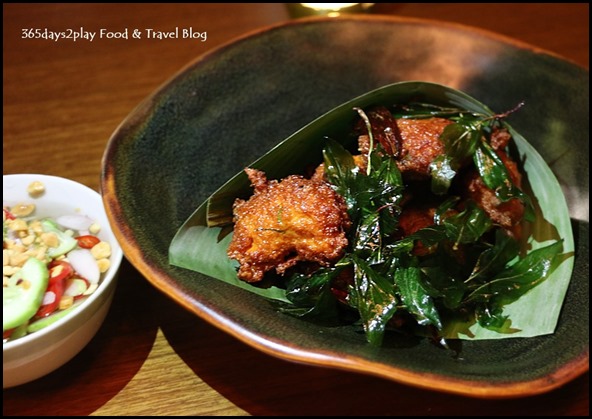 Fish Cakes $16
We ordered the fish cakes to share and these were very good. Some fish cakes taste bland, but this had a distinct flavour. I'd highly recommend this!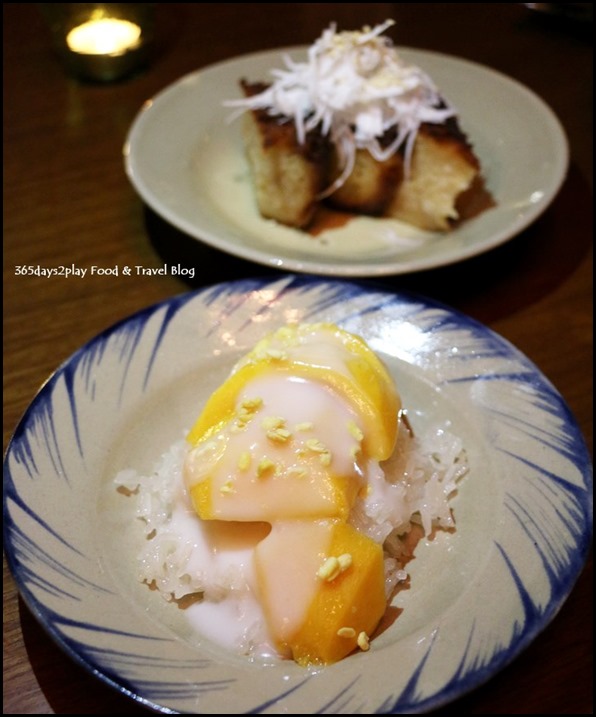 Mango and sweet sticky rice $13
Stuck to my favourite Thai dessert, and was rewarded with sweet soft mango slices on sweet sticky rice. Double the price of what you can get outside though.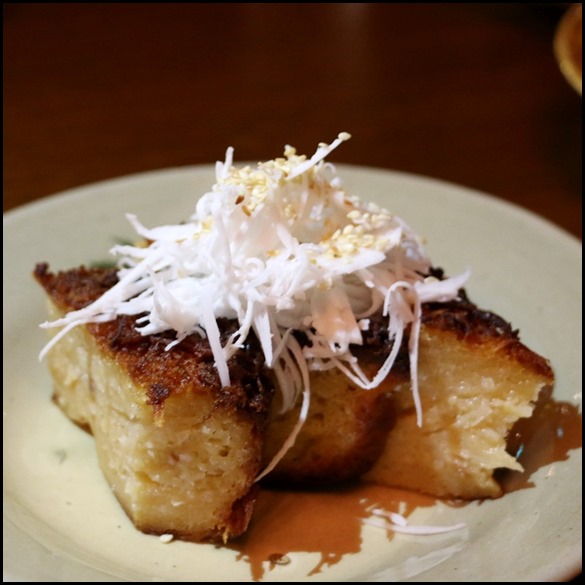 Coconut Cake $12
And lastly, our UK friend had the coconut cake. I had a teeny weeny bit of the cake but didn't notice the coconut flavour really.
---
Add me on Facebook, Instagram and Twitter if you want to be kept up to date with the latest happenings in the food and lifestyle scene in Singapore!
Other places to eat at Marina Bay Sands
---
Long Chim
#02-02, Casino Atrium 2
The Shoppes at Marina Bay Sands
10 Bayfront Avenue
Singapore, 018955