Catalunya's Weekend Brunch Buffet is like no other that I've ever experience! It's rowdy, it's fun, it's sensational, it's fantastic! If you think you've seen one buffet and you've seen them all, Catalunya's Weekend Brunch Buffet will change your mind!
Let me tell you five facts about Catalunya's Weekend Brunch Buffet that sets it apart from the others, culminating in the show stopper….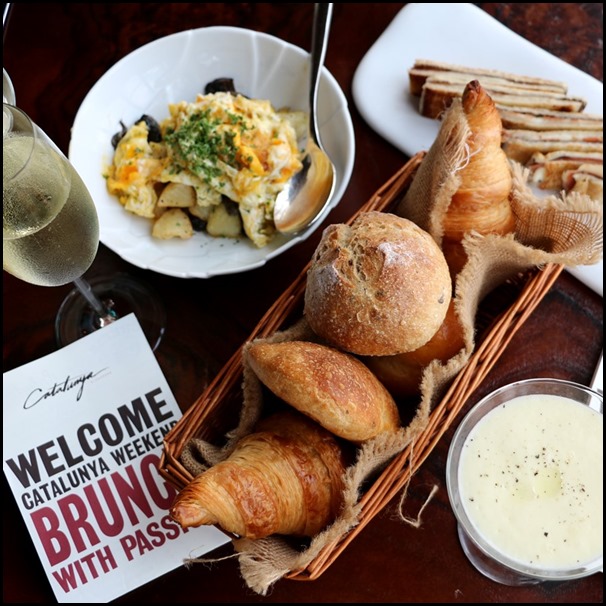 1. It's a Spanish inspired buffet
Are there any other Spanish buffets out there? There certainly are a number of Italian ones, as well as International ones, but none that are Spanish focussed.
2. Appetisers Galore
The array of appetisers is mind boggling. The Chacuterie section comprises numerous types of smoked meats such as the much sought after Iberico hams. There is even a whole bowl of steak tartare, which is one of my favourite things. The fish section comprises things like smoked salmon, hamachi with ponzu sauce, sardines and even anchovies. Yes I did say this is a Spanish buffet. And at last count, I saw 7 different types of salads.
I for one normally spend the bulk of my time at the appetiser section when I go for buffets as I love all the raw or smoked meats. They're not things you can get easily when you dine ala-carte, at least not in this variety. So this buffet is really heaven sent!
3. Buffet line has no mains???
After you have surveyed the buffet line, you will find there are no mains laid out! That's because the mains will be served to each table around 1.30 pm. What a fantastic idea to do away with the perennial problem of how to make the mains still taste moist, tender and fresh when it's been sitting under the warmer forever.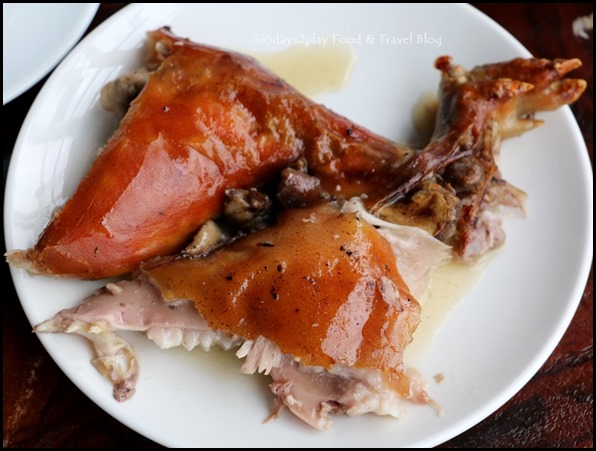 The suckling pig is surely the highlight of the mains, and really the best that I've ever eaten. So tender you don't even need a knife, and the crackling, oh my, wafer thin and glistening with oil!
4. Fabulous Views
At Fullerton Pavilion, it's as if you're dining on water. And you get to enjoy the views of the iconic Marina Bay Sands. Need I say more?
5. It's a rowdy and passionate affair
For this, no amount of words can do justice. You have to watch the video near the end of this article to see for yourselves!
Scroll down to check out the photos!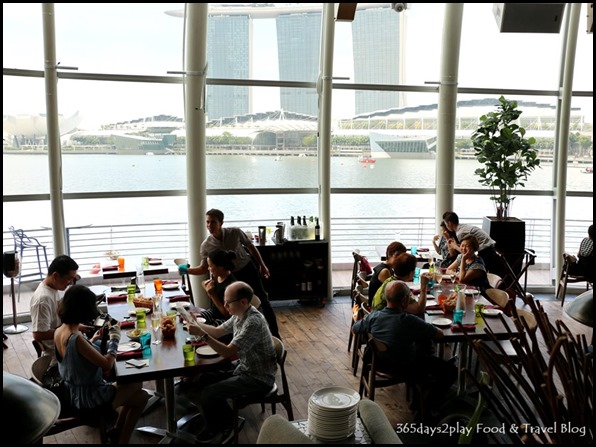 Amazing views of Marina Bay. We were there last weekend while the Sea Games Traditional Boating race was going on, hence the boats in the background.
~~ Made to Order Brunch Dishes ~~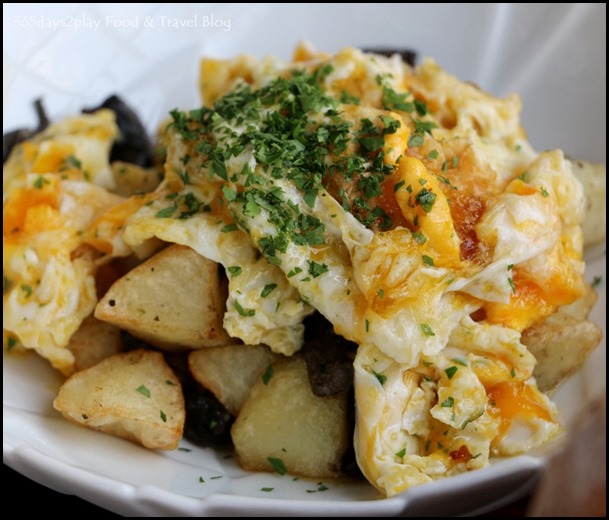 Estrellados : These scrambled eggs on bed of potato with choice of ham, chorizo or mushrooms were fantastic. Fluffy and tasty! You can get them fried simply, but I highly recommend scrambled!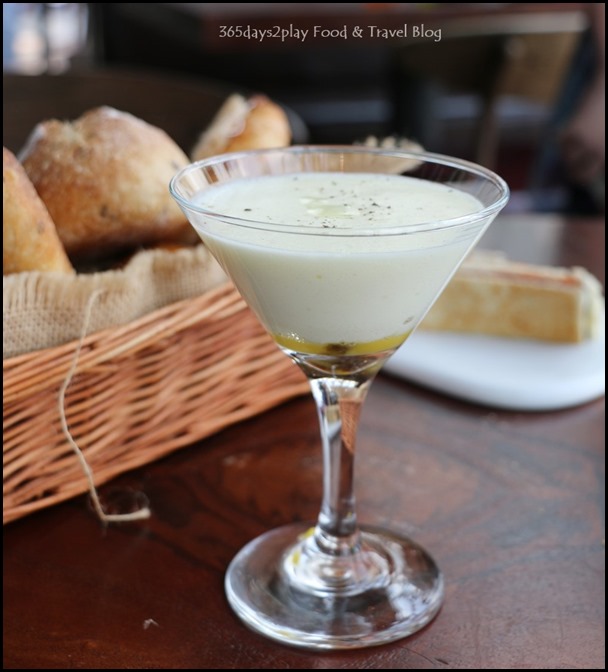 The Other Spanish Omelette : Yes this doesn't strike you as an omelette, but once again, amazing flavours from the potato foam, egg yolk and caramelised onions. You're supposed to mix them all together and enjoy. If I didn't have to leave space for all the other items, I surely would have finished the entire glass.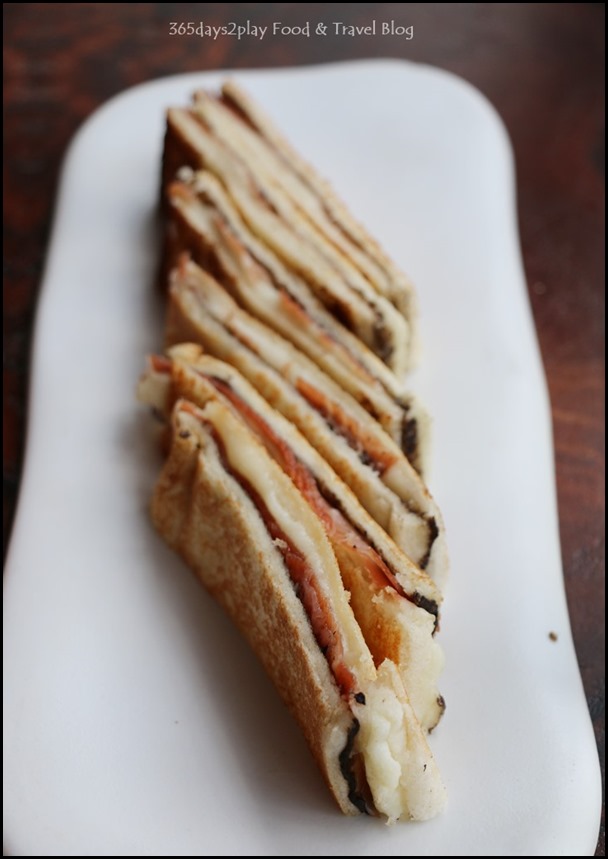 Bikini Sandwich, comprising Iberico ham, cheese and truffle. You don't always need a sky high sandwich to wow the crowds.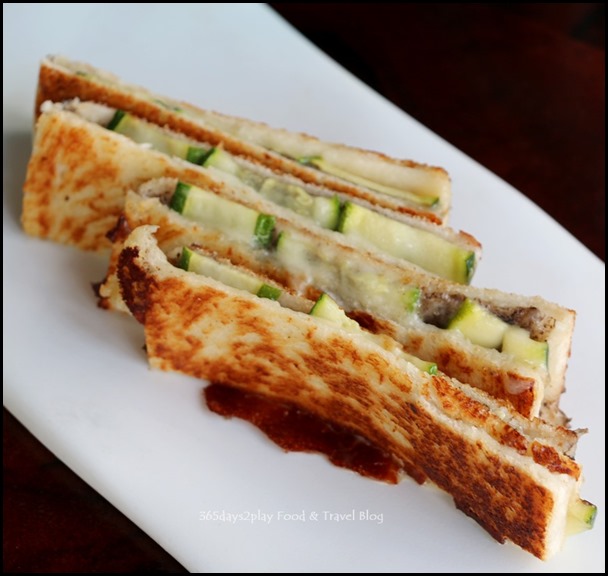 Vegetarian version comprising zucchini, cheese and pesto
~~  Charcuterie ~~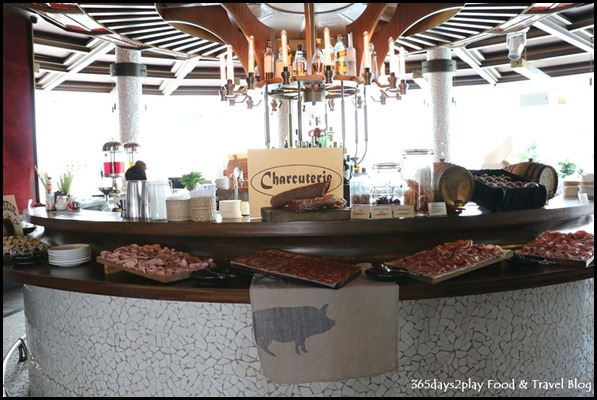 Cold cuts, smoked meats galore!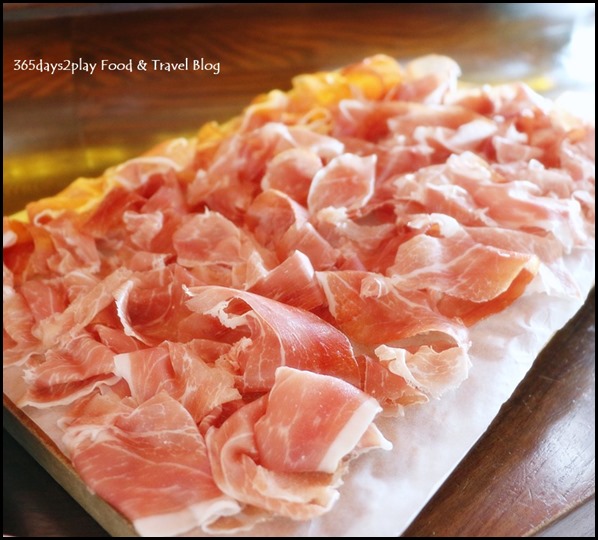 Iberico Spanish Ham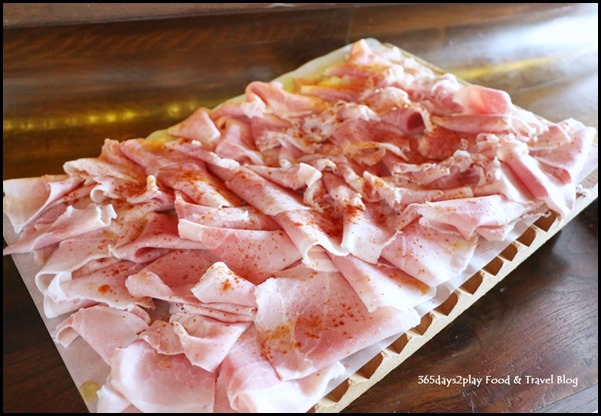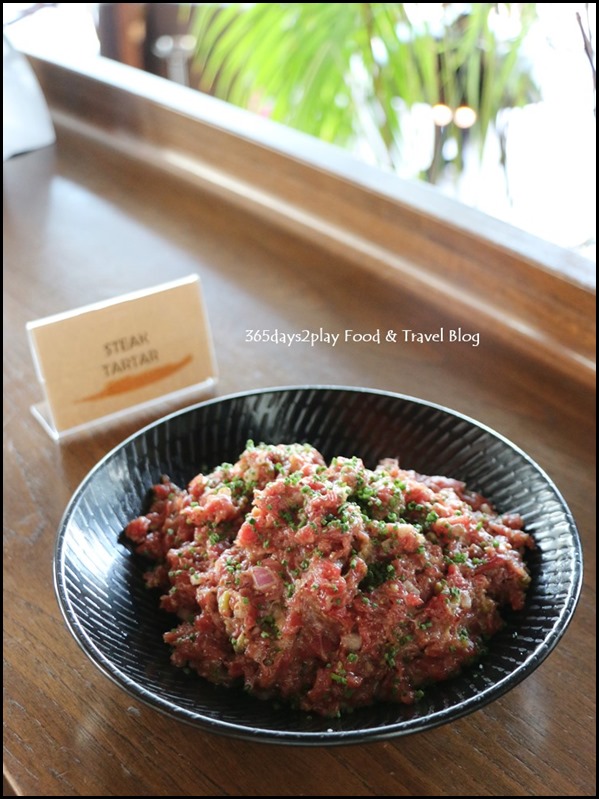 Steak Tartare, one of the loves of my life. One patty size of this could cost you $30 or more in other establishments.
~~ Fish ~~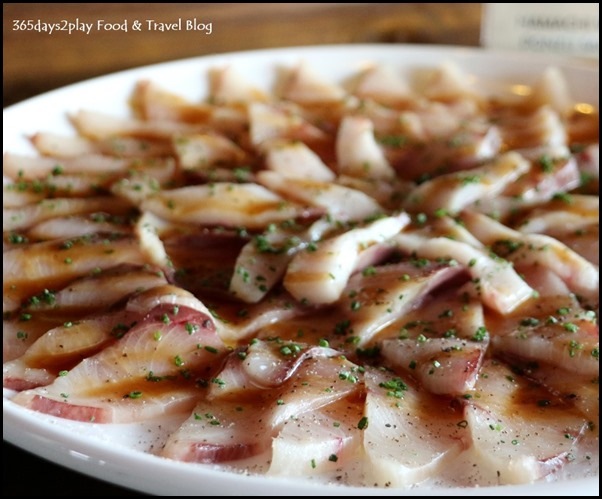 Hamachi aka amberjack in Ponzu Sauce. I'm salivating as I'm writing this!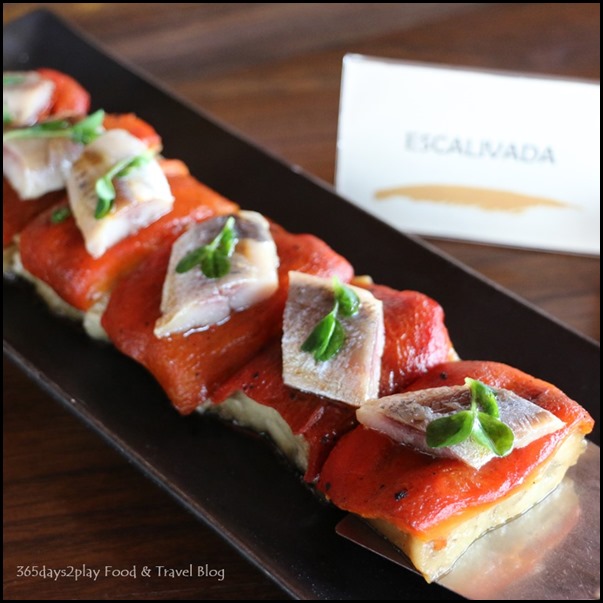 Escalivada — Not quite sure what this is as I didn't try it, but I believe the highlight is the grilled veggies.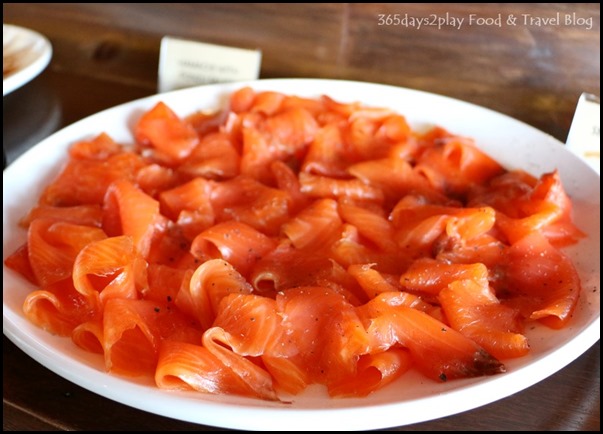 Smoked Salmon, self explanatory
Anchovies, yes. It's a Spanish buffet!
Sardines too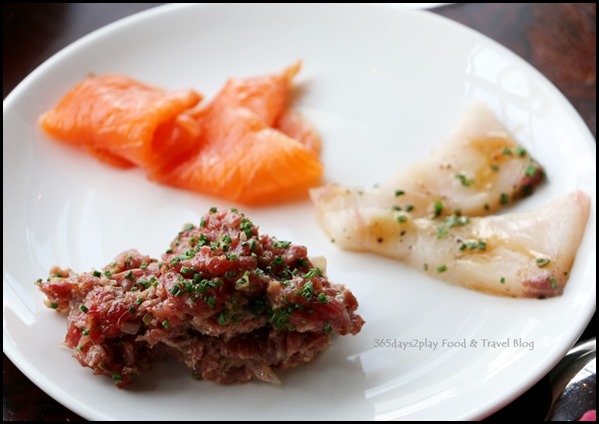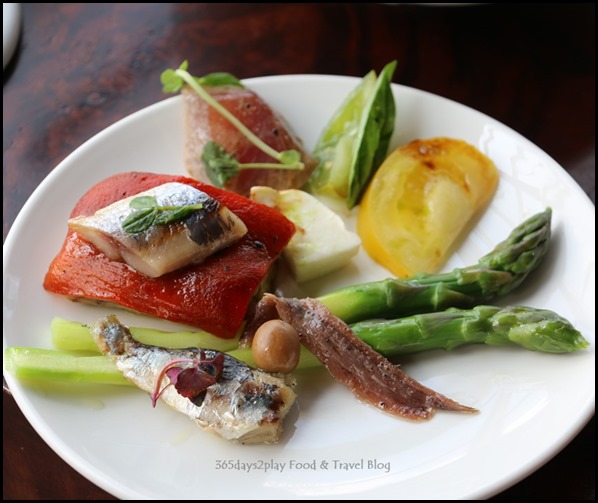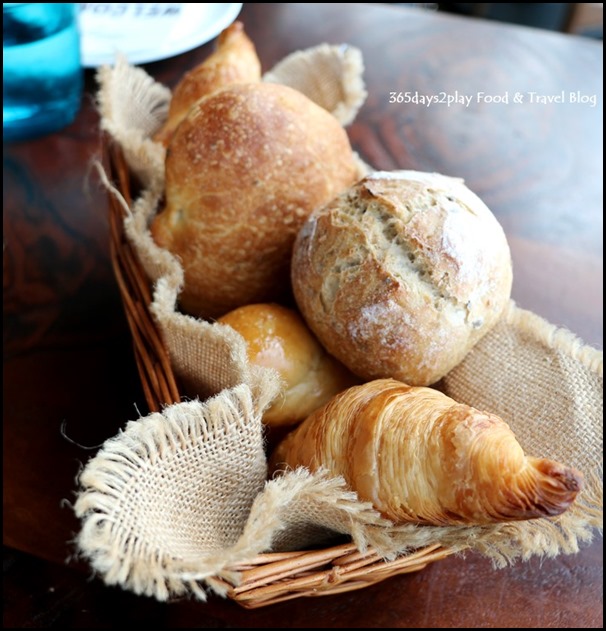 Well so what do you do with all those smoked meats and fish? You're supposed to enjoy them tapas style with the fresh breads provided!
~~ Salads ~~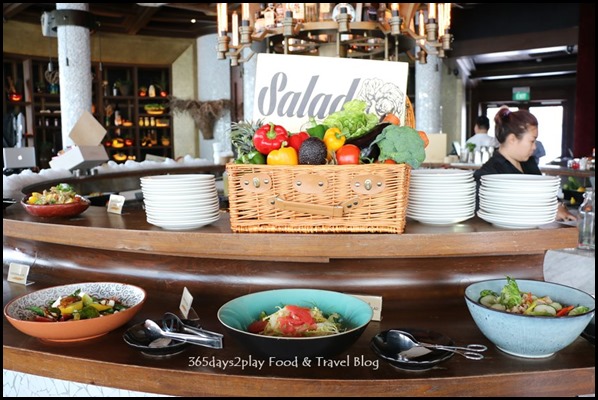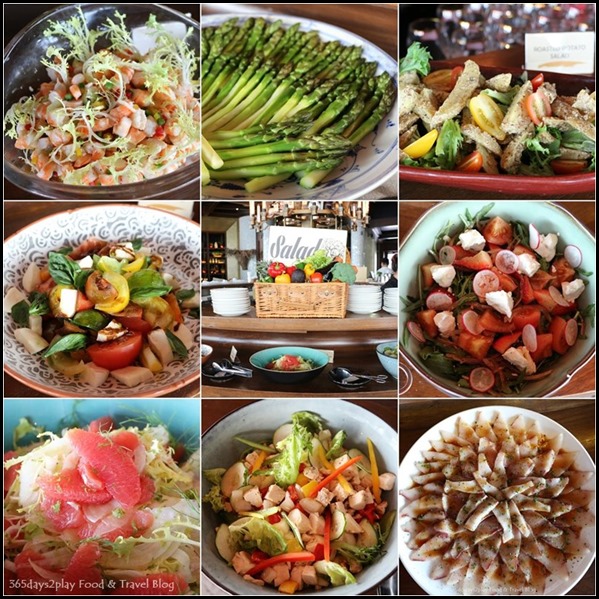 Oh lord, the Spanish do love their salads don't they. There was a total of 7 different types of salads on offer ranging from the ever popular Caprese to prawn salad, chicken salad, potato salad and grapefruit fennel salad. There's an imposter in this picture above, can you guess which?
~~ Hot Main Courses ~~
There will be 3 main courses of the day that will be served directly to the table at around 1.30 pm, which means you better not be late or going to the toilet at that hour! The suckling pig Segovian style and Paella are mainstays, whereas the catch of the day will be dependent on what fish is freshest that day.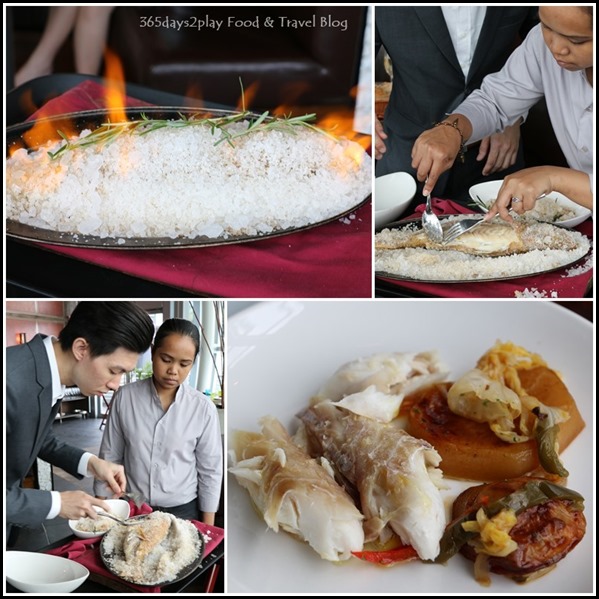 Here's the Salt-Baked Catch of the day flambéed with finesse at the table.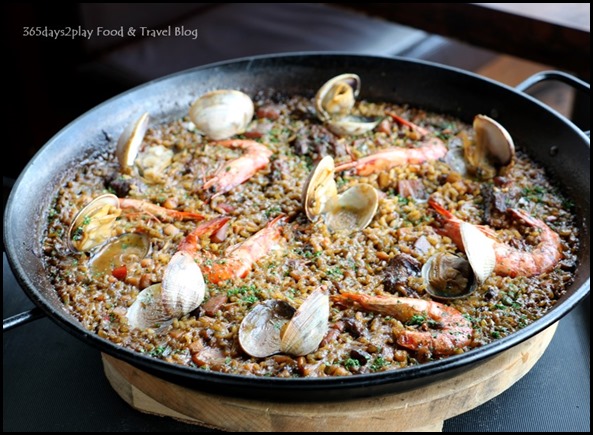 And the seafood paella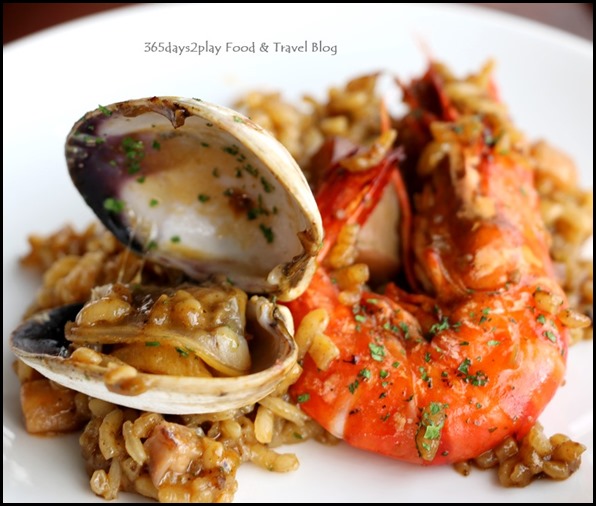 Close up shot of the clams and prawns. One of the best paella I have eaten, it has a very intense flavour, with an almost alcoholic undertone.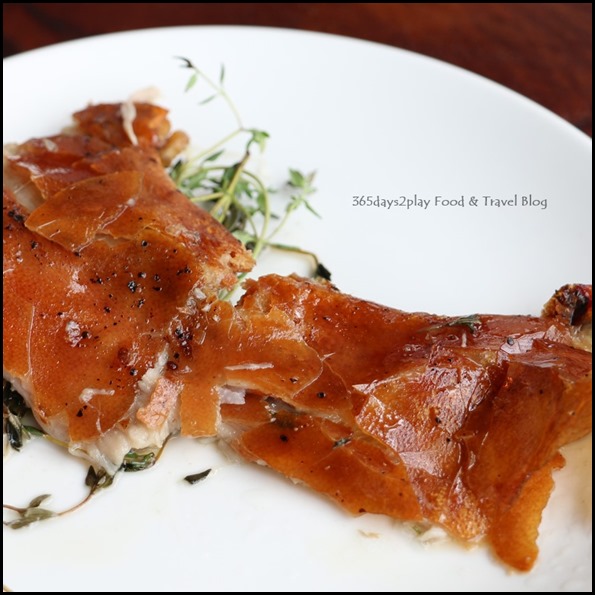 And last but not least, the amazing Segovian Style suckling pig that you'd be an idiot to miss! Look at the wafer thin skin and the cracks on it! This is the stuff of dreams.
Teaser alert : You have to watch right to the end where they do something special!

~~ Desserts ~~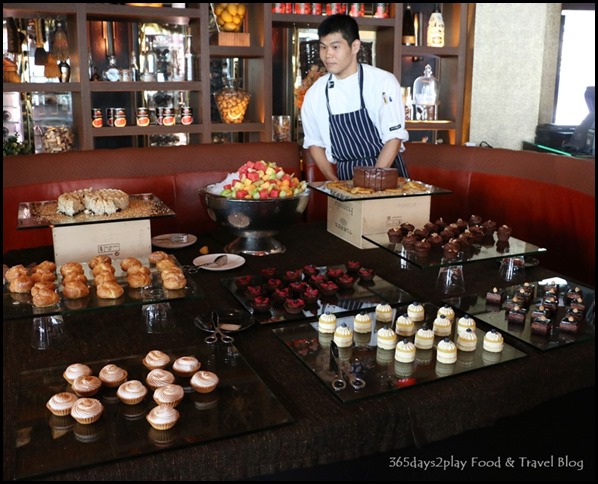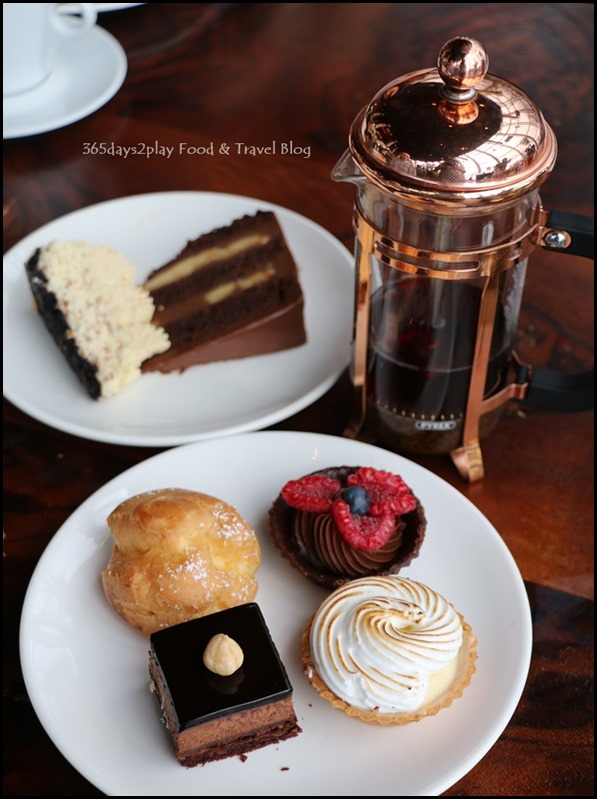 Normally I would have taken a ton of dessert photos, but truth be told, I was so concussed with the earlier courses that I could hardly move. Still, I managed to try the lemon curd tart and the chocolate tart which both tasted very good. I particularly liked the buttery and thin tart bases. In my opinion, a good tart always starts with a good tart shell. Love the copper coloured French press, looks so classy!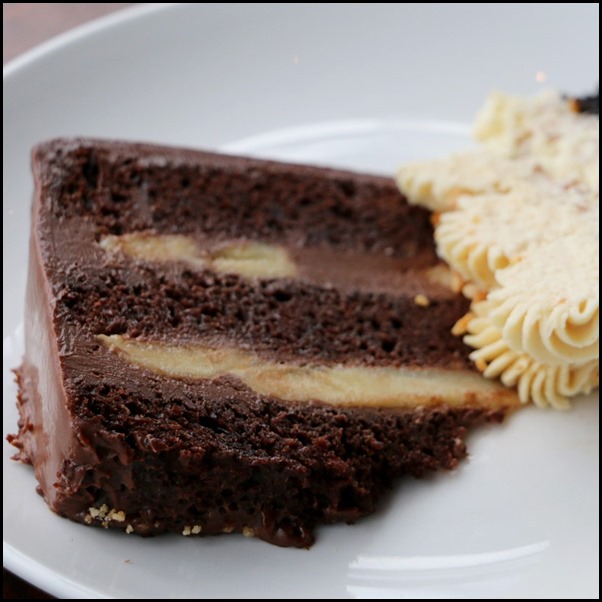 Close up shot of the decadent chocolate cake for good measure.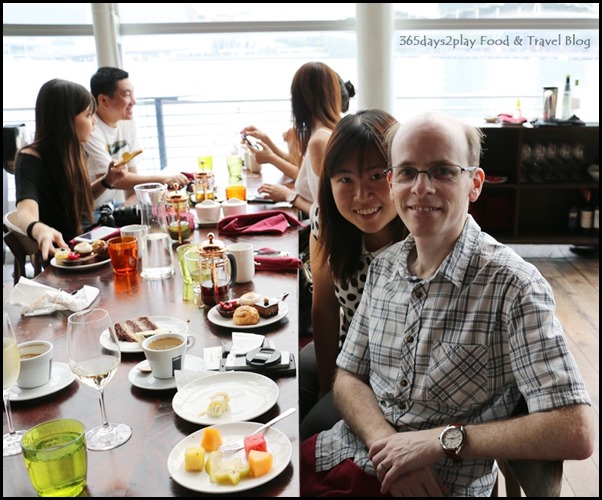 I have to hide behind my husband because I'm close to bursting.
---
Add me on Facebook, Instagram and Twitter if you want to be kept up to date with the latest happenings in the food and lifestyle scene in Singapore!
---
Catalunya Singapore
The Fullerton Pavilion, 82 Collyer Quay, Singapore 049327
T: +65 6534 0886
E: reservation@catalunya.sg
W: www.catalunya.sg
$98++ per person including fruit juice, additional $48++ for free flow alcohol, coffee and tea
$40++ for kids between 4 and 9 years old
Free of charge for children below 4 years old
Catalunya Weekend Brunch with Passion is available on Saturday and Sunday from 12.30pm to 3.30pm
On the last weekend of each month, Catalunya will host our Weekend Bingo Brunch where two customers will get to return for Brunch with compliments.