BBC Celebrity Chef, Rachel Allen, returns to our TV screens on BBC Lifestyle (Starhub Channel 432) with a new series  ̶  Rachel Allen: All Things Sweet  ̶  as she indulges in her passion for delectable desserts. From impressive afternoon tea goodies to irresistible treats for the little ones, Rachel Allen: All Things Sweet will entice you to rediscover the joy of baking.
I've been watching Rachel Allen on the BBC lifestyle channel for a number of years now as I love the style of her cooking programmes and of course her spacious kitchen. So it was quite surreal to be able to meet her up close and personal, and even share a baking class with her, as we did a couple of weeks ago at Palate Sensation.
Rachel Allen looks every bit like she does on TV and I love her accent! She is one of the friendliest chefs I have met, not at all scary and unapproachable like how you would imagine famous chefs to be. It's even more interesting to watch her programmes now and I can point out "HEY I know that lady!"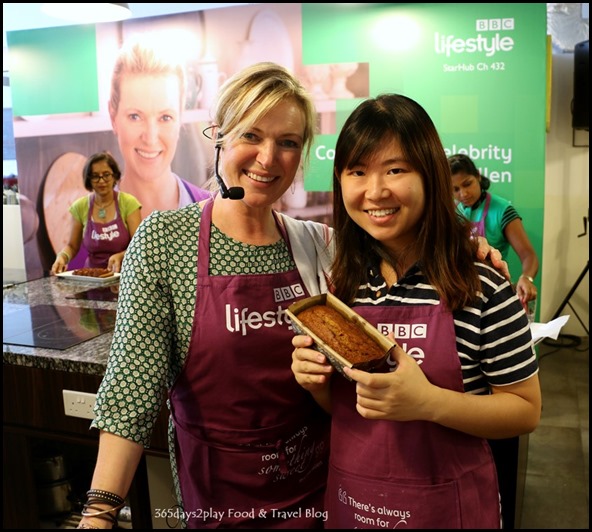 For our masterclass, we were taught to make 2 items:
Chocolate Peanut Brittle Butter Cookies
Banana, ginger and golden syrup bread
The banana bread I was confident of producing a decent product as I have baked before. But I have never made peanut brittle nor even thought of making any, so I was really keen to learn. After making the brittle, I found it so simple that it's ridiculous. Never going to pay $10 for peanut brittle ever again! Before I dive into the recipes, here are few more pictures of the masterclass.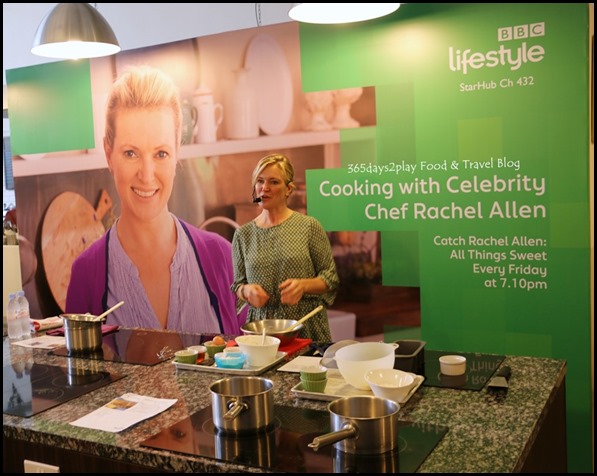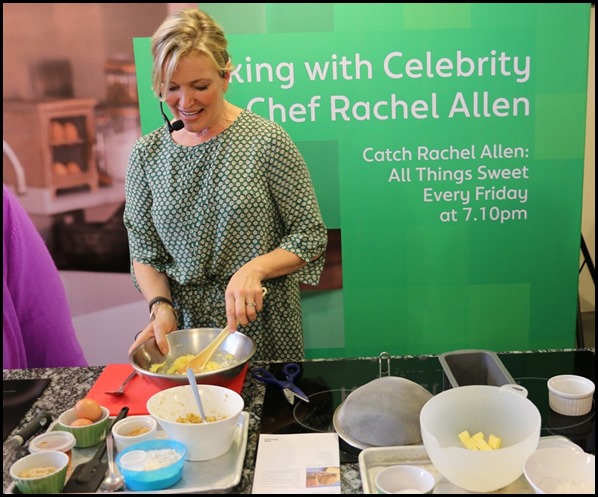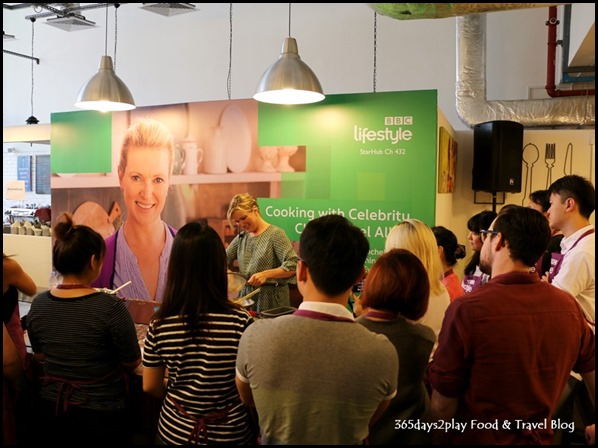 Everyone all ears as the masterchef demonstrates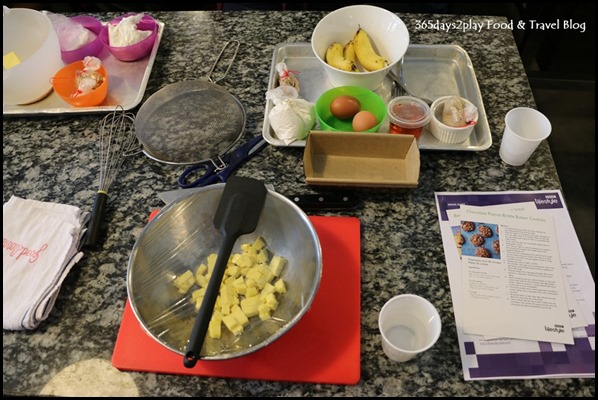 OK here are all the ingredients that are needed to make the Chocolate Peanut Brittle Butter Cookies and the Banana, ginger and golden syrup bread
Recipe : Banana, Ginger and Golden Syrup Bread
110g butter
50 g soft brown sugar
125g golden syrup
2 eggs
125g plain flour
2 tsp baking powder
2 tbsp ground ginger
2 medium bananas, mashed (the Del-monte/Cavendish bananas size)
Preheat oven to 180 degrees celcius
Line the base and sides of the baking tin with baking parchment
In a bowl, cream butter until soft, then beat in the brown sugar and golden syrup
Beat in eggs one at a time. The mixture will look sloppy and curdled, but don't worry
Sift in the flour, baking powder and ginger and fold together
Mix in the mashed bananas to form a soft, wet, dough
Pour into the loaf tin, place in the oven and bake for 45 minutes or until risen and golden brown
To test, insert a skewer into the centre and ensure it comes out clean
Serves 8.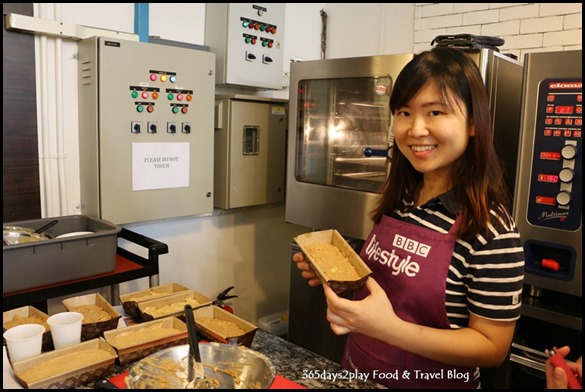 Here's how my batter looked like before it went into the oven. Surprising the difference between the various batters. Some were darker, some were lighter, some were very clumpy. It's surprising because the ingredients were all measured out for us already and all we had to do was to assemble them! But for a simple bake such as banana bread, any difference in the batter usually evens out in the baking and isn't very noticeable when eaten.
Recipe : Chocolate Peanut Brittle Butter Cookies
For the peanut brittle
40g caster or granulated sugar
40g salted peanuts
For the cookies
150g plain flour
50g caster or granulated sugar
100g butter, softened
To finish
100g milk chocolate in drops or broken into pieces
To make the peanut brittle, first line a baking tray with baking parchment and set aside
Place sugar in a frying pan and scatter the peanuts over the sugar. Place on medium heat, swirling the pan every so often to caramelise the sugar evenly. (It will seem like nothing is happening for a very long time, and suddenly the sugar will brown in seconds. Watch out for it or it'll burn soon after)
Cook until the sugar has completely melted and is a deep golden colour
Swirl the pan again so the peanuts are coated in the caramel, and transfer to the baking tray
Once cool and completely hard, break the brittle into tiny bits
Preheat oven to 180 degrees celcius
Put flour and sugar into a mixing bowl. Rub in the soft butter and bring the whole mixture together to form a stiff dough
Roll the dough into a log approximately 30cm long and 4 cm in diameter. Once done, cut into 7mm slices
Place on baking trays (no need to butter or line as the dough is already very oily) and bake in the oven for 8-10 minutes or until light golden brown. Allow to cool for 1 minute (so it doesn't crumble up) before placing on a wire rack to cool completely.
Once the cookies have cooled, melt the chocolate in a bowl.
Once melted, dip the top of each cookie over the chocolate, then scatter the peanut brittle over the chocolate and place somewhere cool to set.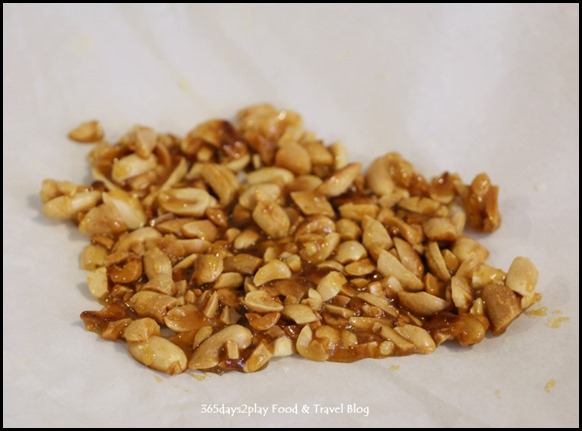 This is how my peanut brittle looked like before I chopped it up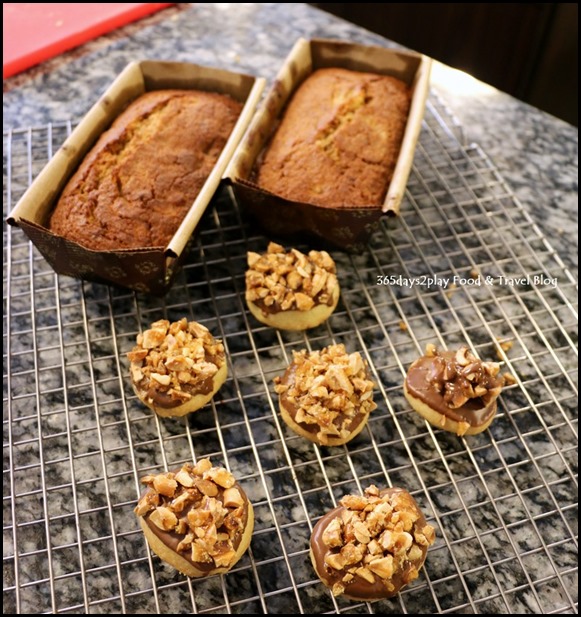 Voila! The finished bakes!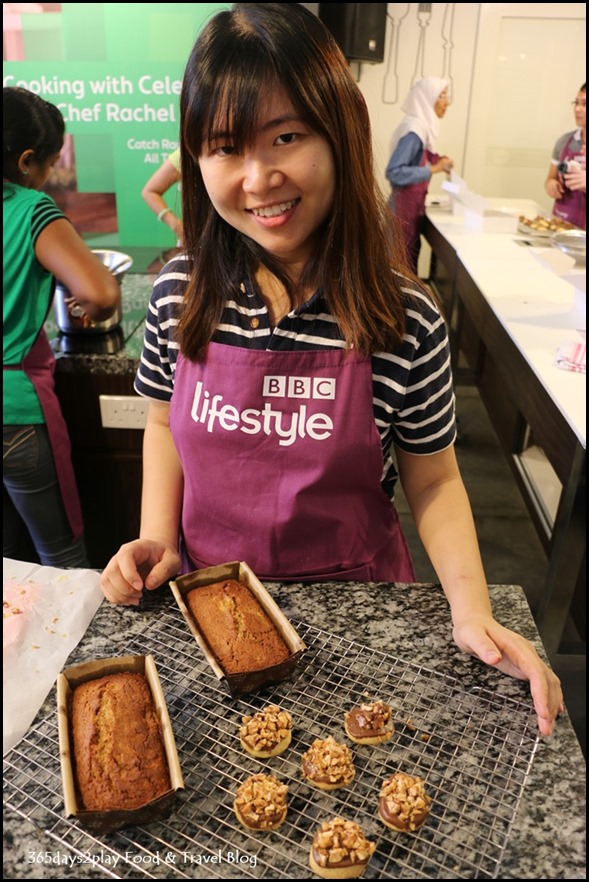 Don't forget to catch more of Rachel Allen's bakes and recipes on BBC Lifestyle Channel 432 on Rachel Allen : All Things Sweet (Weekends at 8.25pm)
---
Add me on Facebook, Instagram and Twitter if you want to be kept up to date with the latest happenings in the food and lifestyle scene in Singapore!
---