Even if you're not a wine drinker, it's still a good idea to visit a vineyard restaurant at least once while you are in Margaret River, or any other wine region around the world for that matter. As I can't drink wine for the moment, it hadn't really crossed my mind to put a vineyard restaurant visit into our itinerary, but it was great that we eventually did get the chance to visit simply for the views of the sprawling vineyard grounds. It's one thing to walk through the vineyards (which itself is a lovely thing to do), but there's a different experience to be had sitting and enjoying the views from a slight distance.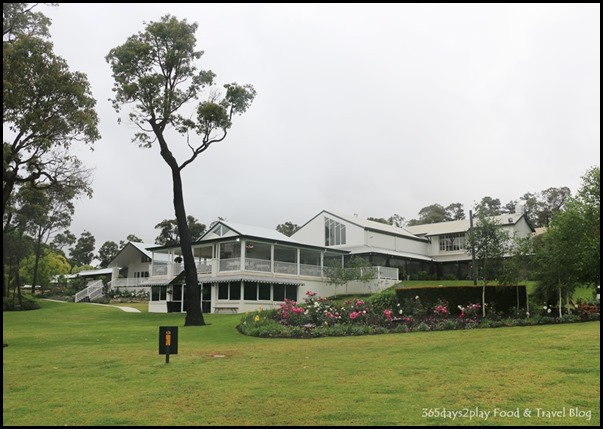 Aravina Estate is popular as a wedding location and we bumped into a wedding entourage when we were there on a Friday afternoon. Sorry no blue sky picture for you since it had rained earlier in the day. Can you believe it, for the 5 days that we were in Margaret River, it had to rain on the day that we were going out to sea? So glad to have this beautiful lunch to look forward to.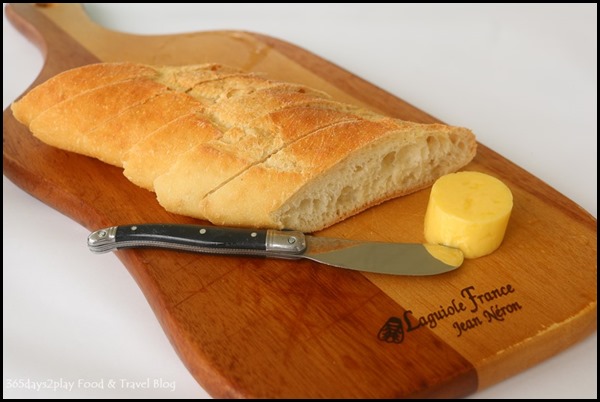 Warm crusty bread and French butter to perk me up and forget about my soggy shoes.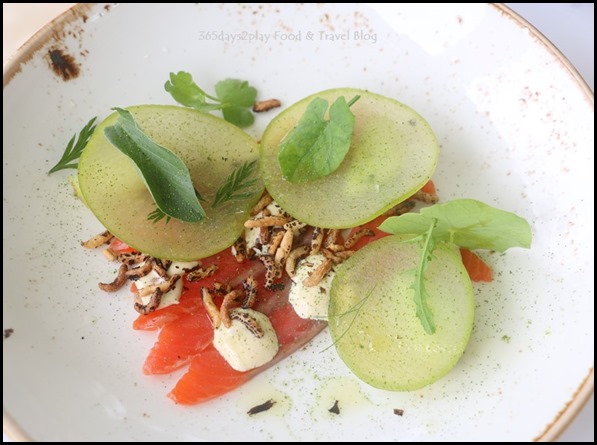 Citrus cured ocean trout, oyster cream, apple, burnt cucumber, celery
As you can see, all the dishes are beautifully plated and well curated, with ingredients sourced locally as far as possible. Loved this deep pink ocean trout, the slivers disappeared far too quickly! Didn't detect any citrus taste but I did notice that the trout was not as salty as when smoked cured. The sliced apples and puffed grains help to add a little crunch.
Braised ham hock, slow cooked egg, cauliflower, hazelnut crumble
I hadn't had slow cooked egg in EONS so I just couldn't pass up the chance to order this. A little too much going on in the dish if you ask me, but I still enjoyed the molten egg very much.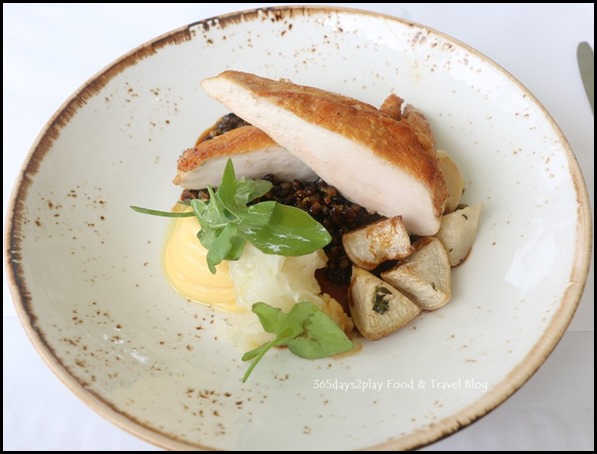 Slow cooked chicken, heirloom barley, turnip, smoked cheddar curd
In my haste to order the slow cooked chicken because it was slow cooked, I forgot to ask if it would be chicken thigh or chicken breast. I normally do not order chicken breast because I usually find it tough and tasteless, but thankfully, because it was slow cooked, the chicken breast was pretty tender. I do wonder though why the chef did not choose to slow cook thighs instead, because if you're looking to create the tenderest piece of meat, that would be the way to go? The smoked cheddar curd despite it's name, had just a faint hint of smokiness and did not help to elevate the mild tasting chicken breast. Also, its thicker than mayo consistency makes you wonder if it is meant to be a dip/sauce, or eaten separately. Interestingly, I did like the heirloom barley which had a nice bouncy texture.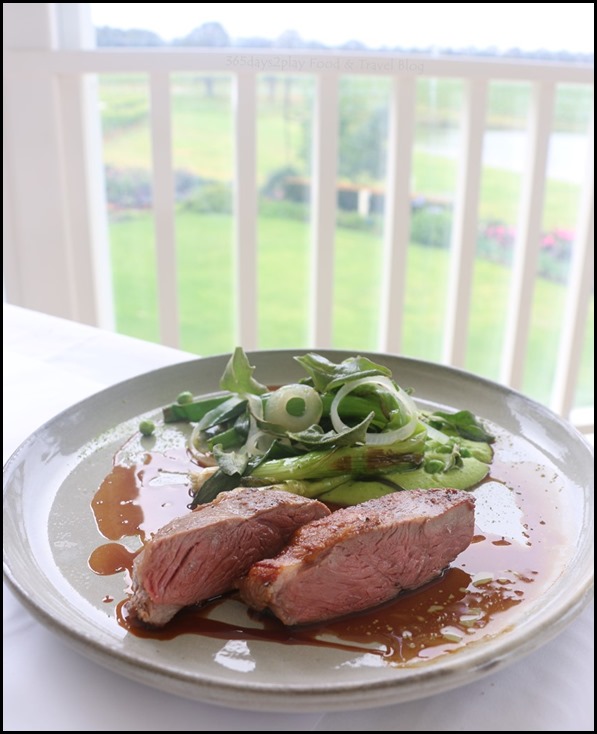 Suffolk lamb rump, local onions, fresh peas, salt bush, cabernet jus gras
The lamb rump was very enjoyable. The meat was tender and had a lovely taste. Even the spring onions were enjoyable.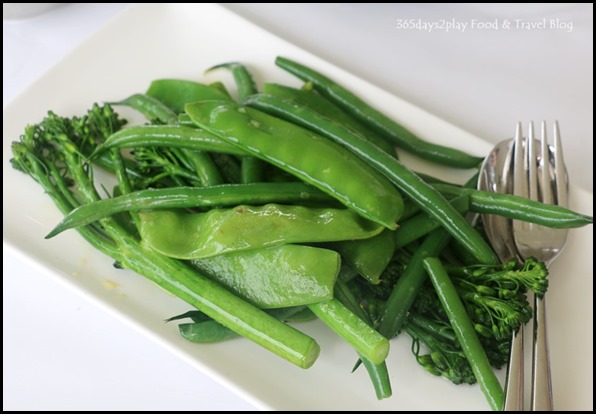 Spring greens with burnt butter $12
Ordered some greens to help make the meal more healthy. The vegetables were crisp and sweet.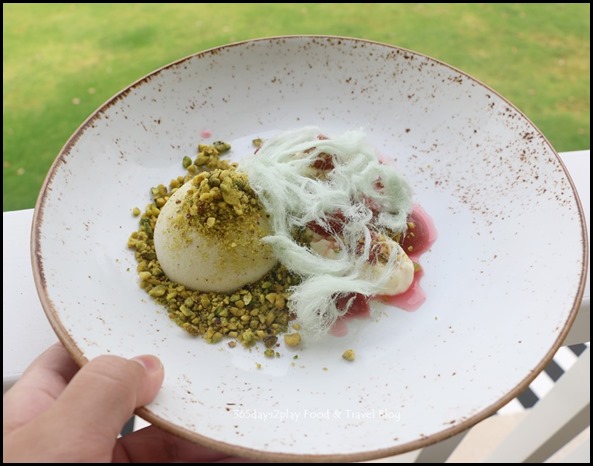 Pistachio parfait, yoghurt, rhubarb, rose water
Hey who left their wig in the dessert?? Seriously we both chuckled when we saw the dish, but of course, those are just candy floss strands. Pistachio lovers would like this light and refreshing end to the meal.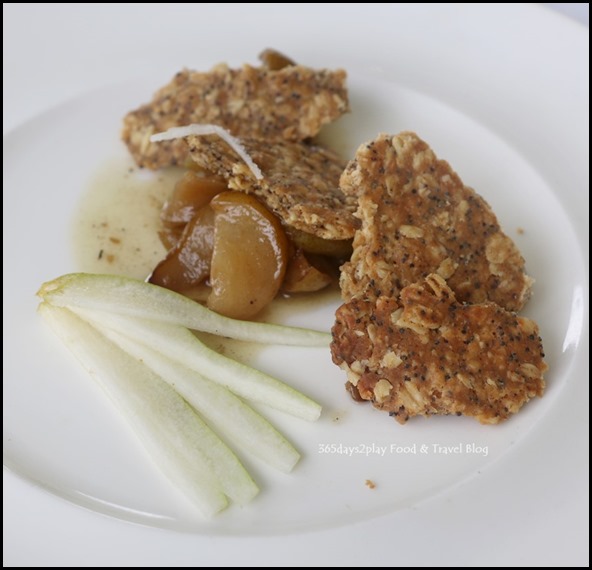 Roasted pears, fresh honeycomb, oat cracker
This was supposed to come with blue cheese but as I couldn't have blue cheese, I gave that a miss. I think the dish would have had more oomph with the cheese, as the oat crackers were pretty plain. I did enjoy the lovely roasted pears which were really juicy and sweet.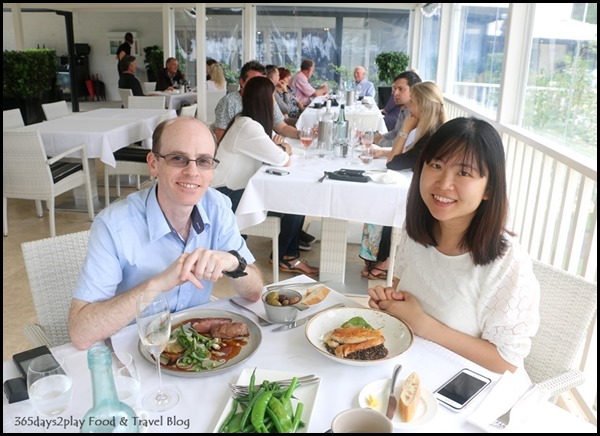 On the whole, the Partner and I enjoyed our time at Aravina Estate. The lovely views and delicious food really helped us to forget our wet and bedraggled morning out at sea. Btw, when we arrived for lunch at 2pm, the place was packed! Don't people have to work or are these all tourists???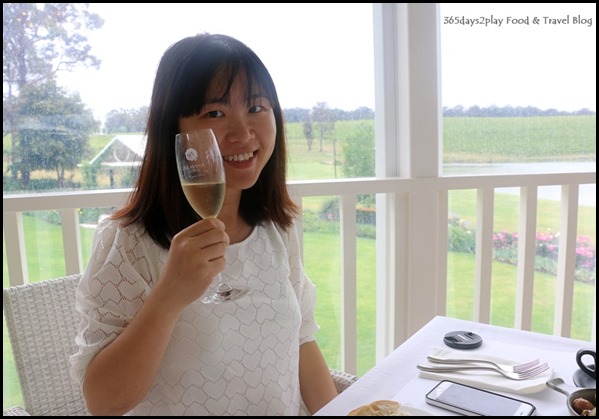 Man wouldn't you love to have a glass of bubbly right now?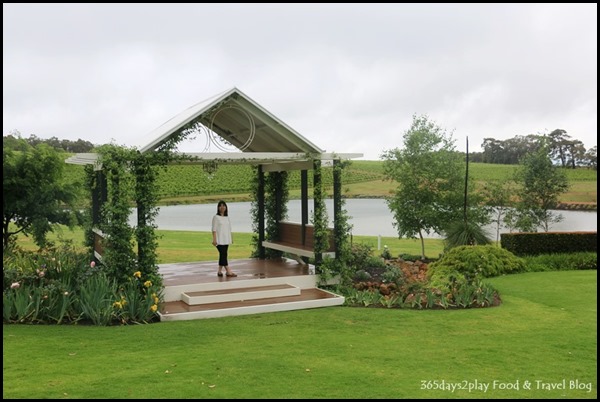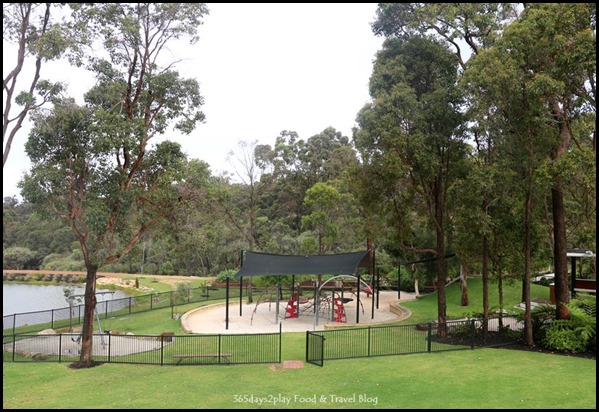 Apparently this children's playground is state of the art and adheres to strict European standards. One thing that's nice about many of Margaret River's restaurants and cafes is that they are really family friendly and have nice children's playground for the kids to run about in.
---
Add me on Facebook, Instagram and Twitter if you want to be kept up to date with the latest happenings in the food and lifestyle scene in Singapore!
---
Aravina Estate
61 Thornton Road, Yallingup WA 6282
Phone +61 8 9750 1111
Email info@aravinaestate.com