Although PasarBella touts itself as a farmer's market, I don't really view them as such, as there's hardly any local produce being sold and it's mostly eateries instead of a good mix of retail and food. But whatever the name, it's quite enjoyable going to the PasarBella outlet at The Grand Stand (former Turf City). Guess what, they've now opened another outlet at Suntec City so it's much easier for those without private transportation to get a taste of what PasarBella is like.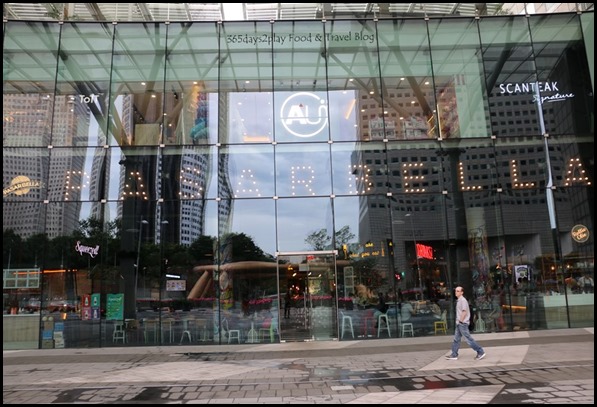 PasarBella is located at the ground floor of Tower 1
If you're familiar with PasarBella at The Grandstand, PasarBella at Suntec City isn't exactly the same. The PasarBella at Suntec City is much smaller, think 1/3 the size? Also, out of the 13 stalls there, 12 are eateries. In fact, PasarBella at Suntec City strikes me more as a grungy and urban foodcourt with an overdose of graffiti laden walls and neon coloured lighting. Order from any stall that you please, collect your food and sit where you will. It's a pricey food court though, let's be upfront with that, be prepared to spend at least $10 for lunch there. And there's no ubiquitous drinks stall selling canned drinks or mineral water, so that's another $4 or so for a cup of coffee or $6 for juice.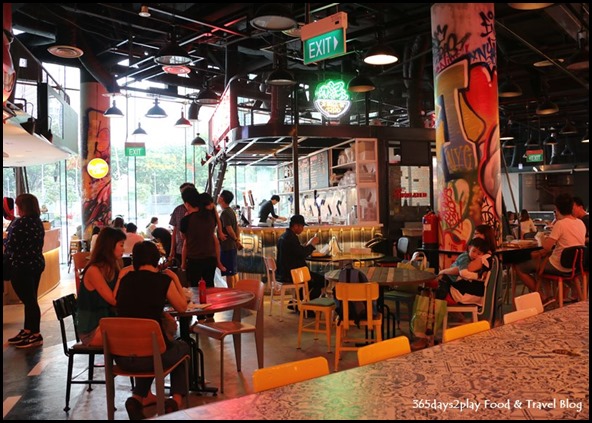 Still, I'm sure it must be packed on weekdays with office workers looking to have something different to eat, minus the fuss of deciding on a specific restaurant to go to. The food that we tried was quite good (not thinking about the price), and I would definitely like to go back again to sample more stalls.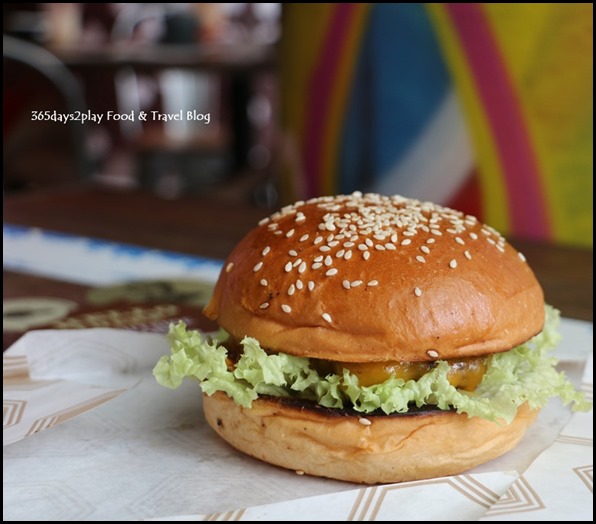 Wolf Burgers — The Wolf
Tried their basic signature The Wolf Burger comprising freshly ground secret beef patty with sharp cheddar and sweet onions for $9.90 and opted for extra cheese for another $3. While the beef patty was tasty, and burger bun soft and fluffy, I was kinda expecting more to this burger, like more ingredients, more oomph or something.  It felt kinda simple, even though I had added $3 of extra cheese! Not even any fries to go on the side.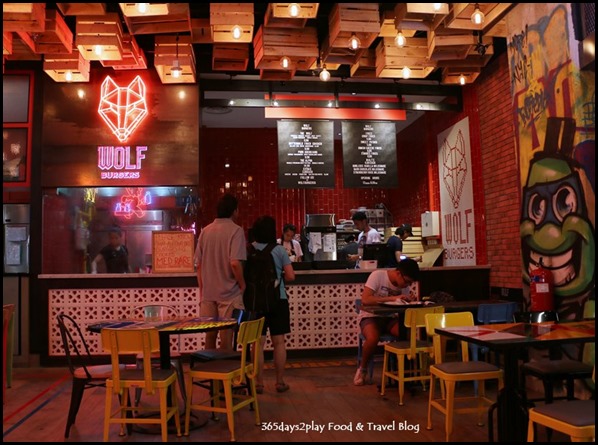 Wolf Burgers is opened by the same people behind Carvers and Co along East Coast Road. Other items on the menu include the Buttermilk Fried Chicken with salted egg mayo $9.90 and Pork Gochujang for $9.90 also. Actually that's about all they have, so I'm assuming they're going to up the ante on these 3 burgers to ensure a constant stream of customers. http://www.carversand.co/
---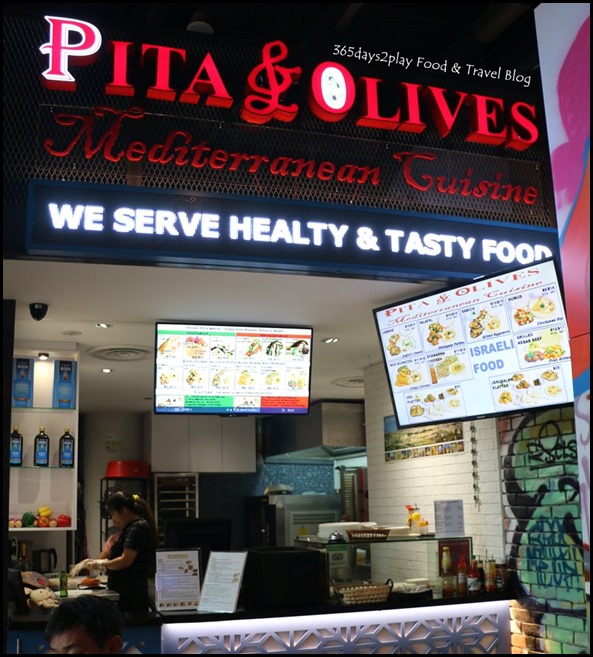 Pita & Olives www.pitaandolives.com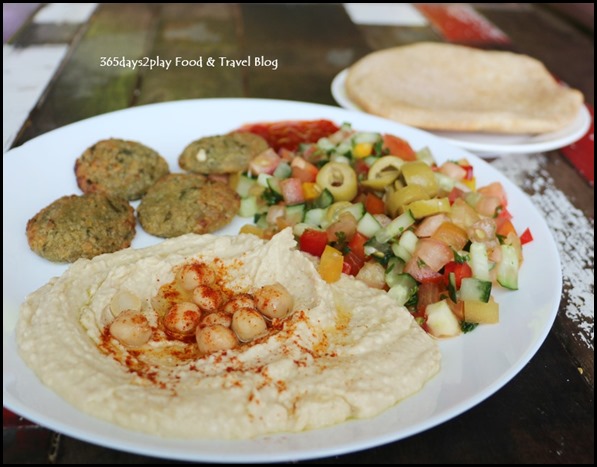 Falafel with Hummus Set $15
I love Mediterranean food so we just had to order something from Pita & Olives. For $15, the portioning was once again a disappointment, especially if I compare to what I could get at Pita Pan. Nevertheless, whatever was on the plate was delicious. Loved the hummus, which was quickly wiped up with the lone piece of pita bread. The falafel was crispy and tasty, but really emaciated in size.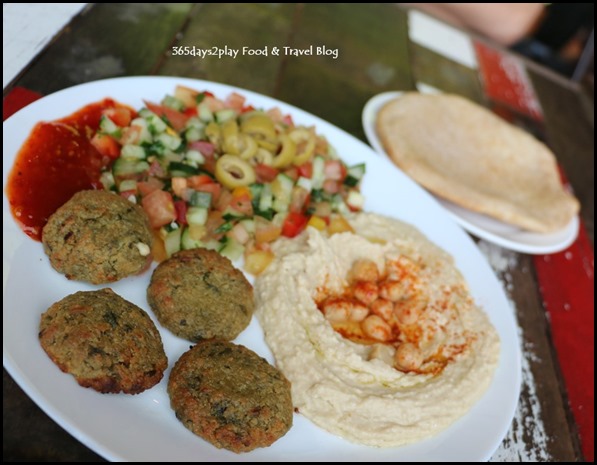 See even with a better angle, the falafel looks tiny. I could have gotten 5 huge balls of Falafel from Pita Pan. And one day, I'm going to try and make hummus myself. It seems simple enough, and is so healthy. I once had a flatmate who had a Greek boyfriend. She made pots and pots of these and they smelt SO GOOD.
---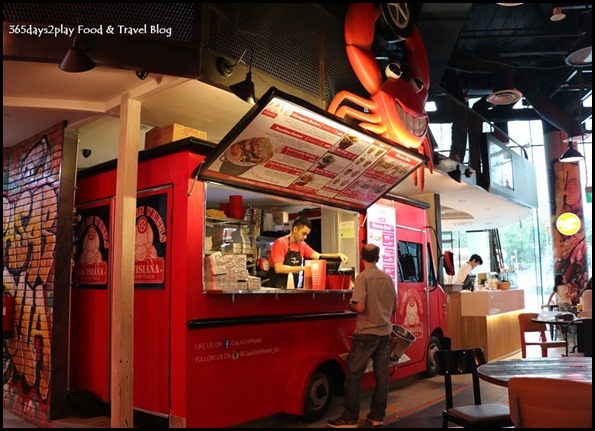 Cajun on Wheels, which serves Louisiana styled seafood in buckets. The buckets are not cheap, going at around $100 for things like crabs, mussels and prawns.  https://www.facebook.com/CajunOnWheels/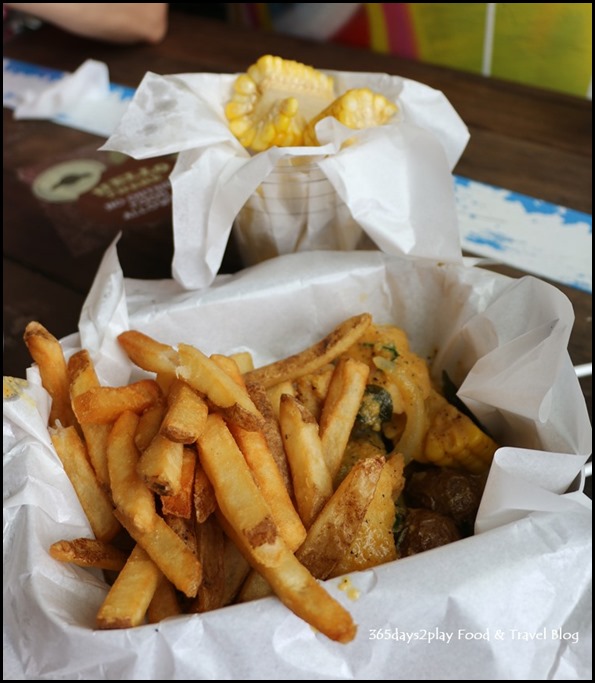 We tried the fish and chips for 1 person $10.90 and of all the things we ordered, this seemed the most value for money and a complete meal. If you're wondering where the fish is in the picture, it's because it's in chunks and isn't in the usual batter or breaded style. The fish chunks kind of reminded me of the fried fish used in fish soups you get at the food courts. It was quite good actually, and generously laced with salted egg sauce. The fries were crispy and hot. And I never knew that corn on the cob would go so well with salted egg sauce but it works! If you don't know what to order at PasarBella, I say get this. And make sure it's with the salted egg sauce.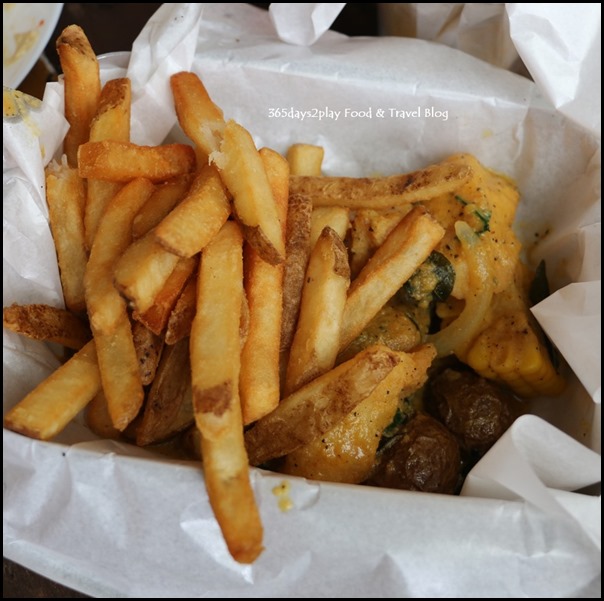 Closer look at what's in the fish & chips box…
---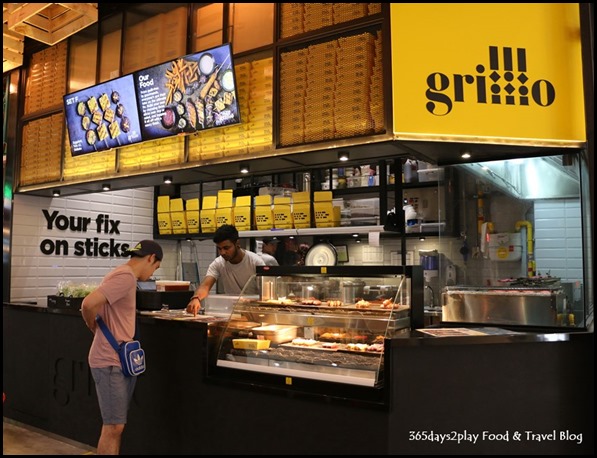 If skewered meats and veggies are your thing, check out Grillo. Each stick starts from $1.50 or you could pay $9.90 for the 3 stick set which comes with salad and fries or rice. Not sure if I would be satisfied with just 3 sticks of meat. www.facebook.com/grilllosg
---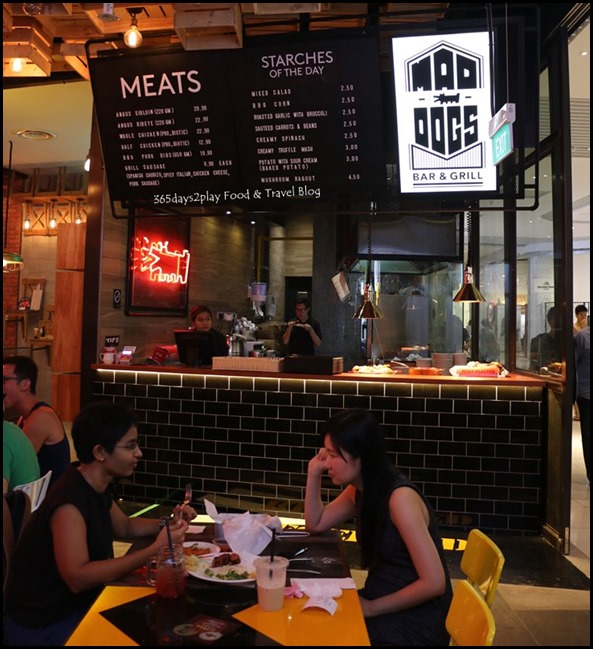 Mad Dogs Bar & Grill, specialising in meats.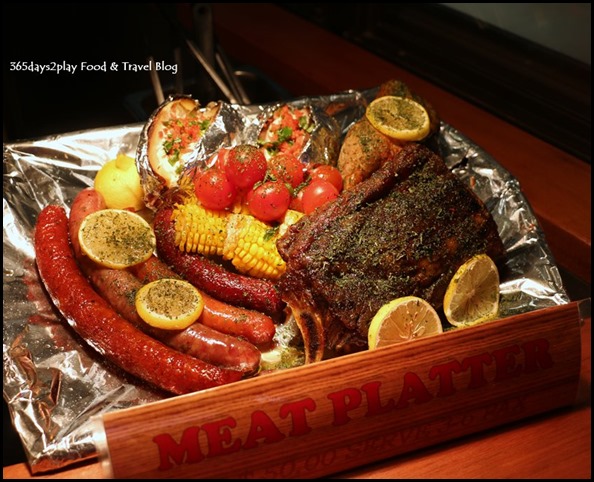 $50 meat platter. Okay of all the things I saw at PasarBella, this meat platter looks worth the price. Actually Mad Dogs seems okay in pricing too, eg Angus Ribeye 220grams going for $22.90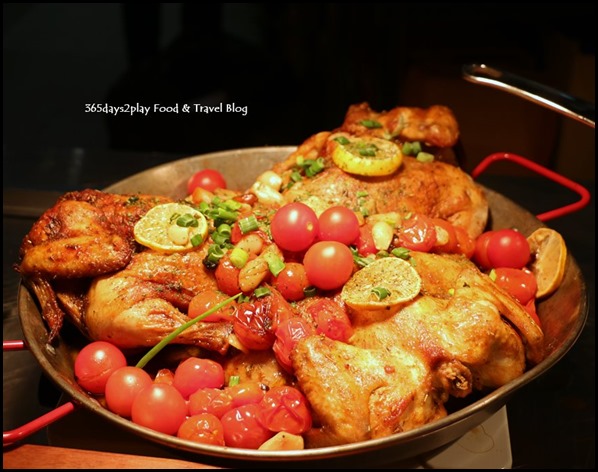 Not too sure if this is a sharing dish, or just the display in which they will scoop the food from
---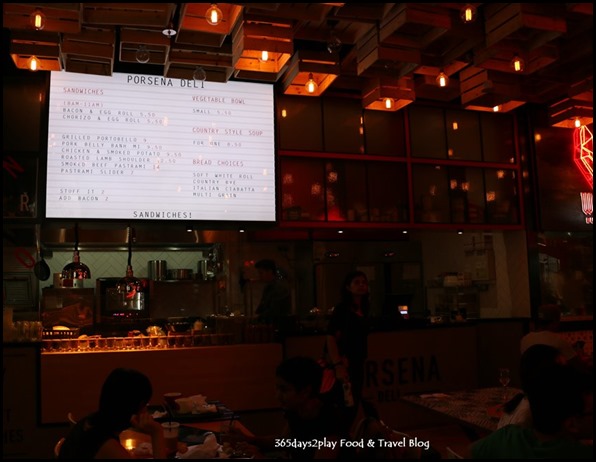 Porsena Deli, selling sandwiches and soups. https://www.facebook.com/porsenadeli/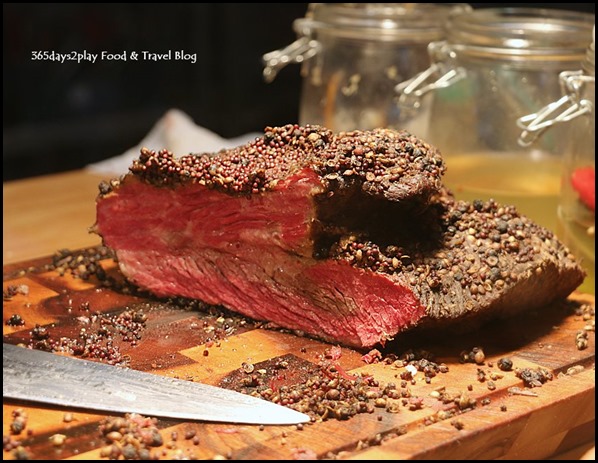 Hunk of meat waiting to be sliced and stuffed into the sandwiches
---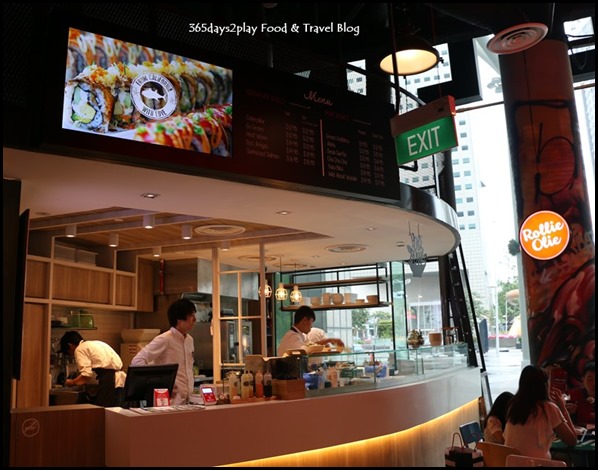 Rollie Ollie featuring sushi rolls https://www.facebook.com/RollieOlieSingapore
---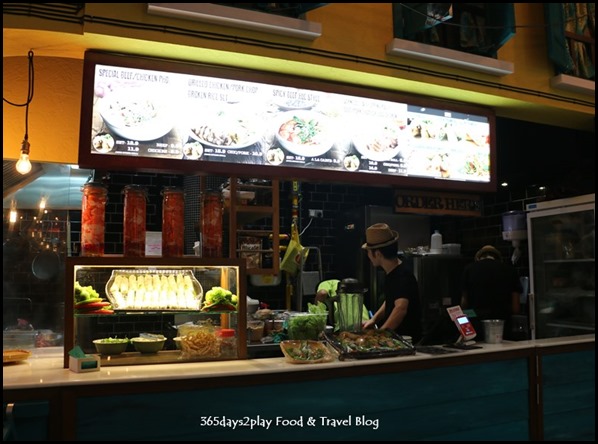 An-An, featuring soup bowls of Vietnamese noodles (pho)
---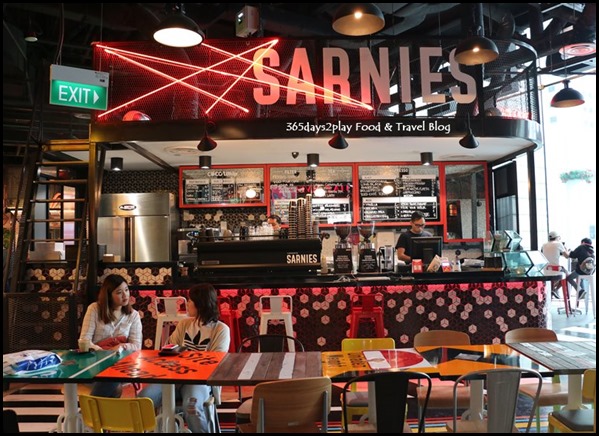 There ain't no sarnies (sandwiches) sold at Sarnies here. Unlike the Sarnies at Telok Ayer, this Sarnies focuses on coffee, tea and a few pastries. http://sarniescafe.com/#about
---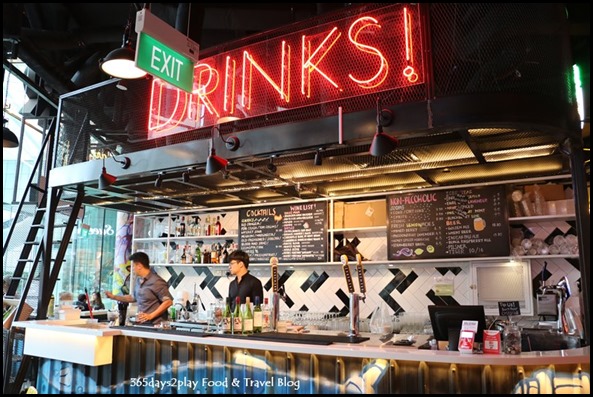 Get your alcoholic fix at DRINKS! And also where you can get $2.50 coke.
---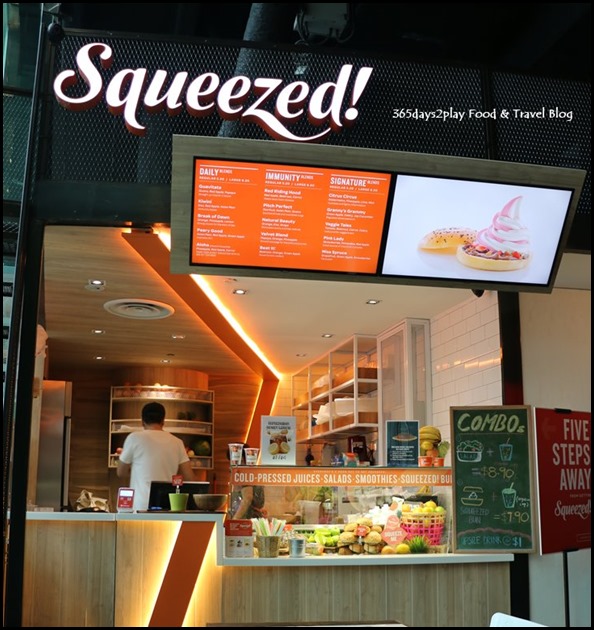 And finally, Squeezed, specialising in cold-pressed fresh juices. http://www.squeezed.sg/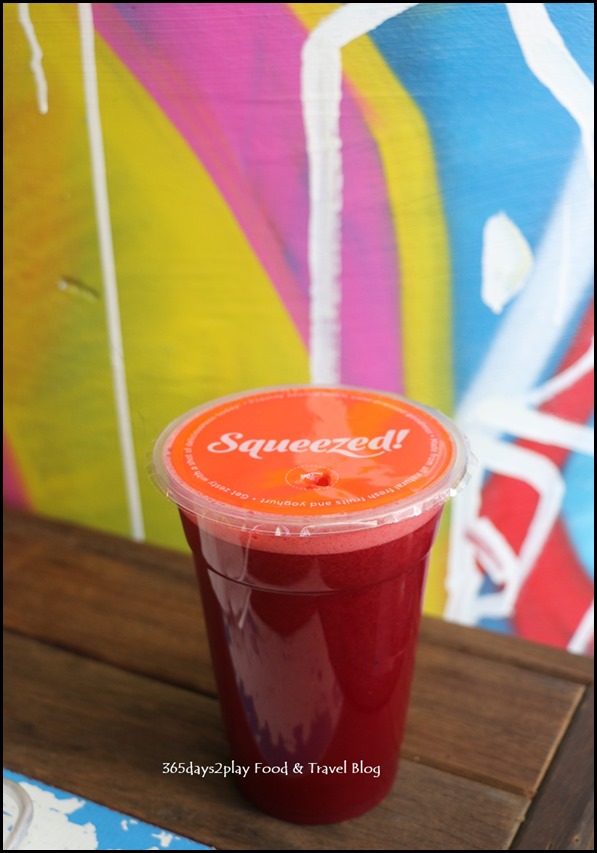 We happened to be sitting next to Squeezed so ended up purchasing 2 fruit juices. I actually have a Hurom slow juicer at home, and I ought to be doing the juicing myself instead of buying from outside! Ah but what the heck. We went with Beet It (Beetroot, Orange, Green Apple) and Red Riding Hood (Red Apple, Beetroot and Carrot). I liked the Red Riding Hood one more for its milder and smoother taste, as the Beet It had Orange and Green apple, which are both sour components. By the way, beetroot is really good for health so I try to choose that if I'm having juices outside. Contrary to what you might think if you're not accustomed to beetroot, beetroot juice actually tastes sweet and delicious!
---
Add me on Facebook, Instagram and Twitter if you want to be kept up to date with the latest happenings in the food and lifestyle scene in Singapore!
Read about PasarBella at The Grandstand (former Turf City)
Check out what else to eat at Suntec City
---
PasarBella at Suntec City
Opening Hours : 10am — 10pm
#01-455 North Wing Tower 1, Suntec City 7 Temasek Blvd Singapore 038983
By the way, if you're looking for cafe food/brunch food such as eggs Benedicts, pancakes and waffles, you won't find it there!