It's been 2 years since Assembly Coffee opened at Evans Road. How time flies! I remember I was so happy to have a 3rd wave cafe opening near my work place, and since then, Singapore has been inundated, with cafes galore. What a difference 2 years makes.
Despite my love for coffee, I'm not one of those who needs a fix every day. I don't get a buzz from drinking coffee, and I can have it even at night. It's more of the idea of relaxing over a cup of beverage that perks me up, so I've only visited Assembly Coffee once in a while, when my colleagues have time during lunch to sit down for a cuppa, which is not all that often. I actually dislike doing takeaways as it just defeats the purpose for me.
Anyway, last weekend I was back in the office to do some clearing up and decided to indulge a bit by getting their waffles. Assembly Coffee is not just known for its coffee, they do a mean waffle too. There are currently 5 waffle options on the menu and the 3 of us decided to share the mixed berry compote with vanilla ice cream one.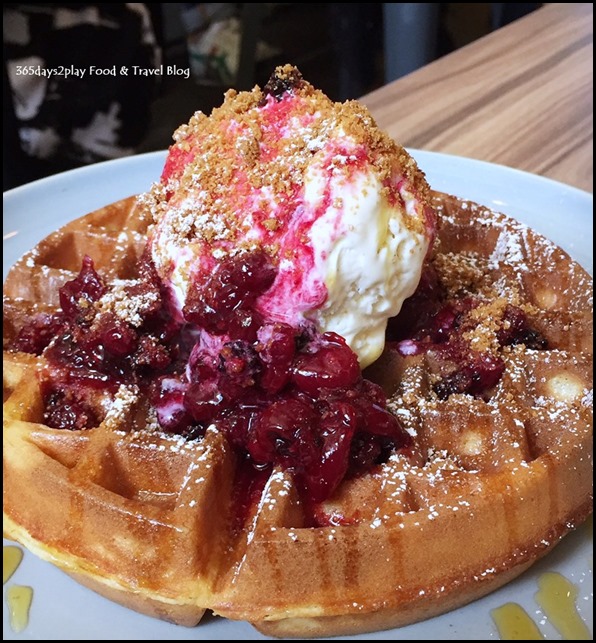 Mixed Berry Compote Buttermilk Waffles $12.50
I must say the 3 of us unanimously agreed that the waffle was fantastic. The waffle was crispy on the outside, but still fluffy on the inside. We don't really like waffles that are just crispy throughout, then it feels like we're just eating crust or something. The generous dollop of vanilla ice cream and mixed berries went really well with the waffle, softening the crispy exterior. Being the sweet toothed me, I wouldn't mind if it were just a little bit sweeter though. Even the taste of the waffle itself was slightly different from the more one dimensional versions that you get from average cafes. I guess it's the buttermilk at work.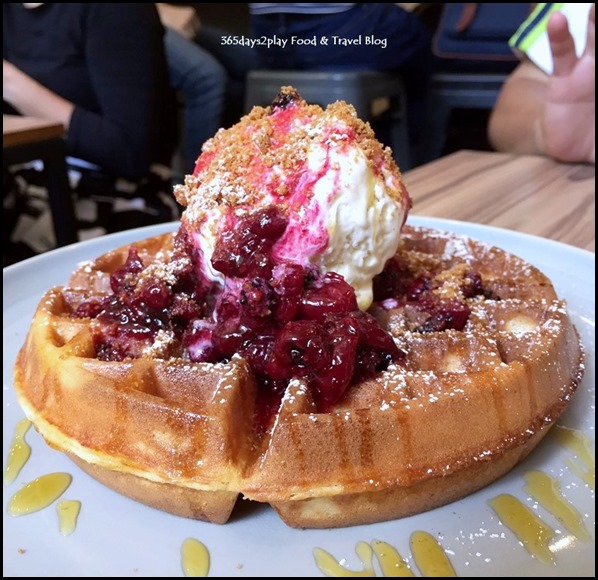 Another waffle picture just for the fun of it. Scroll down if you want to see Assembly Coffee's 2016 menu.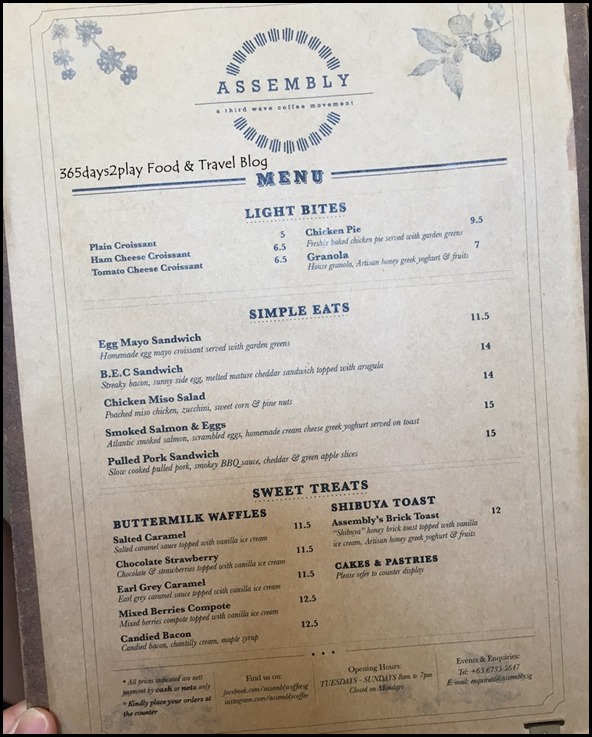 I've always wished that Assembly Cafe could have a more extensive food menu so that I can have a reason to go there for lunch, but the cafe is so tiny I guess it's impossible. When you're going with colleagues, there needs to be ample variety or else someone has to suffer. Have been meaning to try the puled pork sandwich for the longest time. And do you see, Assembly Cafe sells Shibuya Toast, at $12, the in thing now, or has the fad passed?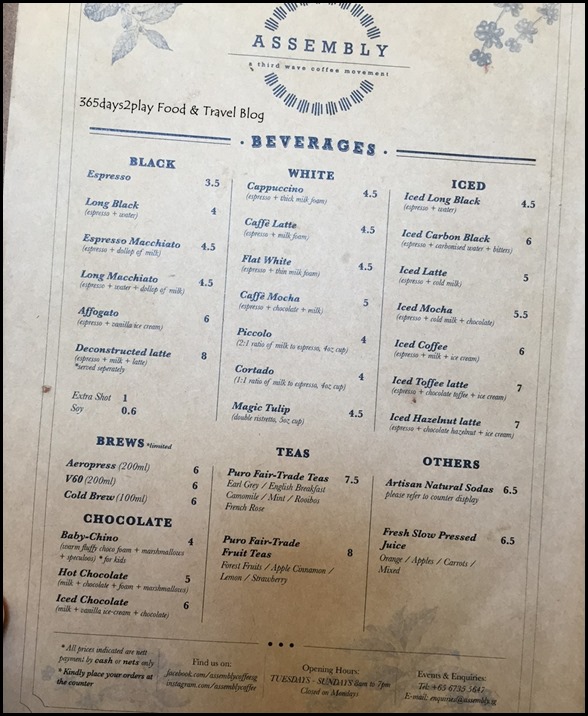 Even though the coffee is reasonably priced here, a flat white being $4.50, I often get the iced chocolate instead because the version served here is really chocolaty, which is how I like it.
---
Add me on Facebook, Instagram and Twitter if you want to be kept up to date with the latest happenings in the food and lifestyle scene in Singapore!
Read about my previous review of Assembly Coffee
Read about what to eat at the nearby Singapore Botanic Gardens
---
ASSEMBLY Coffee
26 evans lodge
singapore 259367
t: +65 6735 5647
enquiries@assembly.sg