Salt Grill & Sky Bar has always been on my list of restaurants for special occasions thanks to the good food, exquisite presentation and amazing near 360 degree views of Singapore from the 55th floor of ION Orchard. But to dine here costs a pretty penny which is why it is reserved for special occasions. But did you know that Salt Grill & Sky Bar has a "sibling" in the form of Salt Tapas & Bar located at Raffles City shopping centre, which offers dishes at much more wallet friendly prices?
Salt Tapas & Bar is an extension of the existing "Salt" Brand by celebrated Australian Chef Luke Mangan. The menu has recently been revamped and now presents quality modern tapas with an Australian twist, at affordable prices. I am always wary about tapas places as the portions tend to be miniscule while charging full appetiser prices. Not so at Salt Tapas & Bar. Quite a number of the dishes we tried, in particular the brunch menu items, are large enough to be considered as mains. And the amazing thing is that the pricing is comparable to cafes you find in Singapore, and we are talking about food from a celebrated brand name located in the heart of town! This is probably one of the best kept secrets and I wish I'd known about it earlier!
The brunch menu is particularly worthwhile checking out for its affordable prices. For example French toast with clotted cream and Okinawa ice cream at $15, or scrambled eggs with ratatouille on toast at $15 or even the grilled sirloin with mash, salad and poached egg at $18!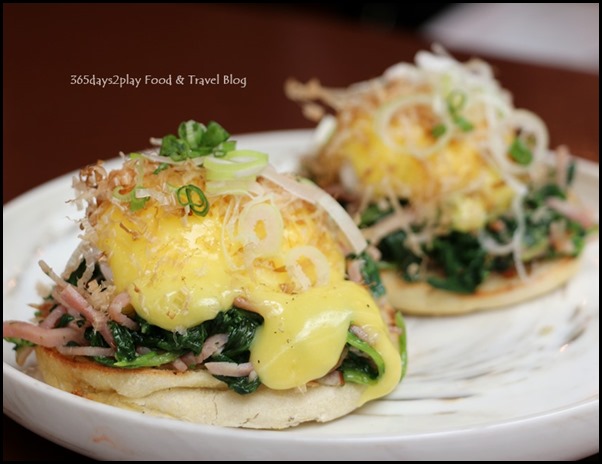 Egg berentine with bonito flakes – $14