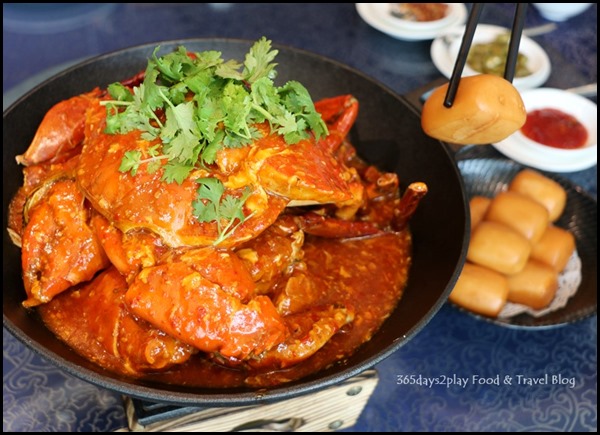 If you're looking for a good Chinese/Cantonese restaurant with a view, you might just want to put the five month old WOK°15 at ONE°15 Marina Sentosa Cove on your radar. Helmed by Executive Chef Chum Kar Ho, WOK°15 aims to serve exquisite Cantonese dishes such as seafood and dim sum dishes in an artful presentation. Wong Ah Yoke from the Straits Times had given WOK°15 the thumbs up, so I was quite keen to pay this restaurant a visit despite it not being so close to my home.
Thankfully, and thoughtfully, all diners to WOK°15 get free entry into Sentosa as well as free parking at ONE°15, so make sure you ask for the entry letter into Sentosa when you're making your reservation.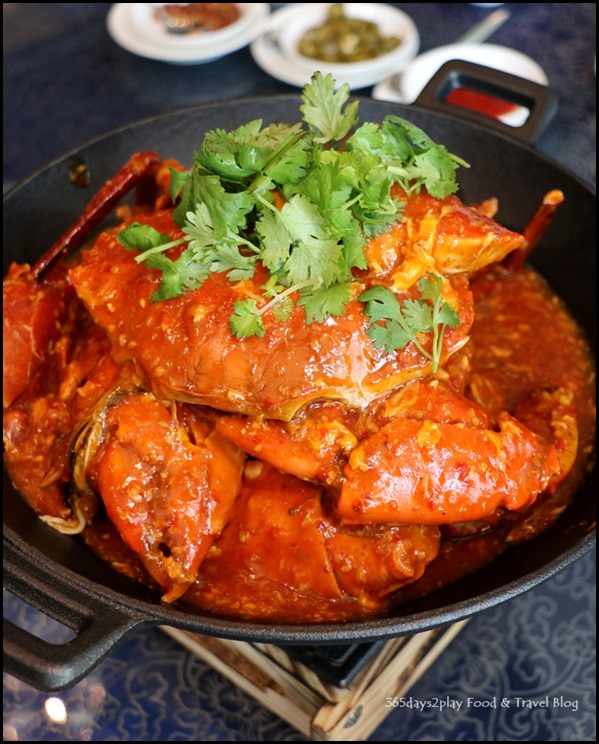 Chilli Crab $55 per kg
We only tried about 5 dishes but I must say for those dishes we tried, WOK°15 really lives up to its reputation. Dare I say that they do one of the best chilli crab dishes in Singapore? Lovers all have their favourite haunts when it comes to Chilli crab, be it Long Beach, Jumbo or No Signboard Seafood, and WOK°15 serves a slightly sweet, yet still spicy version of the Chilli Crab which we devoured without caring about table manners or dining etiquette.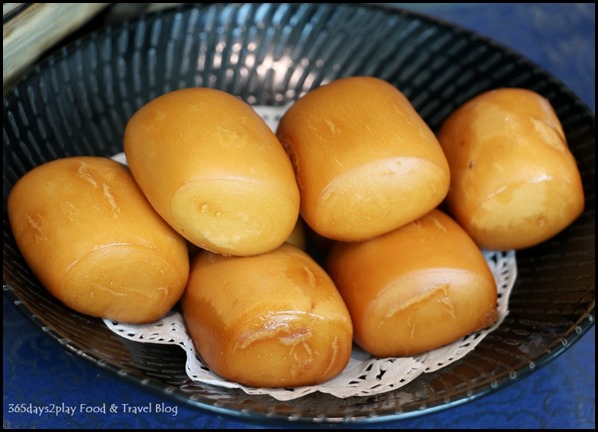 Fried Mantou $1 per piece, definitely a must to mop up the chilli crab sauce! Don't limit yourself to just one either, you can save the diet for tomorrow.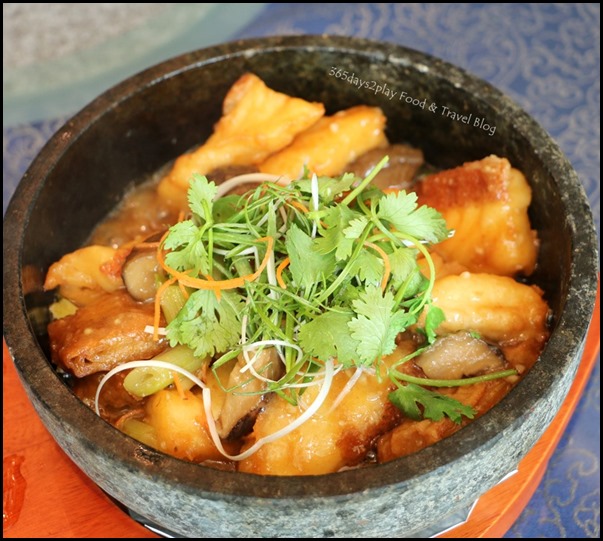 Grilled Garoupa Fillet with Beancurd Skin served in Stone Pot $32
My other favourite dish was the grilled garoupa with beancurd skin served in a sizzling hot pot. The garoupa was oh so crispy on the outside, boasting firm flesh inside. The gravy sauce was also memorable, and it was just a delight to slurp up with pieces of beancurd skin and mushrooms.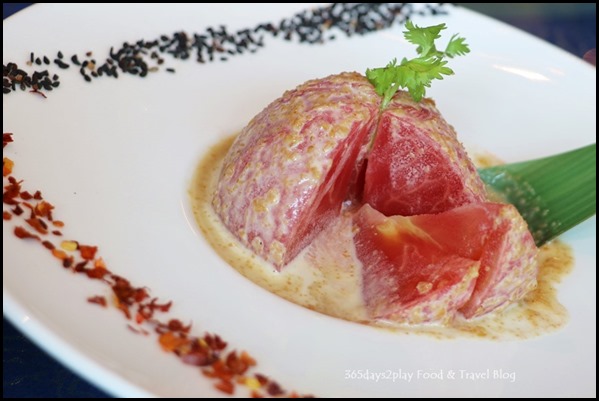 Japanese Greenhouse Tomatoes served with Wasabi Infused Sesame Sauce $8
Wong Ah Yoke said he found this appetiser strange, but I beg to differ. Actually everyone at my table found this really refreshing and tasty, even if it does sound like a strange combination at first. The tomato slices are icy cold, which jolts you awake as enjoy the sesame sauce soup infused with a delicate wasabi flavour.
Double Boiled Japanese Chicken Soup with Himematsutake Mushrooms $36
The soup was pretty mild tasting, pleasant but unmemorable.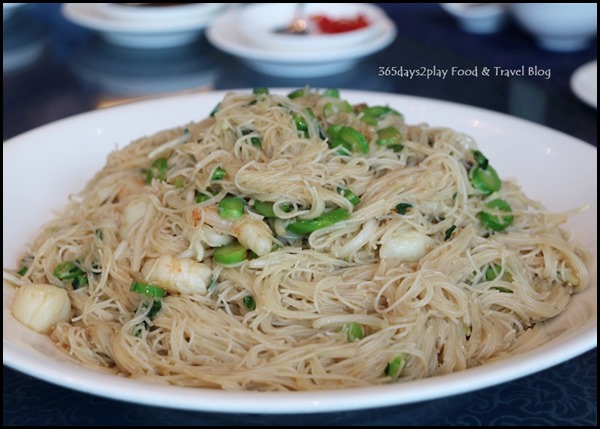 Braised Vermicelli with Diced Seafood, Salted Fish, Shrimp Paste and Vegetables $22
This was the vermicelli that Wong Ah Yoke raved about. I don't think I'd make the trip into Sentosa just for this, although I would for the Chilli crabs. This was just average to me, the broth was nothing spectacular, but if you like vermicelli that is more al dente than usual for Chinese cooking, you can check out this version.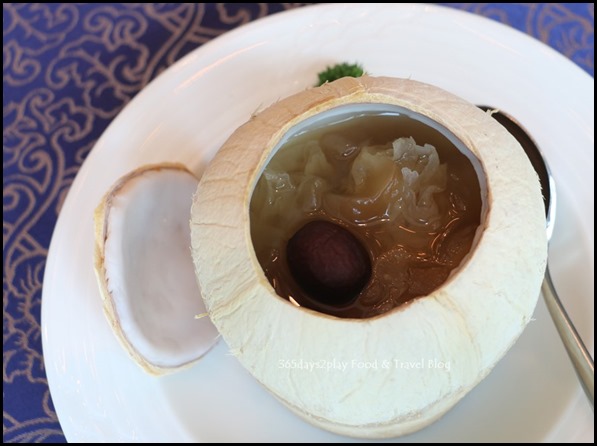 Double Boiled Snow Fungus and Osmanthus served in Coconut  $12
My confinement nanny can do a mean version of this so I had high expectations of this coconut dish, which thankfully were met. This is the type of dessert that will leave you feeling nourished and warm in your belly. In fact, I tried a tarpowed one that was left in my fridge for 2 days which I then heated up, and it was even better! The liquid had become more concentrated and hence sweeter!
On the whole, it was a very enjoyable lunch at WOK°15, with a great view of the expensive boats on the marina. Can't wait to return to try their dim sum dishes next. My father who attended the tasting session with me was so impressed, he subsequently made a reservation for 4 tables for one of his business dinners!
---
Add me on Facebook, Instagram and Twitter if you want to be kept up to date with the latest happenings in the food and lifestyle scene in Singapore!
---
WOK°15 at ONE°15 Marina Sentosa Cove
11 Cove Drive, #01-01, Sentosa Cove, 098497
Lunch
Tue — Sat: 11.30am — 2.30pm
Sun & PH: 11am — 2.30pm
(last order at 2.30pm)
Dinner
Tue — Sun & PH: 6pm — 10pm
(last order at 9.30pm)
Closed on Mondays, except PH.
EMAIL : wok15@one15marina.com
PHONE : 6305 6998