If you've eschewed fine dining restaurants for fear of awkwardness and the price tag, there is a new restaurant in town that hopes to serve up fine dining dishes in a casual atmosphere. Bridge Restaurant Bar at Seah Street opposite Raffles Hotel has recently undergone a revamp and is now headed by Head Chef Ace Tan who used to work at Pollen. Their motto is "fine dining without the fuss or pinch".
And Bridge has achieved that to a certain extent. The restaurant is certainly casual, no starched tablecloths or waiters with neckties. We were even comfortable to bring Baby for dinner! The food served would not seem out of place in a fine dining restaurant, some dishes being served with the "theatrics" that are common in such restaurants. The only thing I'm not so sure about is the pricing. You're looking at $55 / $85 for a 3 / 5 course dinner respectively. It's certainly not cheap to dine at Bridge, but I suppose it is cheaper than if you would go to places like Corner House and Les Amis. What is certain though is the food tasted great.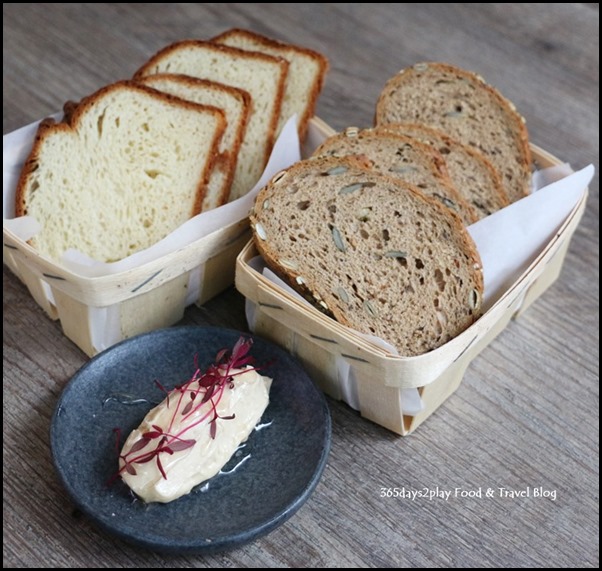 Complimentary bread. What's special is the butter which was made using barley.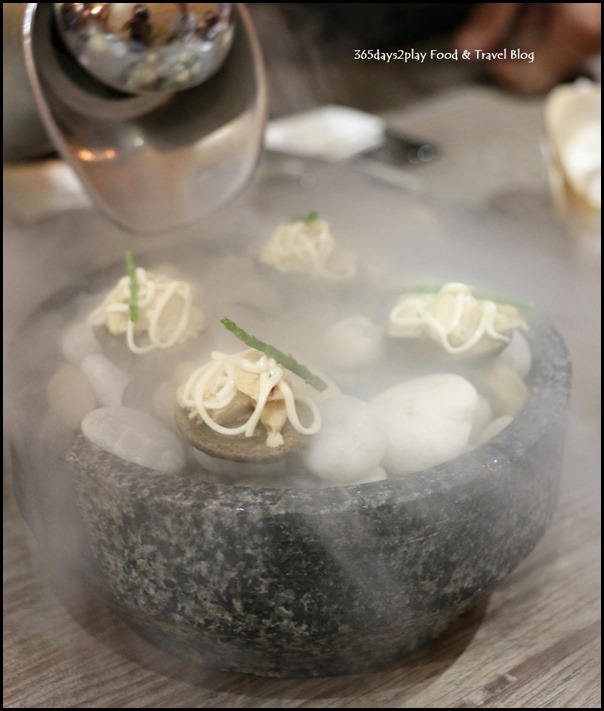 Foie gras is one of those things where the less dressed it is, the better to taste the full richness. In this case, the mini buckwheat blinis were rather dry and coarse, which took away from the richness one expects of foie gras.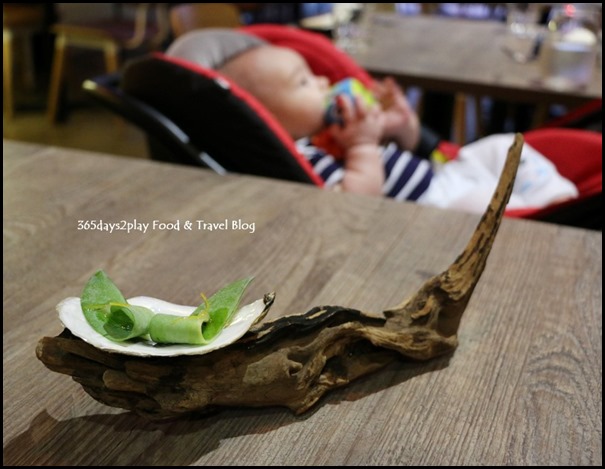 I've never had oyster leaf before, and it appears twice in 1 week. Yes, it does have a metallic taste, which is why it reminds you of oyster.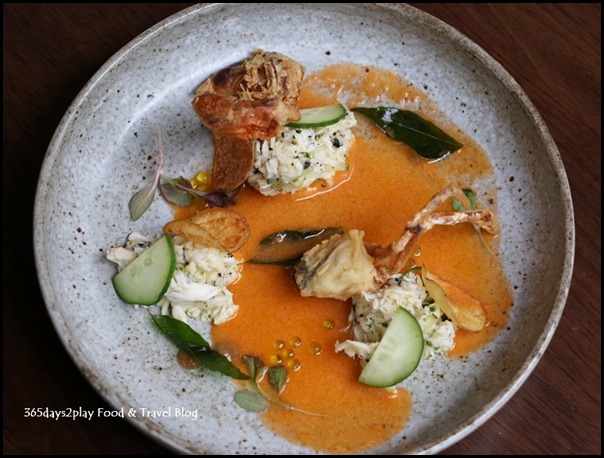 Textures of Crab (Umami gazpacho, potato crisps, black garlic droplets) $20
I love it when I don't have to get my hands dirty extracting flesh from crab shell. Interesting that chef has done so even for soft shell crab, which is a good move to taste the sweetness of the crab flesh and to mop up the gazpacho, without the oily shells getting in the way.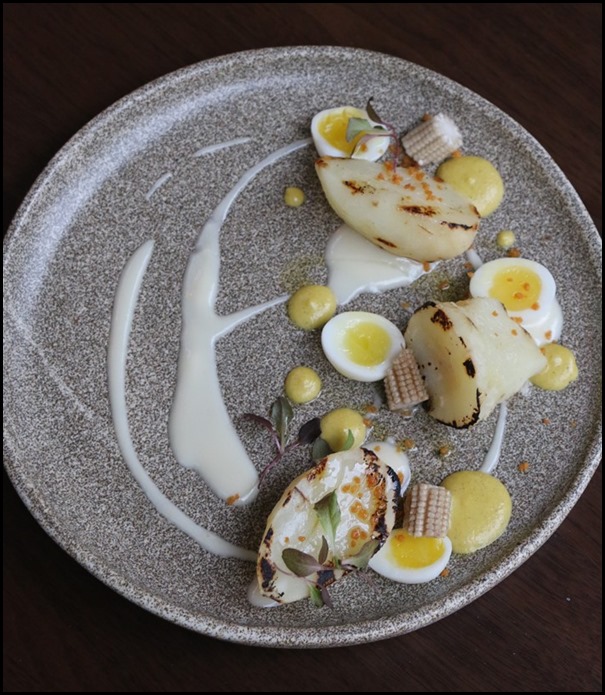 Jerusalem artichoke and kombu buttermilk (Pickled baby corn, smoked quail egg, andalusian cream)  $18
I thought I was eating potato and was amazed to discover it was Jerusalem artichoke! It has a very mild and smooth flavour, which contrasted well with the tartness of the sauce. Even the corn had so much flavour.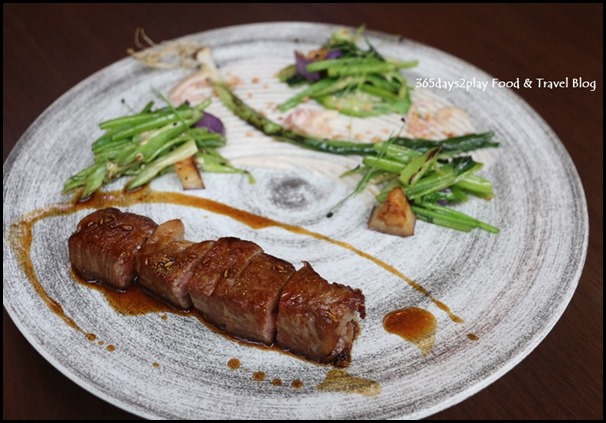 Miyazaki Japanese A5 Wagyu and Fennel Spice (Native vegetables, wild yam puree, pickled rose apple, lemon tobiko) $70 for 100 gm
Not at all cheap if going by the ala carte pricing, but then again it's A5. Those 4 precious mouthfuls were devoured in seconds. So juicy, fatty, rich in meaty flavour, we saw stars in the 10 seconds we took to polish off each cube. If only the starch (the yam puree) was a little more substantial and not just relegated to a predominantly decorative role.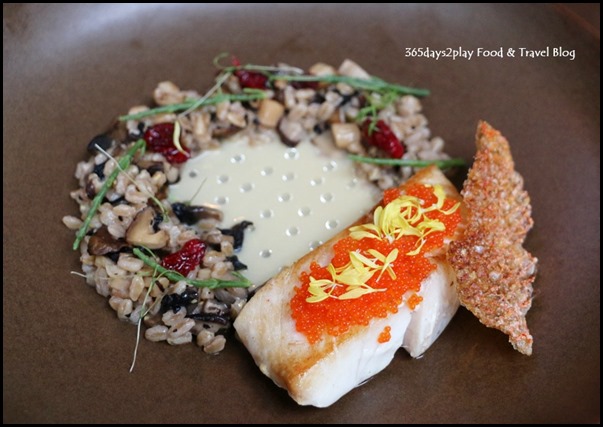 Chrysanthemum infused snapper (crisp skin, rehydrated scallop aged egg veloute, lemon tobiko) $30
Is it just me or do those droplets in the sauce give you the creeps. That aside, we found this to be a very well-balanced and enjoyable dish. Everyone was fighting for a sliver of that oh so crisp skin, to go with the very mild tasting snapper. The interesting medley of grains was delicious together with the veloute.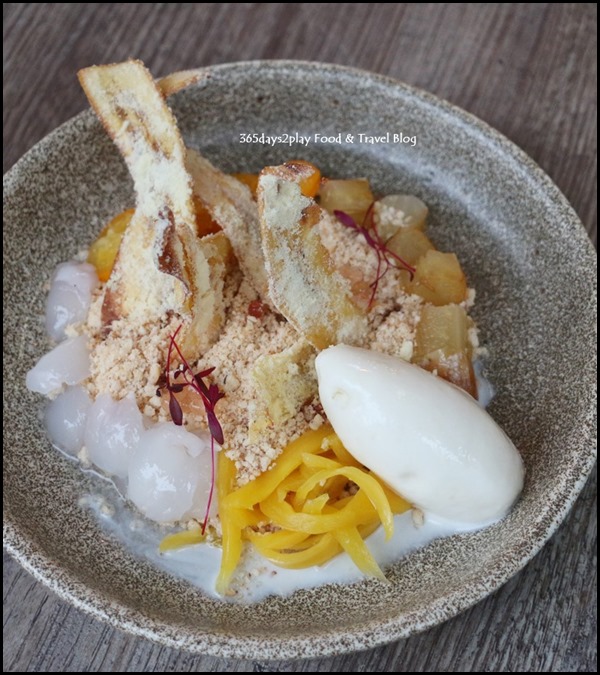 Native Fruits of Singapore (Local fruits, culture cream, almond crumbs, okinawa organic tofu gelato, smoked granny smith juice) $18
Always a delight to see chefs incorporating local fruits into their desserts. We have so many sweet tasting tropical fruits that it's a shame that many desserts simply just feature mango or banana. My favourite here has got to be the jackfruit slivers. The gelato being made with tofu was expectedly mild flavoured and not very sweet, and it's interesting that in this case, the fruits sweeten the gelato instead of vice versa which is more common.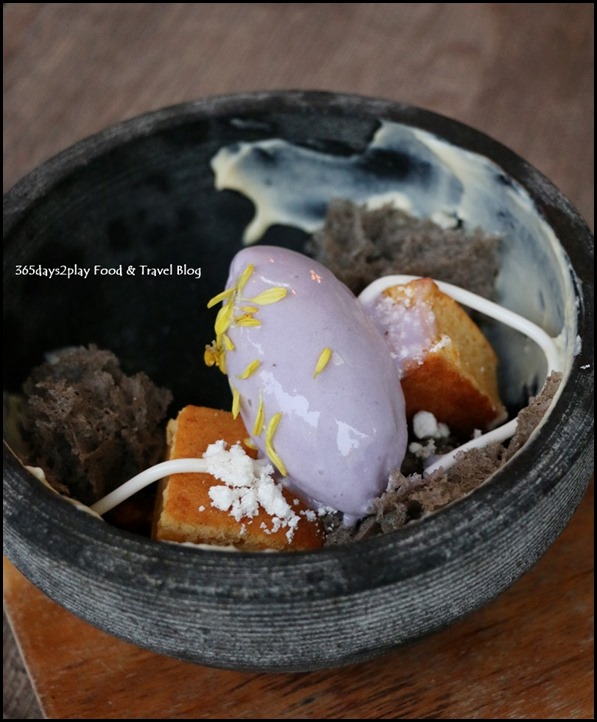 Sweet Potato Cake with Honey Cider Custard (Coconut jelly, sesame micro sponge, purple sweet potato gelato) $16
Another dessert featuring local produce. I didn't particularly like this, as I felt it was too "potatoey", however the husband loved the flavours here.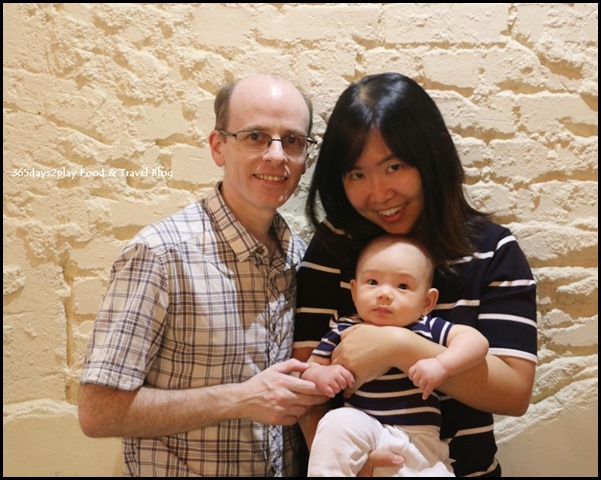 They had this white brick wall thingy so we decided to take some photos using that as a backdrop.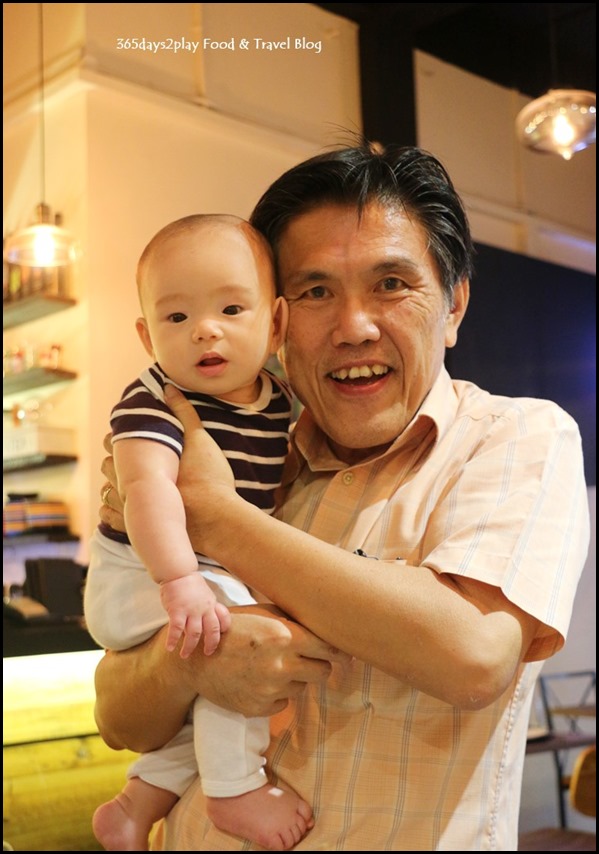 Too bad baby couldn't partake in the meal!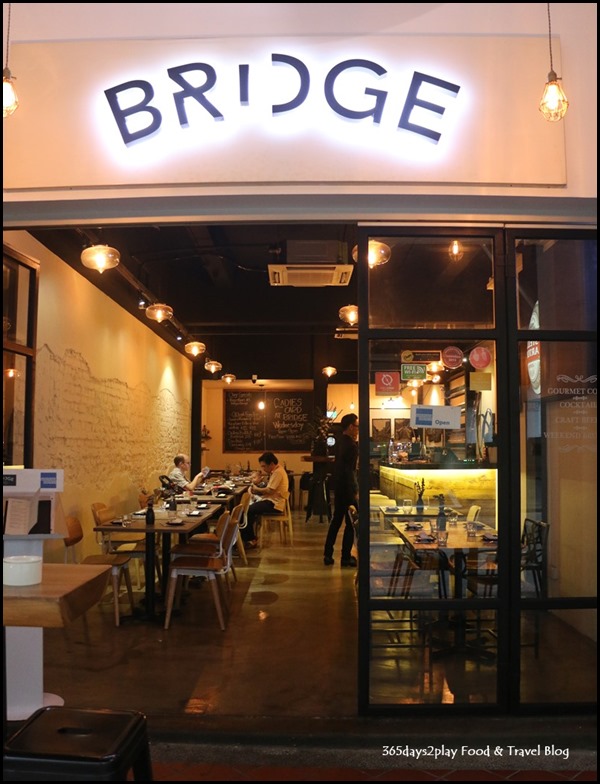 ---
Add me on Facebook, Instagram and Twitter if you want to be kept up to date with the latest happenings in the food and lifestyle scene in Singapore!
---
Bridge Restaurant Bar
31 Seah Street Singapore (188387)
Opposite Raffles Hotel
T: 6333 4453
W: http://www.dineatbridge.com.sg 
Facebook: http://www.facebook.com/bridgesingapore
Instagram: @Bridge.sg / #bridgesingapore
Opening Hours:
Tue/Wed : 3pm to 11pm
Thursday : 12pm to 11pm
Fri : 12pm to 1am
Sat : 11am to 1am
Sun : 11am to 5pm