I wanted to do a shoutout on Nasty Cookie simply because I tried it recently and enjoyed it. Nasty Cookie has been around since October 2018, and opened their first brick-and-mortar store at Funan SG last year. You might seem to have heard about it recently, and that's because they just opened their flagship outlet just outside Kaki Bukit MRT Station.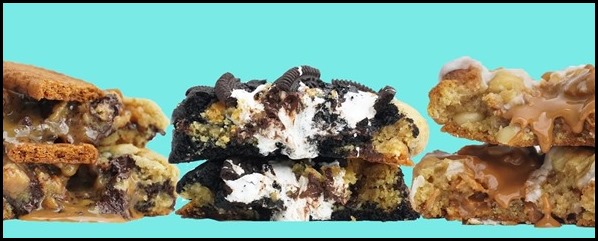 Photo credit : Nasty Cookie Website
So what is Nasty Cookie. Okay aside from jokes on their name, they offer New York inspired (Levain cookie) gourmet jumbo cookies. Imagine the size of Mrs Field's cookies but on steroids, ie puffed up and not flat. They claim that they are the only ones offering such NY inspired cookies, but given the proliferation of home bakers after the Circuit Breaker, I know I've seen many similar cookies.
But anyway, the other day we were near Funan, so we decided to give Nasty Cookie a try. It helps that I have the Entertainer App which gives at 25% discount on any cookie that I order. Most of their cookies range from $4 upwards to almost $6.
When you get to the store, it's hard to choose because seriously all the cookies look so good. Many of them are studded with more cookies or chocolates or ooey gooey sauce, and so appetising looking.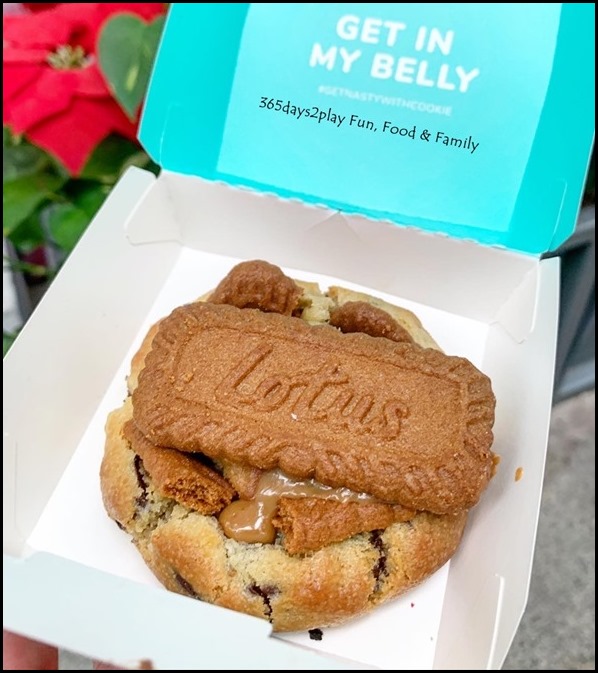 The Biscoff Cookie which my friend ordered
You can look here for all their flavours. Apparently the Biscoff cookie is their best seller, but being the chocolate lover, I  decided to go for chocolate. Specifically the Choco Bueno. It's actually their Dark Chocolate Chip cookie, but with an additional Kinder Bueno chocolate piece on it plus marshmallow icing. The Dark Chocolate Chip cookie looked a bit too boring for Instagram compared to the Choco Bueno.
I have to say, contrary to popular belief, the cookies aren't as saccharine sweet as they look. Certainly not as sweet as Mrs Field's triple chocolate cookie. In fact, I thought it could have been a tad sweeter.
Yes, less sweet is better for health, but don't eat a cookie then, that would be best for health. I don't eat cookies often so I want the kick from eating one.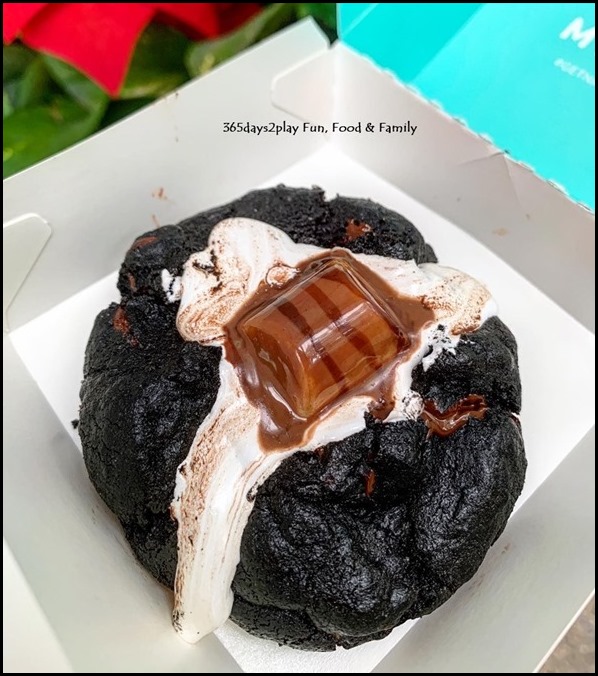 Ooey Gooey decadent Choco Bueno cookie
Aside from the sweetness, I did enjoy the cookie. It was pretty rich tasting, thanks to the premium dark chocolate that they use. I really liked how the slightly crisp exterior leads into a soft and moist interior. The marshmallow icing wasn't that sweet either, but provided a different taste which made eating the cookie interesting.
The kinder bueno is basically for decoration so I let my son swipe that. I felt bad to give him so much sugar, but the look of delight in his eyes as he struggled to open his mouth with the sticky chocolate all over his teeth was priceless.
Fun fact: Owner of Nasty Cookie was only 21 when she first started the business in 2018! Kudos to all these youngsters taking the world by storm. I wish I were 21 again, the number of businesses I would start!
 Photo credit : Nasty Cookie Website
---
Add me on Facebook, Instagram and Twitter if you want to be kept up to date with the latest happenings in the food and lifestyle scene in Singapore!
---
Nasty Cookie Funan
107 North Bridge Road, Funan Mall #02-35 Singapore 179105
12.30PM-9PM DAILY
Nasty Cookie Kaki Bukit
1 Kaki Bukit View #01-02, Techview, Singapore 415941
WEEKDAYS 10AM-8.30PM
WEEKENDS 1PM-8.30PM
Website: https://www.nastycookie.com/
Email: hello.nastycookie@gmail.com
Instagram: https://www.instagram.com/nastycookiee/