A very Happy New Year 2015 to all my readers out there! Hope the countdown and celebrations have been a blast for you, and here's to more great eats and good food finds in the coming year.
I had a pretty memorable December 31 myself, starting the day with a art jamming session with my colleagues followed by an impromptu lunch at Sumiya Charcoal Grill Izakaya with the Partner. My colleague happened to rave about her dinner at Sumiya. I thought I would check it out some time soon, but since our art jamming was in Dhoby Ghaut, no better day to check out Sumiya in Orchard Central than the day itself!
I was a little apprehensive at the cost, since my colleague said she spent $140 for 2 pax for dinner! But when she told me the number of dishes she'd ordered, each dish being about $15 — $20, that sounded a little more manageable. Well, turns out it was a great decision to visit Sumiya for lunch. They have these fantastic set lunches such as assorted tempura and sashimi, grilled eel etc going at very affordable prices.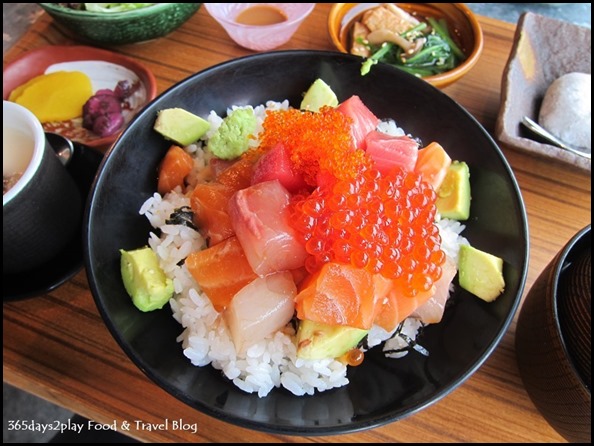 Mix Bara Kaisen Don $18.80
I was kinda torn between the Assorted sashimi and Tempura set going for $21.80 but I decided to go for the Mix Bara Kaisen Don set above since the menu states that the usual price is $28.80! The food arrived pretty quickly and my eyes nearly popped out at the luxuriously thick chunks of assorted fish. And my, look at the amount of fish roe covering it all. It really tasted as good as it looked! I was in bliss with each mouthful. I even had to ration my rice a little as there was just so much fish! Talk about having a memorable last lunch for 2014!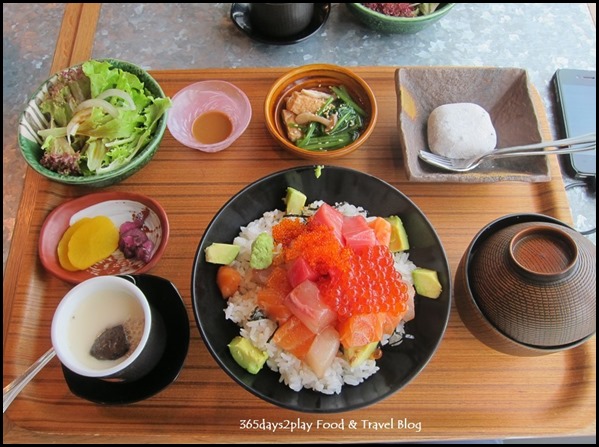 The set also comes with chawan mushi, salad, tofu piece, miso soup, dessert and tea, as do all the sets.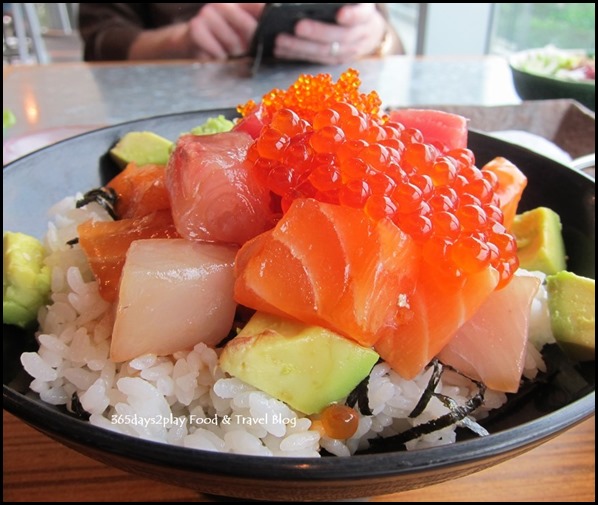 Oh let's just have another picture of this amazing bara kaisen don that I had!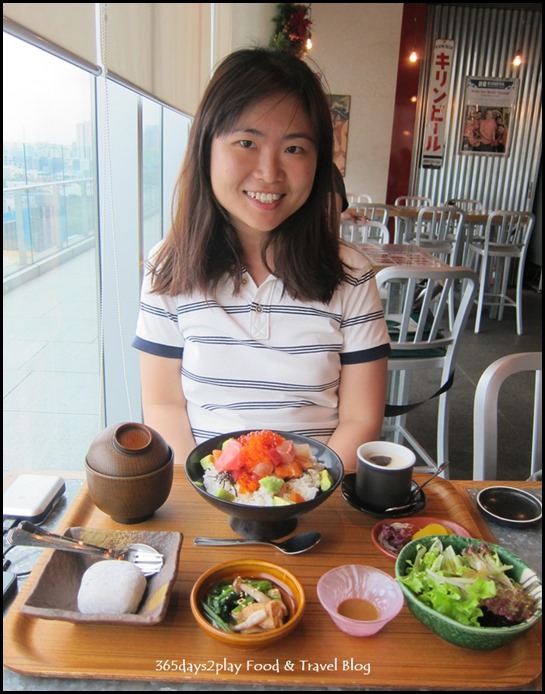 Happy Happy Happy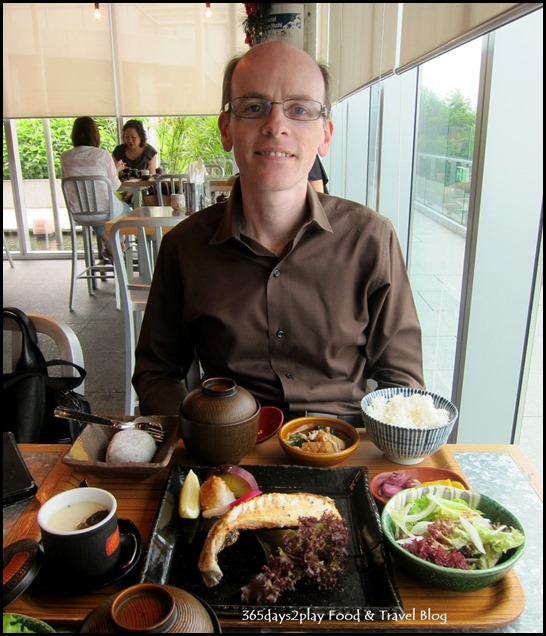 Partner forced to wait for a picture before attacking the food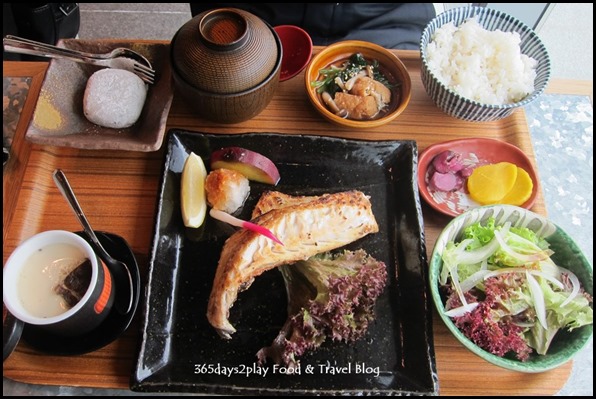 Fish of the Day Charcoal Grill $16.80
The Partner got a fish of the day set. Tastes good too, but I think my set was better and more value for money don't you think?
Sumiya Charcoal Grill Izakaya is located on the 12th floor of Orchard Central. Yes, the top floor. In fact, the lifts stop at the 11th floor so you have to get out and go around the corner to access the escalator that will take you to the top floor. Even if you are not dining at Sumiya, you can still enjoy the views of Orchard Road and beyond as there is a separate garden-like area for this purpose.
Sumiya, which means charcoal (sumi) house (ya), is owned by the Japanese restaurant group RE&S which also owns the Kuriya Dining and the popular Ichiban Boshi. In fact, this restaurant space was previously occupied by Kuriya Penthouse. The place is spacious and bright, with high table seating in the front section of the restaurant and normal table seating at the back.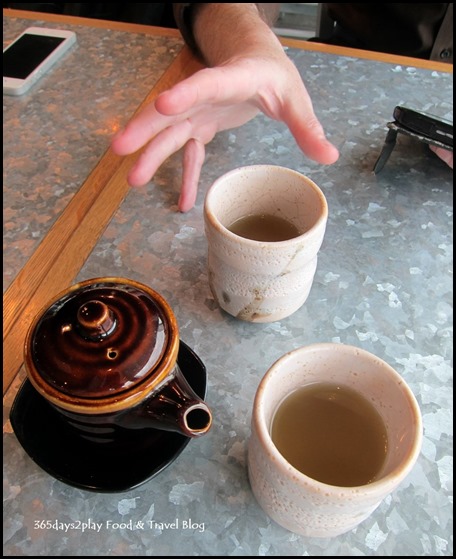 Be sure to check out Sumiya during lunch time where you can enjoy the affordable lunch sets. For dinner, it is mostly ala carte, so the savings may not be as much. I really like it that they are upfront to tell you the the food portion will be more than what you expected! So far, so good.
---
Add me on Facebook, Instagram and Twitter if you want to be kept up to date with the latest happenings in the food and lifestyle scene in Singapore! 
---
Sumiya Charcoal Grill Izakaya
ORCHARD CENTRAL
#12-02, 181 Orchard Road,
Singapore 238896
(formerly known as Kuriya Penthouse)
Tel: +65 6509-9618
Fax: +65 6509-3886
OPERATING HOURS
Lunch 12:00 to 3pm
(Last Order at 2:30pm)
Dinner: 6:00pm to 10:30pm
(Last Order at 10pm)
Opens daily
Lunch Menu http://sumiya.com.sg/lunch-menu/
Dinner Menu http://sumiya.com.sg/dinner-menu/