The quarterly Kranji Countryside Farmers' Market is on again this weekend! Was so bummed when I found out about the existence of this farmers market the previous round especially after I saw the interesting pictures, but had to wait a few months for the next round! So you can imagine I made sure not to miss this round!
It was blazing hot when we got to D'Kranji Farm Resort where the farmers' market was held. Was mentally thinking whether to bring baby's stroller or not, because I half wanted to keep the boot space free for all the shopping loot. But I hate being stuck with a sleepy baby and no where for baby to nap. In the end, baby did not even want to sit in the stroller because it was such a hot day (and neither did he take a nap).
The farmers' market on the whole was quite impressive. We got there around 1pm, which is 1 hour after it opened. Thank goodness we found a parking slot near the entrance to the market, or else we'd be carrying baby in the hot sun! That's one good thing about making it to the market relatively early, although on the other hand it meant we bore the full brunt of the mid-day sun. There were marshals guiding cars towards empty slots so you could see that some effort was being made to make the visit an enjoyable process. There's also a free shuttle, but you'll have to check the website for more details.
The farmers' market was also impressive because of the size. I was just expecting a handful of stalls, but there were many stalls! I spent about 1.5 hours going through all the stalls and that's considered fast already because I skipped quite a number due to the heat. Wow if the weather had been more forgiving, I would have probably spent at least 2 to 3 hours there, sampling my way through the stalls and eating all the interesting things. I really wanted to try the fried quail, frog balls, otah etc but at least I did manage to try the crocodile tail nuggets. Yes. Tastes better than chicken, if you want to know.
It got more crowded as we were about to leave. My friend who arrived around 2+ said that she had to line up 30 minutes to get the otah!
Scroll down for pictures of the farmers market!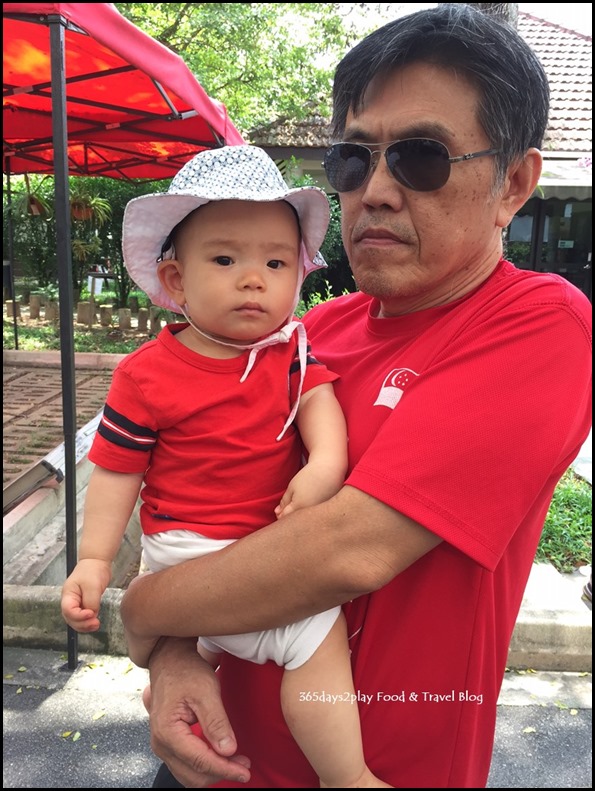 All ready to chiong the market!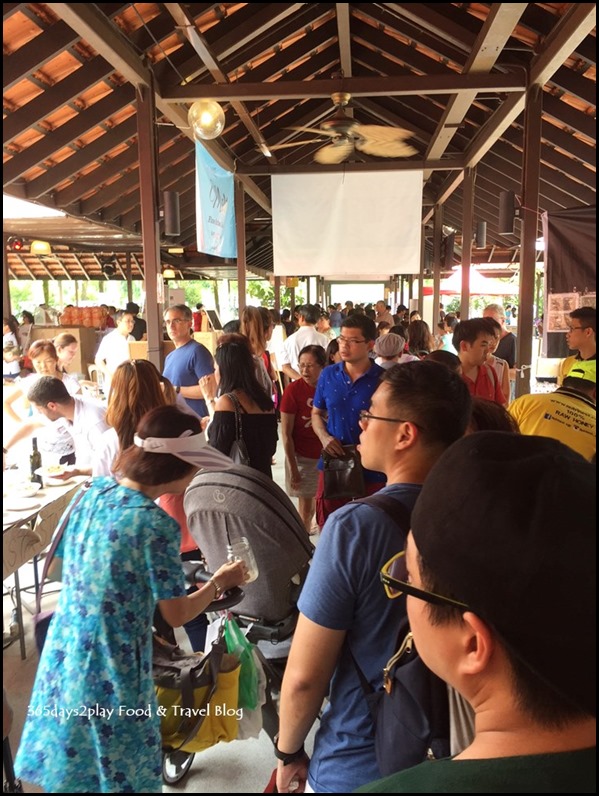 Look how crowded it was! Apparently, this edition of the Farmers market is held at D'Kranji Farm Resort, where the layout is like a racetrack which loops back on itself. Several of the previous sessions were held at Nyee Phoe Flower Garden under a huge marquee like place. I'm assuming that layout would be better as you can get to any stall you want by criss-crossing the place, unlike the racetrack layout where you can't short-cut and cross over to the other side.
I'd recommend buying the stuff you spot immediately instead of making another round. I thought I'd do that but I never went back because I wanted to just go back to the car after I reached the end.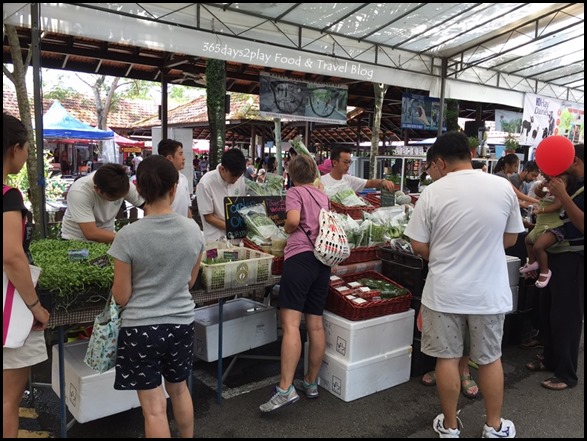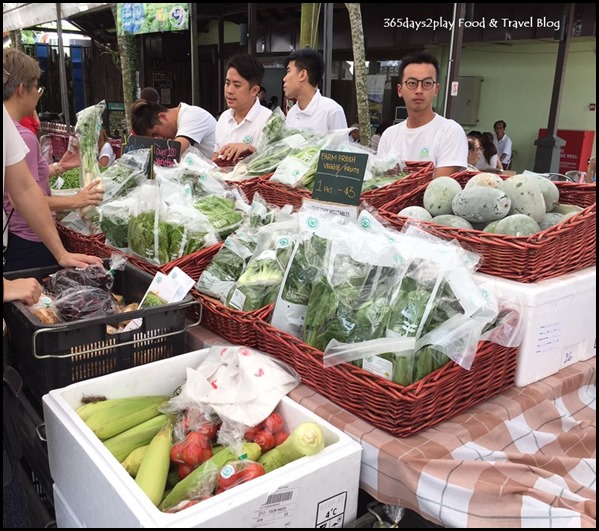 Quan Fa organic vegetables. I bought a packet of organic lettuce grown in Singapore for $3. There were a few other organic vegetables, but grown overseas so I gave those a miss due to fridge space limitations. http://quanfaorganic.com.sg/
Yili vegetables, all locally grown, but not organic.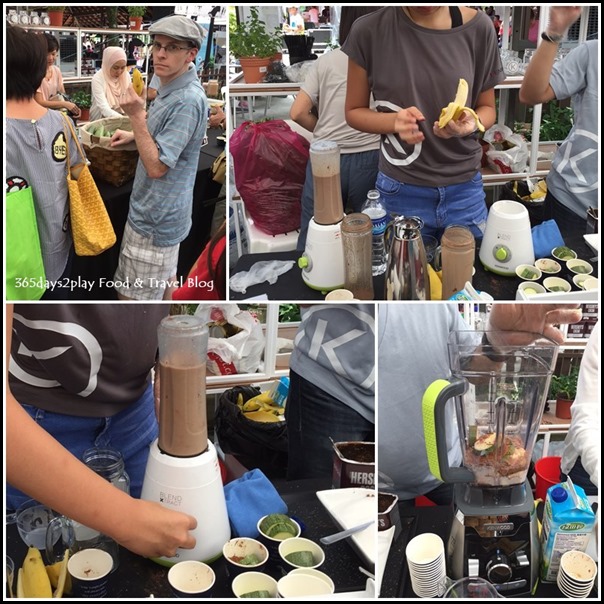 One of the 1st few stalls that caught our eye because the banana zucchini smoothie was going for only $1!! Yes deal of the day! Free glass mug too after you finish the drink! You know why, the stall is owned by Kenwood, trying to promote their blenders! Delicious smoothie I must say, for a person who doesn't actually like smoothies that much. Should have more of such sponsored stalls to make the crowd happy! (Note to self: should have bought like 10 drinks to get 10 mugs!)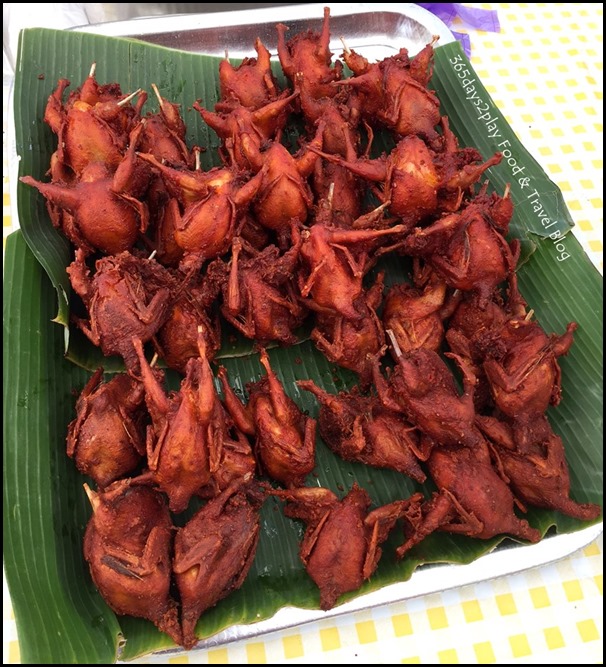 Fried Quail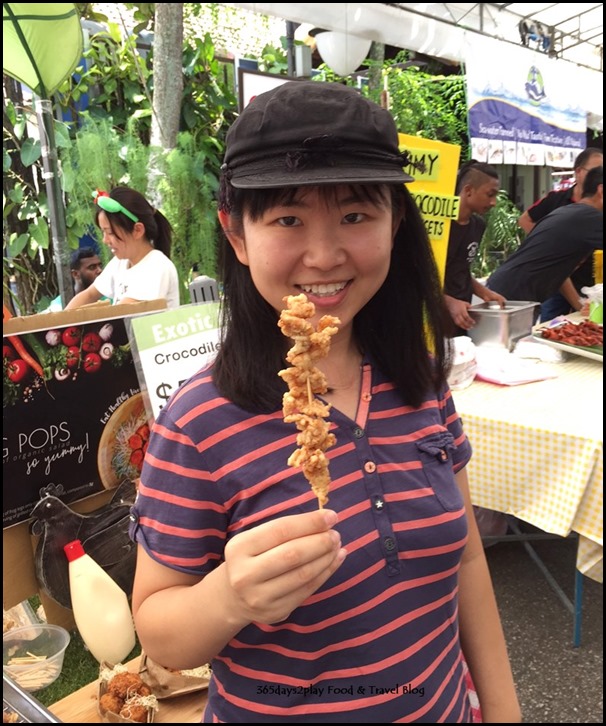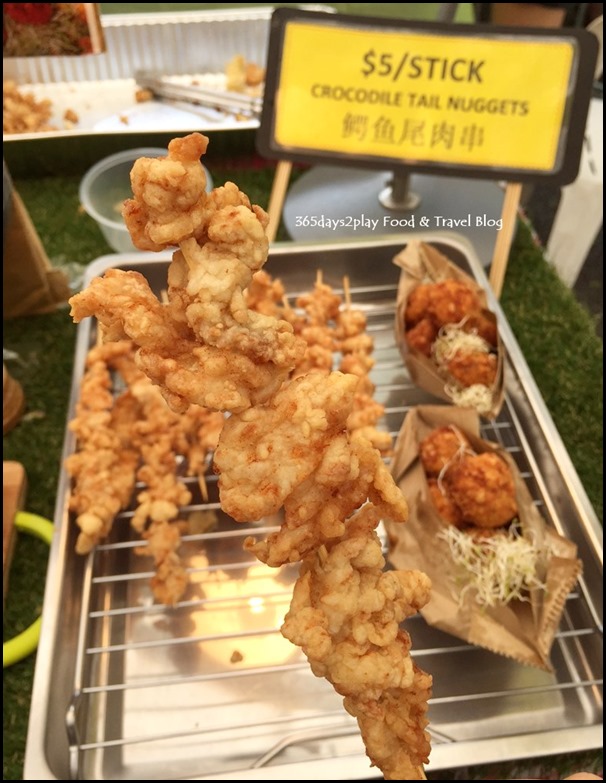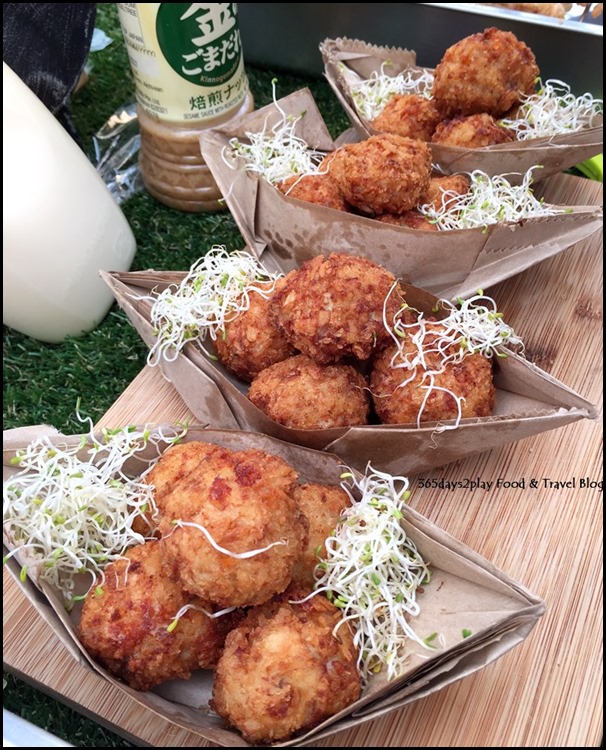 The most exciting stall for me, food wise! Was torn between the frog pops or the crocodile tail nuggets but since frog is just a bit more common, I chose the crocodile tail. Tasted very good! http://jurongfrogfarm.com.sg/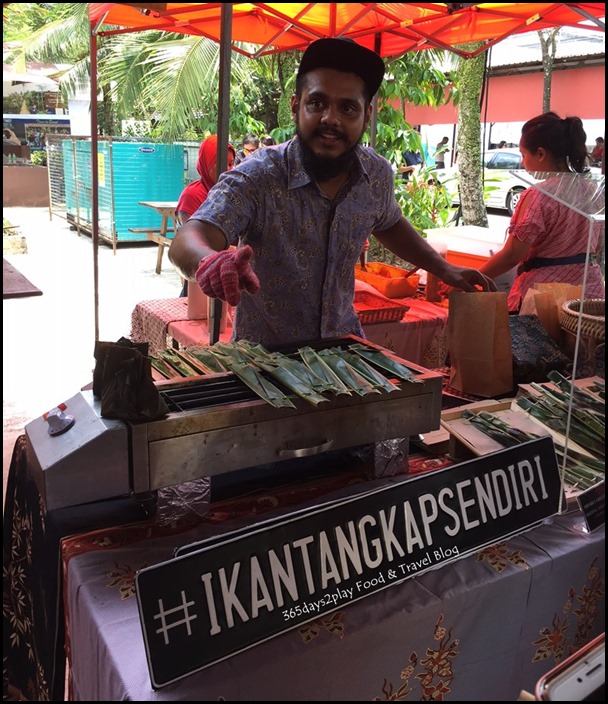 Otah man. #Ikantangkapsendiri…..apparently he seems to be saying that he caught the fish himself. What an illustrious man, can catch fish and can also make and peng gang otah! Oh wait, this is a 30 yr old business already. Check out their instagram! https://www.instagram.com/ikantangkapsendiri/ My friend queued 30 minutes for their otah!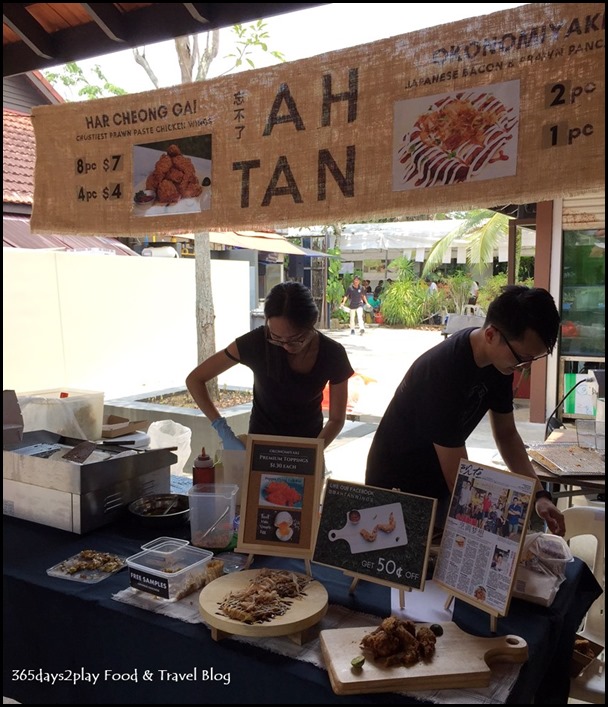 Ah Tan Har Cheong Gai and Okonomiyaki…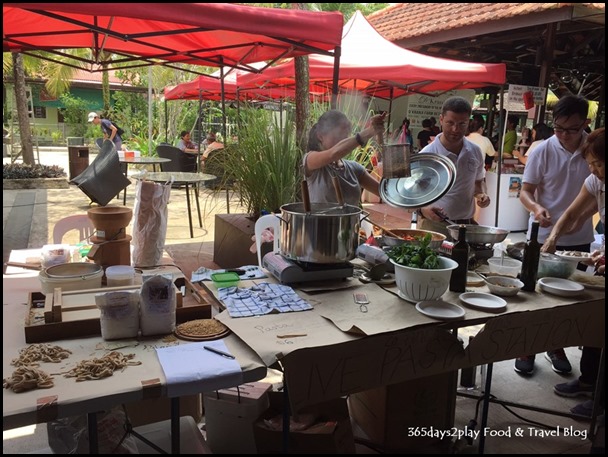 Oteveil — Stone-milled ancient grains and live pasta station. I was pretty intrigued by this. As you know I love anything organic, natural etc and stone-milled ancient grains are just up my alley! You can see the stone-mill in the left background, plus a contraption to cut the pasta into long shreds. But too bad I was in no mood to have a hot bowl of pasta (even though it smelled good!) so I had to give this a miss. Check out their website! https://otiveil.com/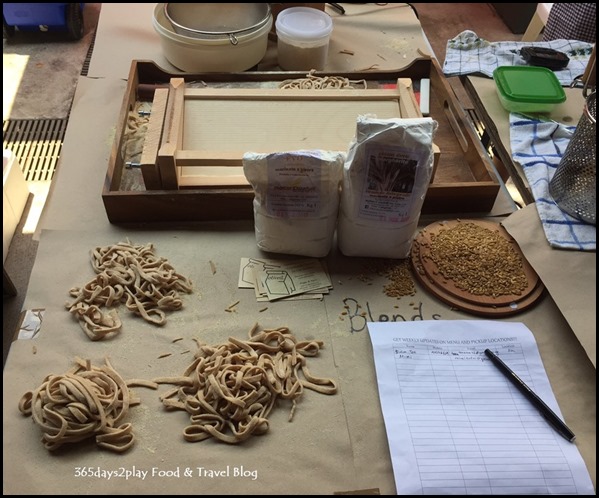 Closer look at the pasta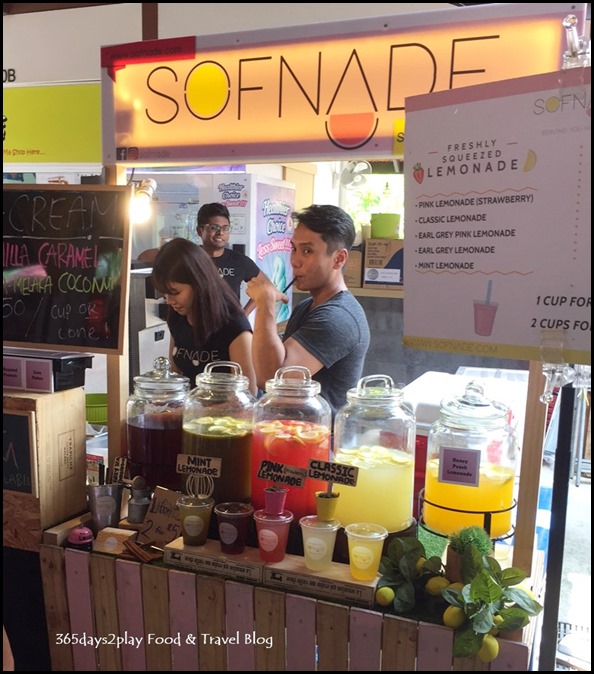 No doubt the iced drink stalls were doing a roaring business in the sweltering heat. The Partner ordered the lemonade and he said it was good. I had to order a Soi 55 Thai Iced tea to quench my thirst too, despite having chugged the banana smoothie like 15 minutes earlier.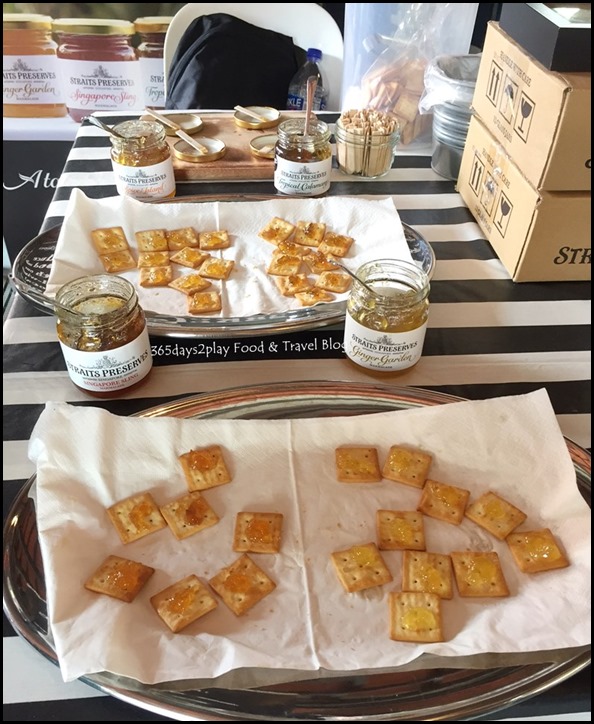 In my opinion, it's not a farmers market if there isn't someone selling jams, even if it is Singapore…. These are are from Straits Preserves. https://www.straitspreserves.com/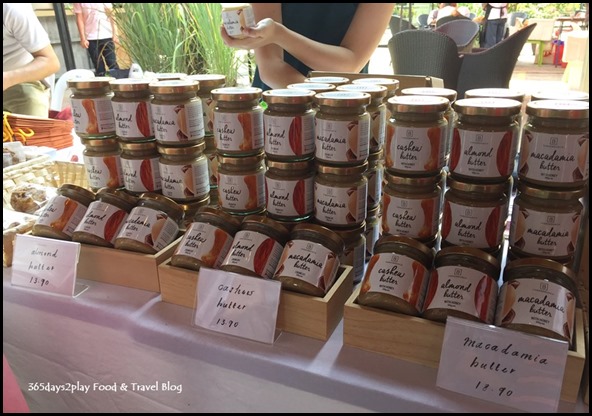 Nut butters from ThreeBrunch. https://www.threebrunch.com/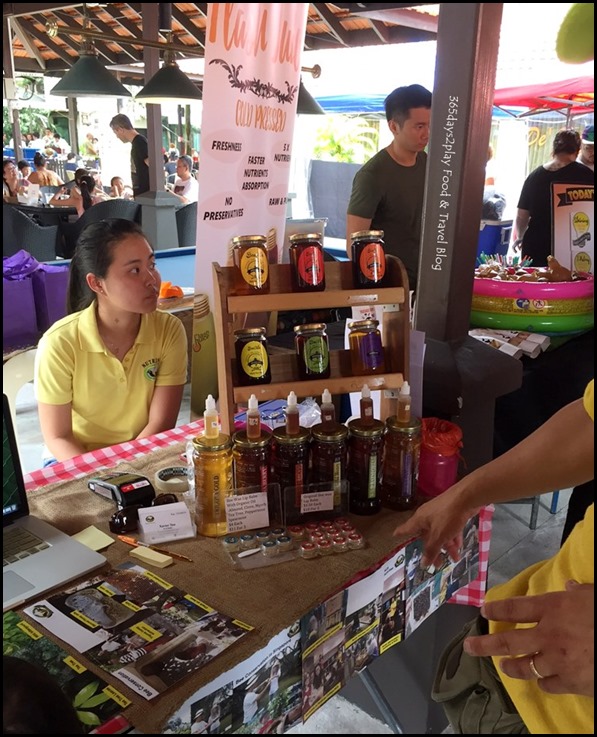 Honey…didn't quite get the chance to see the details. I'd be keen to see Singapore produce its own honey. If I could I would like to do so too, but I think my neighbours might freak out.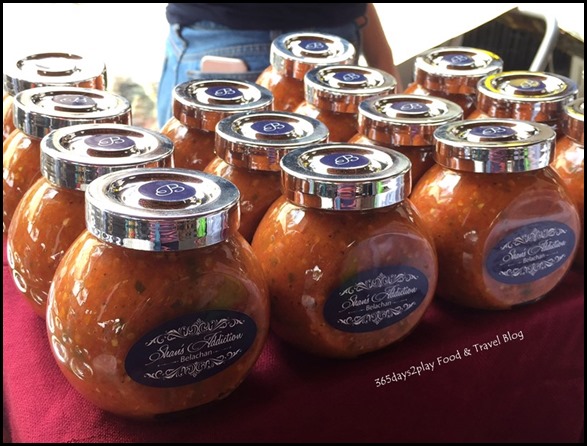 Belachan…one of the things I should have bought but didn't in the end. There were 2 stalls retailing belachan! https://www.facebook.com/shansaddiction/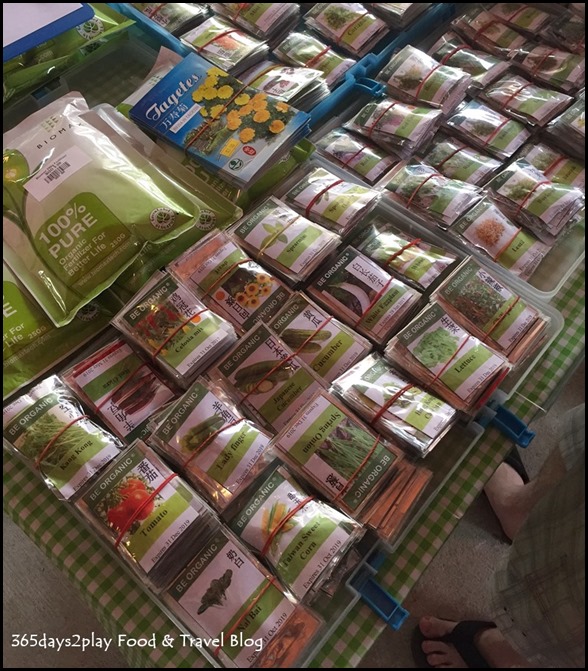 And finally the last stall before calling it a day. We bought like 10 packets of these seeds! Plus more potting soil! Going to plant up a storm! It's very therapeutic doing gardening at home, and so rewarding when the vegetables are fully grown and you can eat them! So far, we've seen the most success with bok choys, chillies and potatoes. And zero success with gourds, tomatoes and papayas. All planted in pots.
---
Add me on Facebook, Instagram and Twitter if you want to be kept up to date with the latest happenings in the food and lifestyle scene in Singapore!
---
Kranji Countryside Farmers' Market (9th Edition)
D'Kranji Farm Resort — 10 Neo Tiew Lane 2 Singapore 718813
11 March : 12 — 6pm
12 March : 10 — 4pm
https://www.facebook.com/farmersmarketsg/