Parents with young children often wonder if a country or city that they're travelling to is baby or toddler-friendly. Just check the mommy forums online and you will know that this is a perennial question. And rightly so too. I mean if your baby or toddler is already a handful in Singapore, the last thing you want is to be unprepared and ill-equipped in a foreign location. It's very easy for bystanders to say "go with the flow, it's a holiday!", but if it's an issue that you have to face every single day of your trip, it will take its toll.
We just returned from Melbourne last week. Prior to visiting, I had been told that Melbourne is pretty baby-friendly. My biggest concern before going was how to let Baby nap comfortably, and whether the streets would be stroller-friendly. I wasn't too concerned food-wise because Baby loves his food, and also Melbourne seems clean enough. On the whole, we had a pretty good 10 day holiday in Melbourne, yes 10 days entirely in Melbourne city.
Is Melbourne baby / toddler-friendly? Here's what I found out.
1. Baby food is super affordable in Melbourne!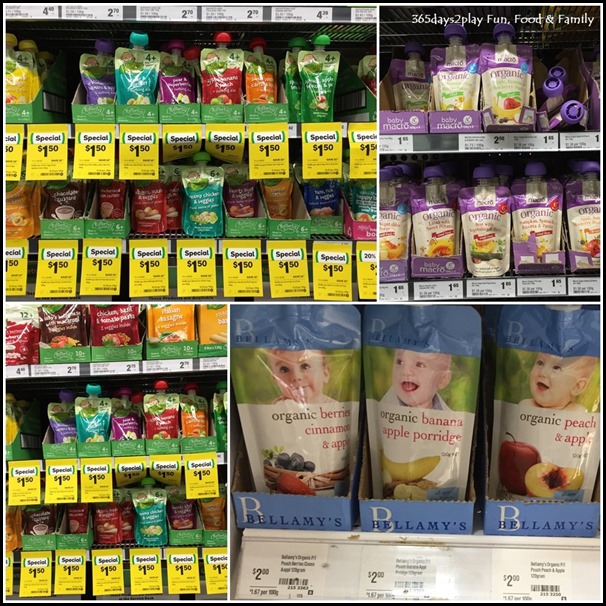 So cheap! $1.50 for Rafferty's Garden, $1.65 for Macro's Organic and $2 for Bellamy's!!
I am a huge advocate of using bottled or packet baby food when on holiday. I know some parents who insist on bringing their slow-cooker along to make porridge for their children, but seriously, that's a lot of effort for a holiday and is that necessarily nutritionally significantly better? Anyway for us, the packet food works out well because Edward loves them! We stocked up on tons of these in Melbourne, and even bought extra to bring home. Each packet is AUD$1.50 as compared to well over S$3 in Singapore (approx 1 to 1 exchange rate currently). So affordable as compared to Singapore! As Edward is already above 1, he can have the same food as us, but I have the baby food on standby in case we're ordering something that he can't have, like medium-rare steak or something.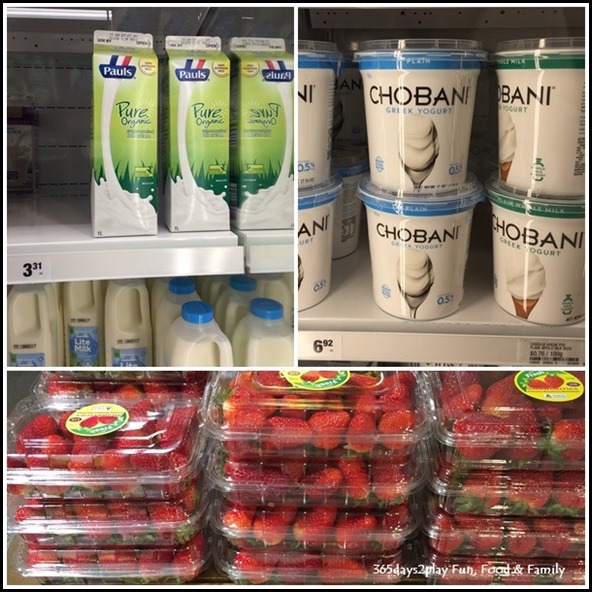 Dairy products and fruit are very cheap in comparison! Chobani yoghurt costs $16 in Singapore but only $7 in Melbourne!!!!!! Those strawberries were just $2.90 and you can even get $1 ones in Victoria Market during this time of the year.
2. Formula milk is very cheap too as compared to Singapore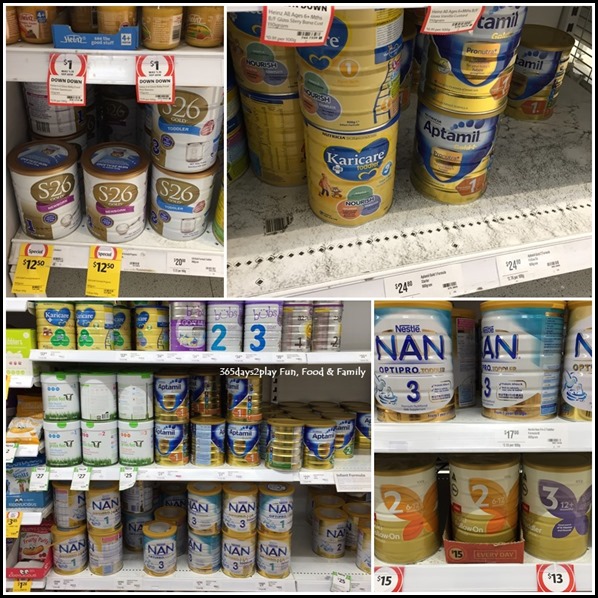 Nan formula milk only $17!!!
After the expose by the Straits Times, I think it's no longer a secret that infant formula milk in Singapore is overpriced. If you need formula milk, be sure to get it in Australia to enjoy the huge "discount"! And make room in your suitcase to bring back that tin of formula, or two!
3. Easy to get around with a stroller / Open strollers allowed in trams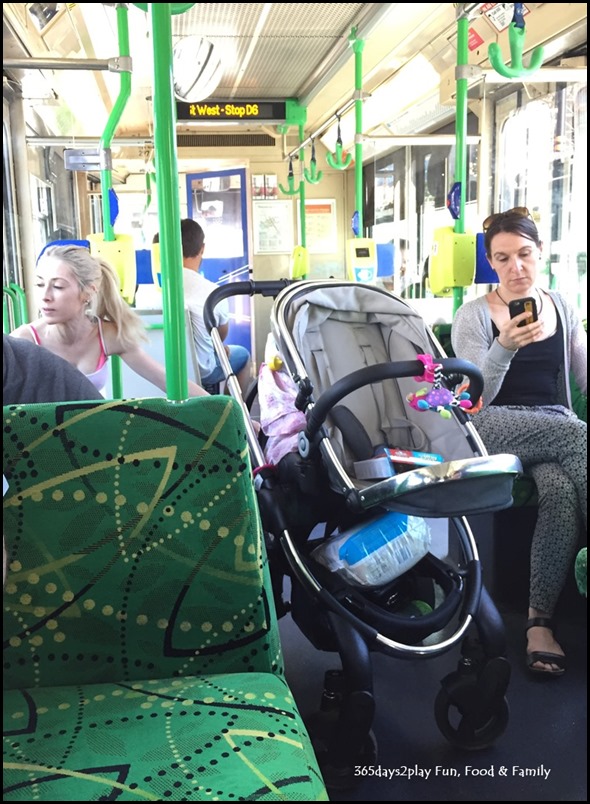 Nobody bats an eyelid even if the stroller is in the walkway. People will just squeeze past it like how they squeeze past other people in a crowded train. No big deal.
When in the heart of Melbourne city, the most popular mode of public transport is the trams. It's free to use the trams in the free-tram zone in the CBD too. Open strollers are allowed too, you are not required to fold the stroller up, and nobody will give you the evil eye or make you feel bad that you have a big and bulky stroller. Instead, I have seen people jump off their seats at lightning speed to accommodate the stroller or the accompanying parent. These trams are just slightly wider than buses.
Singapore only recently allowed open strollers on our buses but there are so many rules like if the bus is full blah blah blah you will have to fold up the stroller. Come on, if you are travelling alone with your kid, how do you carry the child and the stroller at the same time? That is a very dangerous thing to ask for. This is not very encouraging to parents at all if you ask me.
Another thing to note is that there are several accessible tram platforms in the CBD. Meaning the platform level is the same as the tram floor, so you can wheel the stroller directly into the tram without navigating steps. Unfortunately, only selected platforms are "accessible" and only selected trams are of the modern type without steps. Going outside the CBD, it's quite likely you will have to navigate several steps up the tram. Not sure how parents travelling alone with their children navigate this, perhaps they have to ask for help from nearby passengers!
Oh before I forget, it was also quite easy to push around a stroller. The pavements are well-maintained and the city is pretty flat, so there are no steps to navigate, generally speaking.
4. There are kids play areas at the department stores for kids to entertain themselves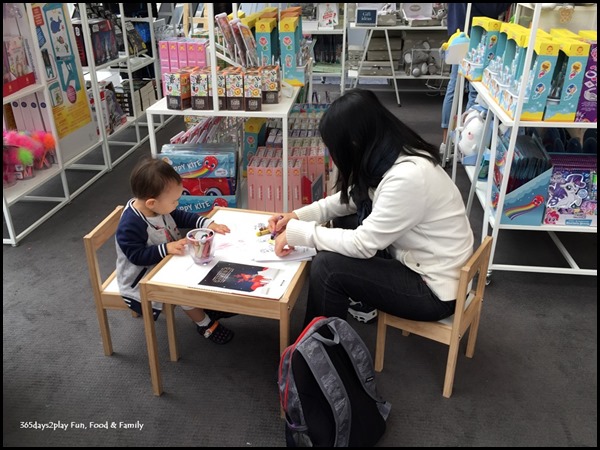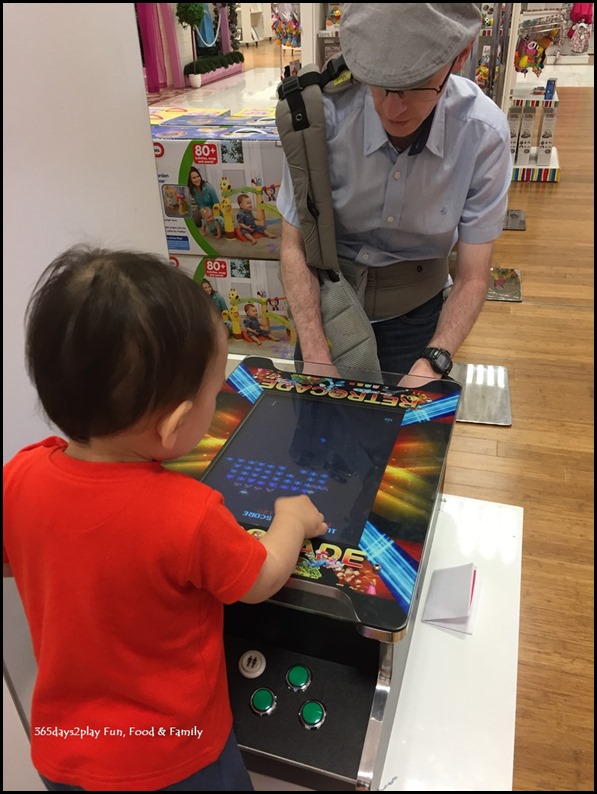 So cool! A retro games machine for free play!
I love it that the malls have kids play areas for the kids to entertain themselves, or for Papa to entertain baby while Mama shops in peace. It's also a nice opportunity to mingle with the local kids.
5. Numerous programmes / activities for children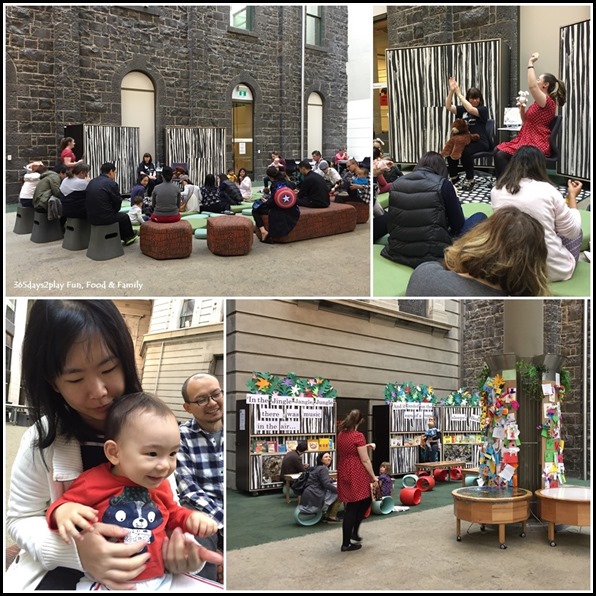 Speaking of opportunity to mingle with the local kids, try attending some free kids programmes. For example, the State Library Victoria runs Baby Bounce, a stories, songs and rhymes session for children under 2 years of age. It's held 3 times a week on Tuesdays, Wednesdays and Thursdays.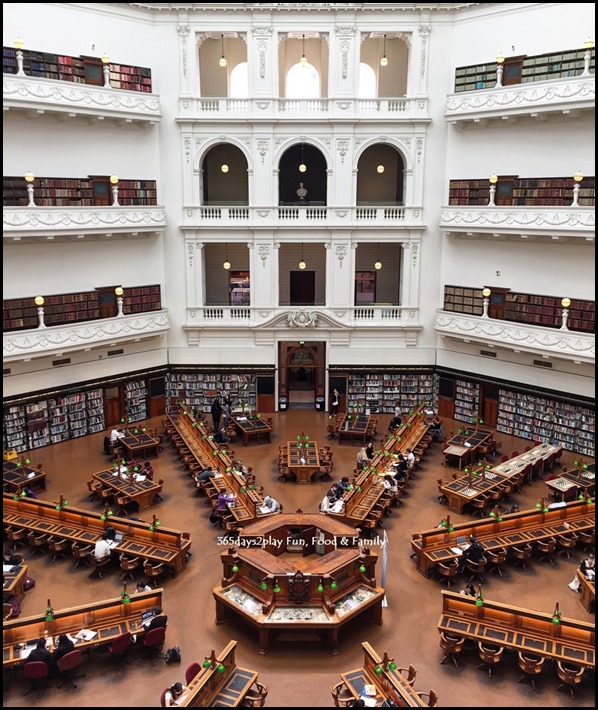 And the reason you would want to go to the State Library Victoria is so that you can get this most Instagrammable picture.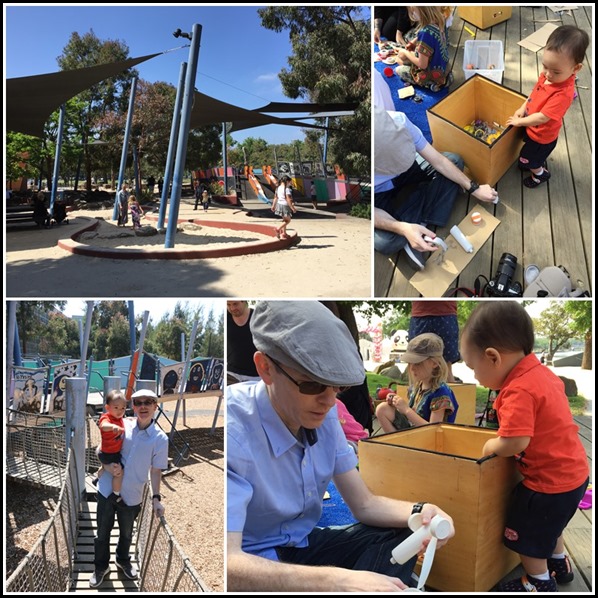 Another arty option held outdoors is the Artplay Backyard at Birrarung Marr (behind Federation Square), where kids can create art pieces using all sorts of random materials.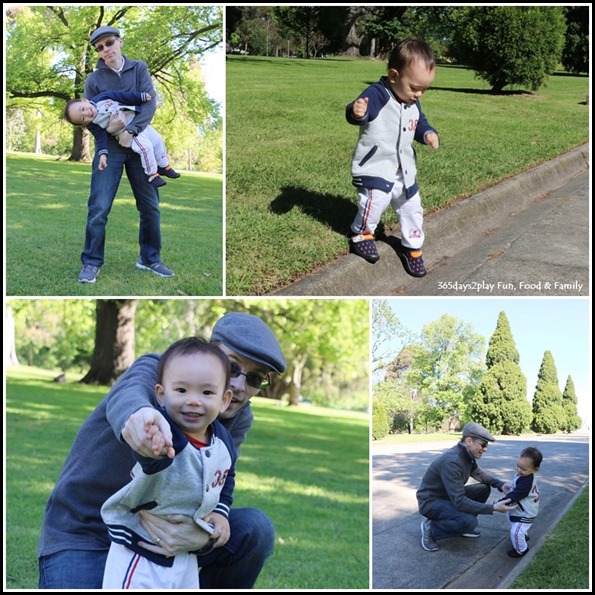 Actually just being outdoors enjoying nature and the cool temperature is great fun in itself. Like even playing in the drain is fun! The cool temperature is lovely for children! Visit the parks and gardens as much as possible when you are there.
6. Very few high-chairs and very dirty if available!
It sounds like Melbourne is perfect for bringing young children! But it wasn't all a bed of roses. The biggest issue we faced was the lack of high-chairs! Melbourne is famous for its laneway eateries, ie eateries lining the alleyways. Some are hole-in-the-wall sized, but some are fairly large cafes. Needless to say, the hole-in-the-wall ones will not have highchairs, but I was surprised to find that some large cafes (could call them restaurants even) did not have high chairs.
The cafes / restaurants along DeGraves street also do not have high-chairs, yes we asked. We visited Cafe Segovia and Cafe E Biscotti along Block Place, and between the 2 restaurants they share ONE high-chair. I know this because I had to wait for the high-chair that was being used next door.
The most ridiculous one was the Ca de Vin restaurant beside the huge H&M building at Bourke Street. It calls itself an upmarket pizzeria and trattoria but when we asked if they had high-chairs, the server said "sorry we don't do high-chairs". Hmmm…. we don't do high-chairs. As in you don't welcome young children?
Be thankful if the place you are dining at has a high-chair. But don't expect it to come clean though. More likely than not, there will be crumbs littered all over and pasta sauce smeared into the grooves. Prepare plenty of wet-wipes, hopefully you have the anti-bacterial kind, and do the job yourself. What can I say, either the wait-staff in Melbourne have a higher tolerance to dirt than the wait-staff in Singapore, or they have vision issues?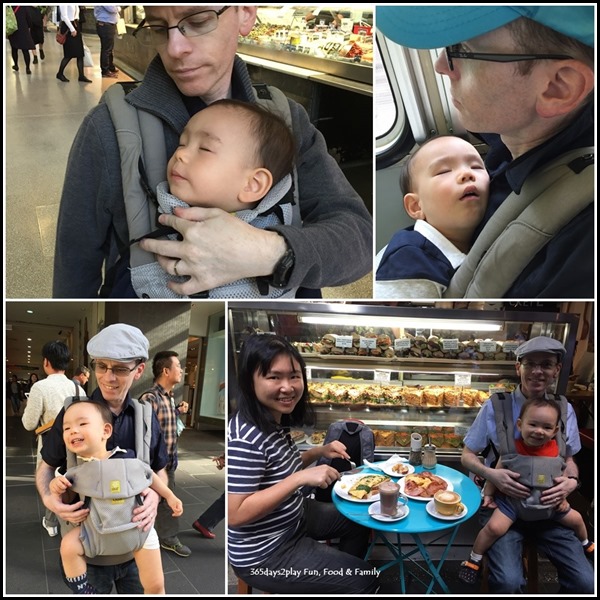 So be prepared to use the baby-carrier if you want to experience the laneway cafes. Also it makes great sense to get a centrally and conveniently located hotel so that you have the option of returning to your hotel room for baby's nap, which we did on quite a number of days.
---
Add me on Facebook, Instagram and Twitter if you want to be kept up to date with the latest happenings in the food and lifestyle scene in Singapore!
---