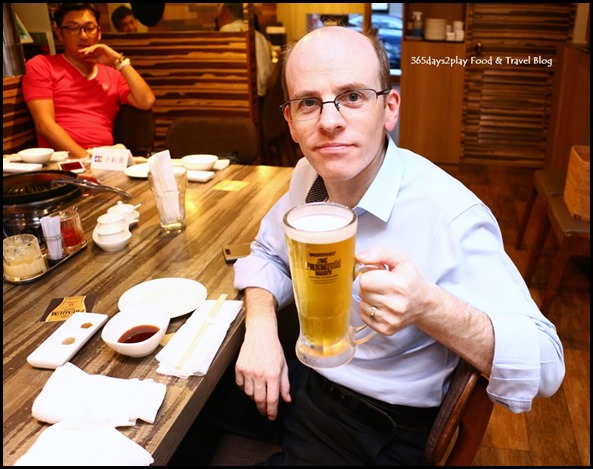 I thought I should post a picture of the Partner first. He totally enjoyed the meal at The Hitsuji Club because 2 things : MEAT and BEER. Need I say more?
If you know Japanese, you'll know that "Hitsuji" means lamb, and that's exactly what The Hitsuji Club is all about. They specialise in lamb, flown in straight from Hokkaido, and grilled right in front of you. Currently, about 75% of their clientele are Japanese expats, so you kinda know that this is the real deal.
Lamb by the way, is apparently quite healthy when compared to other meats. For example, weight for weight, it has about the same cholesterol as fish! I did not know that! Lamb is also rich in unsaturated fatty acids as well as vitamins and minerals. Of course, this all assumes you only eat the lean bits and do not eat the fats. You can read more about the health benefits of lamb here http://www.the-hitsuji-club.com/pdf/lamb-is-healthy.pdf.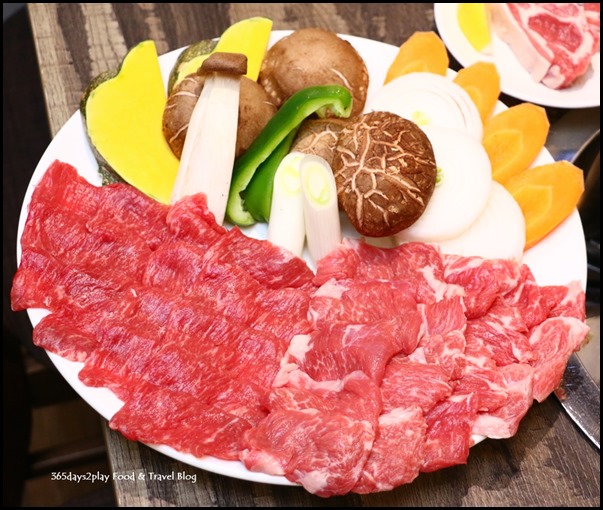 Premium Jingiskan Set $45 x 2
Most people will start with the premium Jingiskan and then perhaps top up with lamb chops or other cuts of lamb if they still have space. Pictured above is the amount for 2 pax. Take note that the premium cuts are grain fed lamb from Aussie, with the exception of the premium baby lamb chops, which are grass fed from NZ.
It's not a bad price too for this amount of food and the service, considering that you'll have to pay at least $30+ for a lamb meal in most restaurants.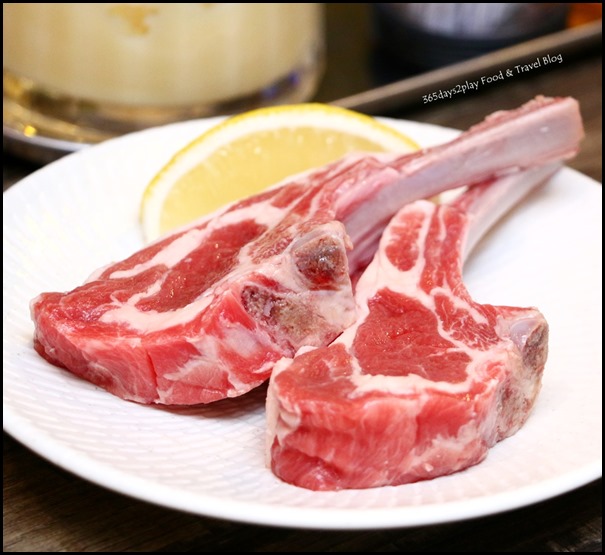 Baby Lamb Chops from NZ
Well of course we had to try the lamb chops too, how could we resist?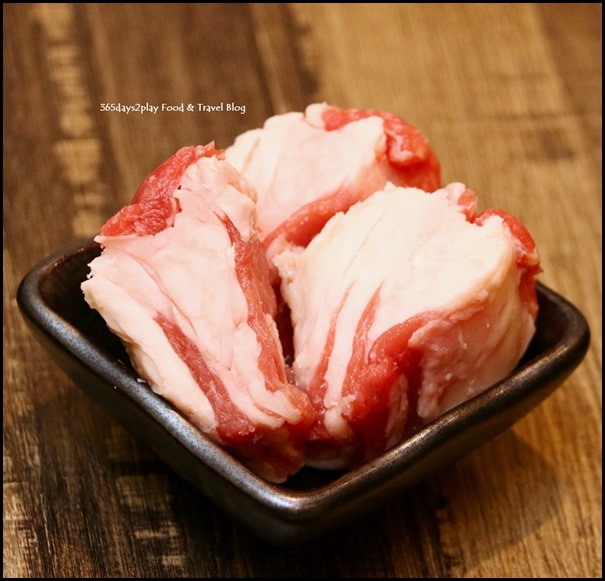 Lamb Fat
This lamb fat will first be used to oil the pan, and by the time its job is done, it will look like a lovely bit of crispy meat, and it will just taste SO HEAVENLY. Resistance is futile, and pointless, because you should take the opportunity to savour it while you are in a lamb restaurant. You can just exercise a little bit more the next day….
Oiling the pan with lamb fat
Watch this video above to be enlightened….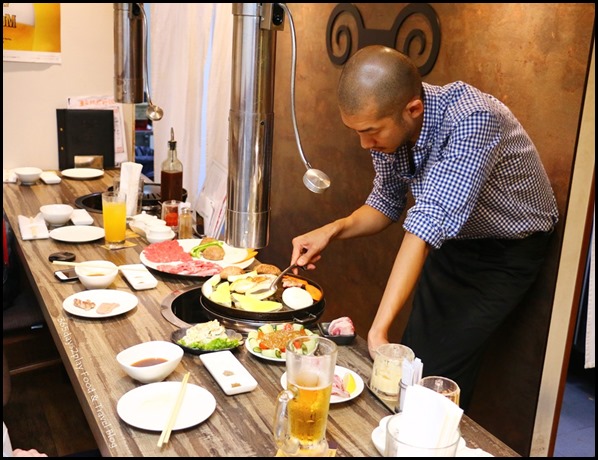 The staff will help with all the cooking so that you can concentrate on chatting with your dining companions without worrying that the food will burn.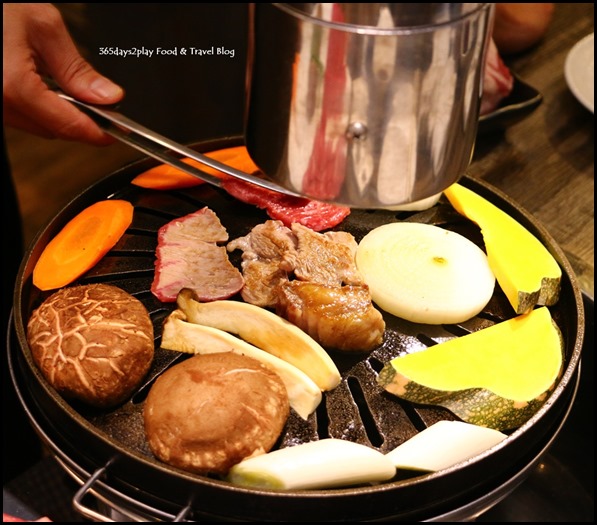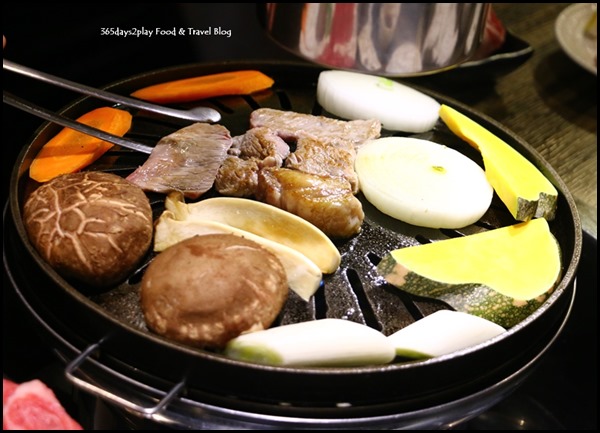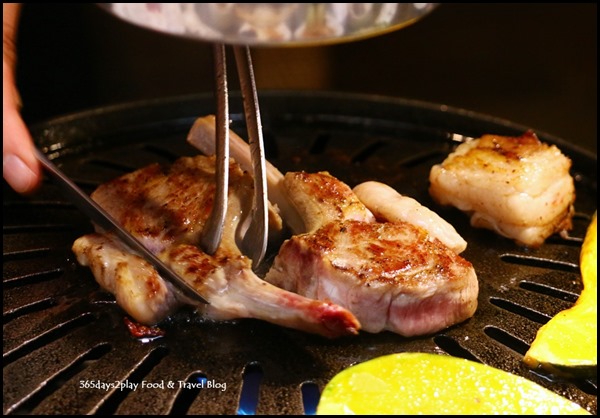 Lamb chops sizzling on barbecue grill
Sizzling meat with background music. I must say it is strangely therapeutic and fascinating to watch and listen to the meat cooking. Turn up the volume.
Needless to say, the lamb tasted fabulous. Good cuts cooked well and without heavy sauces, the sweetness of the lamb really comes through. The veg were also crisp and sweet. And I know some people say that lamb has a smell, that's probably because you've not eaten lamb! Lamb is actually a young sheep less than 1 year of age. Mutton, which is the meat from sheep that is above 1 year of age, is more common in Singapore (think mutton briyani etc), and it's mutton that has a heavier taste. And if you found the "lamb/mutton" to be tough, that means you were probably given really old meat, or that the cooking process wasn't correct. Choose wisely!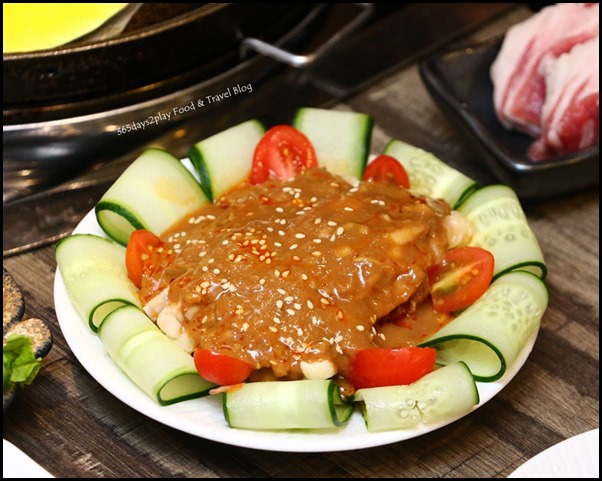 Boiled chicken with sesame sauce
Some of the side dishes are worth trying too. This boiled cold chicken with sesame sauce (inspired from Chinese cuisine) was fabulous! I just kept eating slice after slice. I was supposed to reserve half for my dining companion but when he wasn't looking, I ate 2 more slices!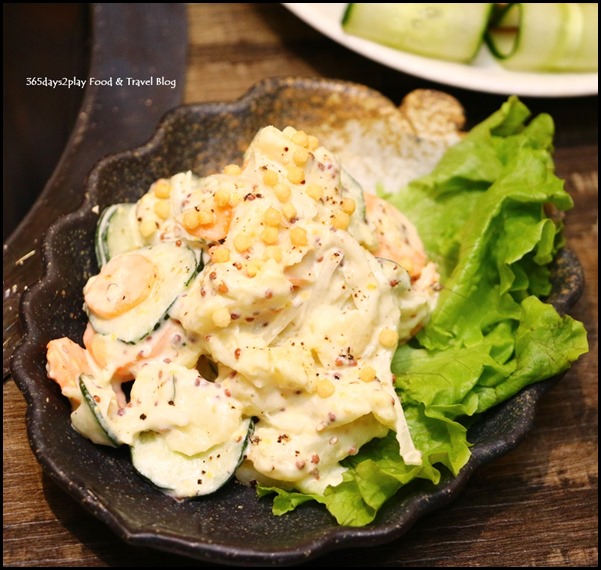 Potato Salad $7
The sides are all quite reasonably priced.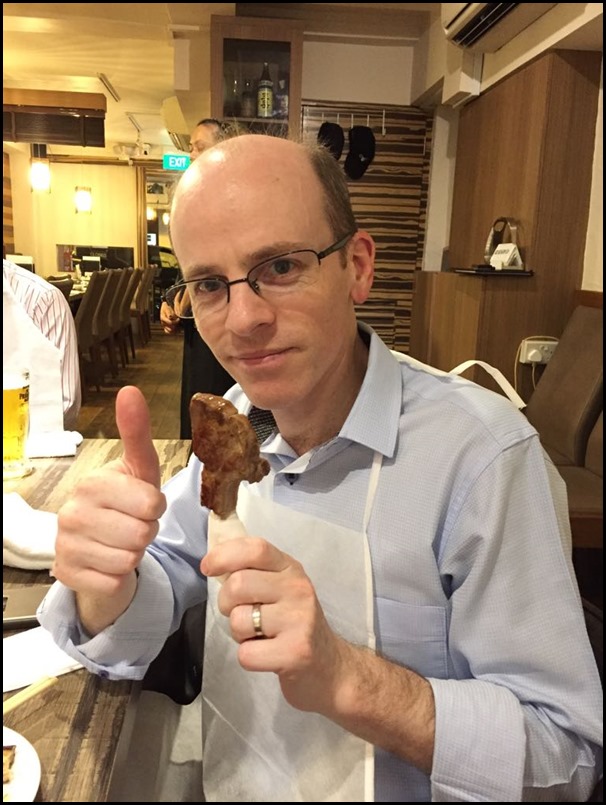 Look at this satisfied customer here.
The Hitsuji Club also has lunch set menus for $20 and an attractive All-You-Can-Eat deal for $60 for 120 minutes. It's just the standard lamb cuts though, but still, $60 for unlimited lamb, pork and chicken…………………
---
Add me on Facebook, Instagram and Twitter if you want to be kept up to date with the latest happenings in the food and lifestyle scene in Singapore!
---
The Hitsuji Club
65 Circular Road Singapore 049419
Tel : +65-6221-3789
Opening Hours : Lunch — 11.45am — 2pm ; Dinner – 6pm to 11pm (Mon-Sat)
http://www.the-hitsuji-club.com
https://www.facebook.com/the.hitsuji.club
Check out Niku Katsumata, which is a sister restaurant of The Hitsuji Club, specialising in beef and pork cooked on a crystal plate.