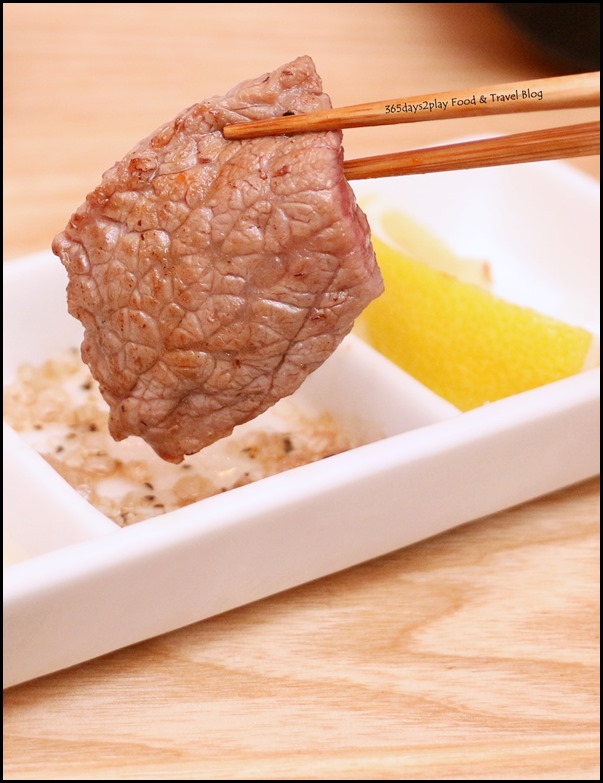 Niku Katsumata Singapore at Duxton Road is the 1st offshoot of the original Niku Katsumata in Ebisu Tokyo. Lucky for us that they have opened a branch in Singapore because it's an invite-only restaurant in Tokyo, ie you need to know some celebrity or big shot before you can dine there.
Niku Katsumata specialises in lean Japanese beef, although they also have well marbled cuts of Wagyu. Wait a minute, haven't we been trained that when it comes to marbling, the more the merrier right? But because these leaner cuts have been selected from cattle who have been bred and managed under the "highest Japanese standards", these leaner cuts taste exceptionally good too.
Another special thing about Niku Katsumata is that it's probably one of the few places you can have yakiniku without your clothes and hair stinking like hell. The meat here is cooked over a special clear crystal plate. This crystal plate is so special, hardly any smoke is produced so you can enjoy your grilled meat meal without smelling like you've just worked 24 hours in a kitchen. Apparently, if you dine there on a full moon, together with the crystal, this creates good Feng Shui….. I don't know about that but then again you never know…
Niku Katsumata offers a choice of 2 set menus, the Katsumata Course $128++ and the Ebisu Course $198++. There is also an ala carte menu but this is for topping up of the set menu. I had the Katsumata Course when I was there, and there was so much food, I can't imagine even wanting to order anything else! You can see the full menu here.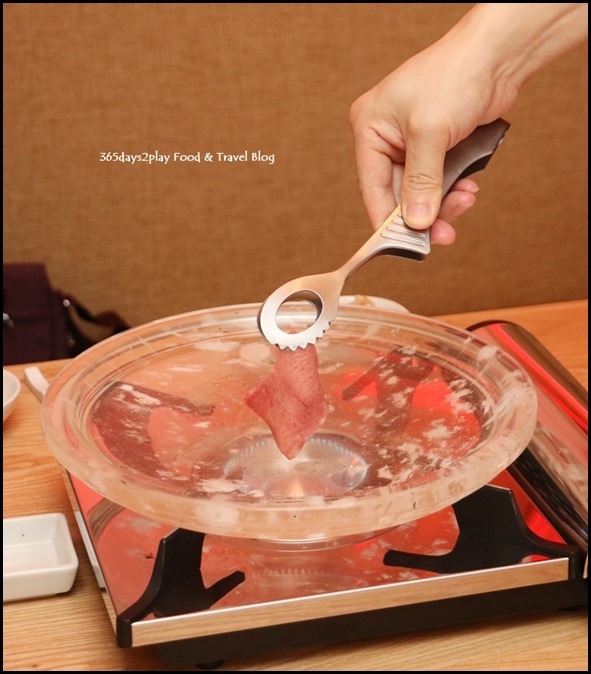 This is the special crystal plate. Although you can grill the meat yourself, I highly recommend that you leave it to the experts because you don't want to be burning or overcooking those expensive morsels of meat.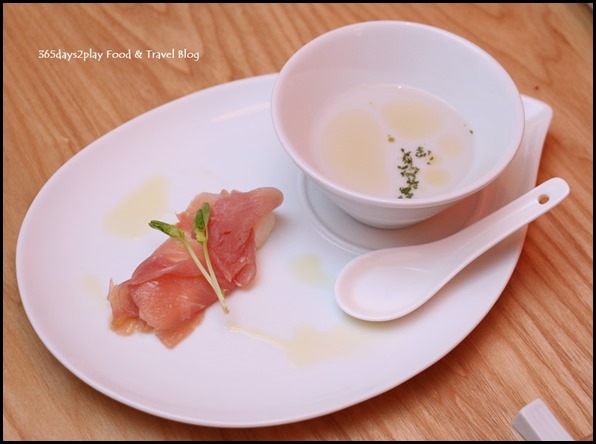 Prosciutto with pear and vegetable soup — You know you're in for an adventure when even the soup tastes out of the ordinary. Although I wasn't expecting a cold soup, it tasted like buttered bread in a soup version. Quite addictive after the initial surprise.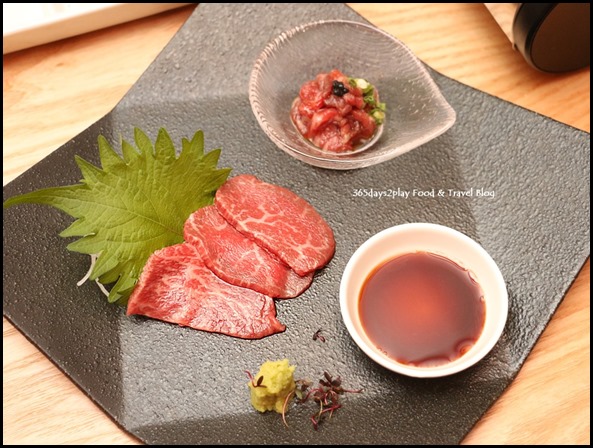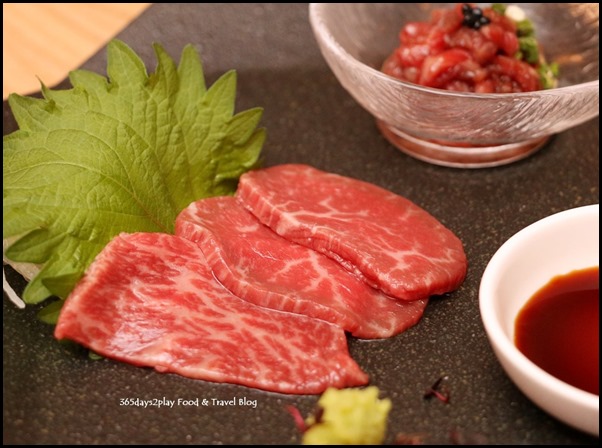 Wagyu Sashimi and Wagyu Tartare
The tartare was marinated like char siew and tasted lovely. The leftmost sashimi obviously tasted the richest, being the most marbled, while the middle and right ones being rump, were a little more chewy and gristly but had nice flavour.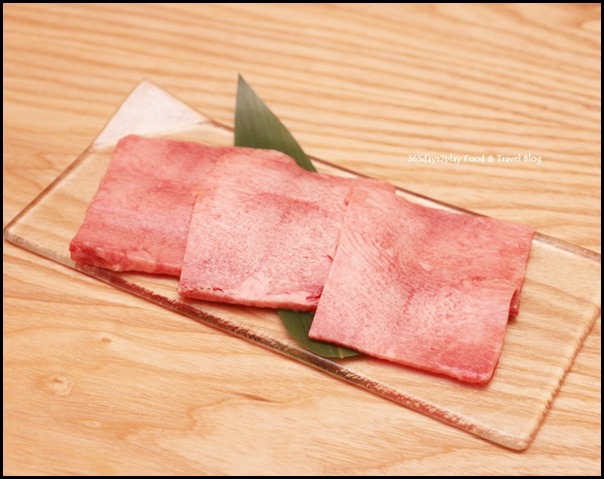 Beef tongue raw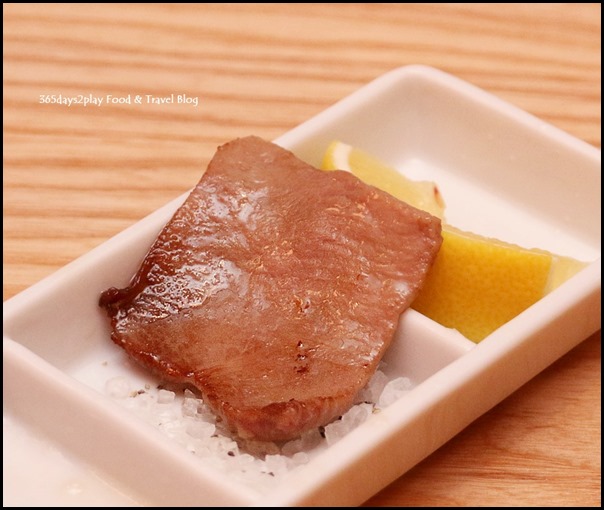 Beef tongue after it has been cooked. I have always liked beef tongue, even if it is just plain boiled. A pity it is so difficult to find beef tongue in Singapore! Needless to say, this grilled version of a beef tongue was fabulous.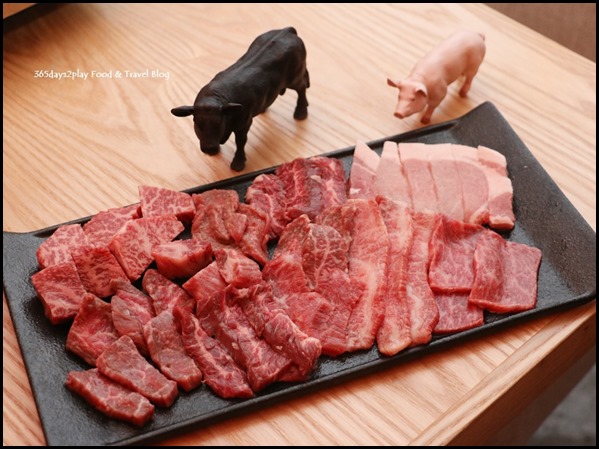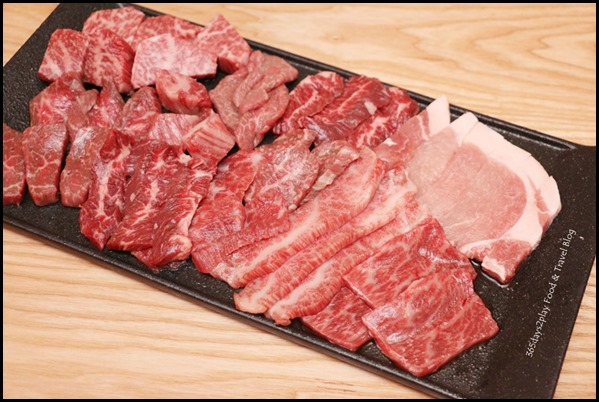 The carefully selected Wagyu Plate including cuts from filet, stomach, ribs, diaphragm, tri-tip etc (as translated from Japanese by the staff), and some pork from Kagoshima.
When this meat fest of a platter arrived at our table, it was hard not to break into huge smiles. I almost felt a teeny bit guilty for being so happy about eating so much meat, but I was too dizzy with delight to be guilty for long. I don't know about you but I absolutely adore the sight of raw meat (as opposed to cooked meat). I am quite capable of spending several minutes savouring the sight of the marbling.
As you can see, the cuts are in varying degrees of fattiness, each of them devoured with pleasure. This is in-your-face meat flavours, with no sauce to mask anything, which is a testament to the quality of the beef. Also, the fattiest piece may not always be the tastiest, as you may want a bit of chew or a bit more flavour instead of just pure richness. It all depends on your personal preference.
The addition of pork was not necessary in my opinion as there was nothing fancy about it, although it was still enjoyable. Perhaps it was there just to give the palate a bit of a rest before consuming more beef.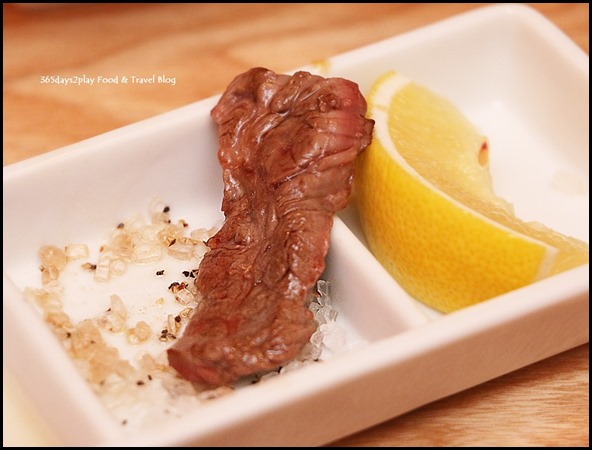 Look at this little beauty. This may actually be a very healthy meal because the meats were basically cooked unadulterated by any sauces. The only condiments are salt and lemon!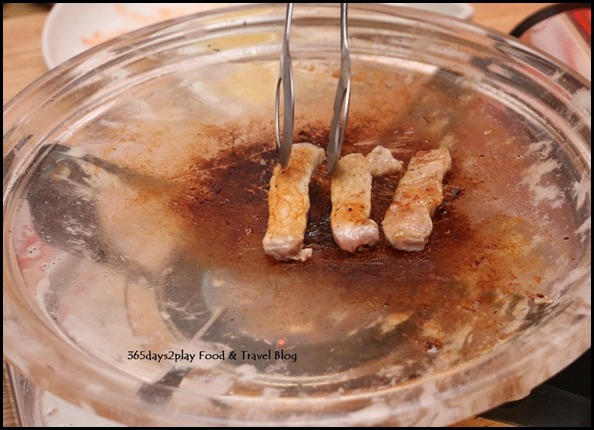 Cooking on the glass plate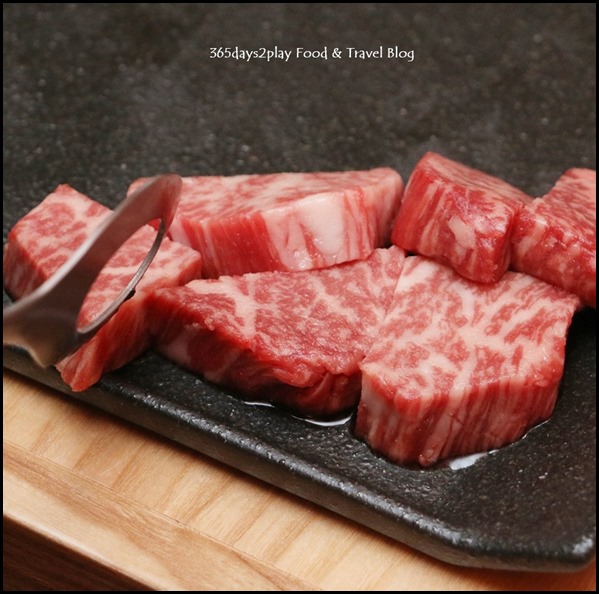 Raw wagyu beef with beautiful marbling….one of nature's glories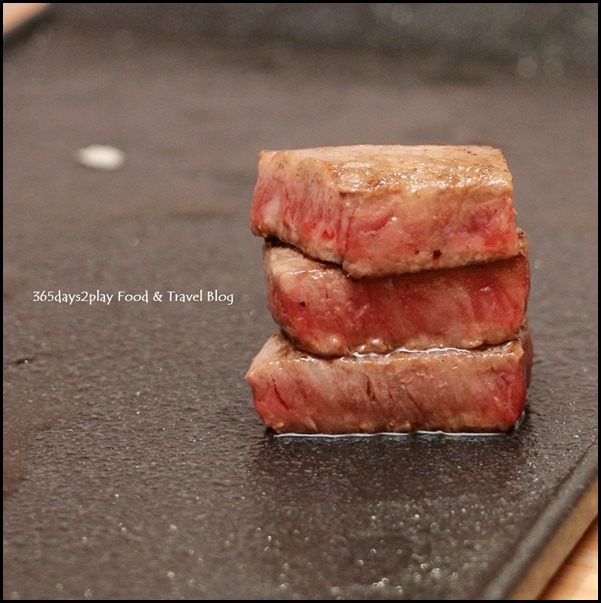 The grilled wagyu pieces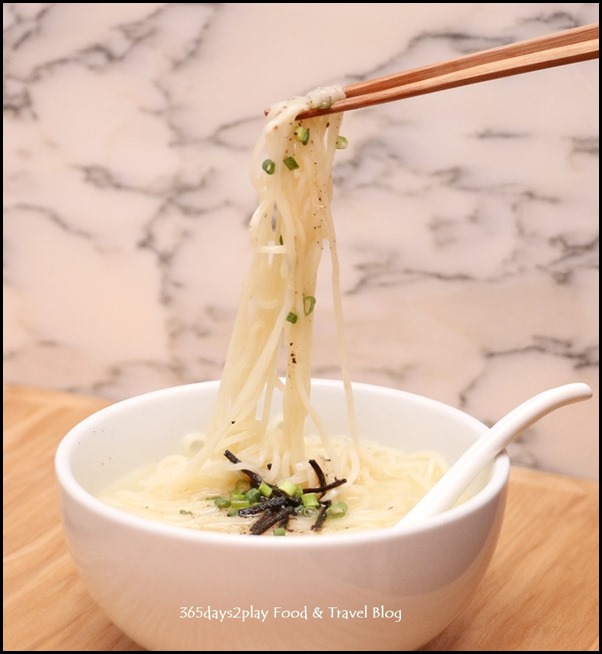 They Japanese like to end off their meals with something starchy. Us Singaporeans are not so accustomed to this practice so we thought we'd just give this a cursory taste. Except we ended up finishing the entire bowl because this Chicken Noodle "Torisoba" was so fantastic. Think supremely tender noodles dipped in chicken broth that has been simmered for hours.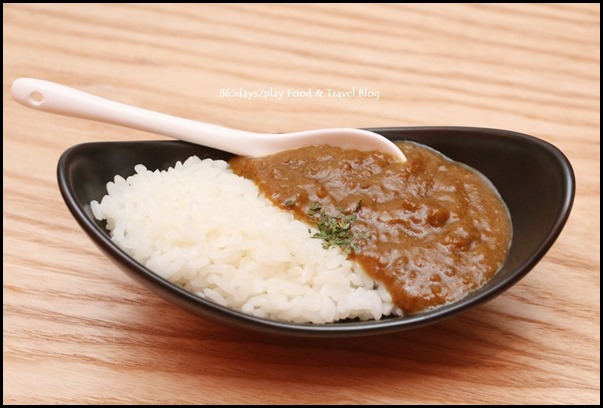 Even this Japanese beef curry was good. It's a wonder how they manage to cook such great dishes despite these not being part of the core meal.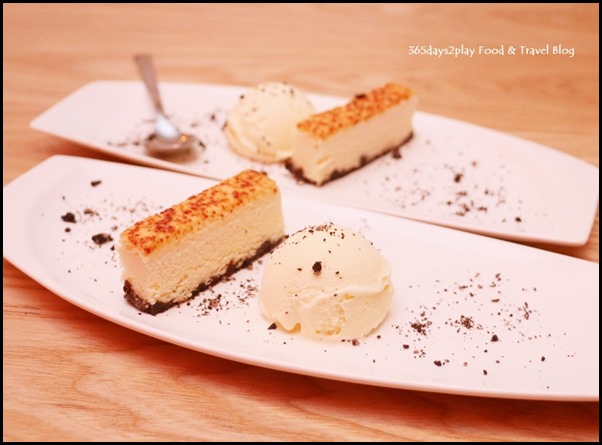 Okay if there's anything negative about the meal, it's the dessert. Unfortunately the cake had a weird taste to it to the extent that i merely took 2 bites.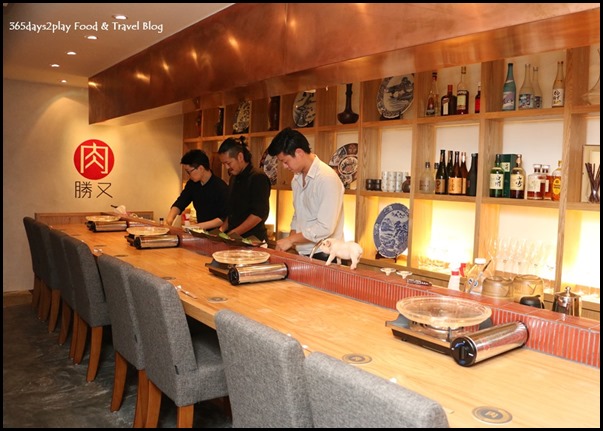 Still, the rest of the meal was so memorable that dessert was forgotten immediately. If you're looking to have a celebratory meal with friends, or just out to enjoy some really good meat, I would highly recommend Niku Katsumata.
Oh, and if you do go, don't forget to check out the handsome general manager.

---
Add me on Facebook, Instagram and Twitter if you want to be kept up to date with the latest happenings in the food and lifestyle scene in Singapore!
Other great eats around the Tanjong Pagar Area
Burnt Ends (Restaurant has won many awards!)
---
Niku Katsumata
47 Duxton Rd, Singapore 089511
9162 7502
Opening Hours : 17:30pm – 23:00pm
http://www.niku-katsumata.com/
https://www.facebook.com/nikukatsumata/
More reviews and articles at 365days2play Fun, Food & Travel!