KARA Café & Dessert Bar at Bukit Timah, known for its popular Sogurt self-served frozen yogurt and iconic dishes like its Pork Belly Miso grain bowl and Matcha Berry Mochi Waffles, has just launched a breakfast menu for the first time. I was invited to Kara Cafe to sample the breakfast menu, which is available from 8am – 11.30am. My previous visit was a couple of years back when I sampled Kara Cafe's main menu.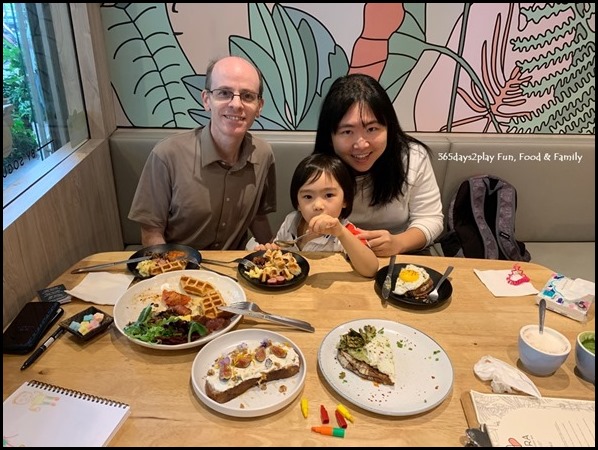 It was a wet and windy Sunday when I made my way to Kara Cafe. To be honest, I was wondering if I should postpone my visit since the forecast was for thundery showers for the first half of January. I had intended to kill 2 birds with one stone with this journey across the island, by visiting the nearby Singapore Botanic Gardens, but that hope was washed away with the gloomy weather.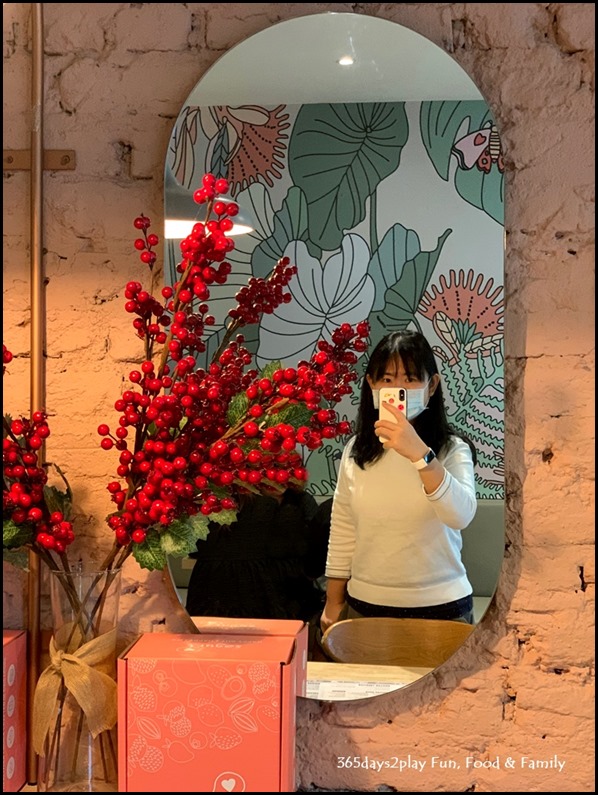 Well if there's one consolation, the sweater weather saw me indeed donning a sweater, which made for a good OOTD shot at the super pretty and Instagrammable Kara Cafe. Who knew the word OOTD would appear in my blog….
It was nice and peaceful when I arrived at 10.30am. The crowd only started to stream in around 11.30am, so if you want your OOTDs with the colourful walls, you have to be early!The breakfast menu is separated into sweet and savoury items. Most of the items are bread based, think toasties and sandwiches. Those that we tried were very substantially portioned, good to share if you are a small eater!
Some interesting sounding items include Nasi Lemak Sandwich $16 and Curry Chicken Quesadilla $15. However, we stuck with the recommended which are the Big Brekkie Waffle Plate $22, Avocado Open Face Sandwich $18.50 and Ricotta French Toast with Seasonal Fruits $18.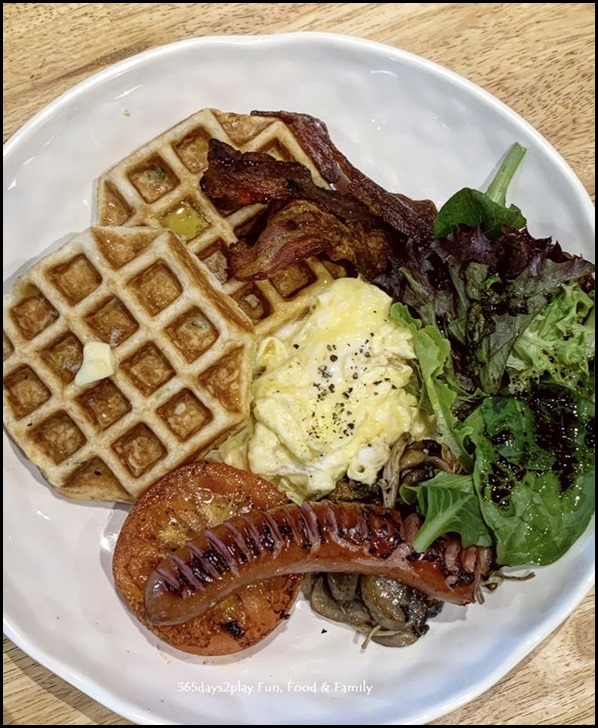 We enjoyed many of the items on the Big Brekkie Waffle Plate, such as the grilled sausage, crisp as a cracker bacon and the scrambled eggs which were pillowy soft. I was expecting a corn muffin type of taste for the corn waffles, but the flavour was a bit too mild  and the corn waffles were a bit too bready/heavy. This dish has potential though, if the corn waffles can be perfected, this dish would definitely be a keeper.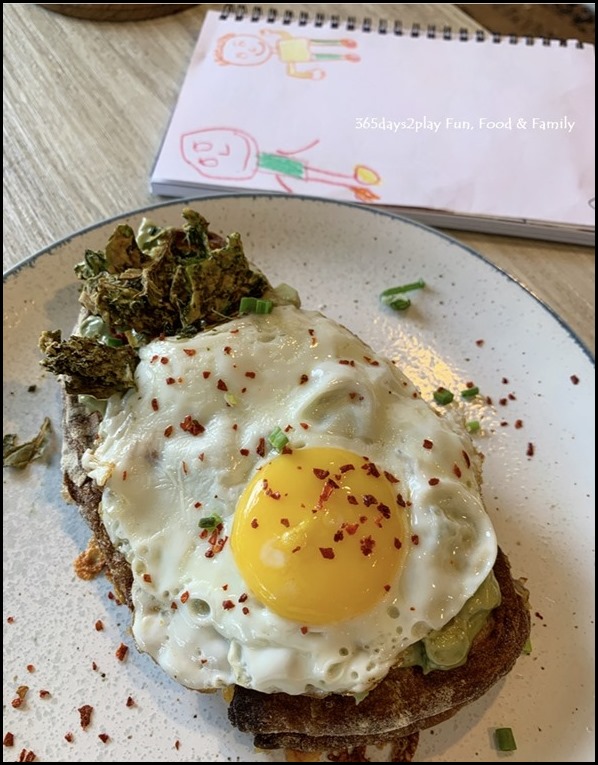 The Avocado Open Face Sandwich was slathered with a very generous amount of avocado. If you love avocado, you will love this. Also, the bread used is not only sourdough, but stuffed with melted cheese. A surprisingly heavy sandwich that I couldn't finish!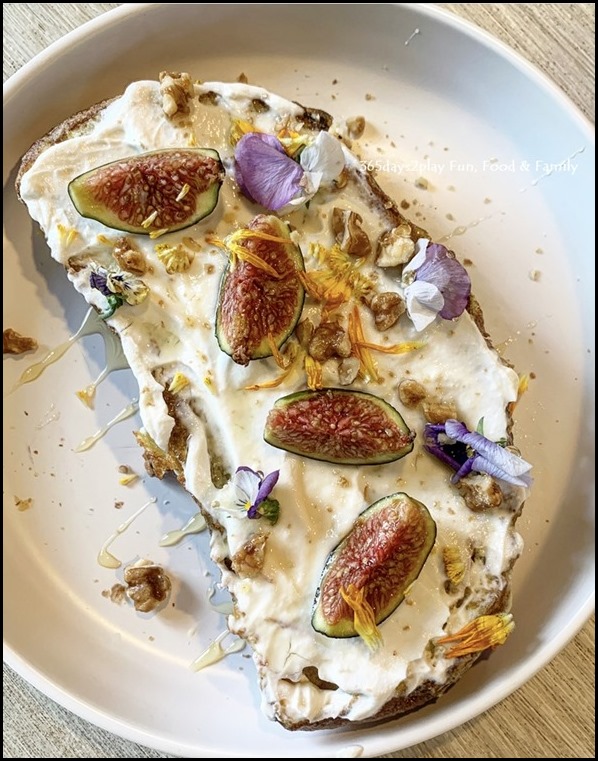 The Ricotta French Toast looked so pretty topped with candied walnuts and figs and drizzled with 100% raw honey. I can see many people ordering this just for the 'gram. Don't expect something sweet like dessert as this was only very mildly sweet. More honey would have been appreciated to cut through the tanginess of the ricotta. Also, I think a thinner slice of sourdough should have been used, so that the eggy mixture could penetrate the whole slice. Again, a promising dish if executed well.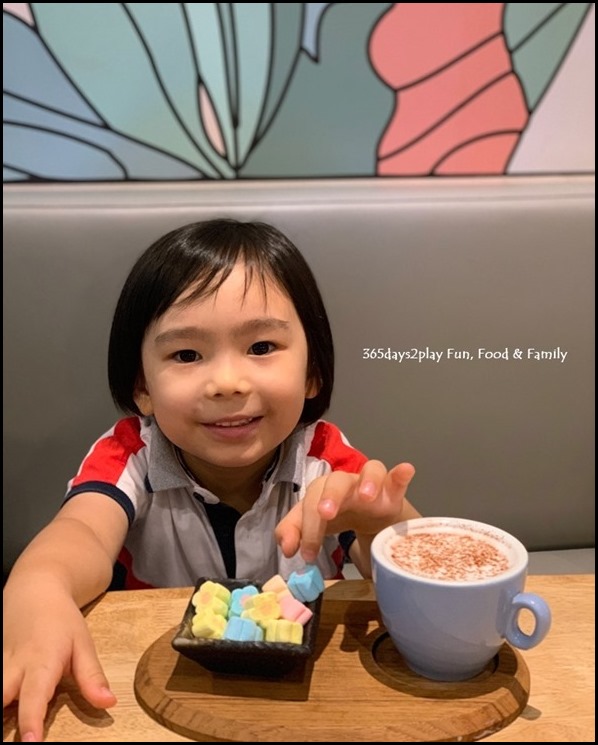 The flat white we tried was very smooth and not bitter, exactly my cup of coffee. The matcha latte was also good. Edward was all smiles when his Babycinno arrived because it included a plate of rainbow marshmallows!
Here's a list of all the dishes available from Kara Cafe's breakfast menu
Savoury Breakfast Dishes
1. Big Brekkie Waffle Plate ($22)
2. Dakgalbi Baked Eggs ($16)
3. Avocado Open Face Sandwich ($18.50)
4. Curry Chicken Quesadilla ($15)
5. Nasi Lemak Sandwich ($16)
6. Truffle Shroom Pesto Toastie ($15)
Sweet Breakfast Dishes
1. Kaya Butter French Toast ($14)
2. Ricotta French Toast with Seasonal Fruits ($18)
3. P.B Banana & Honey Toasties ($14)
Scroll down for more pictures!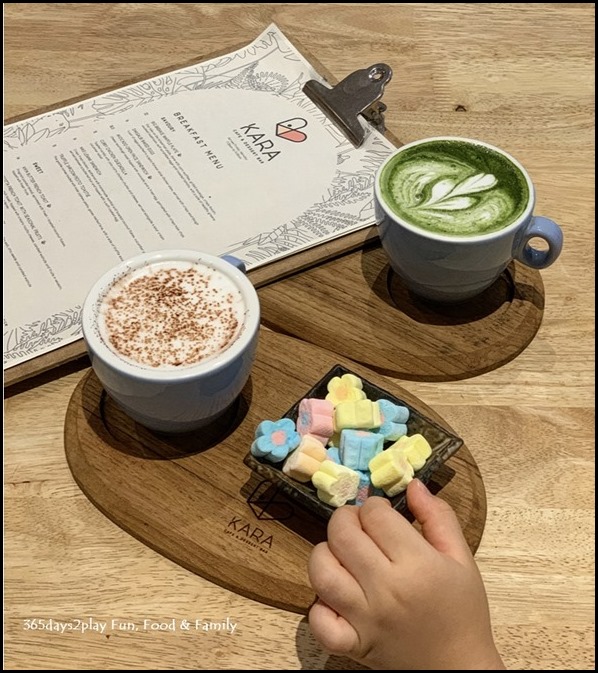 How to keep a child occupied at a restaurant.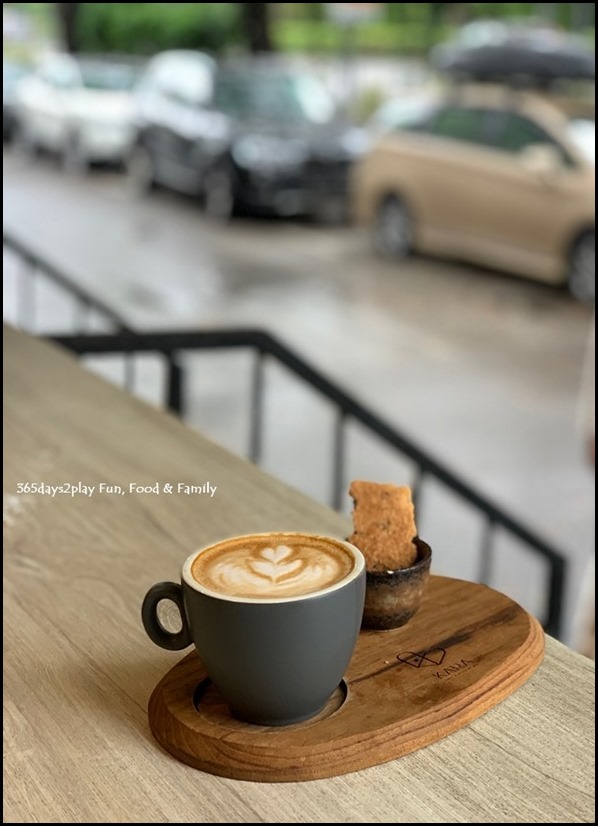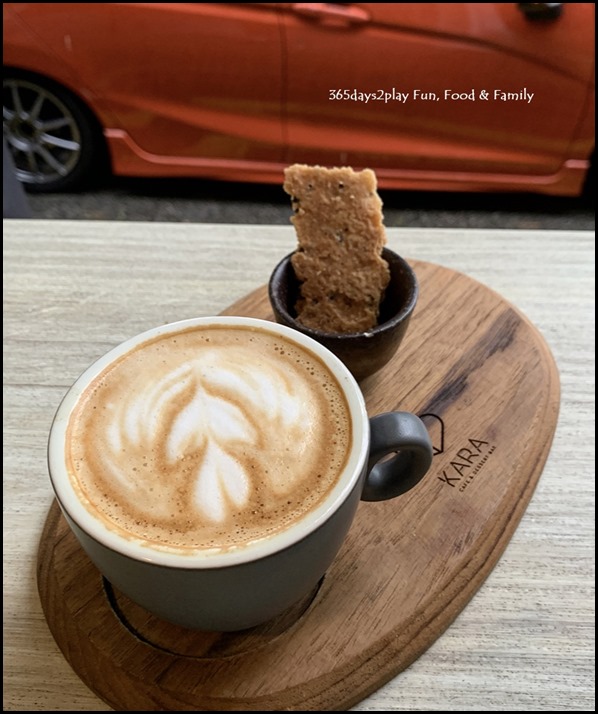 There are a couple of high tables outside the cafe to have a cuppa and people watch.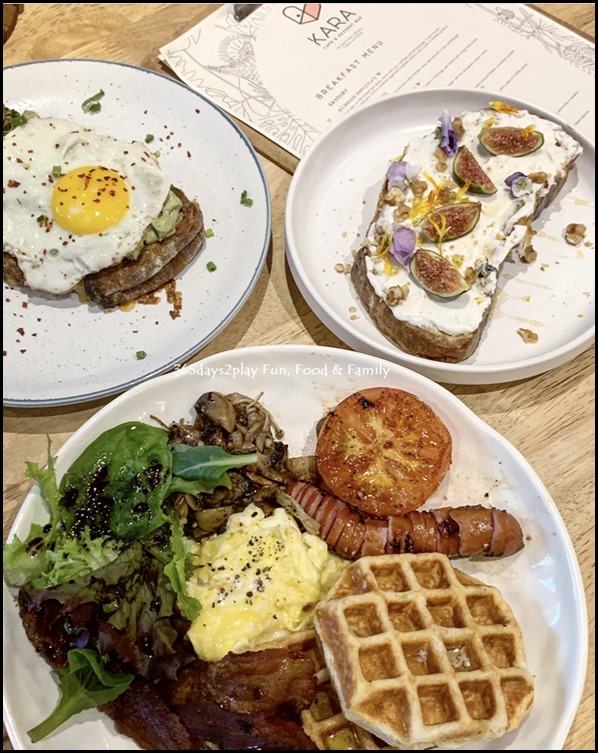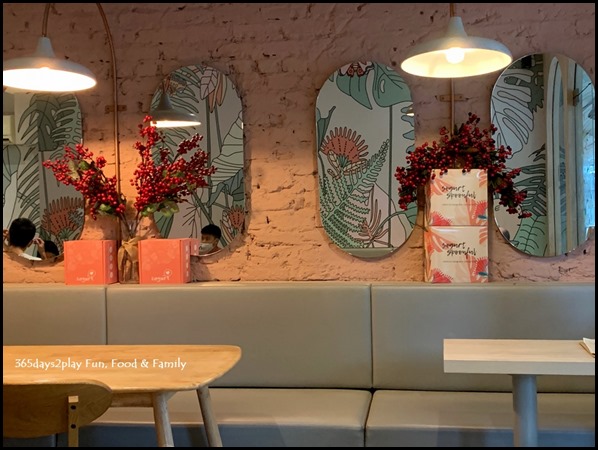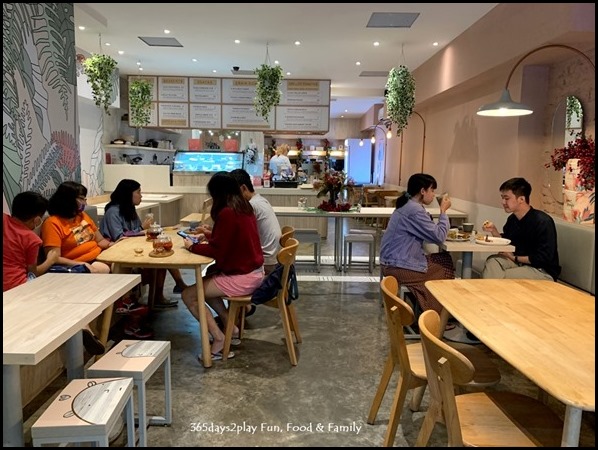 ---
Add me on Facebook, Instagram and Twitter if you want to be kept up to date with the latest happenings in the food and lifestyle scene in Singapore!
Other related articles
---
Kara Cafe & Dessert Bar
617 Bukit Timah Road Singapore 269718
(4 minute walk from Tan Kah Kee MRT Station, mostly sheltered)
Tel: 6468 8940
Email: kara@sogurt.com.sg
Website: www.karacafeanddessertbar.com
http://www.facebook.com/karacafesg
http://instagram.com/karacafesg
Opening Hours: Daily — 10:30am to 10:30pm; except Fri — Mon from 8am
Last order 10pm
(Breakfast is served from Fri to Mon 8-11:30am only)