[Guest Post by Family Trippers] [Media Invite]
Isuramuya is the first Japanese halal-certified restaurant with on-premises Marketplace in Singapore. This Chinese New Year, if you're looking for a Halal restaurant to do lohei, come down to Isuramuya to sample some of their latest menu offerings which include Yusheng platters (it comes in 2 different sizes!) and otoro sashimi.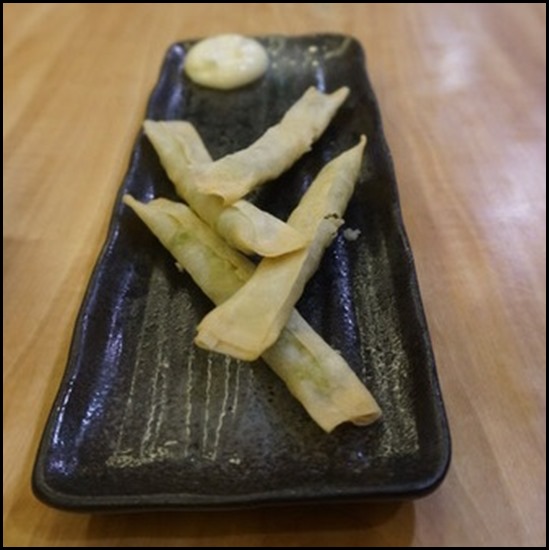 Dinner started with a serving of Edamame Sticks and Isuramuya's special Gyozas, made from aji fish and comes in Original, Goma, Green Tea or Yuzu skins. The Edamame Stick was rather interesting, wrapped just like popiah. If you are a fan of edamame, you will definitely like this! The Gyozas were tasty too, and having a choice of gyoza skins is quite an interesting concept not readily found in Singapore!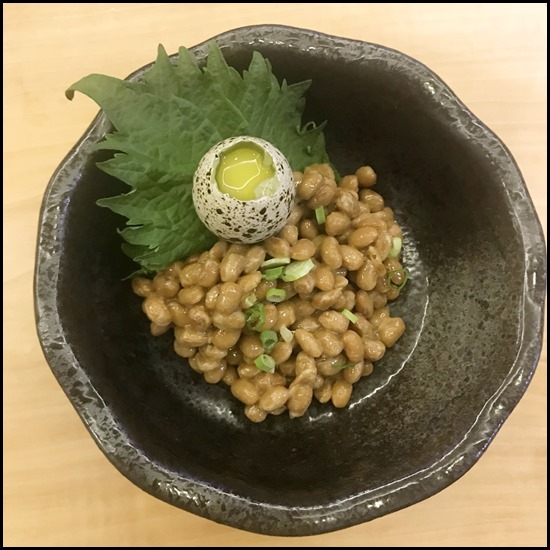 We were then served Natto, a traditional Japanese dish made from fermented soy beans served with raw quail egg. Primarily eaten for breakfast in Japan, we found out that Natto is a great source of protein, low in calories and actually offers many health benefits! If you are trying it out for the first time, be warned that it does have a strong smell, stringy consistency and acquired taste. We think that you might be able to temper down the smell and taste by eating it with rice, udon or soba.
Next up, Sashimi! We sampled 4 different types of Sashimi — (from left to right) Salmon Belly, Botan Ebi, Otoro and Maguro. We love salmon, so the salmon belly was definitely a top favourite of ours. The Botan Ebi and Otoro were new to us. The Botan Ebi had firm meat, but was not tough to chew. Otoro is actually the fattier belly' part of the tuna and we were shocked to learn that it was $8 a piece ! A plate of otoro sashimi in the menu costs $40 ! Just because of that, we had to give it a try! If you love maguro, you will definitely love otoro too!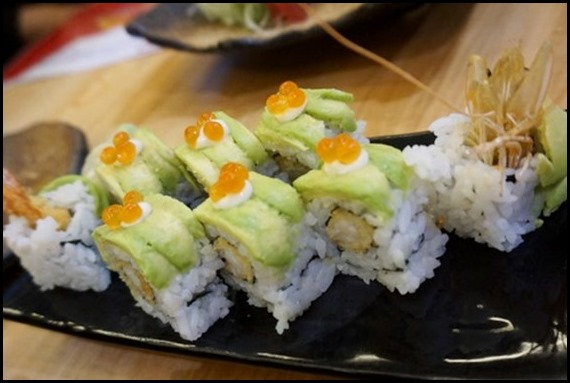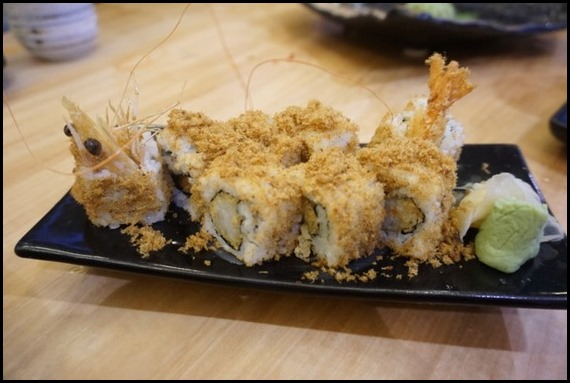 We had a plate of dragon roll and fish floss roll. They are essentially assembled using the same ingredients — rice with tempura ebi, except that one is covered with fish floss and the other with avocado. It was our first time eating fish floss roll, so that was interesting. The dragon roll was nothing unusual though. The rice felt a bit dry and was crumbly, this was probably not one of our favourite dishes of the night.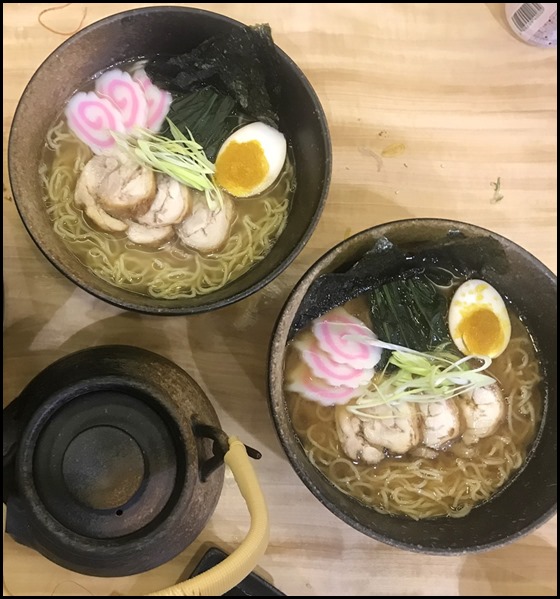 Instead of the typical Ramen simmered from pork bones, Isuramuya's signature charshu ramen is made from simmered chicken & beef bone broth, lending richness and depth of flavour, and served with generous portions of chicken chashu and nori seaweed. We got to sample the ramen served in three different broths — Shoyu, Miso and Shio. When it comes to ramen, forget about the photos and make sure you eat it hot to get maximum oomph!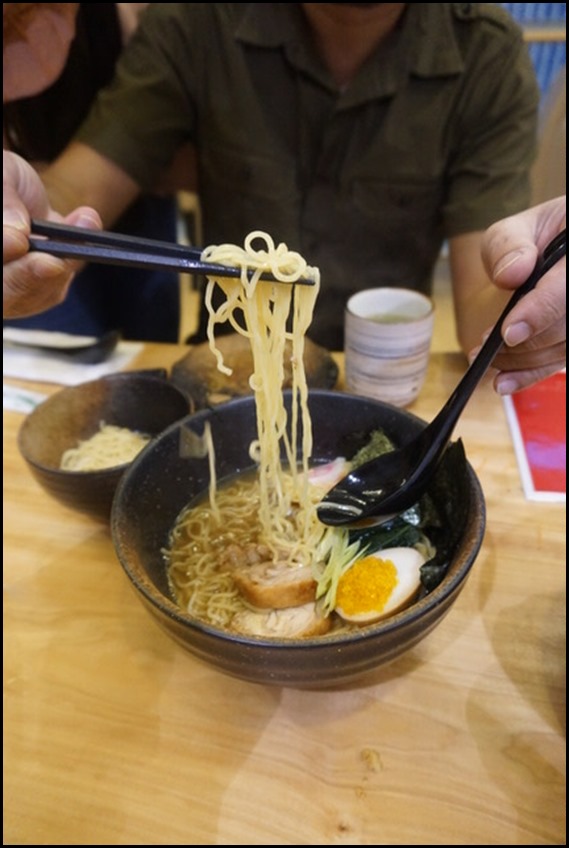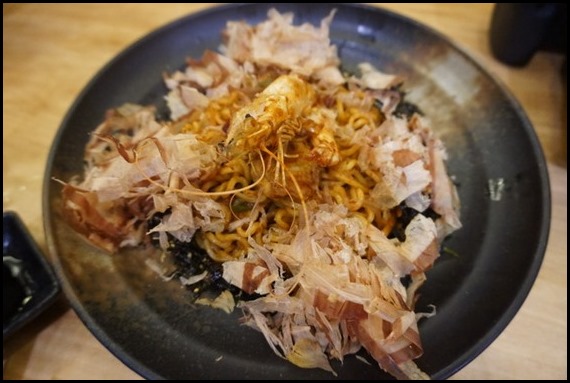 The Yaki Soba was probably our favourite dish of the night. We had the spicy version, and we loved it! If you are not a fan of spicy food, you can request for the non-spicy version. Yaki Soba is essentially "fried" soba but in Isuramuya, it is served with a generous serving of bonito flakes .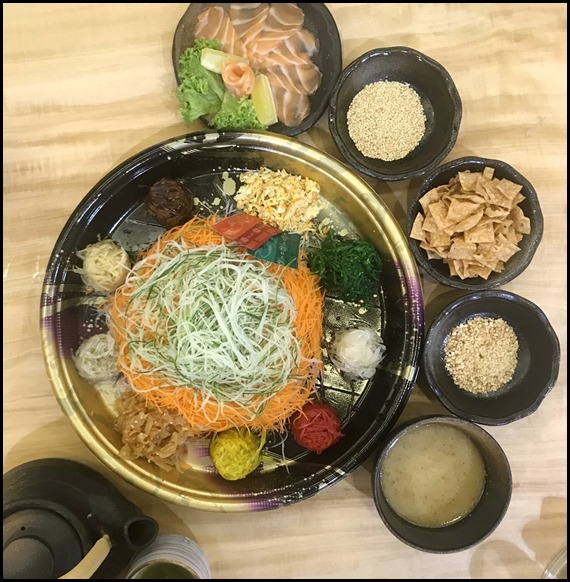 Highlight for the night was of course, the Yusheng platter. A new item in Isuramuya's menu just for Chinese New Year, the platter consists of all-Halal ingredients and is currently awaiting MUIS' go-ahead for inclusion in their menu. Instead of the usual plum sauce in other yushengs that we have tasted before, this one is served with yuzu sauce and we liked the combination. The Yusheng platter comes in two sizes — the small platter costs $38.88 while a slightly bigger platter costs $48.80. If you are looking for a venue for lo-hei with your Muslim family members, friends or colleagues, Isuramuya is an additional option for you.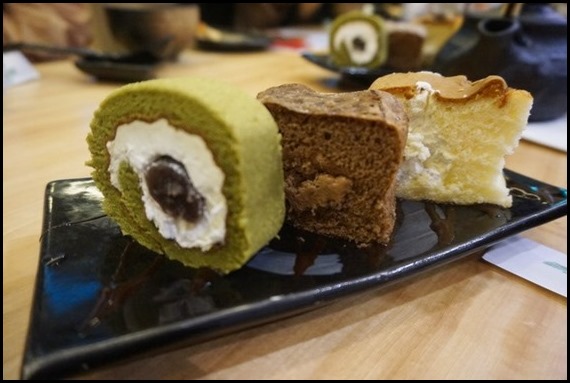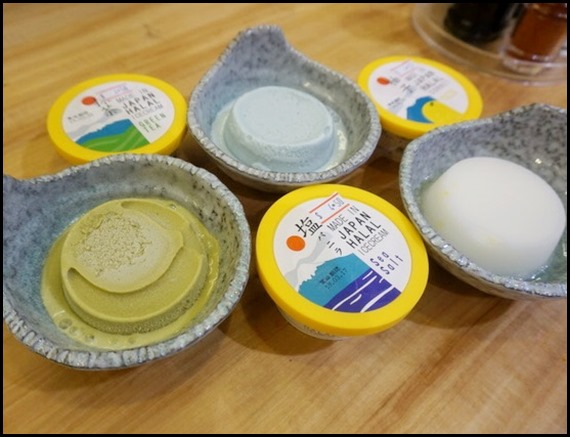 We ended the night with desserts — cakes and sorbet ice cream. We didn't think there was anything spectacular about the cakes, but the sorbet ice cream was delicious and came in flavours that we absolutely adore — Green tea, Yuzu and Sea Salt. We couldn't quite decide which one we liked best! And the best thing is that you can buy the ice cream, sold in small tubs at the Marketplace at $4.50 each.
For the aspiring Masterchefs, Isuramuya also sells a curated selection of their ingredients, allowing anyone to whip up their favourite dishes in their comfort of their own homes including pre-seasoned Shio Koji Salmon and Halibut Steak, freeze-dried Ramen and Soba, Japanese Curry and more! All items are Halal-certified direct from their sources.
Isuramuya is located at JCube Jurong, #04-19. Operating hours is from 11.30am — 9.30pm daily. Check out their website : www.isuramuya.com for their full menu.
---
Add me on Facebook, Instagram and Twitter if you want to be kept up to date with the latest happenings in the food and lifestyle scene in Singapore!
---
Isuramuya JCube
2 Jurong East Central 1, #04-19 JCube, Singapore 609731
Operating Hours : 1130am to 3pm, 5pm to 930pm Daily
Tel: (65) 6262 3008