1. Watch it with tourists all around the world — Changi Airport
Photo Credit : Changi Airport
I may be biased since I live in the East, but I think Changi Airport is the best place to catch the Fifa World Cup. It's probably the only place in Singapore you can mingle with tourists from around the world to watch the World Cup for free, and in air-conditioned comfort! Sure, the pubs and all at Boat Quay will probably see its fair share of foreigners, but you probably have to pay for a drink at the very least. And because the screen is so huge, even if you don't snag one of the seats, you can still get a good view of the live action.
Terminal 3, Departure Hall North, Public Area (Near Skytrain To T1)
2. Watch it while dining on hawker centre food — Our Tampines Hub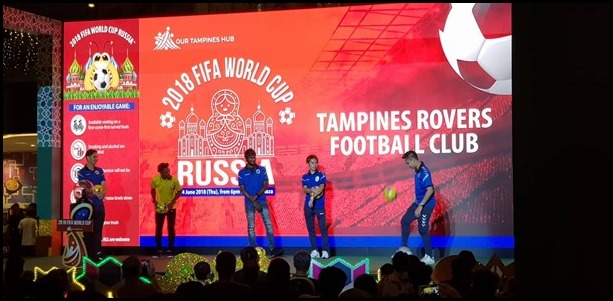 Photo Credit: Our Tampines Hub
Our Tampines Hub is another great option if you want to watch the football on a really really big screen with the sound on very loud. (I must say the times I've been there I wish they'd turn down the volume on the movies they were airing!) But what's best about this location is the hawker centre just behind this big screen. Tarpow your chicken rice or roti prata and watch it here. And as with Changi Airport, even if you cannot snag one of the seats, because it's the big screen, you can still park yourself on the floor nearby to watch, which you may not be able to do so at a coffeeshop.
1 Tampines Walk Singapore 528523
3. Watch it higher than anybody else — Ce La Vi at Marina Bay Sands
Photo Credit : Ce La Vi
Bars aplenty will be screening the World Cup 2018, but how about watching it higher than anybody else? Ce La Vi, located at Marina Bay Sand's SkyPark. The screening is at the al-fresco area with full view of the Singapore city skyline. How about a selfie to remember the occasion?  Regular entry/cover charge applies.
57/F Marina Bay Sands Tower 3 1 Bayfront Avenue Singapore 018971
4. Most romantic place to watch the World Cup? — Club55 at Marina Bay Sands
Photo Credit : Club55
If your girlfriend or wife doesn't like to watch football but you do, how about enticing her to join you with a chocolate buffet? From 8pm every night, Club55 opens to the public and transforms into a dessert haven with a buffet featuring over 40 handcrafted desserts and 12 varieties of European cheese. Your better half can indulge in the sweet treats while you go indulge in the game. Of course this will only work for the earlier games!
10 Bayfront Avenue, Level 55, Hotel Tower 2, S018956
5. Watch it while your kids play real football nearby — Parkland Green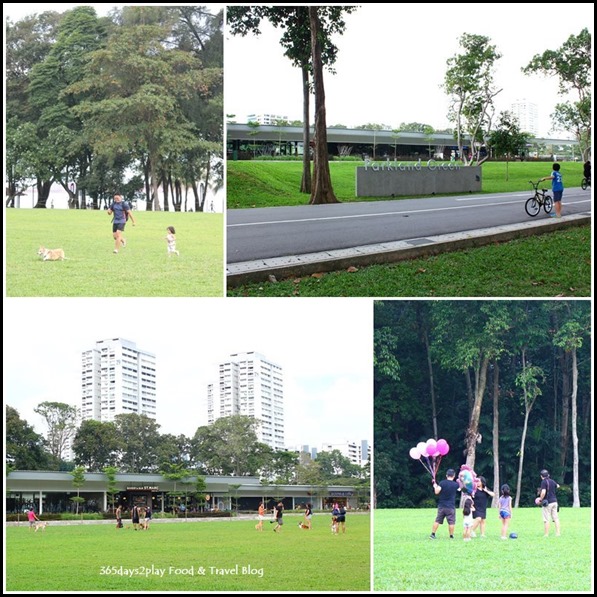 The adults may want to watch the beautiful game on TV, but that doesn't mean that the kiddos have to stay still and be glued to the screen too. Parkland Green at East Coast Park boasts a huge lawn for the kiddos to kick a real ball nearby while the adults enjoy the World Cup being broadcast. Let's just hope the kiddos don't have early bedtimes! Check out Atmosphere Bistro, Full Pint MicroBrewery and Patro Sports Bar & Restaurant at Parkland Green which will be televising the matches. If you come early enough, there's even a sporting goods shop nearby to buy a football if you don't have one.
920 East Coast Parkway, Singapore 449875, Carpark C1
6. Watch it while having halal dim sum — Enak Enak Hong Kong Teahouse
Photo Credit : Enak Enak, taken during Champion's League match
Halal dim sum by the seaside no less! Actually Enak Enak's menu is pretty extensive. Last I was there I recall flipping through pages and pages from the menu. You'll probably be able to find something you like to munch on while you watch the game, and maybe even hear the soothing sounds of the sea waves lapping away, if the crowd isn't too rowdy.
Blk 1202 Unit #01-01 Seafood Centre East Coast Park, Carpark E1
7. Watch it in the CBD….and go back to work!
I hate to break it to you, but some people do have to work the night shift. Or worse, some people have to OT late into the night! Break up the monotony by leaving your office for a while. You might feel recharged after a goal or two, and improve your productivity when you're back at your desk. Or if you're not working in the CBD but want to rub shoulders with people that do, come on over! Check out this list for places to watch the World Cup in the CBD and more.
---
Add me on Facebook, Instagram and Twitter if you want to be kept up to date with the latest happenings in the food and lifestyle scene in Singapore!
---
If you need more suggestions, click here for 70 best places in Singapore to watch the 2018 Fifa World Cup Russia. Hint…there's more than 70 listed.