If you like to dine out often, you'd probably keep an eye out for promotions and discounts offered by your favourite F&B outlets. It's quite common to find 10%-20% discounts being offered by the various credit cards or membership affiliations (eg Passion Card members), but did you know you can enjoy up to 50% discounts at numerous restaurants?
One of my favourite apps to use is the Entertainer App. I'll be upfront that it costs $95 to get this app, but in return, there are numerous restaurants on the app where you can get a 1-for-1 discount on main dishes. That means, for every 2 mains ordered, the cheaper main dish will be for free! I've had the Entertainer App for nearly 5 years now I think. Some years I got sponsored the app for free, but some years I paid for it myself because I see the value, and have enjoyed the savings. There is not a single year where I have not more than made back in savings the original price that I paid for the app. All my friends who bought the app agree that its very easy to dine at a couple of restaurants and earn back the original cost paid.
But of course, many other friends did not purchase the Entertainer App. It's a psychological hurdle that is admittedly very difficult to get over. Spend money upfront? Oh no no no. Again I have to say that whenever it's time to pay for the Entertainer App, I do hesitate for several days, before I eventually agree that it's pretty good value. Or put it the other way, if I didn't buy the app, I'd have to make sure I never dine at any of the gazillion restaurants and cafes on the app, or else I'd be kicking myself wondering why I'm paying full price for my meal when I could have gotten the 1-for-1 discount!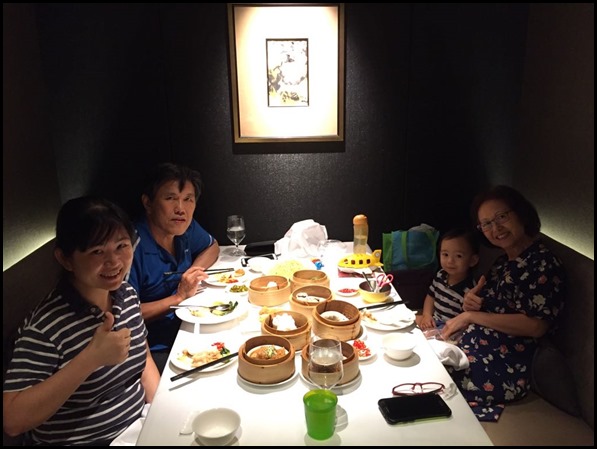 We even managed to get a cushy booth seat because off-peak hour!
Recently I found out about the Eatigo App. This app is FREE! Actually I found out about it about a year back, but because I was a rather heavy user of the Entertainer App at that time, I forgot about the Eatigo App. I recently used the Eatigo App, and I must say it's pretty amazing that I managed to enjoy a 50% discount at Wan Hao at Marriott Hotel, with a FREE app! If you know Wan Hao, it is a posh and rather expensive Chinese restaurant to dine at. I've always wanted to have dim sum there, but I didn't want to feel broke after that. Wan Hao is actually also on the Entertainer App, but the Entertainer App can only be used for main dishes. Dim sum dishes are not considered main dishes.
But with Eatigo App, where the discount is applicable to all dishes and drinks, I managed to enjoy the 50% discount! The catch is of course that I had to dine at the restaurant's off-peak hour. Every restaurant can stipulate its own off-peak hours. It's all about marrying supply and demand. When a restaurant feels like they could do with more customers during a particular hour, that's when the discounts start becoming more attractive, to entice people to dine at that hour. In Wan Hao's case, the 50% discount is applicable only if you dine between 2pm — 3pm.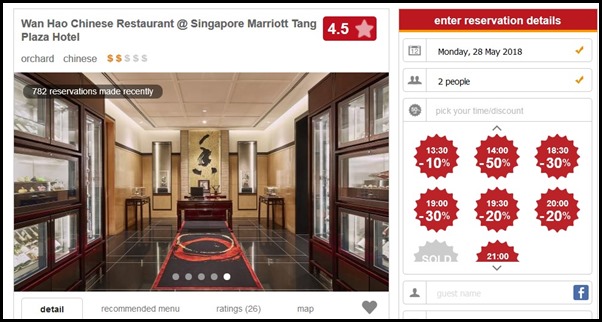 Most other restaurants offer 50% discounts at say 10 am, or 2-5pm, or late at night. But there are also a few restaurants offering 50% discounts at 12 noon! Take for example Arteastiq, you'll be surprised but you can get a 50% discount at 12 noon! I think it's probably because Arteastiq is seen to be a afternoon tea kind of place, and they are very empty during lunch hours even though they do serve full lunch meals.
So keep your eyes peeled. I'd highly advise you to scroll through all the restaurants on the Eatigo App to see if your favourite restaurants are offering good discounts at the hours that you are able to make it. Many restaurants on the Eatigo App I have not even heard of, but there are certainly gems around like Marriott Hotel's Wan Hao! Some other popular restaurant names include Crystal Jade, Swensen's, Marche, Brewerk, Tonkichi, Harry's etc.
Even if you don't snag the 50% discount, you might still get a 20% or 30% discount if you are able to leave for lunch or dinner slightly early. A lot of restaurants also offer 50% discounts if you are able to dine after 9pm. And of course, if you're on leave, you might just be able to enjoy that coveted 50%!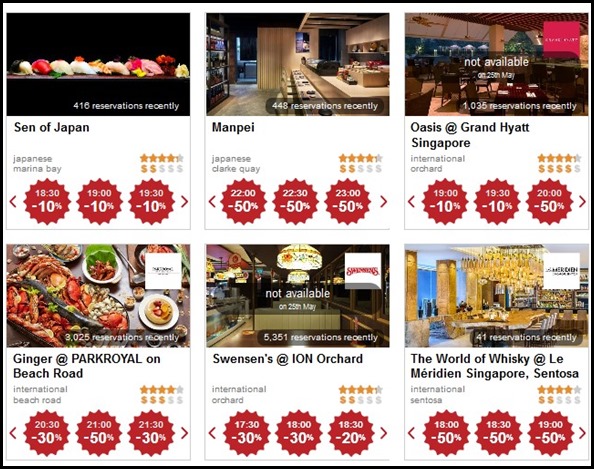 To enjoy the discount, you have to login into Eatigo App website or download the app, select the timing you want and make a reservation. As long as the discount is still available (ie not sold out), you are free to make the reservation at any time. And you can also cancel at any time, there is no penalty, although I believe you will be blacklisted if you fail to appear at the restaurant without prior cancellation. A good citizen would of course not hog the reservation once you know that you are not able to make it, so that some other person can have the discount instead, because there are limited slots everyday. More are listed in Eatigo's FAQ page.
And just in case it wasn't clear, I'd like to repeat that using the Eatigo App is completely FREE. There you go, my public service announcement to you guys. Don't pay full price when you can enjoy a discount!
Disclaimer : This is not a sponsored post! However, if you're going to sign up for the Eatigo App, do so via my referral link. Get $5 rewards for your 1st attended reservation with Eatigo when you download the app from my link http://refer.eatigo.com/eativjun-1v9/3 or sign up with my referral code 'eativjun'. I will get a $5 reward too.
---
Add me on Facebook, Instagram and Twitter if you want to be kept up to date with the latest happenings in the food and lifestyle scene in Singapore!
---