[Media Invite]
For Singaporeans who love visiting Changi Airport for food, or tourists to Singapore looking for a quick and relatively affordable local meal in a restaurant setting, do check out the recently opened Colonial Club. As the name suggests, this restaurant boasts dishes from Singapore, Penang and Malacca (Hainanese-style western delights, Nyonya dishes and other local favourites) that were once popular during the colonial era, but with a modern dash of chef's creativity.
I certainly hadn't heard of Roti Ayam nor Kapitan Chicken Curry nor Inche Cabin Chicken, but you don't really need to have heard of them to enjoy the dishes at Colonial Club. Most of the dishes are, give and take a little, quite similar to what we already have in Singapore. In fact, if you're a purist, you may not actually enjoy the dishes here. For example, yellow noodles are used in the Nyonya Laksa, and it also comes with a soft shell crab. These are items not usually associated with laksa. It would be best to come here with an open mind, or imagine the dishes to have different names (instead of associating them with what you are familiar with), for a more enjoyable time.
Scroll down for pictures of what I tried during the media tasting.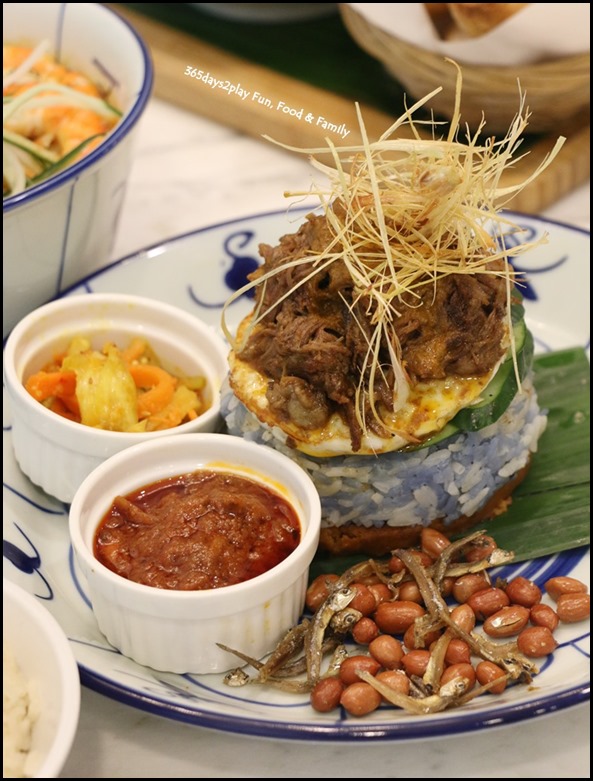 Signature Colonial Club Nasi Lemak $15.90
Not the cheapest Nasi Lemak in town of course, but it is chock a block with ingredients such as the short rib rendang, otak otak and even blue pea rice, which you don't find often.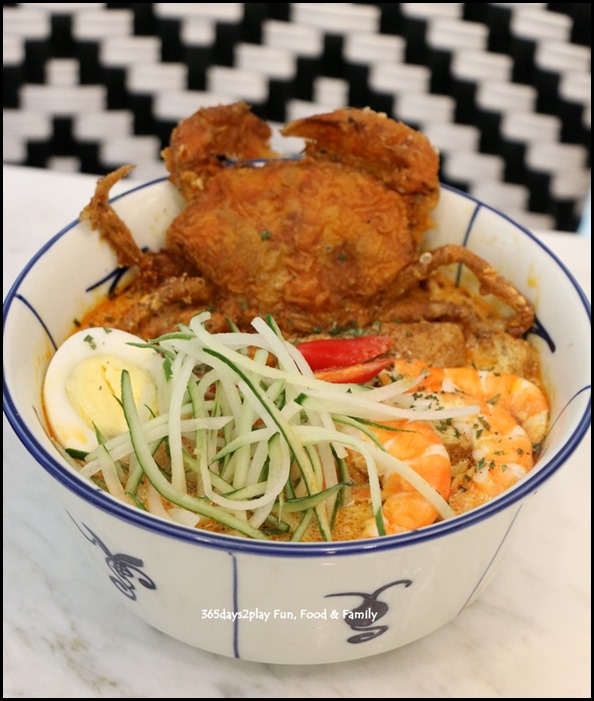 Straits Nyonya Laksa with soft Shell Crab $18.90
The broth was pleasant, but a tad oily due to the soft-shell crab. Personally I think the soft-shell crab is not necessary as this coconut based dish is already quite rich on its own. Another thing I couldn't get accustomed to was the use of yellow noodles instead of vermicelli.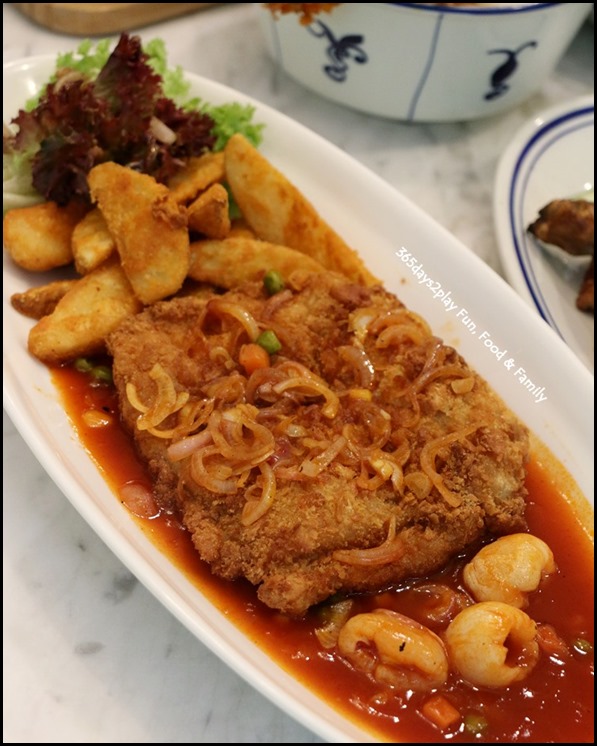 Colonial Style Hainanese Chicken Chop $15.90
Loved the appetising special in-house Worcestershire sauce and the addition of fruits. This would go so well with a large bowl of steamed rice. One of the dishes I would probably order when I return again.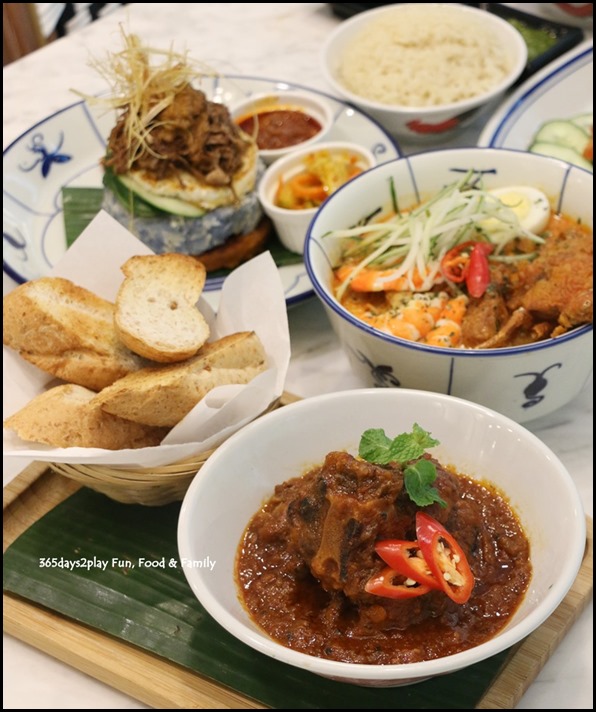 Colonial Style Oxtail Stew with toasted Baguette $15.90
Another one of my favourite dishes was this oxtail stew. I think unlike some traditional dishes which has to be a specific way, (example there's no such thing as crispy rendang) I don't have such requirements for oxtail stew. The stew tasted rich and tangy and it was a great idea to include the toasted baguette for mopping up all the sauce.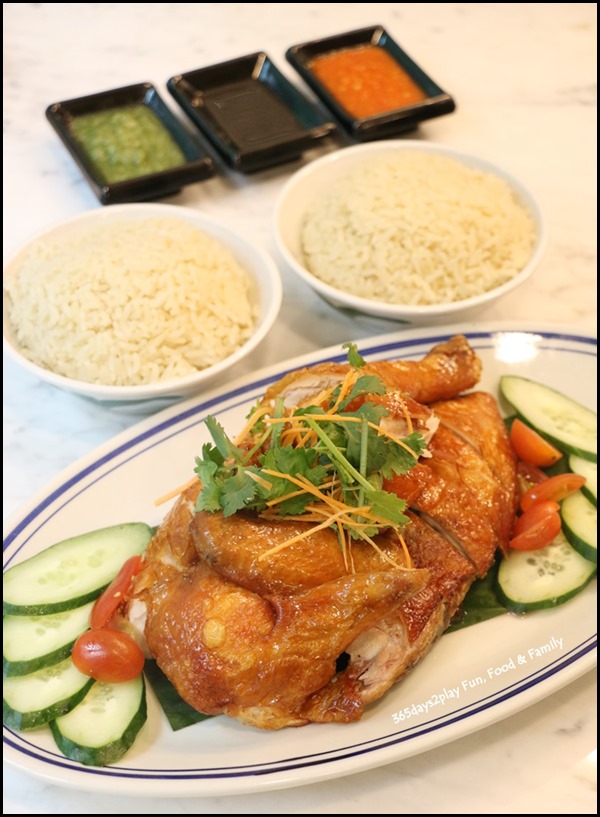 Crispy Skin Roast Chicken with Aromatic Hainanese Chicken Rice (Half chicken $18 Whole Chicken $36)
Also one of the better executed dishes, and one which stays on the safe side as there are no creative additions to this. The price point might be a bit of a put off to some though, as chicken rice is widely available in Singapore at a lower cost.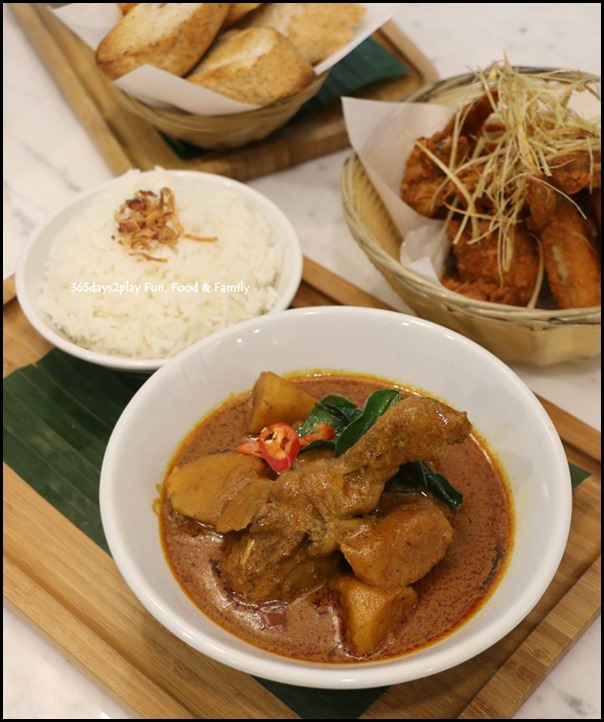 Kapitan Chicken Curry $13.90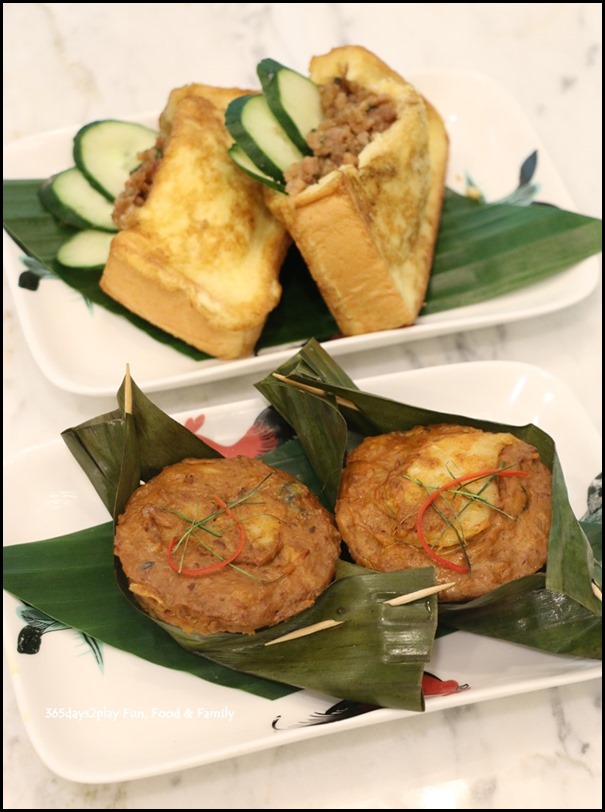 Otak Otak $6.90
Not really a fan of this muffin shaped otak otak. I prefer the soft version with more fish.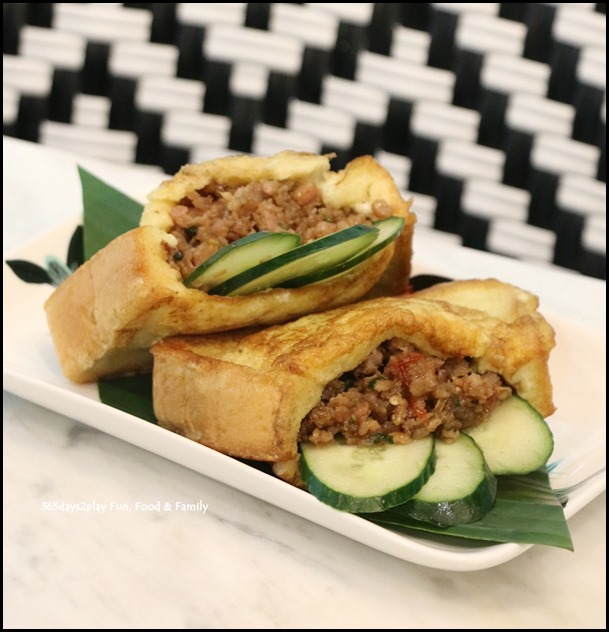 Roti Ayam $8.90
I was told this is really common in Penang. Think of it as a minced meat and French toast sandwich! It's pretty good actually, although a little on the oily side.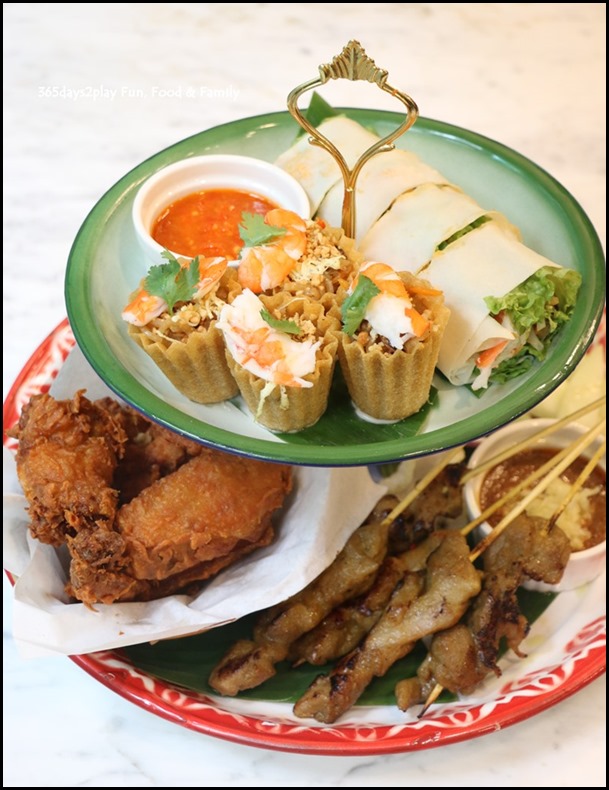 Colonial Platter (Kueh Pie Tee, Satay, Inche Cabin, Popiah) $18.90
For those who love to have kaya toast and kopi/teh, this is yet another F&B outlet at Changi Airport that you can now go to, instead of the usual Yakun or Old Town Coffee, and it probably has a more peaceful vibe too, given its serene decor and spacious setting.
---
Add me on Facebook, Instagram and Twitter if you want to be kept up to date with the latest happenings in the food and lifestyle scene in Singapore!
Check out other related posts
---
Colonial Club
Changi Airport Terminal 3, Departure Hall, #03-33, 65 Airport Boulevard, Singapore 819663 (Next to The Planet Traveller)
Tel: +65 6214 0268
Opening Hours: Daily 10.30am to 11.00pm
Website: http://www.changiairport.com/en/shop-and-dine/dining/colonial-club.html
Instagram: Https://www.instagram.com/colonialclubsg/