I first heard about Caffe Fernet from the Business Times. I'm always on the look out for cafes and restaurants with a good location/good view and unblocked views of the Marina Bay and Marina Bay Sands certainly counts for something. Unfortunately Jaime Ee gave the place a scathing review, even if she did generously rate them a 6/10 in the end. I'd always wondered if Caffe Fernet deserved the review they got, but with limited $$$ and no compelling reason to visit given the review, Caffe Fernet was put on my back burner.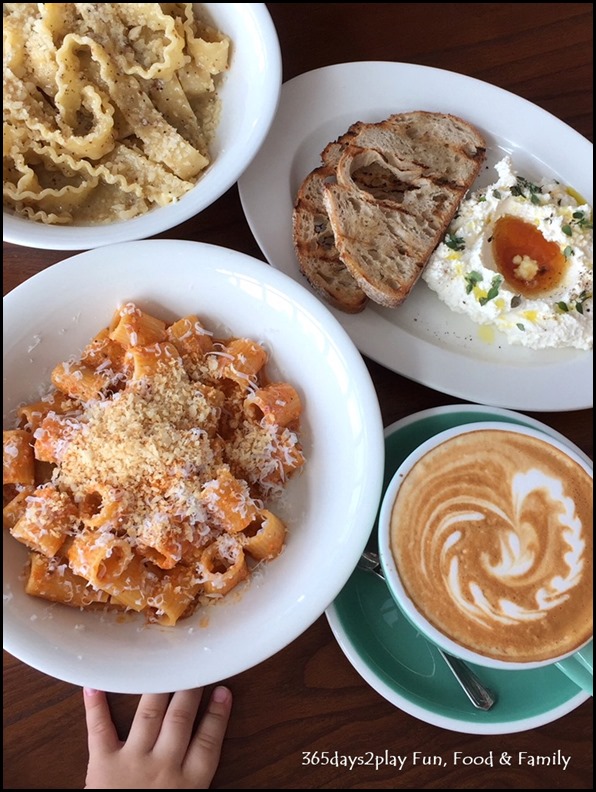 But a couple of weeks back, my dear friend ST suddenly suggested visiting Caffe Fernet for our girl's brunch yesterday, as she had heard good reviews. Wow they must have improved, I assumed, and I agreed to the suggestion! But later I found out, the good reviews were about the views………….*Face Palm*!!! Worse still, I checked out their brunch menu, and found it difficult to pin point exactly what I wanted to order. You know, this predicament often happens when so many things sound good on the menu, and you want to order everything. Unfortunately, it was the other way round. A number of things did sound potentially interesting, but were either vegetarian (I want some meat!) or at the wrong price point.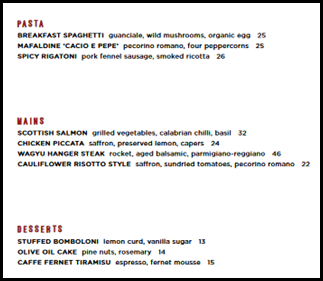 See their weekend brunch menu above. First of all, let's put the record straight. I don't believe in paying more than $25 for a brunch at a cafe, excluding desserts. Well…for Caffe Fernet, which looks and feels a bit more restaurant-ish than the average cafe, I can be a slightly more generous in my budget, but not to the extent of $40 or $50! Hey it's not the only restaurant in Singapore with a good view.
If you look at the menu, you will notice that there are precious few dishes that are standalone dishes that fit the budget. The dishes are just incomplete in one way or another. Let's start with the Egg dishes and let's assume that most people (excl vegetarians of course) will want some sort of meat in the dish. Basically only the scrambled eggs dish fits the bill. The zucchini frittata and pomodoro baked eggs are out unless you supplement with tuna tartare or veal meatballs, which takes the cost well into the $30s. Yes you could of course share the small plates, but what if you don't want to share or nobody wants to share that particular small plate? Or what if you are alone? The point is that the menu feels very inflexible!
Again for the Pastas, 2 out of 3 pastas contain no meat! Why? As for the mains, salmon is out because that just doesn't feel like a brunch dish. Wagyu hanger steak is out due to the pricing. Cauliflower risotto style is out because there is no meat. If really the menu was planned in a way that forces you to need to order some sharing plates, then at least let the sharing plates have a wider option instead of just veal meatballs as the only meat dish? And the sharing plates should not be priced so near to what other cafes would have charged for their main dishes.
So guess what, in the end I felt the only options for me were the Scrambled Eggs or the Spicy Rigatoni, of which I eventually settled on the Spicy Rigatoni. One friend chose the Mafaldine Pasta. The other friend went for the housemade ricotta and honey on toast. I know ricotta is not cheap, but still…..$15 for bread and cheese?
So the conclusion is that we all agreed the menu was very restrictive. Unbalanced and incomplete are other words that come to mind. Btw, I checked the dinner menu and I got the same feeling. Food wise, the pastas were okay. The ricotta and toast was good though. I guess the Business Times was right. perhaps Caffe Fernet's intention is to target the drinkers. That won't be a surprise given this place is owned by the Jigger and Pony, the cocktail-centric group. Thankfully, contrary to the Business Time's experience, the ambience, seating and service were good. In particular, I thought service was above average, as the staff helped to pick up items dropped by my toddler, including a pen cap that rolled under our booth seat!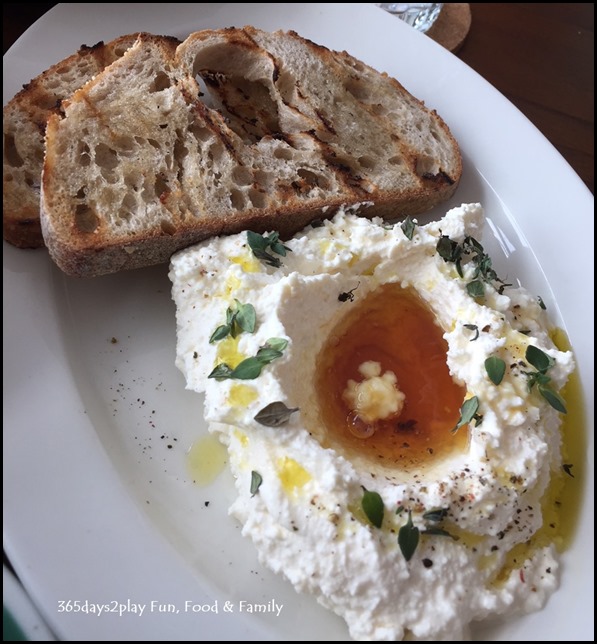 Housemade Ricotta & Honey $15
This was really good. My friends kept asking for more bread. Two is certainly not enough.
Mafaldine cacio e pepe (pecorino romano, four peppercorns) $25
My friend ordered this because of the rave reviews. It was not bad but not wow.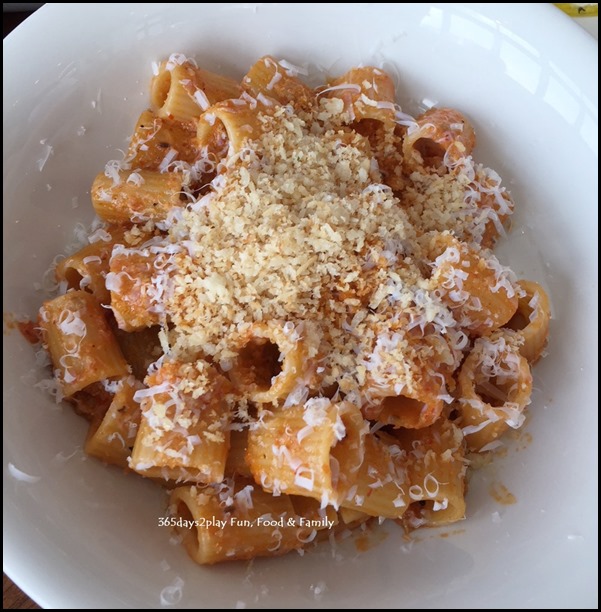 Spicy Rigatoni with pork fennel sausage and smoked ricotta $26
This was my dish. Pity they had to mince up the sausage, I would have preferred it whole, and more of it. Also there was something gritty mixed into the minced sausage, breadcrumbs perhaps? Liveable but don't think it enhanced the dish.
If you want great freshly made pasta at a much cheaper cost, try Strong Flour at Katong V. I've been there twice already and I'm still craving their pasta! They also accept Entertainer vouchers and are on the Eatigo App, which means up to 50% discount depending on what time you dine there!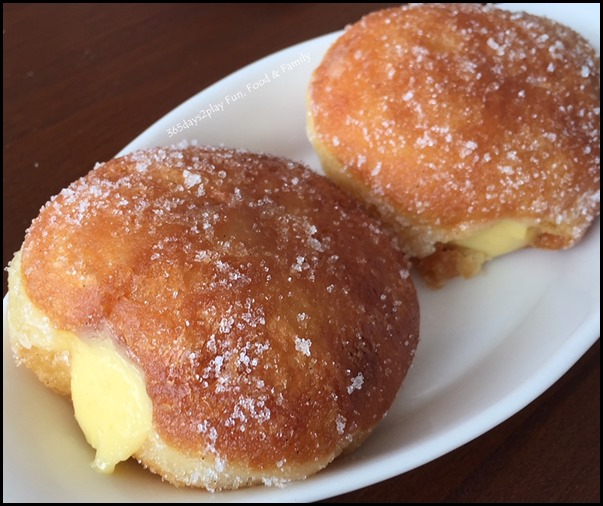 Stuffed Bomboloni (lemon curd, vanilla sugar) $13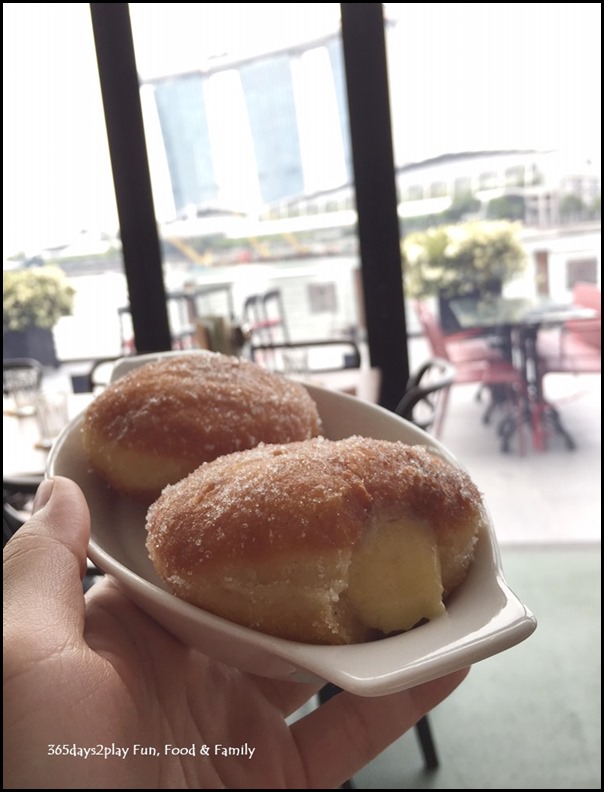 There's the iconic Marina Bay Sands in the background.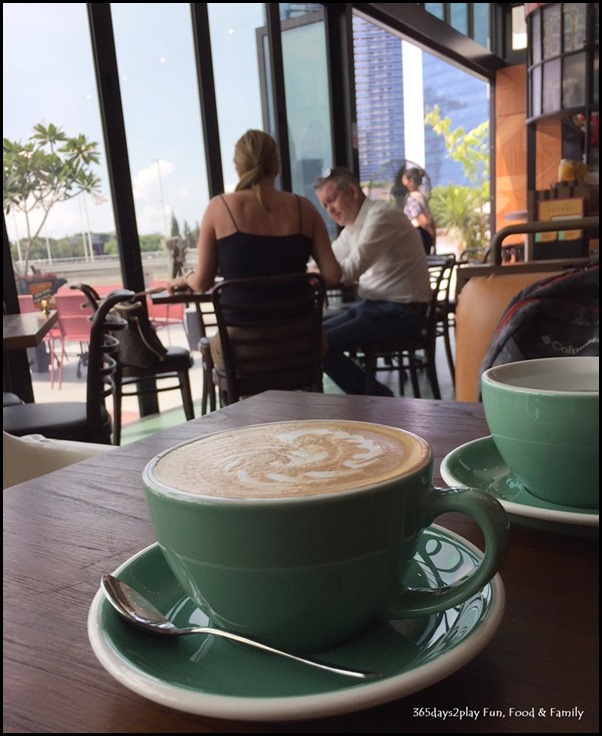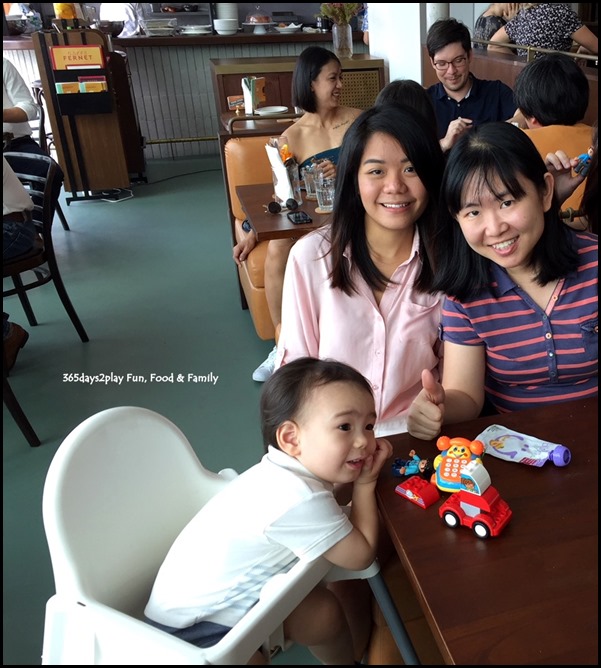 One friend is not pictured here, as requested.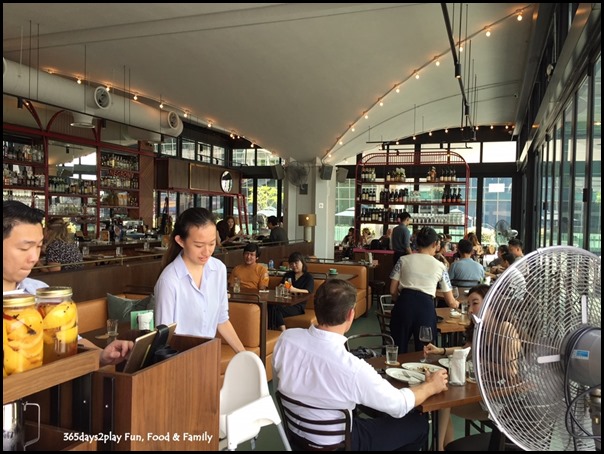 ---
Add me on Facebook, Instagram and Twitter if you want to be kept up to date with the latest happenings in the food and lifestyle scene in Singapore!
---
Caffe Fernet
70 Collyer Quay, #01-05, S049323
Tel : +65 91781105
Email : info@caffefernet.sg
Website : https://www.caffefernet.sg