It's relatively easy to get good pasta these days. Just walk into an authentic Italian restaurant, and you're quite likely to be able to get a good meal there for a reasonable price of about 20 dollars or so per pasta dish.
So when I tell you that I recently found an amazing restaurant serving great pasta, it means that this place really stands out from the crowd! It's this place called Strong Flour, which opened in March 2017. It's a small little cafe/restaurant at Katong V Mall, opened by the same people that run Group Therapy Cafe and Scoop Therapy, also located in the same mall.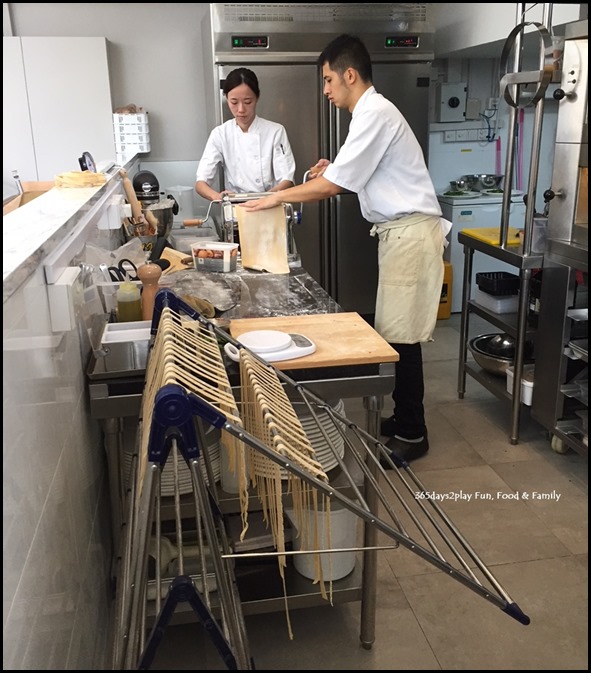 So what's so mind-blowing about the pasta? First up, they make all their pasta by hand. You can actually see them churning out the pasta using a hand-cranked pasta machine at the open kitchen next to the entrance. So not only is fresh pasta made by hand, it's made just a short while prior to cooking. If you've only ever eaten dried pasta all your life, you need to try fresh pasta. The bite, and the flavour is just sensational. It's why the Italians just need a few simple ingredients to adorn the pasta, because seriously with fresh pasta, you could almost eat it on its own.
And maybe we got lucky or something, but the two pasta dishes we ordered, which were the Pasta Carbonara and the Pumpkin and Spinach Ravioli, both had great sauces to boast. So it was really a pleasure just eating strand after strand of pasta, trying to shovel it in quickly. I only wish that there was more on the plate, because I wasn't very full after that, but with the prices they are charging, it's understandable that the portions aren't huge.
And I'm not the only one who thinks that this place is great. My blogger friend Phoebe from  The Food Chapter swears by this place too and has apparently visited more than 10 times. I kinda regret waiting an entire year to visit, but I can promise you I'm already planning my next visit.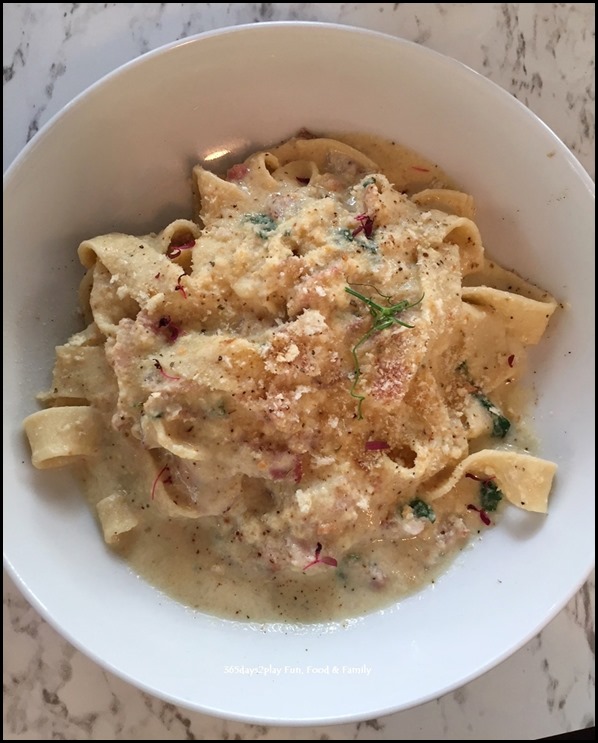 Pasta Carbonara $16
The sauce could have been a bit smoother, it seemed that the eggs were a bit curdled, but I was willing to overlook that because it just tasted so good!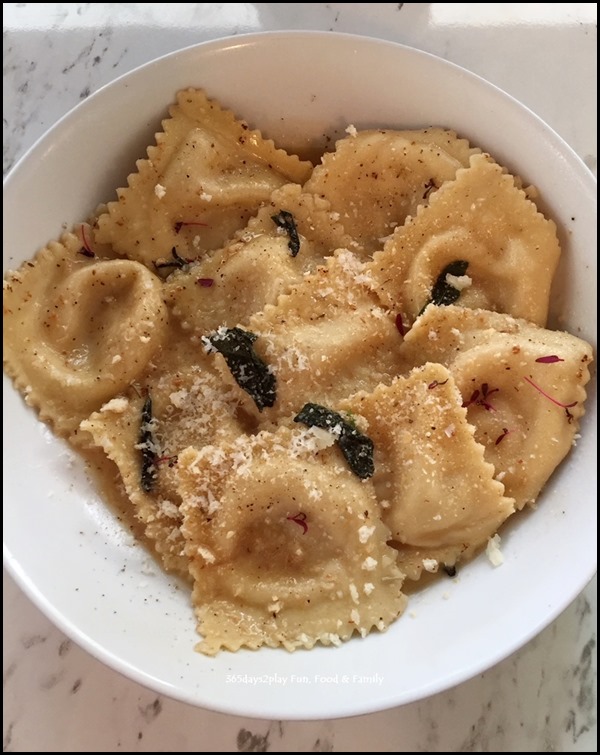 Pumpkin and Spinach Ravioli $19
The ravioli was divine, the brown butter sage sauce it was in, also memorable.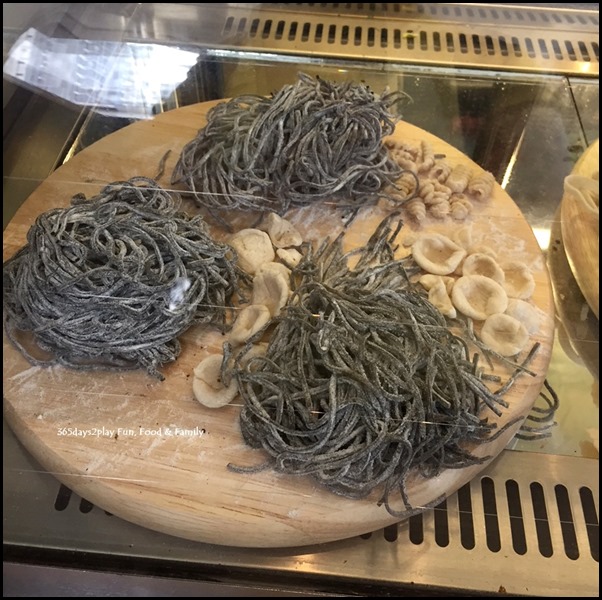 Handmade pasta waiting for someone to devour them.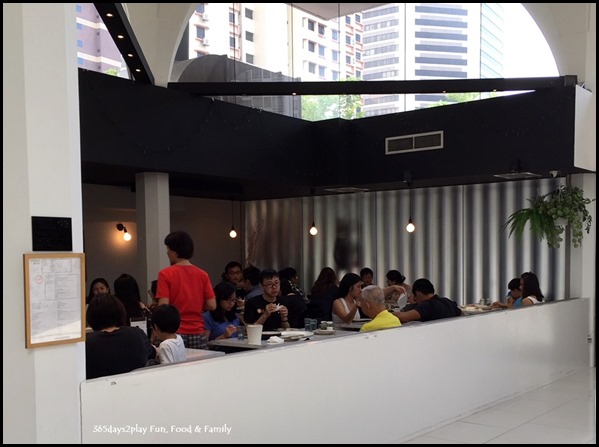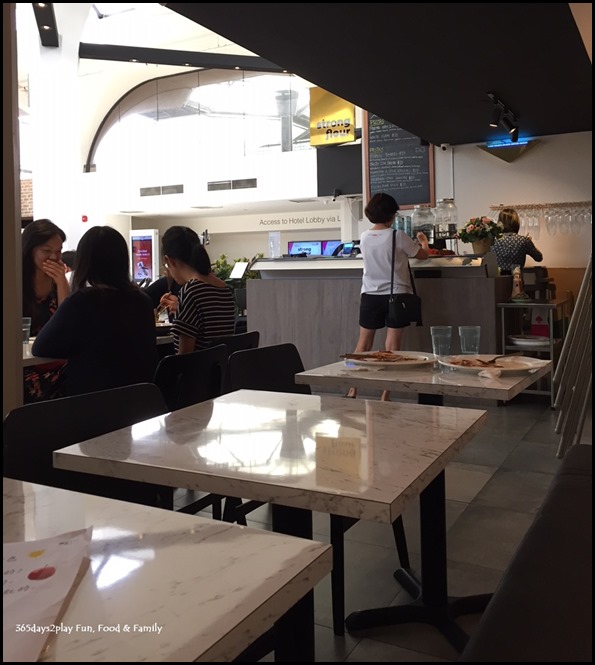 Seating area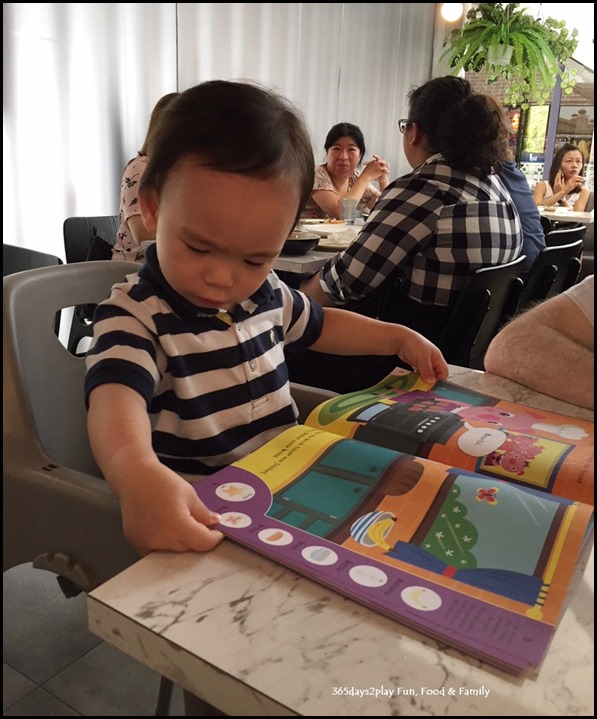 Keeping Baby occupied while waiting for the food. It was a bit of a long wait though. We arrived at around 1.20pm on a public holiday, and waited about 1/2 hr before the food was served.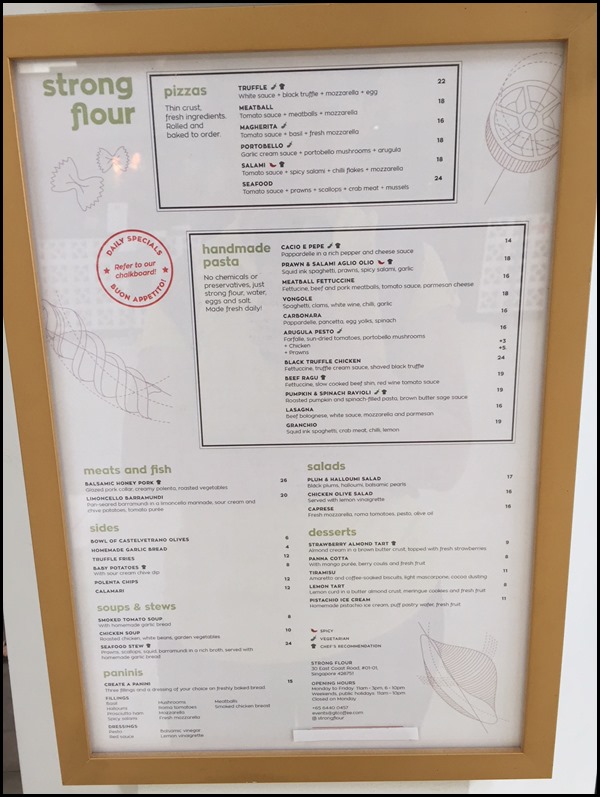 Strong Flour Menu
I'll definitely be back, and I'll also utilise my Entertainer App 1-for-1 vouchers. Couldn't use them for this visit because it was a public holiday.
---
Add me on Facebook, Instagram and Twitter if you want to be kept up to date with the latest happenings in the food and lifestyle scene in Singapore!
---
Strong Flour
30 East Coast Road #01-11 Katong V Singapore 428751
Tel: +65 6222 2554
Email: events@gtcoffee.com
Website: https://www.gtcoffee.com/strongflour.html
Opening Hours
Mondays: Closed (Except PH)
Tuesday – Fridays: Lunch: 11am-3pm Dinner: 6pm-10pm
Sat, Sun & PH: 11am-10pm