Having previously read quite a number of ridiculously bad reviews on JooJoo, I wanted to see for myself if things could indeed be that bad. I'm no sadist, but sometimes, a bad experience may just boil down to that person's personal preferences.
Well, I was forewarned about the seemingly cheap but paltry portions, so we were extra careful when placing orders. The Partner chose from the Ala Carte Menu, while I chose Kushiyaki Set B for $15.90.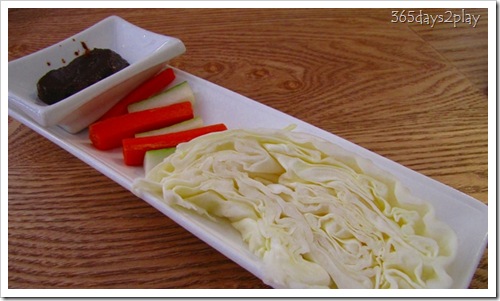 Here's the complimentary appetiser. I have to say, the presentation of the food really could do with some improvement. So the reader wasn't exactly wrong when he/she described the cabbage to be "half a brain". I would expect the cabbage to at least be shredded? But it's not so much the unprocessed look it had, rather it was how raw the appetiser looked. Maybe this is normal to the Japanese, just like how Kim Chee will never appeal to me even though Koreans love it so.
Ok looks aside, I am proud to say I downed the entire portion of raw vegetables seen here. The miso dip was not bad, and I felt quite healthy for having eaten all these raw vegetables. It's pretty tasty once you get over the rawness of it all.
Hey, would you prefer to be offered a complimentary dish of vegetables, no matter how ugly they look, or not have them at all?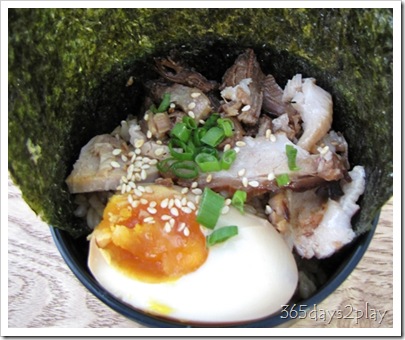 Char Siu Rice with Egg $3.90 — The egg was nice and went well with the rice. Some bits of Char Siu were a little dry, but on the whole, this was okay.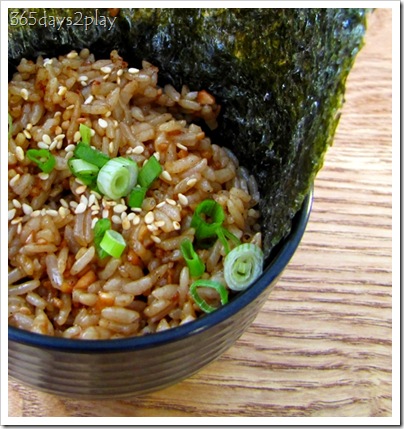 Garlic Rice $3.90 — This was tastier than the rice above, and naturally so because of the garlic, but too bad it doesn't come with egg. JooJoo also has a rice dish in clam broth which sounded good.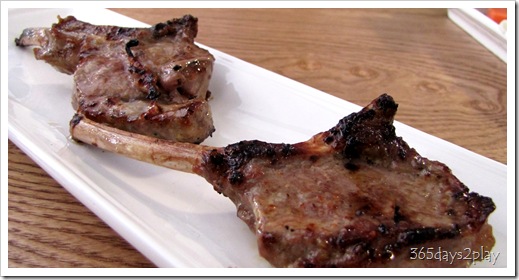 Lamb Rack $8.90 — Very tasty, one of the highlights of the meal, which had me licking my fingers at the end. But it was also just a tad bit dry. Some sauce would have been appreciated.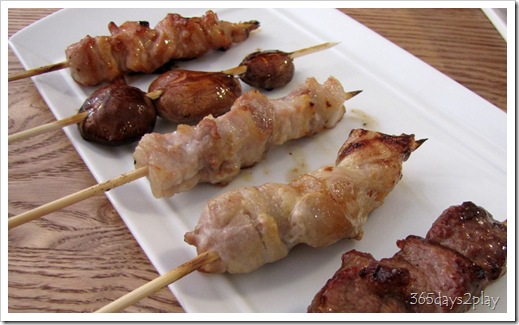 Kushiyaki Set B : Thigh with Tare, Shitake with Tare, Pork Belly, Pork Belly with Cherry Tomatoes with Miso, Karubi with Miso (from top to bottom) — These items can also be ordered from the Ala Carte Menu. This time round, the pork belly was juicy and flavourful. I really loved the Pork Belly with Cherry Tomatoes. The tomatoes lent a lovely sweetness to the pork. If you have a chance, order the pork belly with the tomatoes, rather than without. The chicken was also not bad, but the Karubi (beef) was a little tough.
The mushrooms were a total let down. They were almost raw. In fact, you could see all the gills intact and untouched on the underside of the mushroom. What's with JooJoo and raw plants?
The Kushiyaki Set B was supposed to come with Salmon belly, but they had run out of it so they substituted that for pork belly without telling us. Luckily the price was the same or I would think that they were not being honest.
Pork Belly with Enoki $4.90 — Ok I don't know what's with the plating cuz it just served to highlight the size of the portion…. Anyway, this was tasty and the mushrooms gave it a nice crunch. Then again, meat with fat is usually tasty. If it's not, it must be one hell of a lousy chef.
Conclusion : — On the whole, I think the food is not bad. There are some hits and there are some misses. You have to be careful what you order here because the dishes sound cheap, yet when you add them up, it's almost like dining at a full-fledged restaurant. But to me, JooJoo resembles more of a cafe rather than a restaurant. They don't even have a door at the entrance, which apart from making it look more casual, also let in the noise from the roads. Someone should also consider lowering the volume on the sound system because it's already noisy enough from the cars.
Oh yes, you can also get a slice of the Awfully Chocolate cake here, as opposed to having to buy the entire cake at their other outlets.  It's called the Super Stacked Chocolate Cake. It's $6.50 per 100gms, which means you will be charged about $7.80 since the slice is more than 100gms. And since all slices look the same size, the true cost is probably going to be $7.80 and never $6.50.
We asked the waiter why the slice wasn't 100gms as most people would simply assume the slice would cost $6.50 since this is a cafe not a market.
His answer? "We cannot accurately measure out 100gm." You have been warned.
JooJoo (Owned by the same owner of Awfully Chocolate)
131 East Coast Road, #01-01, Singapore 428816
Tel: 6346-7604