[Sponsored Post]
If you walk past the newly opened Kakuida's unassuming storefront at Icon Village opposite Tanjong Pagar MRT station, you might be forgiven for thinking that this is yet another shop selling donuts and tea drinks. But the key difference here is that every single item sold at Kakuida's is infused with a dose of healthy Japanese black vinegar, aka Kurozu in Japanese.
Kurozu has been around for more than 200 years, dating back to the Edo period (1800s). The health benefits of kurozu include:
Detoxifies the liver
Relieves stress and body fatigue by breaking down lactic acid
Stabilises blood pressure
Boosts metabolism and facilitates better blood circulation
Promotes digestion and reduces constipation
and the list goes on, of which you can read about here.
Fukuyama Kurozu Co., Lt is the producer of the "Kakuida" brand, It is the second largest producer of kurozu in Kagoshima. The kurozu is produced by taking groundwater and brewed with brown rice and koji (a type of fungus which grows on rice). Kakuida's Kurozu is aged for 3 years, and therefore has a more earthy and mellow taste, as compared to mass market vinegars which are aged merely a month or two, resulting in a spritzy taste instead.
Well, so what has this black vinegar got to do with donuts and tea? The thing is, in Japan, many Japanese consume kurozu as part of their daily diet as they are aware of kurozu's health benefits. Unfortunately, outside of Japan, the idea of vinegar is more limited to cooking or medicinal purposes. I must admit I too found it quite a novel idea to have my donuts infused with vinegar, when I first heard about it. It's probably more acceptable for drinks, given nowadays there are no limits when it comes to drinks. Think cheese tea and you'll know what I mean!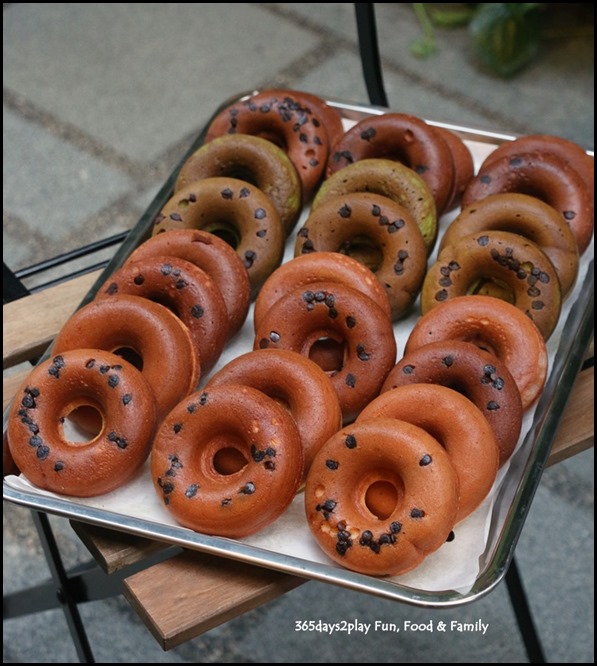 These baked donuts come in 4 flavours and with or without chocolate chips.
I say go for the chocolate chips for extra oomph!
I'm glad to report that first and foremost, the donuts taste good, and are reasonably priced between $1.90 — $2.50 depending on the flavour and whether it comes with chocolate chips. These are baked donuts btw, and if they weren't called donuts, I'd actually think of them as slightly dense sponge cakes in the shape of donuts. Even better, there are no artificial additives. I certainly can see myself buying more if I am in the vicinity.  As it is, I ate two of them back to back, even though they are quite sizeable. I tried both the original as well as the sweet potato. Personally, I prefer the original as it has a slightly crisper exterior, but taste-wise they don't differ that much as the taste is mild. Would be so good with hot tea as an afternoon snack!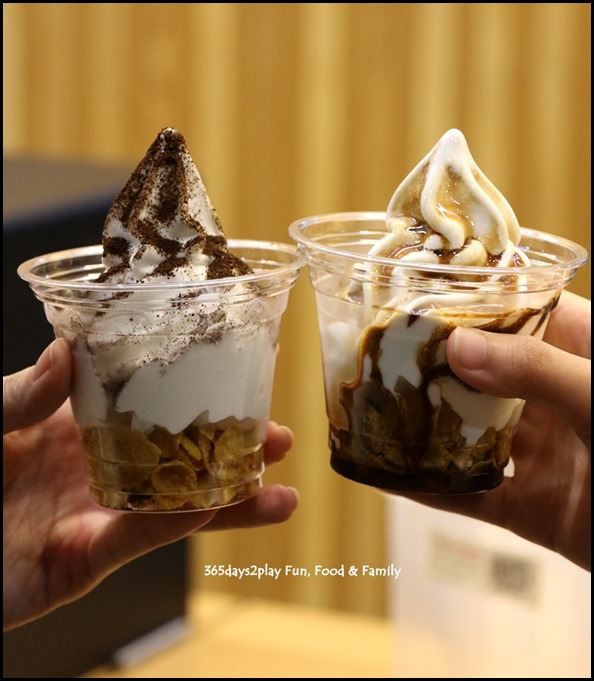 Genmaicha soft serve (roasted rice) on the left and Kuromitsu (honey) soft-serve on the right. The Kuromitsu actually tastes tangy rather than sweet while the vinegar is not noticeable in the genmaicha one. 
The taste of the kurozu is not noticeable to me in the donuts. If you want to taste the tanginess of the vinegar, you should try hot kurozu or fruit drinks, the kuromitsu soft-serve or even the ice kurozu lemon tea. Or you could simply buy the organic fruit kurozu in 500ml bottles and have as you please at home.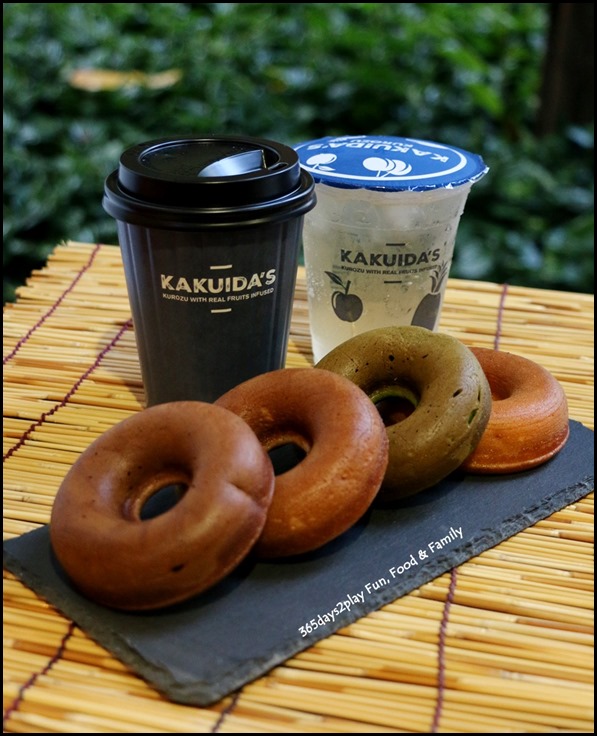 I tried the iced kurozu lemon tea but I'm not a fan of it as it is a little too tangy for me. On the other hand, I enjoyed the iced English Breakfast Tea with kurozu konnyaku.
Contest Time!
Win 10 x $20 Kakuida's vouchers by posting a photo of Kakuida's baked donut(s) on Instagram and tagging #kakuidas, #kurozu and @kakuidas. Contest ends 31 July 2018 8pm Tuesday. This contest is only open to those residing in Singapore. Winners will be informed via Instagram and prizes are to be self-collected onsite at the Kakuida's outlet.
*This is a sponsored post but all opinions are my own.
---
Add me on Facebook, Instagram and Twitter if you want to be kept up to date with the latest happenings in the food and lifestyle scene in Singapore!
---
Kakuida's Kurozu
12 Gopeng Street #01-23, Icon Village, Singapore 078877 (Kakuida's is located opposite Oasia Hotel Downtown and diagonal to Tanjong Pagar MRT station)
Opening hours: Mon — Fri: 8AM — 8PM Saturdays: 8AM — 6PM Closed on: Sundays, Public Holidays
Kakuida's website: https://kakuidas.com.sg/
Kakuida's menu: https://kakuidas.com.sg/our-menu/