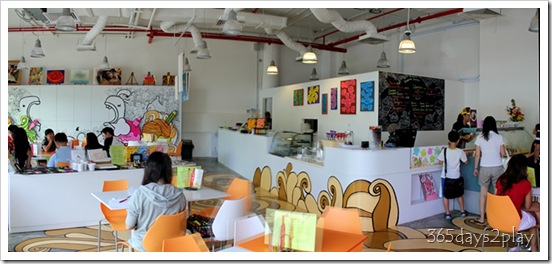 Is it just me or do you think that there seems to be many ice-cream shops popping up all over the place? There are so many in the East Coast area that you can almost bet a dollar that there's one down every street you turn! Take for example the Marine Parade Community Centre. What used to be Cristofori the Music School, is now Scoop of Art! It's no art school though, it's an ice-cream shop! Singapore's first Gelato & Art café no less!
According to their website, Scoop of Art gives everyone the opportunity to experiment with a wide variety of Gelato flavours & Art & Craft. No right or wrong. Just pure freedom of expression in a comfortable & delicious environment!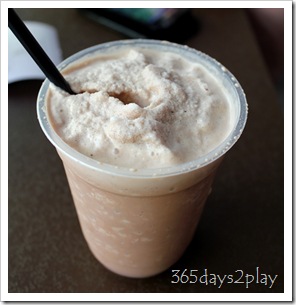 I went to check it out a few Saturdays ago when I was consumed by a sudden parchness of the throat. I didn't want ice-cream though, so we ordered an iced coffee and a coke. The coffee was OK. I guess their expertise is in the ice-cream.
I don't think I should comment on the ice-cream, since I didn't have any. They don't have aas large a selection as compared to some other ice-cream parlours. However, they do have some interesting flavours like Mars Bar & Sea Salt which I'd like to try out some day. Other sweeties you can have there include brownies, crumble and waffles. Interestingly, when I was there most people were having lunch because Scoop of Art also serves hot food like pastas.
Scoop of Art
278 Marine Parade Road, #01-03 Singapore, 449282
Phone: 63456563
Mon – Thurs: 9:30 am – 10:00 pm
Fri – Sat: 9:30 am – 11:00 pm
Sun: 9:30 am – 10:00 pm