[Media Invite]
There is a new Chinese Executive Chef at Majestic Bay Seafood Restaurant. Chef-Owner Yong Bing Ngen has promoted Chef Chee Hin Yew (who has worked at Majestic Restaurant for 16 years) to the role of Chinese Executive Chef. Chef Yong is keen to prove his mettle and based on what we sampled a couple of weeks back, I'm sure it won't be very difficult.
I had good memories of Majestic Bay Seafood Restaurant when I first visited back in 2012. A number of times I wanted to return to check out their dishes again but I some how never made it back. After the good experience from this recent food tasting, I'm very keen to bring my parents out for dim sum lunch soon. I would love for them to try the delicious seafood dishes we sampled, but I have to admit the prices are a little beyond budget for a casual weekend lunch. The dim sum dishes are however priced more affordably, similar to other chain Chinese restaurants at the malls.
Anyway, scroll down to see the dishes we sampled. It certainly looked as good as it tasted. If you feel the same way too, don't forget to hint hint to your bosses for the next department dinner….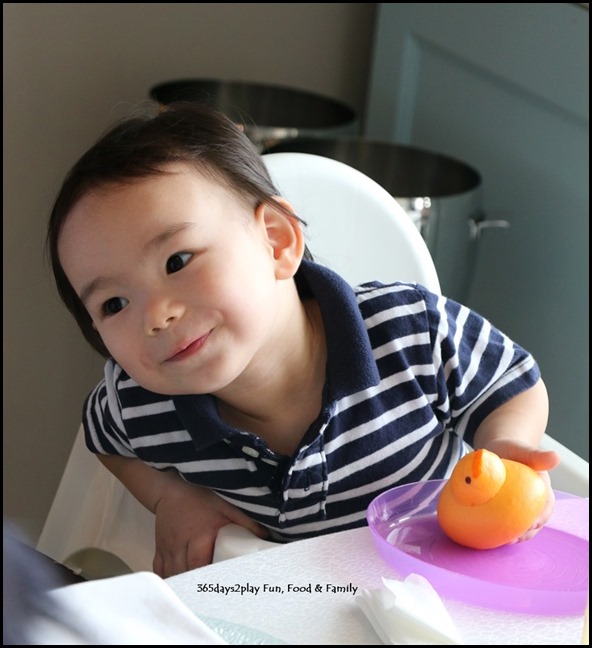 Edward got to partake in the food tasting as well. Poor Papa had to give up a good sized portion of his food to Edward because he simply loved it! Crabs, lobsters, fish, prawns, bring it on! Here's Edward itching to get started on the yellow duckling bun! Who is cuter, Edward or the duckling?
 Catch of the day prepared in 2 ways (stir-fried and sauteed with fine salt & pepper) $80
The seafood at Majestic Bay is really fresh as evidenced by the glass tanks of sea creatures greeting you at the entrance of the restaurant. I love the concept of this fish prepared in 2 ways. It allows more variety, and if you don't like one preparation method, there's another to choose from. For me, the deep-fried version with its crispy and peppery crust appealed to me more and I polished off several pieces. I also liked the pan-fried slices too, where the original flavours are more evident.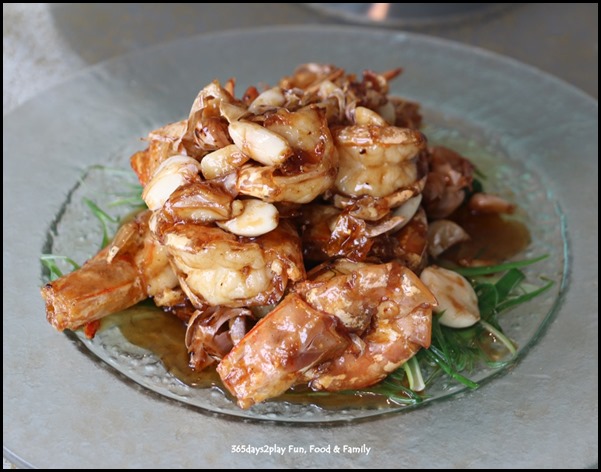 Crispy sea prawns in light soya sauce and smashed garlic $30
These voluptuous prawns were so good in the soya sauce which had been rendered till a little sticky. Could have had several more if I didn't have to be polite and leave some for others.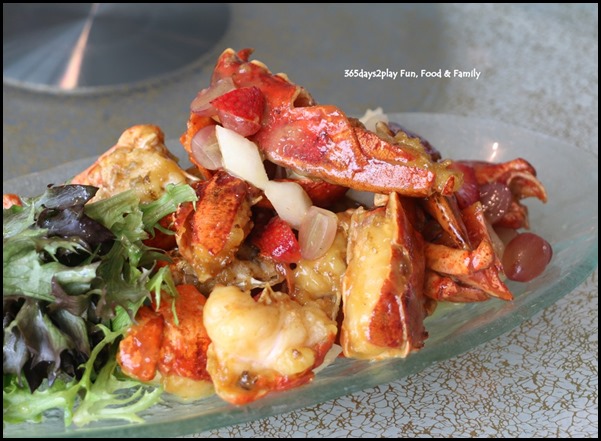 Lobster in homemade champagne sauce $50
Chef Chee seems to have a knack with getting the sauce right. This sweet and fruity champagne sauce was delicious on its own and had me trying to lick the shell of the lobster! You know at some restaurants they tell you it's champagne sauce, but you're like erm it just taste like normal sauce. But this champagne sauce is quite different from any other that I've tried.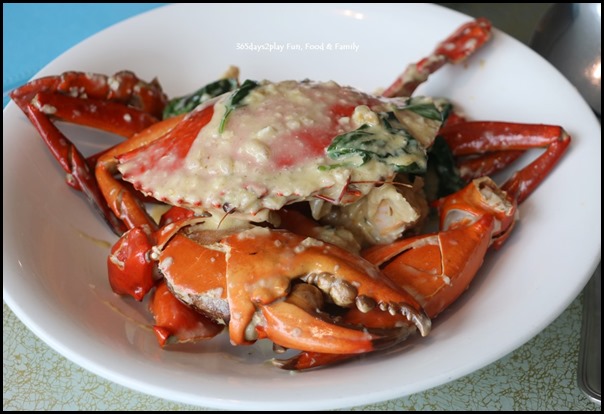 Sauteed mud crab with basil leaves in white wine sauce $68
Ok here the white wine isn't so pronounced in the sauce, but nevertheless it was still tasty and I wished there was more of it. As with the other seafood dishes, this mud crab tasted amazingly fresh and sweet.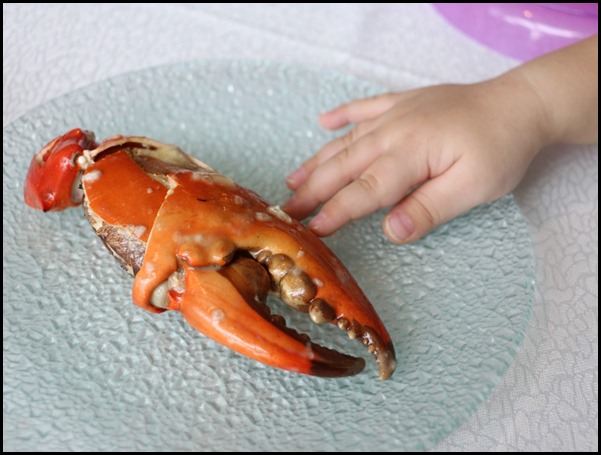 Whose claw is bigger?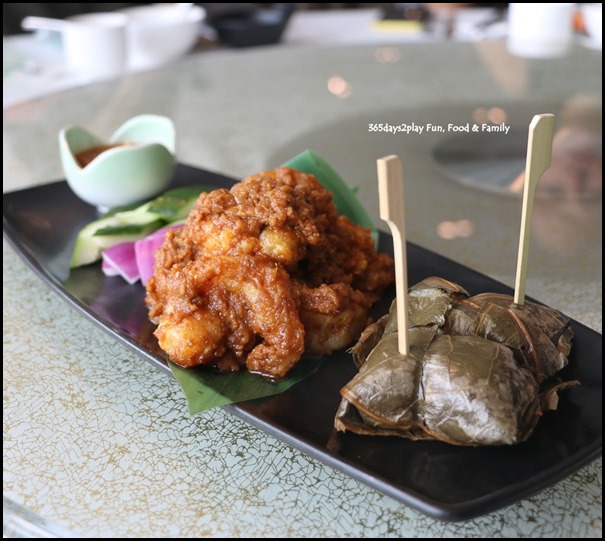 Crispy prawns in peanut satay sauce $28
This is a satay-style inspired prawn dish. It's actually very tasty together with the peanut sauce, although I wouldn't call it crispy. The glutinous rice on the side is just too little to go around, especially if you have more than four diners sharing this.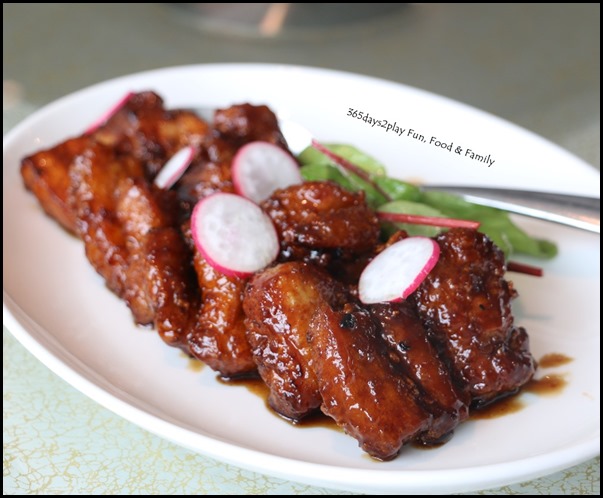 Baby pork belly ribs Jiangsu style $24
Even the non-seafood dishes we tried were memorable, and once again the sauce is the star of the dish, elevating it from good to great. Here, rendered Zhejiang vinegar is used to help cut through the rich flavour of the pork. For me, I just love the soury and sweet flavours together with the meat.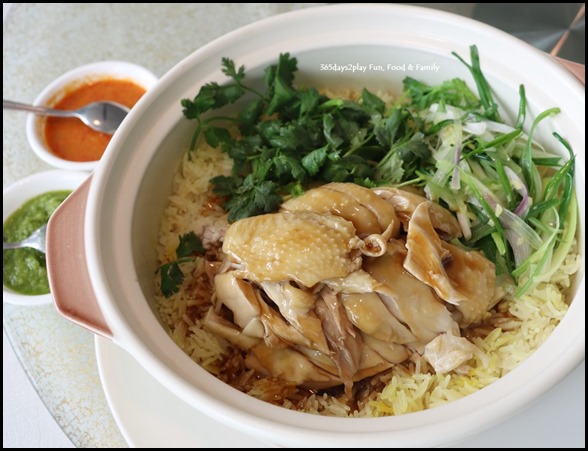 Malaysia free-range chicken rice, claypot style $32
Cheap and good chicken rice is easily available in Singapore. This was good but not particularly memorable so I'd say you can give this a miss.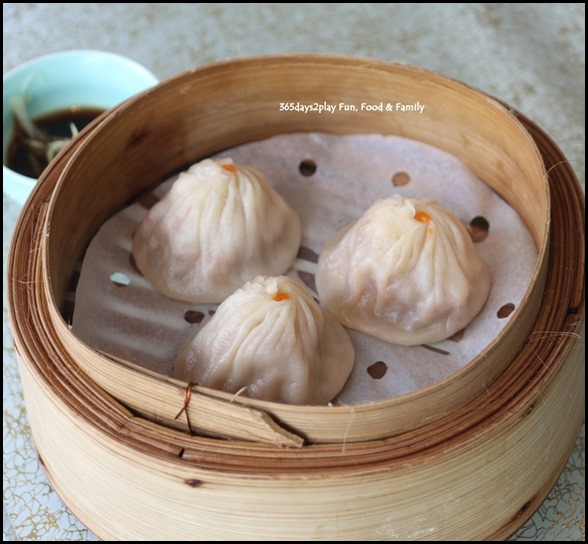 Singapore Laksa Xiao Long Bao $5
In celebration of National Day, there are 4 "Peranakan Chinese" dim sum dishes which will be available only until the end of August. This Laksa Xiao Long Bao is one of them. I was a little hesitant to try this because surely it must taste gimmicky. But thankfully, it's still a full-fledge xiao long bao with the minced meat inside. The only difference is that the broth has a hint of laksa flavour. Makes for a nice change actually.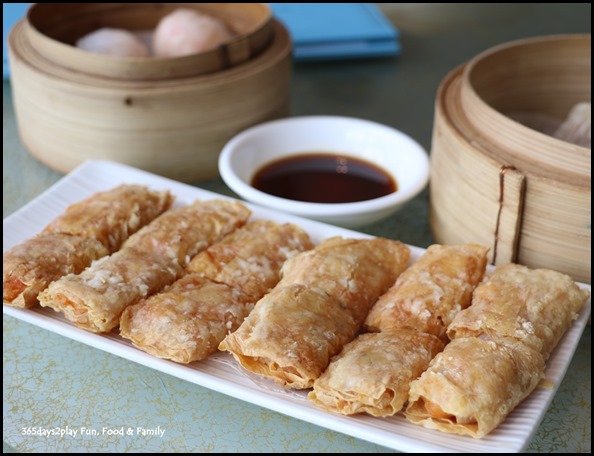 Fish Otak-otak beancurd roll $4.80 per serving
This was also very good. The otak-otak is not a solid piece but mashed and mixed into the prawn filling. Wouldn't hesitate to order this again either.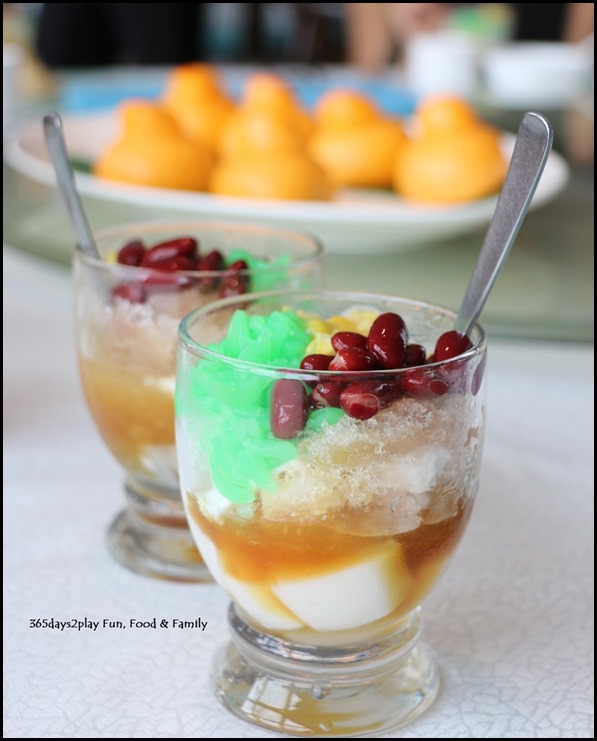 Chendol Siew Dai $4.80
If you're looking for authentic traditional chendol, this wouldn't fit the bill. As you can see, there are a number of elements that are different, eg the use of corn, kidney beans and almond jelly cubes. Still, it's not bad as a dessert, quite refreshing, and as the name suggests, not too sweet. Come to think of it, this is more like Ice Kachang than Chendol!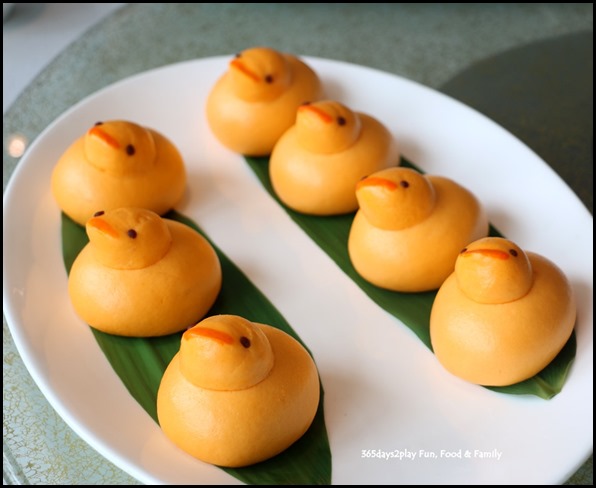 Signature yellow duckling bun with Nutella and yam $4.80 per piece
I was too stuffed by then so I gave these a miss. But I deployed my trusty assistant to venture forth.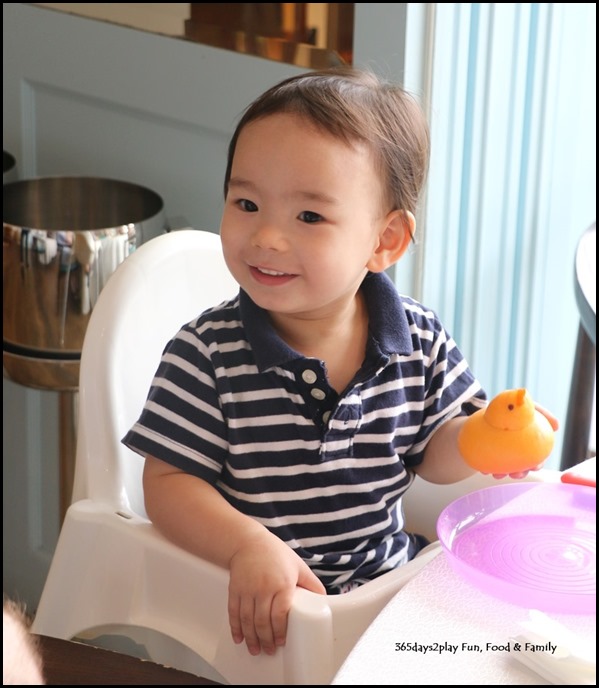 Wow, I have a duckling bun!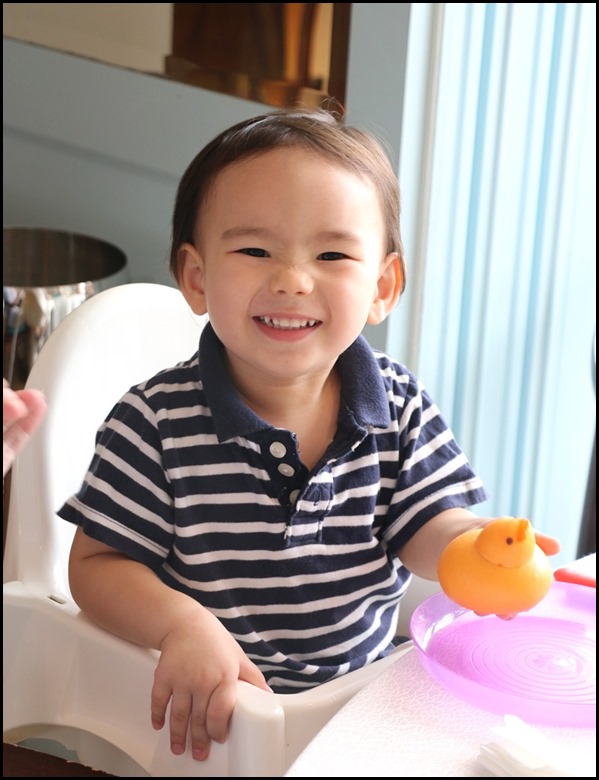 You mean Mama actually gave me an entire duckling bun for me to eat all by myself?? Hooray!!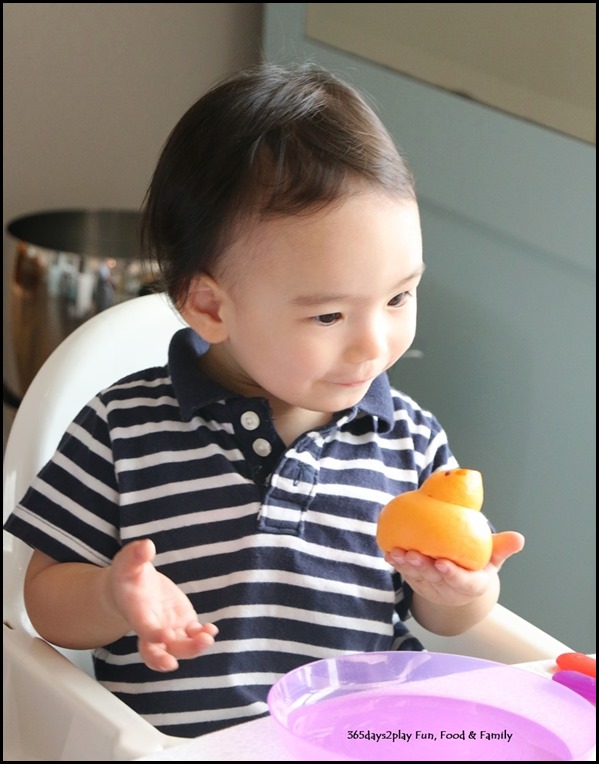 Everyone ready? I'm going to attack!
Check out my post about my previous visit to Majestic Bay Seafood Restaurant. While you're at it, also check out what to eat and do at Gardens By The Bay.
---
Add me on Facebook, Instagram and Twitter if you want to be kept up to date with the latest happenings in the food and lifestyle scene in Singapore!
Other noteworthy Chinese restaurants in Singapore
---
Majestic Bay Seafood Restaurant
18 Marina Gardens Drive #01-10, Singapore 018953 (Below Flower Dome, Gardens by the Bay)
Tel: (65) 6604-6604
Email: reservations@majesticbay.sg
Website: www.majesticbay.sg
Operating Hours : Monday to Sunday Lunch: 11.30am – 3.00pm | Dinner: 5.45pm – 9.00pm