A very Happy New Year to all readers of 365days2play Lifestyle, Food and Travel blog! Hope your new year has been off to a great start! Here's wishing you good health, happiness and an even more exciting 2017 to come!
Speaking of exciting, I thought it fitting as my 1st post for 2017 to blog about a really fantastic meal I had in 2016. As the title of this post reveals, its our anniversary which we celebrated at the one Michelin-starred restaurant Summer Pavilion.  It's the 1st time we formally celebrated it after being married for 4 years! Can you believe that? In some circles, that would be grounds for divorce! But truth be told, Christmas is the occasion that we spend our efforts celebrating (with family and all), that by the time 29th December comes along, it doesn't feel as if we need yet another celebration.
Nevertheless, I was really happy to be able to have the opportunity to celebrate our anniversary. Even though I have dined at quite a number of posh restaurants,  I hadn't been to Summer Pavilion before, and it has been more than 2 years since I was last at Ritz Carlton, so the whole experience was very exciting! It did help that the Christmas decorations were still up, and the hotel looked so pretty! The stark black and white tableware set up also exuded refinement and was like a prelude of good things to come.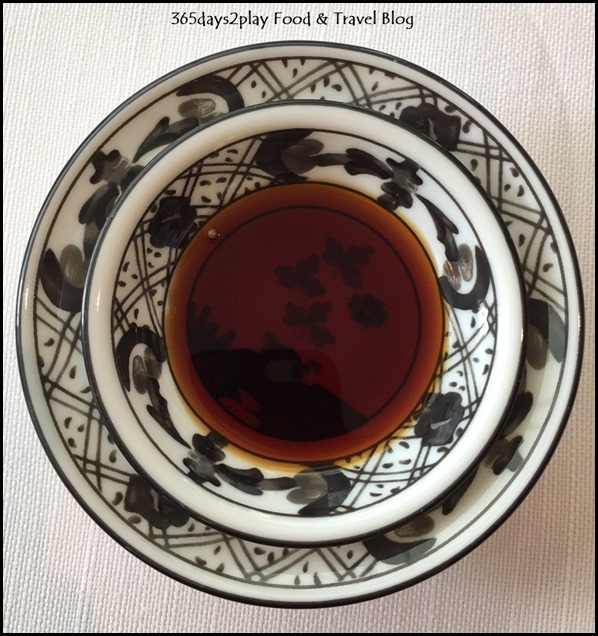 You know you're in for a treat when even the soya sauce looks like an art work.
We opted for the Lily Dinner Set. Yes, they were able to serve that during lunch (I'd checked when I made reservations). I can certainly see why they managed to obtain the coveted Michelin Star. The 5 main criteria that the Michelin inspectors look out for are as follows:
Quality of the products

Mastery of flavour and cooking techniques

The personality of the chef in his cuisine

Value for money

Consistency between visits
While I can't comment on point 3 and 5, I can certainly state that with the exception of dessert, all the dishes we were served that day wowed us. Dessert tasted good too, except there wasn't any wow factor. As for value for money, at $88++ per pax, I think that you could possibly find a handful of Chinese restaurants in Singapore that might be able to match this standard for a lower price tag, if you look hard enough. For hotel restaurants, Yan Ting of St Regis or Wan Hao of Singapore Marriott Tang Plaza Hotel come to mind, but they aren't very much cheaper either. Lei Garden or Crystal Jade Golden Palace may be cheaper too, but guess what, they're also Michelin Starred restaurants!
One thing that the Michelin inspectors don't value is ambience and decor. But I do. Ambience, decor, service and how comfortable I feel dining in a restaurant are all important factors to me when it comes to enjoying a meal out. If it were just the quality and taste of food, home cooking would have sufficed!
Anyway… scroll down for the low down on each of the dishes.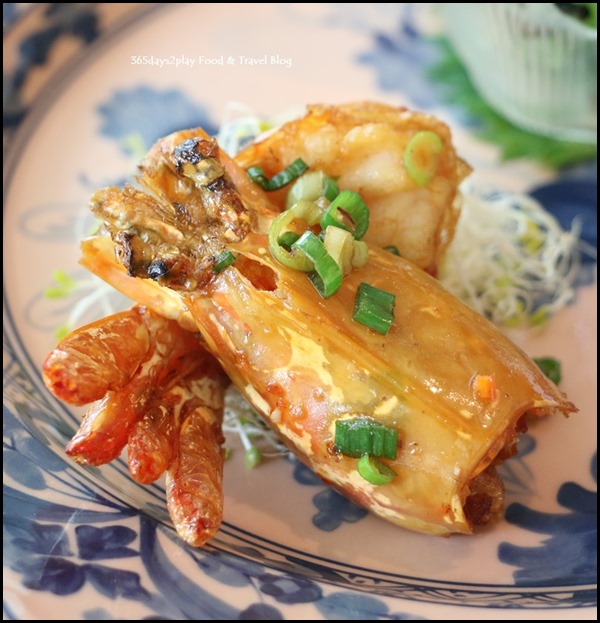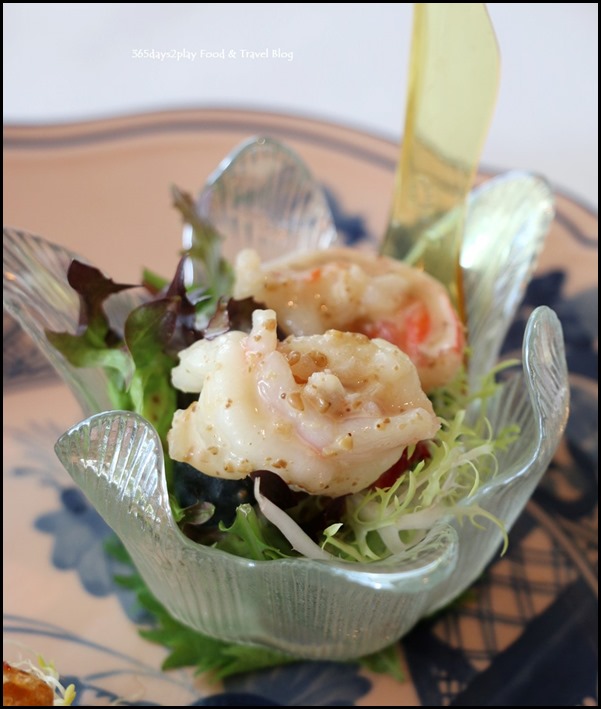 The set-lunch started off with this appetising dish called Duo of Prawn comprising a deep-fried prawn and a chilli prawn in sesame sauce. Both the prawns were succulent and fresh tasting. The deep-fried one being deep-fried was hard not to like while the other prawn held its own with the delicious nutty sesame sauce. Even the bed of salad was nice as it was fresh and crisp. To often have I seen wilted/oily leaves being hastily assembled as a side thought, but don't the chefs know that doing that detracts from full enjoyment of the dish, not to mention the visual appeal? Not too sure about the plastic receptacle though, doesn't seem to fit into the theme of things, and my plastic spoon had a crack.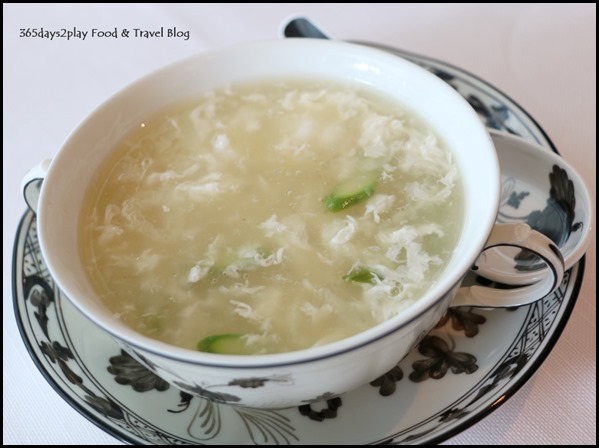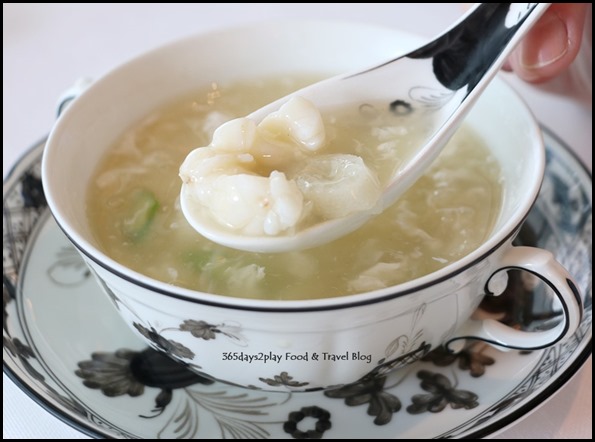 This braised bird's nest soup with Boston Lobster meat, bamboo piths and diced asparagus has got to be the star of the day. It was probably one of the best tasting soups I have had in a long while. People should serve this soup during weddings instead of insisting on sharks' fin because this soup was just amazing. It had so much flavour, and was chock a block with ingredients to chomp into. It was just blissful sipping each spoonful. I would return to Summer Pavilion just to have another bowl of this soup.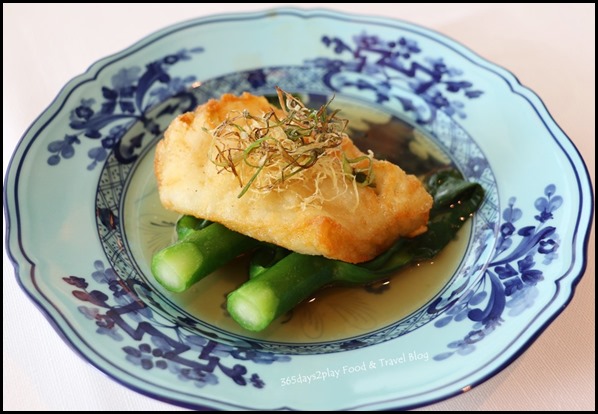 I am fussy when it comes to fish, but luckily, sea perch is one of my favourite fish for its flaky and buttery flavour. This simple dish was fried to perfection without a hint of greasiness, with the crispy ginger on top giving it a bit of heat and added flavour.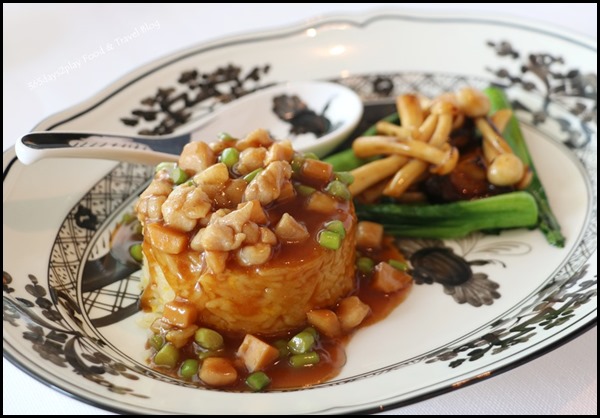 This braised rice of diced abalone, chicken, mushroom and asparagus was a homely and comforting dish. Simple at first glance, there is a level of skill needed as the rice, which had slivers of egg dotted throughout, still remained al-dente despite being enveloped in the savoury sauce. You could even taste the "wok-hei" especially in the fried mushrooms.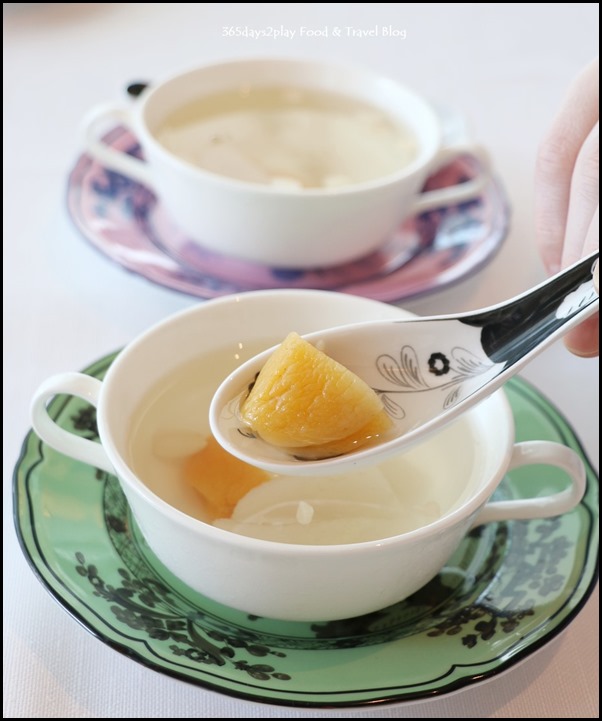 Dessert was a little underwhelming after the amazing main dishes earlier. While this dessert of the day of chilled soup with almonds, pear and apricot was refreshing, mildly sweet and actually quite enjoyable if you like almond flavoured liquid, it just seemed a little too simple for a place like Summer Pavilion.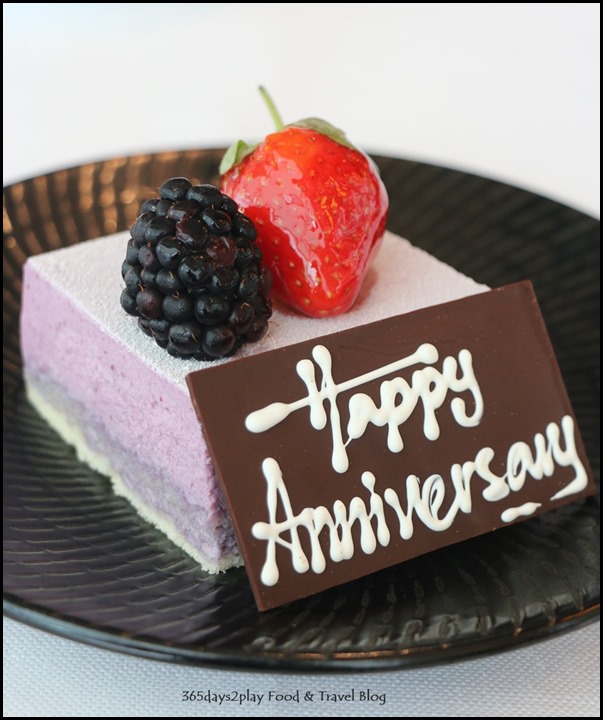 The restaurant surprised us with a complimentary blueberry mousse cake, which was quickly devoured with pleasure.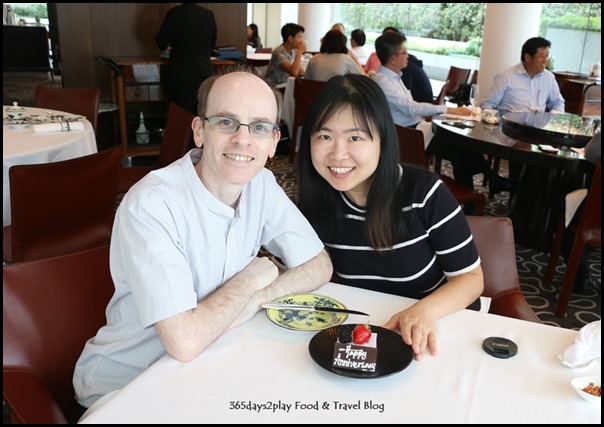 Happy Anniversary hunny! Can't wait to visit Ritz Carlton Summer Pavilion again!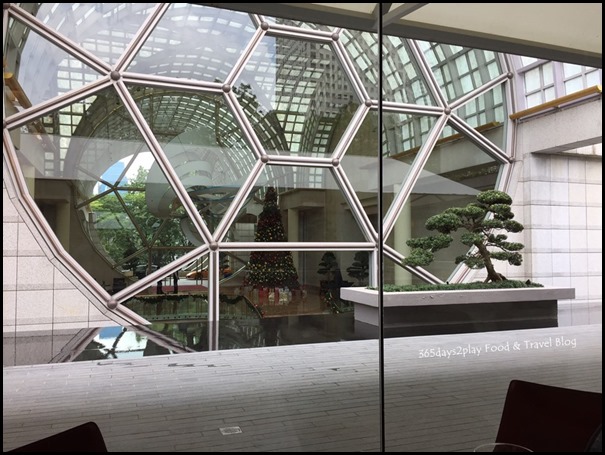 Our table by the glass windows, perving at all those arriving at the main lobby.
---
Add me on Facebook, Instagram and Twitter if you want to be kept up to date with the latest happenings in the food and lifestyle scene in Singapore!
Read my review of Afternoon Tea at Ritz Carlton
Other Michelin-Starred Restaurant reviews
---
Summer Pavilion
The Ritz-Carlton, Millenia Singapore
7 Raffles Avenue Singapore, 039799 Singapore
Lunch : Daily, 11:30 a.m. to 2:30 p.m. (last order at 2:15 p.m.)
Dinner : Daily, 6:30 p.m. to 10:30 p.m. (last order at 10:15 p.m.)
Tel : +(65) 6434-5286
Website : http://www.ritzcarlton.com/en/hotels/singapore/dining/summer-pavilion
Menu : http://www.ritzcarlton.com/en/hotels/singapore/dining/summer-pavilion/menu