For those of you who love the cuisine at Majestic Restaurant and Jing, you will be glad to know that Chef Yong Bing Ngen has opened yet another restaurant, the Majestic Bay Seafood Restaurant at Gardens By the Bay. Located below the Flower Dome, the 110-seater restaurant offers a spacious layout apt for family and group dining. Diners can enjoy the impressive waterfront view of Marina Bay, while huge water tanks holding fish and other seafood greet you at the entrance.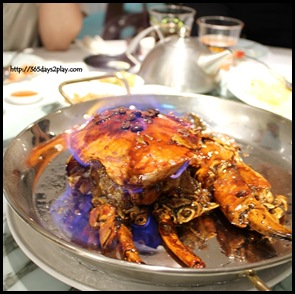 Apart from Majestic Bay's signature "Kopi" Crab dish, which I will elaborate on later, other highlights include the quintessential Chilli Crab, Leopard Garoupa, Bird's Nest, Abalone and Seafood Treasures. Lighter bites featuring dim sum are offered for lunchtime, in part to cater to the walk-in crowd who may not want heavy seafood dishes so early in the day.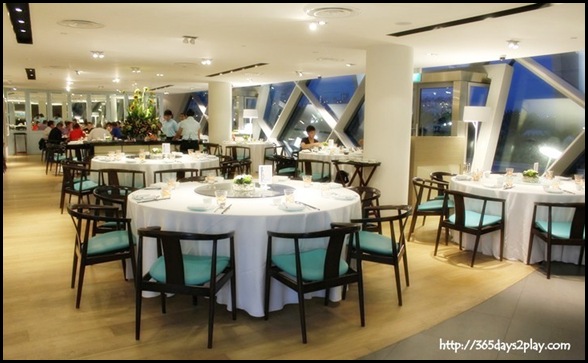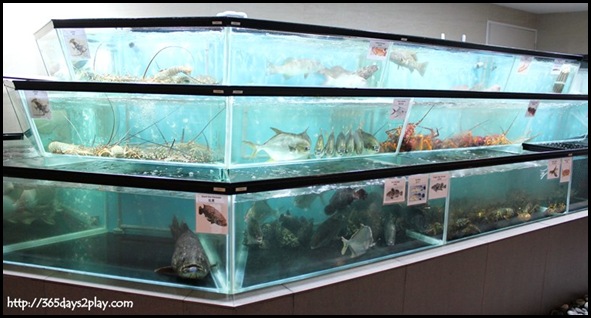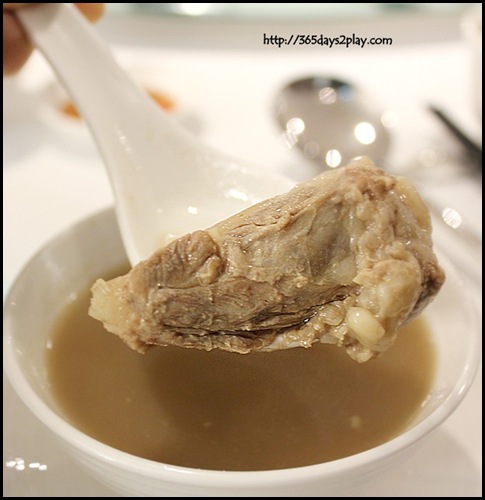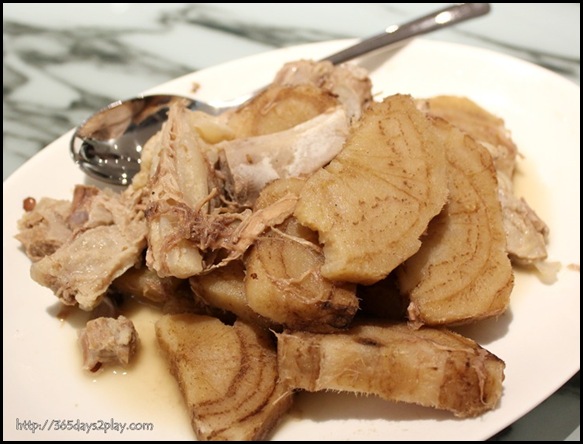 瓦煲老火汤 Double Boiled Soup of the day ($18 for 2-4 pax, $27 for 5-8 pax)
The soup was nice and strong tasting, despite the fact that the liquid was a little thin. Those who are afraid of the pork smell may find this soup a little strong in pork flavour. For me, I never have such an issue, in fact, the stronger the better. I enjoyed the fatty bits of pork that was used to flavour the soup and subsequently dished out to the side for our enjoyment.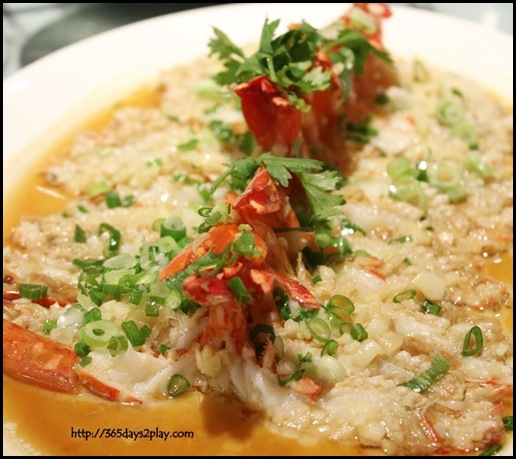 金银蒜蒸开边生虾 Steamed, live prawns, minced garlic (Market price: $70 per kg on 8th Nov 2012)
One of my favourite dishes of the evening, the steamed live prawns in minced garlic is a MUST ORDER!!! I don't think I've tasted much fresher prawns than these. The sweet flavour of the prawns came through and the prawns were firm in texture. I ate 3 of these just because they were so good! Absolutely loved the minced garlic too which I think is the best way to enjoy the prawns!
å† åŽå'–å•¡ç"—è'‰èŸ¹ Live crabs, Bay's signature "Kopi" sauce (Market price: $56 per kg on 8th Nov 2012)
You may have heard of coffee ribs, but have you heard of coffee crabs! The crabs don't just come cooked in coffee liquor. They are also flambéed right in front of your eyes! To be frank, I was a little hesitant on the coffee crabs, but the flavours go together surprisingly well. Think of it as caramel popcorn flavoured crabs and I think you'd get a very good picture! It was delicious prying away at the bits of flesh and the shell attached to the legs were so crispy I managed to crunch them up, which was great.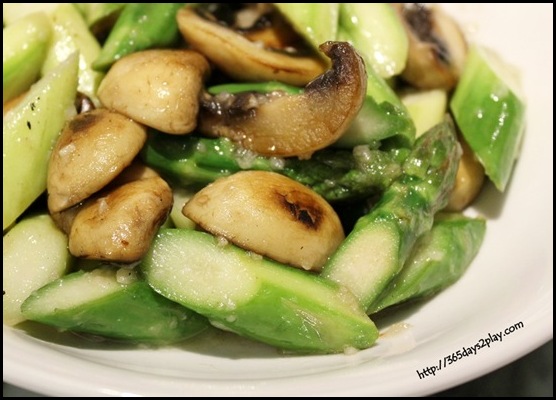 蒜茸野菌炒芦笋 Sautéed, wild mushrooms, asparagus, minced garlic ($18 for 2-4 pax, $27 for 5-8 pax)
Can't only have seafood during the dinner, one must at least attempt to include some greens in the meal. I love vegetables so I do feel that a meal is incomplete without some. The asparagus were delicious and crunchy fried with the minced garlic. Mushrooms were lovely and flavourful too.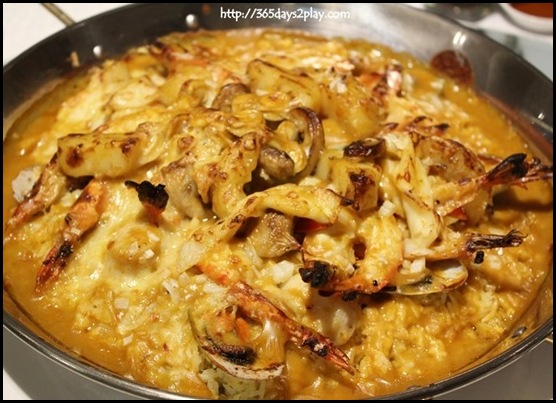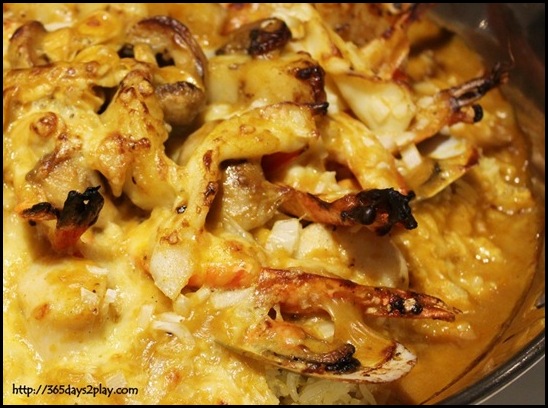 海鲜大烩焗饭 Baked rice, assorted seafood, chef's recipe sauce ($68 for 4-6 pax, $88 for 7-12 pax)
I don't know whether to describe this as an Asian dish because it's baked rice, or to describe it as a Mediterranean dish because it looks so like Paella! Nevertheless, it was chock a block full of goodies! There were scallops, mussels, cute little baby abalone! Be careful you don't mistaken the large cubes of pale potatoes for scallops. Must get your fair share of the scallops! The savoury rice was soaked in just the right amount of spiced sweet gravy that had rich strong tones. Definitely a dish to order when you want to please the guests as there is no doubt the table will go WOW when the dish is laid upon the table.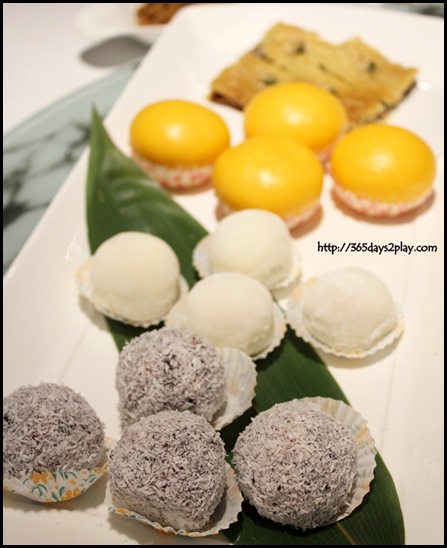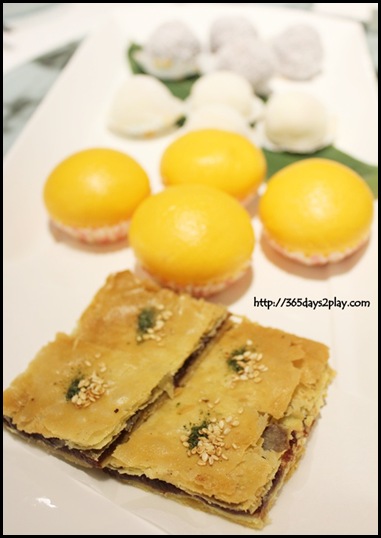 甜品诱惑 Sweet's temptation ($20 for 4 pax) — this includes the Glutinous Rice Dumpling with Yam Paste Stuffing, Shredded Coconut; Glutinous Rice Dumpling with Fresh Cream Stuffing; Steamed Custard Bun, Salted Egg Yolk; Bay's Chinese Pancake, Red Bean Paste
Desserts at Majestic Bay Seafood Restaurant will please the older generation as they are milder in taste and not so sweet. I would highly recommend starting with the least sweet item, and ending off with the sweetest, which is the Red Bean Pancake. Being a sweet tooth myself, it's no surprise I enjoyed the Red Bean Pancake the most. While I would have liked it to be slightly sweeter, the paste was still very palatable and smooth, encased in a crisp flaky pastry that gives a melt in the mouth texture.
The yam ball, I didn't like at all. I liked the red bean exterior, but the sizable inner portion tasted merely of boiled mashed yam squashed into a circular shape. To be fair, my dining companion loved that the most! The glutinous rice dumpling was rather interesting. I was told that this was a favourite with many ladies because of its ultra soft and fluffy texture. It's very true that the interior is a mix of whipped cream and sweet mango, however the exterior was mochi textured, meaning it was sticky. The interior's texture was lost on me because my teeth were busy trying to get through the stickiness of the exterior! As for the salted egg yolk buns, everyone at the table agreed that much improvement was needed as there was more bun than yolk!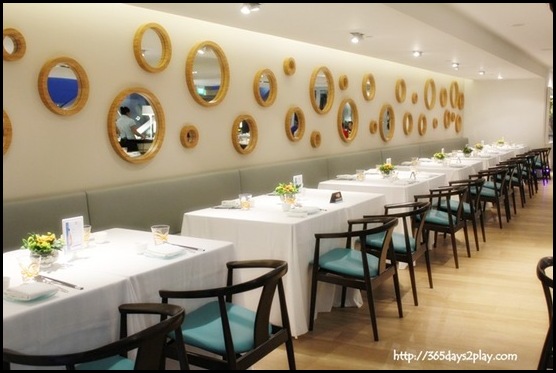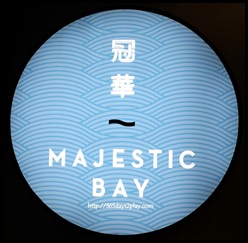 Check out my reviews of other eateries at Gardens by the Bay
~~~~~~~~~~~~~~
Majestic Bay Seafood Restaurant at Gardens by the Bay
Flower Dome, Gardens By The Bay. 18 Marina Gardens Drive #01-10 Singapore 018953
Hours:       Lunch:       11:45 AM – 2:30 PM       Dinner:      5:45 PM – 9:30 PM
Tel:  6604 6604