The recently opened Dine at Stevens is a development housed within the Mercure Singapore on Stevens and Novotel Singapore on Stevens, that boasts a grand total of 11 restaurants. A number of the outlets are housed in individual "pods" that are designed to resemble lily pads from an aerial view, while the rest are within the 2 hotels.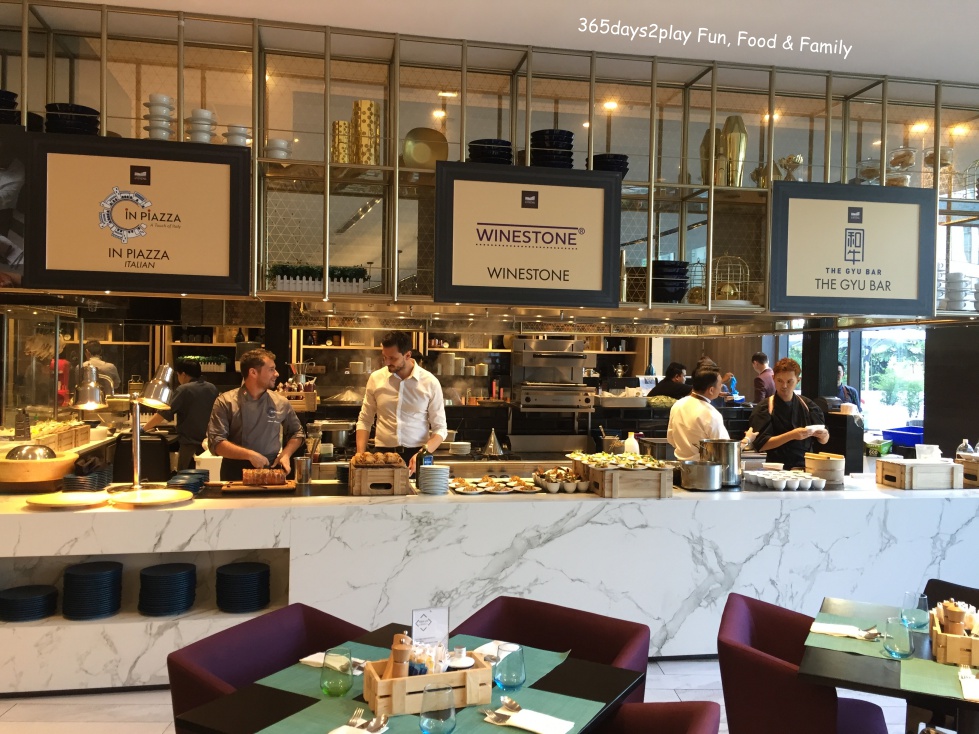 So what can you fine at Dine at Stevens? An impressive 11 different cuisines and various price points to choose from:
Blue Lotus Chinese Grill House (avant-garde Chinese cuisine)
Curry Gardenn
Food Exchange (Novotel Steven's main restaurant with live cooking stations)
Fudebar Cafe (think sandwiches, salads and coffee)
In Piazza Italian Restaurant & Pizzeria
L'Aperitif Tapas Bar
Long Beach Seafood Restaurant
PappaRich (Malay, Chinese and Indian dishes)
The Gyu Bar (Japanese BBQ)
Pool Bar
Winestone (modern European restaurant, late-night bar and wine retail store)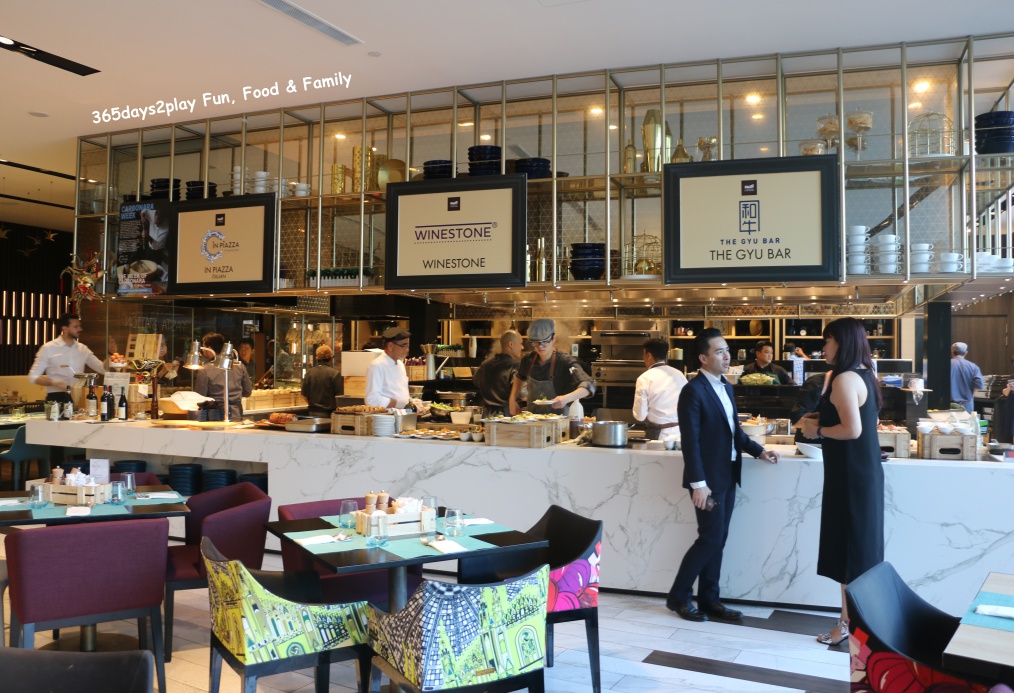 I had the opportunity some weeks back to check out snippets from each of these outlets, presented in a buffet style event at Food Exchange. Food Exchange I must say, is a pretty stylish restaurant, with ceiling to floor glass windows overlooking the hotel pool. The pool itself looks fabulously inviting too. I'm sure many a diner at Food Exchange would be considering a staycation after seeing such views.
Scroll down to see more pictures from the 11 F&B outlets at Dine at Stevens
The Gyu Bar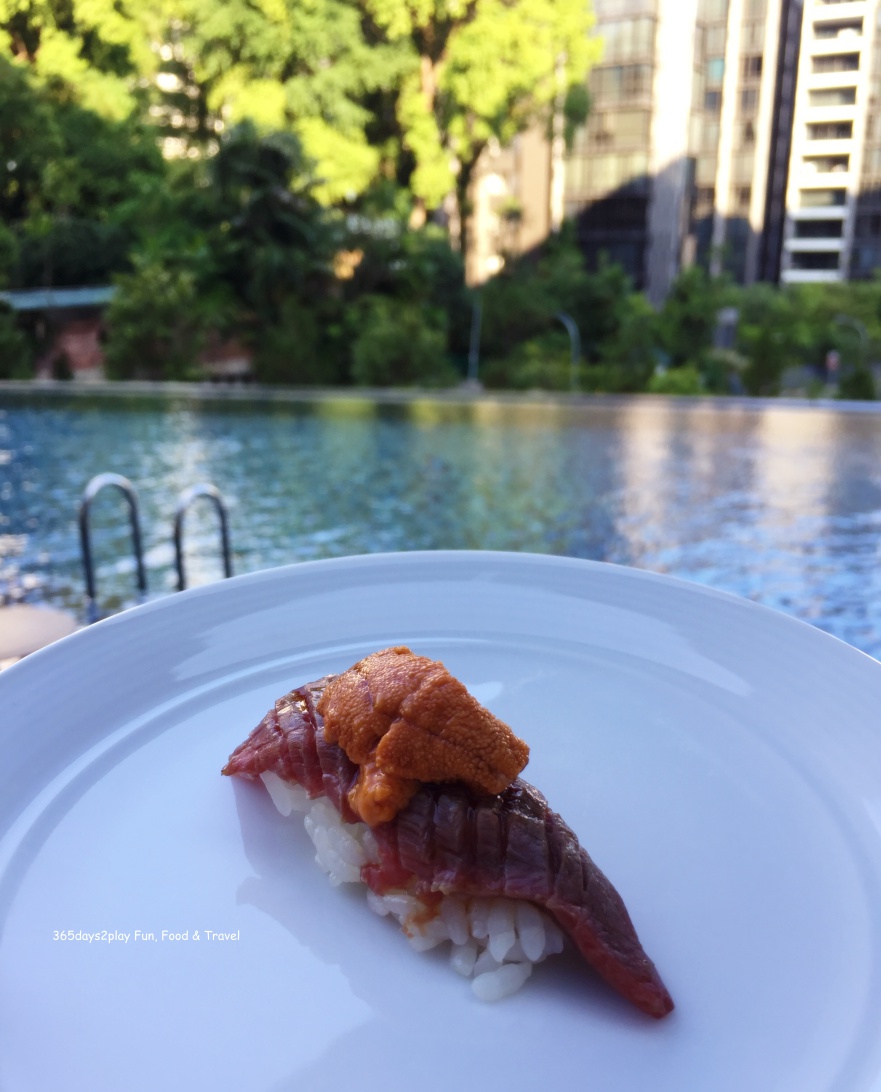 Talk about a pool view to whet the appetite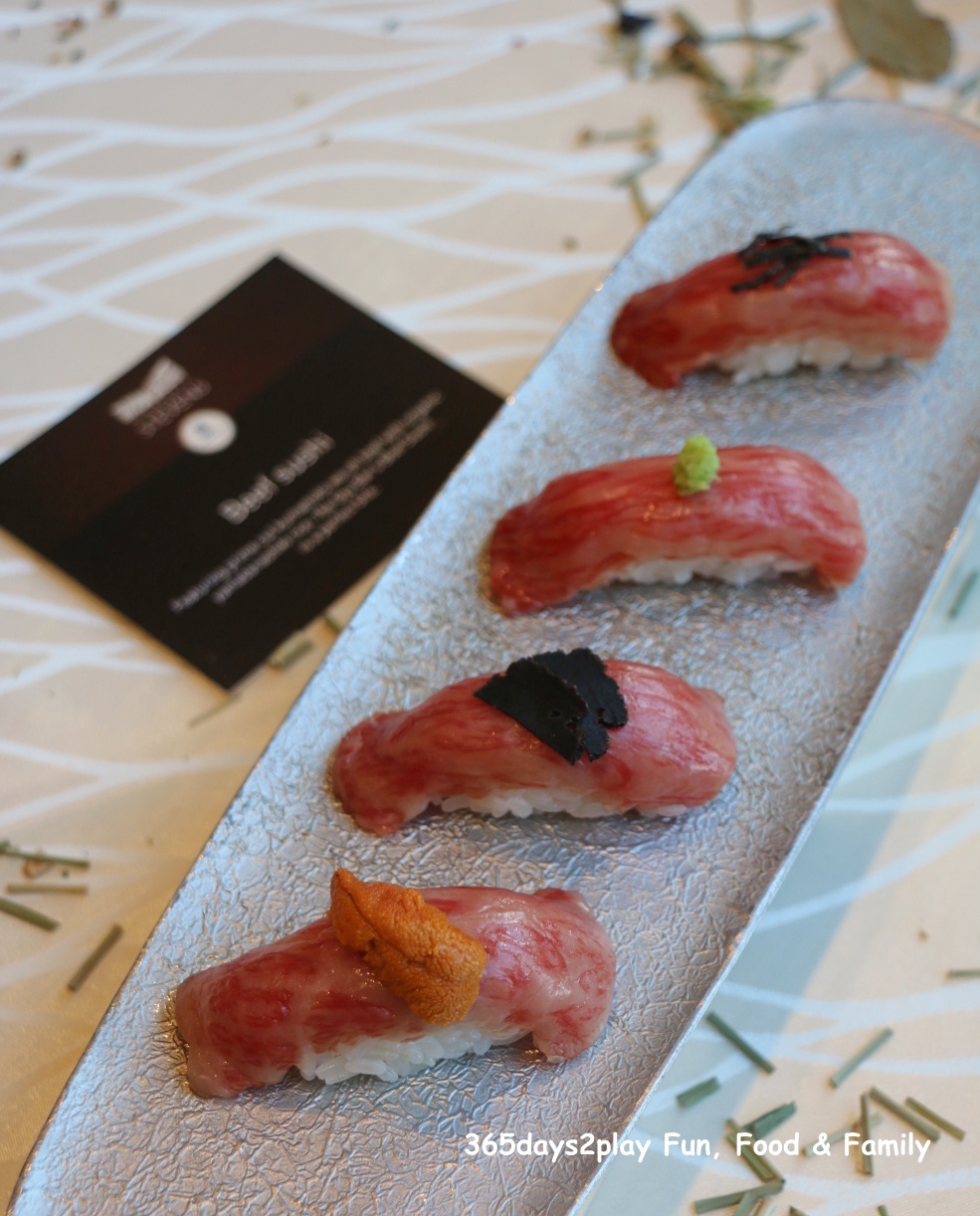 The Gyu Bar specialises in yakiniku (Japanese BBQ) and sake. Don't these little morsels of beef just call out to you, and as if that's not enough, what about a little dollop of uni or a shaving of truffle?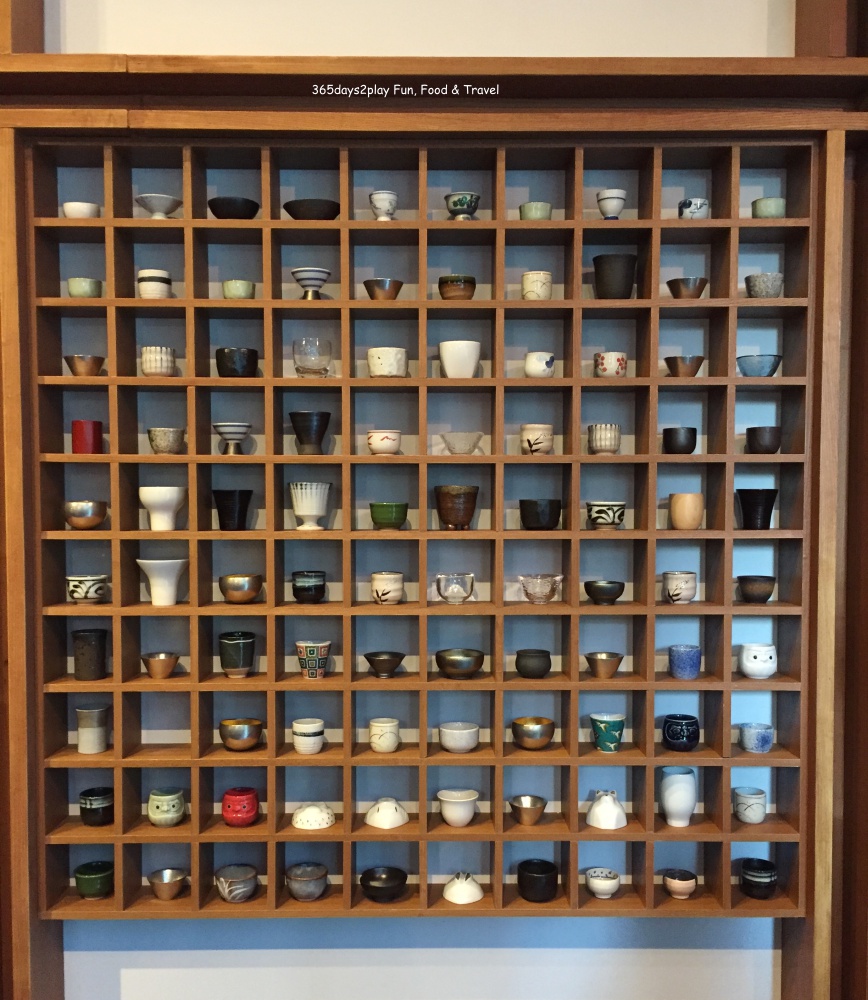 I did say they specialise in sake, did I not. You will be asked to select your choice of a sake cup, how cool is that?
In Piazza Italian Restaurant & Pizzeria
Have you seen a pizza freshly taken out of a hot oven? It's pretty mesmerizing to see the tomato sauce still bubbling away. Artisanal Italian pizzas and fresh hand-made pastas is what you'll get here at this restaurant managed by 4 Italians.
PappaRich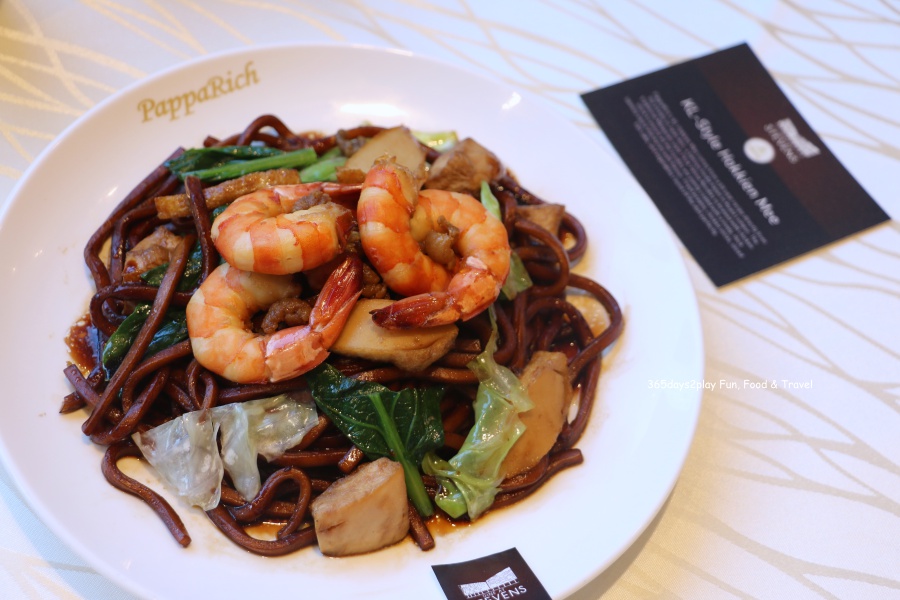 PappaRich may be a familiar brand as it has over 130 outlets in 12 countries worldwide, but have you tried their KL-style Hokkien Mee using a recipe that is more than 50 years old?
Long Beach Seafood Restaurant
Another stalwart in the seafood restaurant scene, Long Beach is the creator of the Black Pepper Crab in Singapore. They have various outlets in Singapore but I think I like the contemporary decor at the outlet located at Dine at Stevens the most.
L'Aperitif Tapas Bar
A stylish and classy place for coffee and cake, or cocktails. While you're there, don't forget to look up and enjoy the new-age "chandelier".
Blue Lotus Chinese Grill House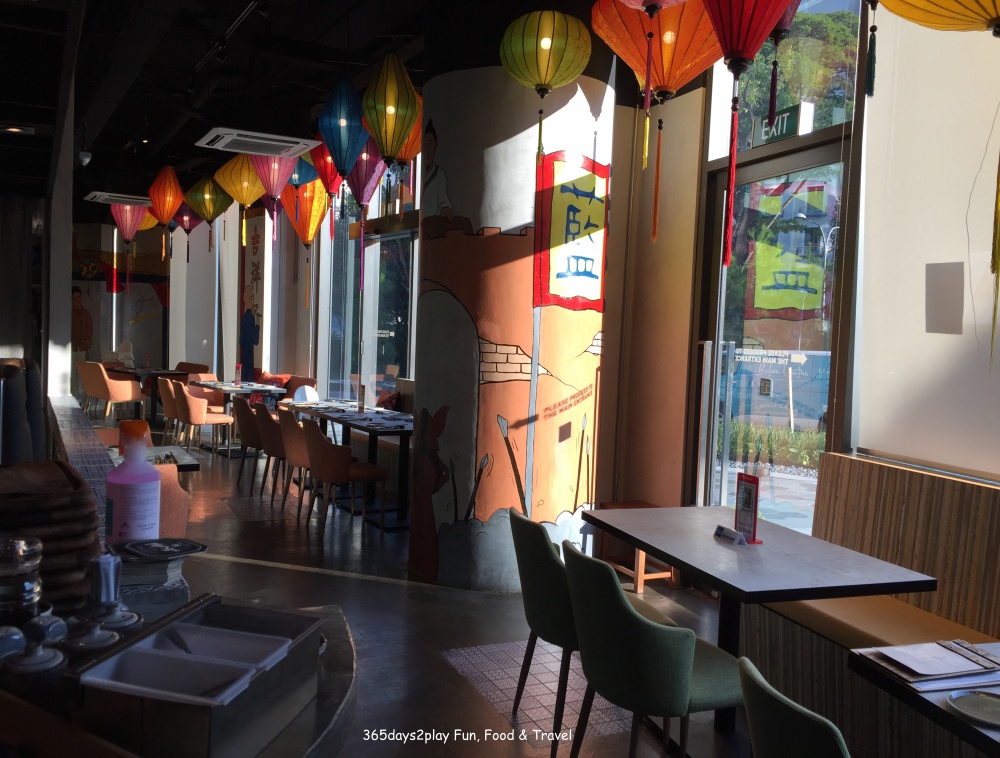 Chinese food can be a little predictable, with many cookie-cutter chain restaurants and dishes these days. This is one place I would want to bring my parents, just to check out their reactions to remixed familiar favourites like Claypot Mapo Tofu Rice and Honey-glazed Kurobuta Pork Belly.
---
Add me on Facebook, Instagram and Twitter if you want to be kept up to date with the latest happenings in the food and lifestyle scene in Singapore!
---
Dine at Stevens
28 Stevens Road Singapore 257878
https://www.novotel-singapore-stevens.com/restaurants-bars/ (Visit the individual F&B websites for more information)