The menu at Hai Tien Lo Pan Pacific Singapore has undergone a makeover now that new Executive Chef Ben Zeng has taken over the reins. Expect to see familiar Cantonese dishes being given a modern interpretation through the use of ingredient pairings, combination cooking methods and western cooking techniques, while still maintaining a traditional authenticity.
Executive Chef Zeng boasts more than 25 years of expertise in the culinary world, and has previously worked at illustrious Cantonese restaurants including Hakkasan Miami in America and Cassia at Capella Singapore, amongst others.
Scroll down to check out snippets of what to expect in Hai Tien Lo's revamped menu.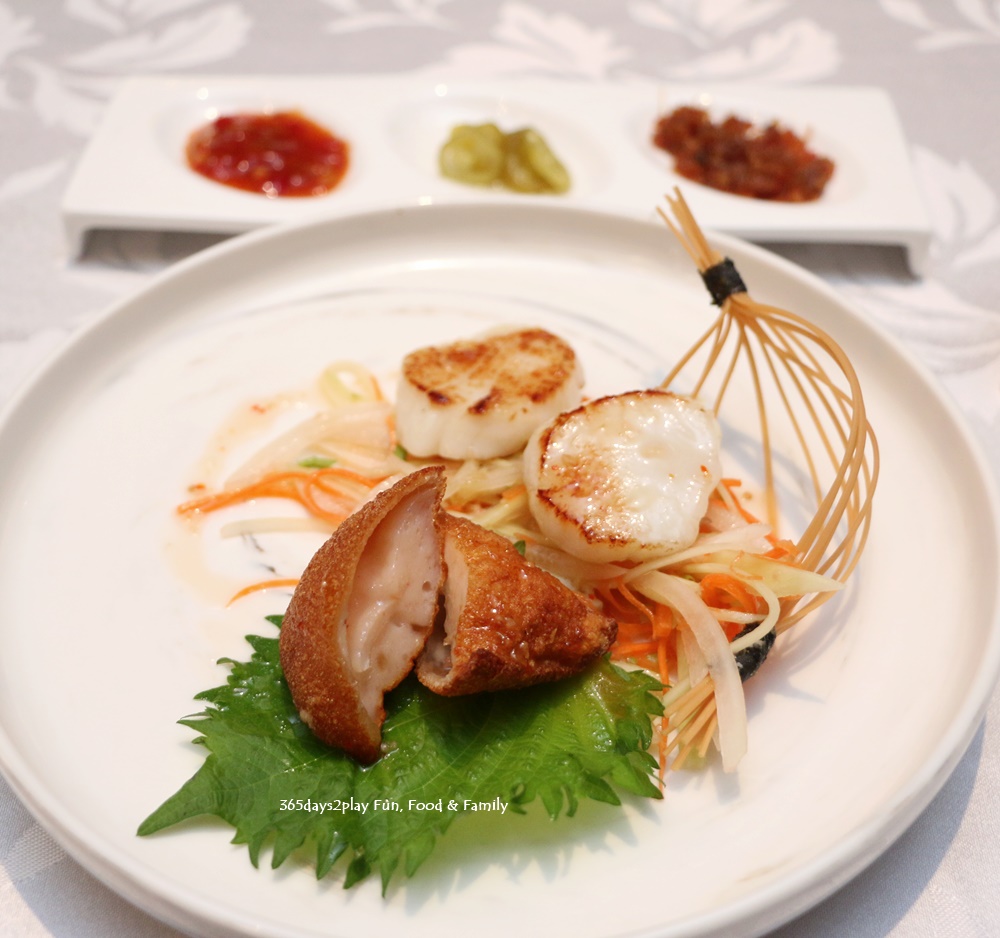 Pan-fried Scallop and Sliced Crispy Barbecued Suckling Pig stuffed with Prawn Paste in Thai Sauce
Interesting treatment to the suckling pig skin whereby it has been stuffed with prawn paste and crunchy water chestnuts and then deep-fried.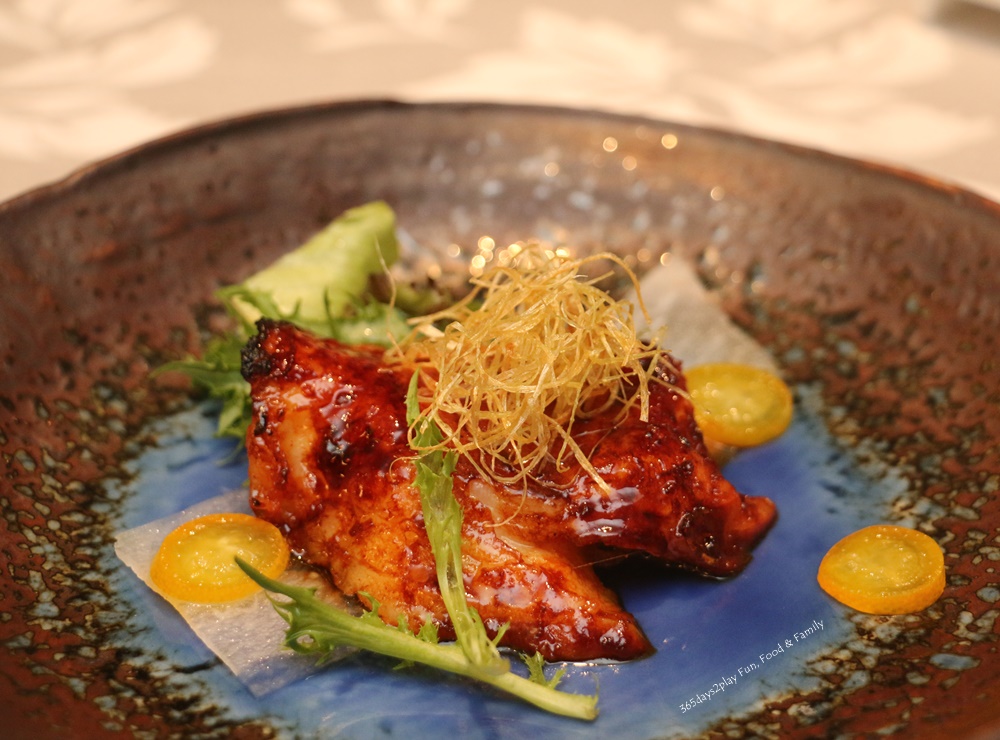 Baked silver sea perch fillet with kumquat chilli sauce
Sea perch is always a favourite of mine even if prepared simply, as it boasts such a buttery flavour. But here it has been enhanced even further with a sweet kumquat marinade and tangy orange peel, making the dish even more flavoursome.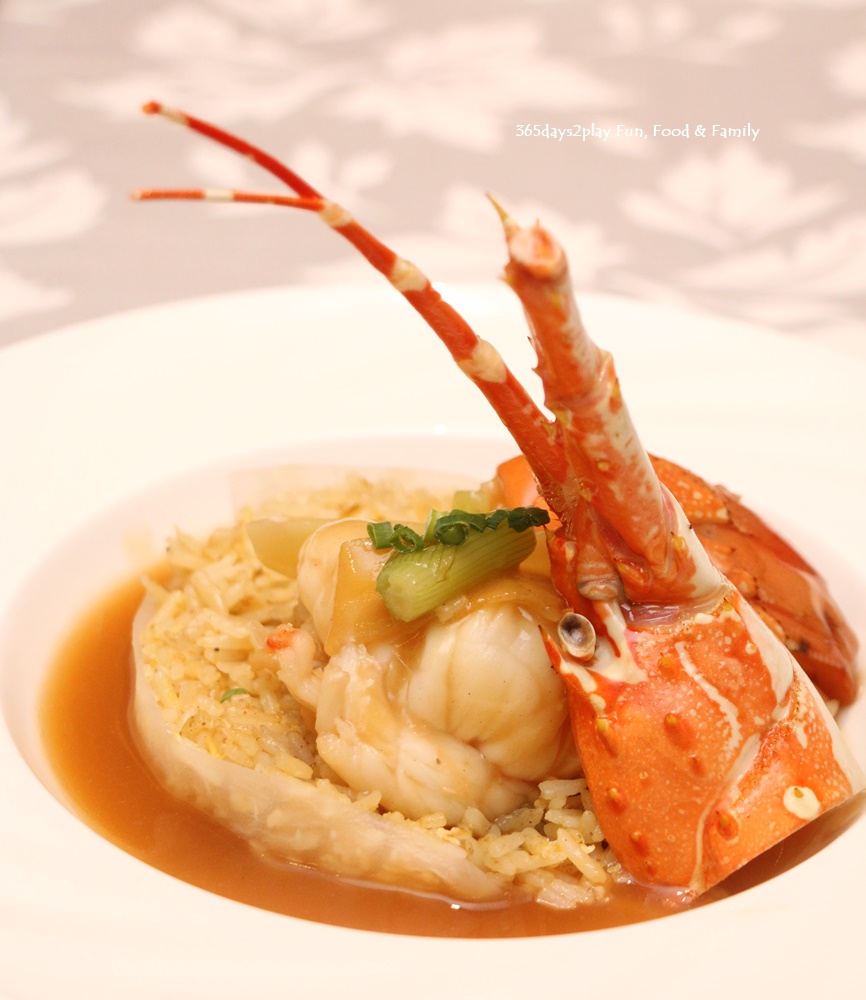 Wok-fried rice with lobster and ginger spring onion
I love this presentation method where both the fried rice is served together with the broth, which means I don't have to choose between one or the other if they were separate dishes. While I love fried rice, having some flavourful broth to go with the rice makes it more interesting.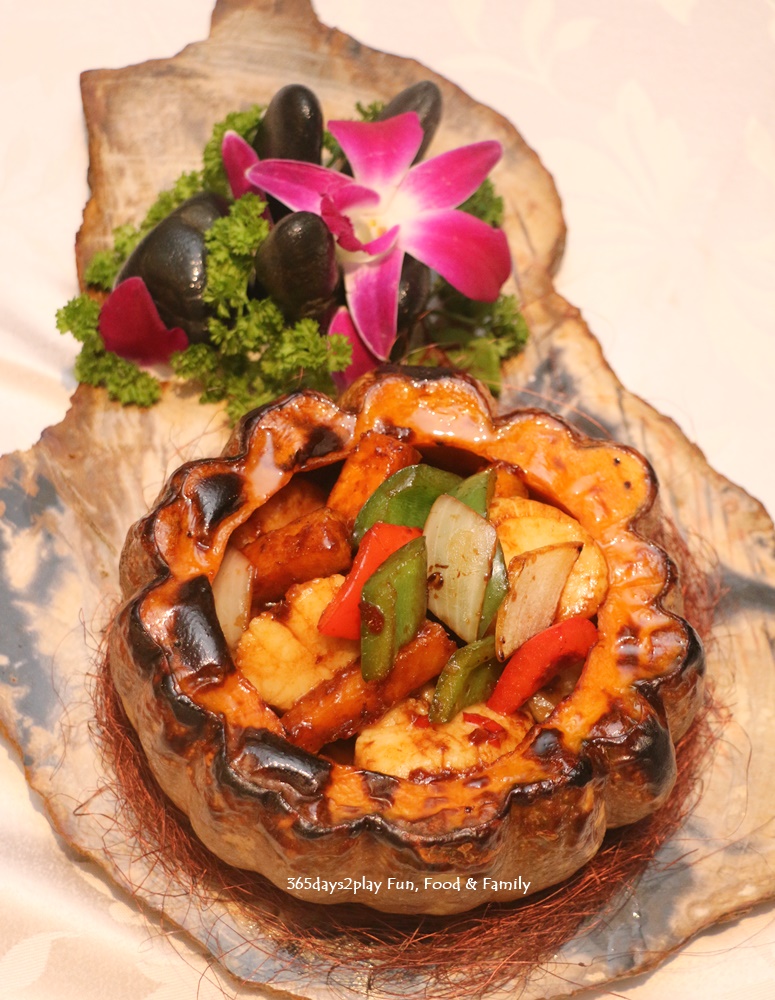 Stir-fried scallops with pumpkin and black bean sauce
A nice and well-balanced dish that has a bit of everything. That the serving vessel is quite eye-catching doesn't hurt too.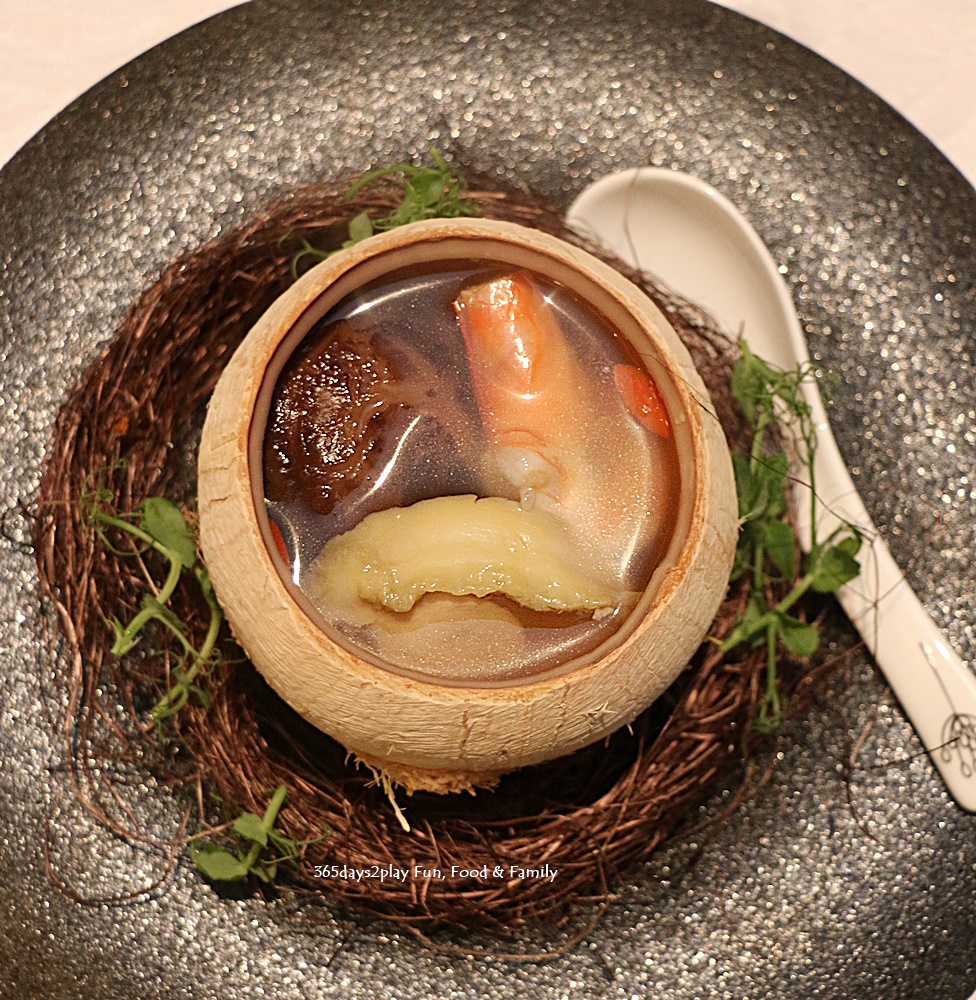 Double-boiled chicken soup with abalone, dried scallops, fresh prawn and chinese mushrooms, served in young coconut
Not a big fan of this for 2 reasons. One is that I always prefer the milky bone based soups as compared to light soups as I can't seem to replicate those as well at home. Secondly, the sweetness from the coconut is a flavour that I associate with dessert more than savoury soups, although that is of course a personal preference.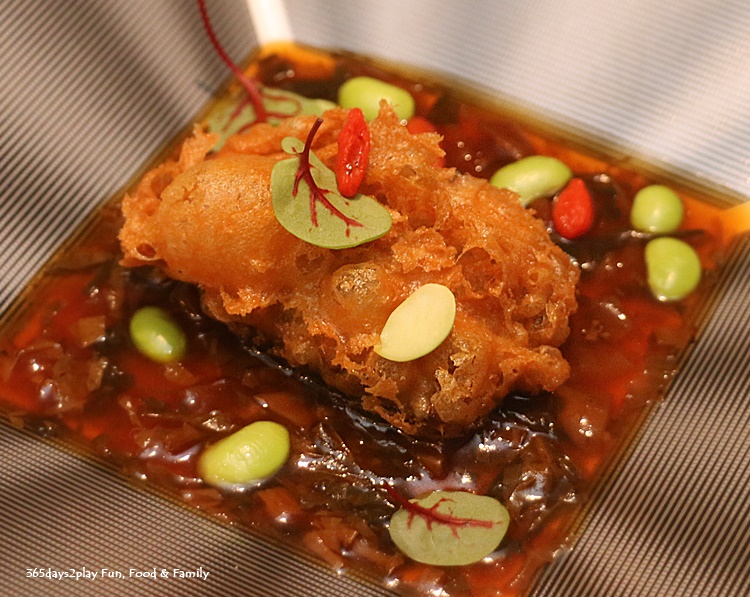 Deep-fried crispy sea cucumber stuffed with minced pork and shrimps, accompanied with preserved vegetables
Sea cucumber mostly makes its appearance in stews or gravy dishes. A fried version is a first for me, and not only that, it is stuffed with minced pork and diced mushrooms. I've always thought of sea cucumber as slippery, gelatinous and mostly flavourless. Who knew that sea cucumber actually has a flavour!? I don't think I can ever look at it in the same way again.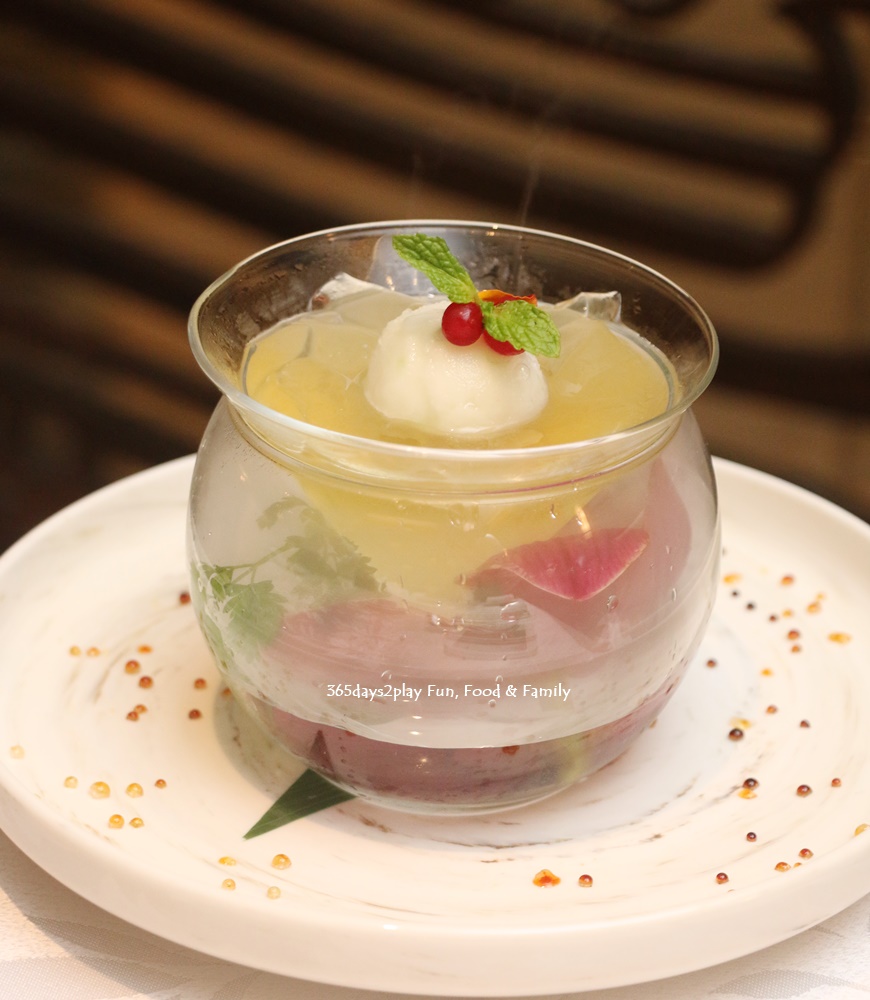 Chilled lemon grass jelly and lime sorbet
Amazing dessert that is refreshingly light yet aromatically fragrant. Love the lemon grass jelly which is made by double boiling the lemongrass and lemon leaves in water, followed by the addition of Aiyu powder to create a soft jelly. I could have bowls and bowls of this.
Read about previous occasions to Hai Tien Lo
Pan Pacific The Edge restaurant
Staycation at Pan Pacific Singapore
---
Add me on Facebook, Instagram and Twitter if you want to be kept up to date with the latest happenings in the food and lifestyle scene in Singapore!
---
Hai Tien Lo (Level 3)
Pan Pacific SIngapore, 7 Raffles Boulevard, Marina Square Singapore 039595
Tel : +65 6826 8240
Email dining.ppsin@panpacific.com
Website: https://www.panpacific.com/en/hotels-and-resorts/pp-marina/dining/hai-tien-lo.html
Opening Hours
Lunch – 11.30am to 2.30pm
Dinner – 6.30pm to 10.30pm