If there's one thing any food blogger shouldn't do, it's to blog about food before breakfast, lunch or dinner! Lunch is not going to arrive until 45 minutes later and blogging about food is not helping! I was going to do a quick cook up of some sardines in olive oil and chilli, to go with lots of steamed rice. But can you believe that we've run out of rice, just at this crucial moment?
Anyway, the in thing for me right now is Italian Restaurants. Been wanting to revisit some of my favourite Italian Restaurants such as Garibaldi's and OSO Ristorante, and will do so hopefully in the next 1 month. The other day, just before the Partner flew off to NZ, we dined at Capella at Chijmes. Cappella seats 110 diners, of which only 45 are indoors. It was only half full on a Thursday evening when we got there, but more diners arrived later. If you ask for the table nearest to the kitchen, you can even watch the chefs at work in the stainless steel kitchen thanks to the glass partition.
Between the 2 of us, we ordered an Caprese Salad, Mushroom Gnocchi and Cod Fish Tagliatelle.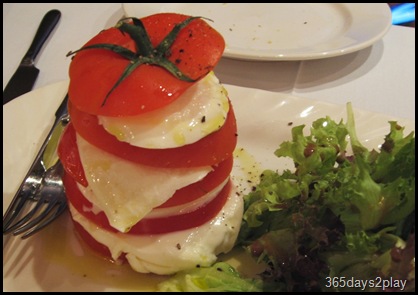 Insalata Caprese $23 – Tower of Italian buffalo mozzarella and tomato. Served with
masculine salad.
Masculine salad eh, I suppose they meant "mesclun"? Anyway, I just love this dish. The tomatoes were refreshingly cold and firm, and paired nicely with the buffalo mozzarella. I just love buffalo mozzarella. If I could I would order this appetiser every time, but I can't because as you can see, the quantity is substantial and just this alone already fills me up half way.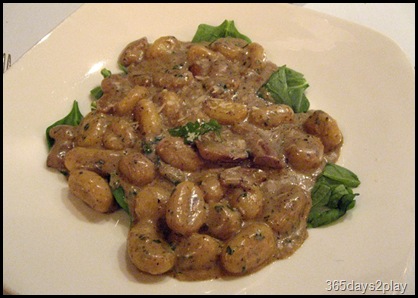 Gnocchi con Crema di Porcini $26- Italian potato dumpling in porcini cream sauce
and baby spinach
I know this looks like something the cat let loose. That's the downside to ordering Gnocchi, it just doesn't look that appetising. But if you go beyond its looks, it's actually very good! I love Gnocchi, and Gnocchi on its own is quite bland, so it needs a good sauce for the dish to perform. Capella did well in this area because the mushroom sauce was indeed flavourful and so rich.
Of all the Gnocchi dishes I've had, Capella has the best. The sauce was great, the Gnocchi was firm to the bite and bouncy, if I may call it that.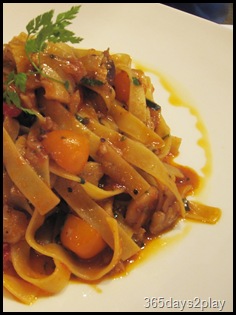 Tagliatelle Merluzzo e Pomodorini $28 – Thin egg pasta tossed with cod fish, garlic, chilly, olive and white wine In cherry tomato sauce
Lately I seem to be seeing a cod fish resurgence, with cod fish appearing on the menus of many restaurants. Cod fish with tomato pasta is a rare treat and a really wonderful combination. But this dish would delight vegetarians more than cod fish lovers as there was very little cod fish in it.
Capella
30 Victoria Street, #01-29A, CHIJMES, Singapore 187996
Tel: 6334 9928  Fax: 6334 9927
Email: capella@starworth.com.sg
Monday to Friday:
Lunch 11.30am to 2.30pm
Dinner 6.30pm to 10.30pm
Saturday
Closed for Lunch
Dinner 6.30pm to 10.30pm
Closed on Sundays