If you are a fan of Sichuan food and can't get enough of Mala Hot Pot and other fiery dishes, now's the time to check out Edge at Pan Pacific Singapore. From 1 – 26 October 2019, various Sichuan specialities will be available as part of the buffet at Edge.
Fans of the Sichuan chilli pepper will be delighted at the following dishes
Cold Chicken in Red Chilli Oil
Chong Qing Baked Seabass
Fish Fillet with Pickled Mustard Greens
Stir-fried Frog with Pickled Chilli
Double-boiled Pork Trotters and Soy Beans Soup
Szechuan Dan Dan Noodles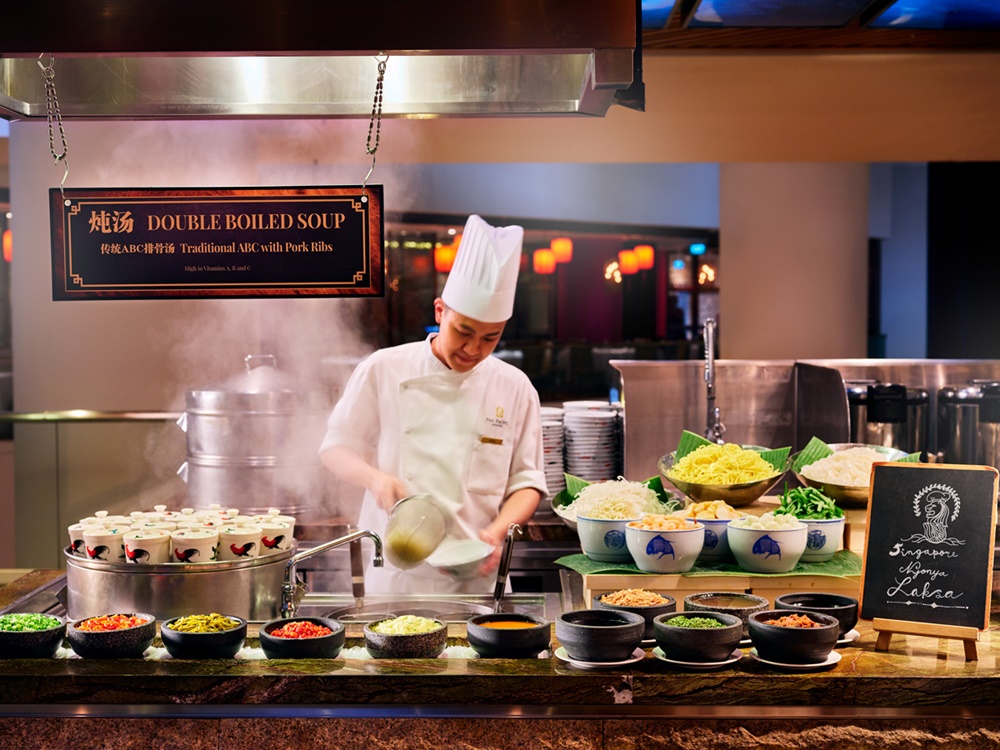 Photo Credit : Pan Pacific Singapore / Edge
Don't worry if the evening might be too spicy for you because the mainstays of the Edge buffet are still there. For example, the grilled-to-order meat and seafood station, the cold seafood station, the pastas and hot dishes station. Speaking of pastas, they are made fresh using an automated pasta machine recently procured. If you've never tried fresh pasta, you simply must because the taste and texture is quite different from that of dried pasta. There is a delicateness to it when you eat fresh pasta.
The Indian station is another one that I would recommend. Try the saffron basmati rice and the lentils curry. Don't worry, it just has a mild heat, but the earthy yet piquant flavours are so comforting. If it weren't a buffet, I would love to have eaten more.
Even if I don't give advice on this, I'm sure everyone will still throng the Seafood counter. I am amazed that Alaskan King Crabs are available, do you know how expensive they are? It's the legs that are provided here and since they are larger than usual crabs, they are just so easy to pry apart to devour the generous flesh.
Lastly, if you've been to Edge before but not in recent times, do note that they have added a new Korean and Thai station. Think dishes such as Galbi Jjim (Soy Braised Beef Ribs) and Tom Saap (Thai White Tom Yum Soup).
Scroll down for more photos.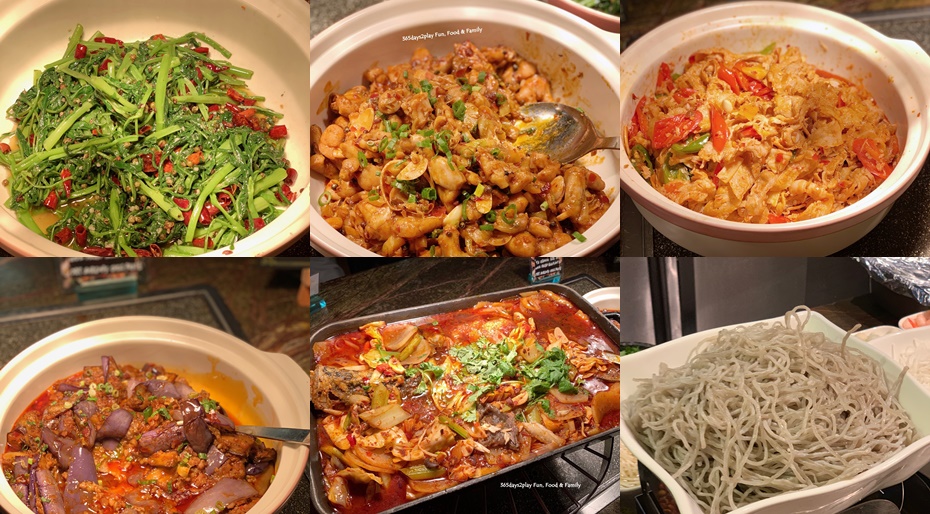 Here are some of the dishes from the Sichuan Buffet Counter. If you are too scared to try all, at least try the Stir-fried Frog with Pickled Chilli because it's not often frogs feature in buffets, plus they are expensive! Another must try is the Suan La Fen (Spicy and Sour Tapioca Noodle). This is a killer in terms of taste because not only is it spicy, it is also sour. But it's worth it! The Tapioca Noodles are so bouncy, just try to drain them before eating!
Photo Credit : Pan Pacific Singapore / Edge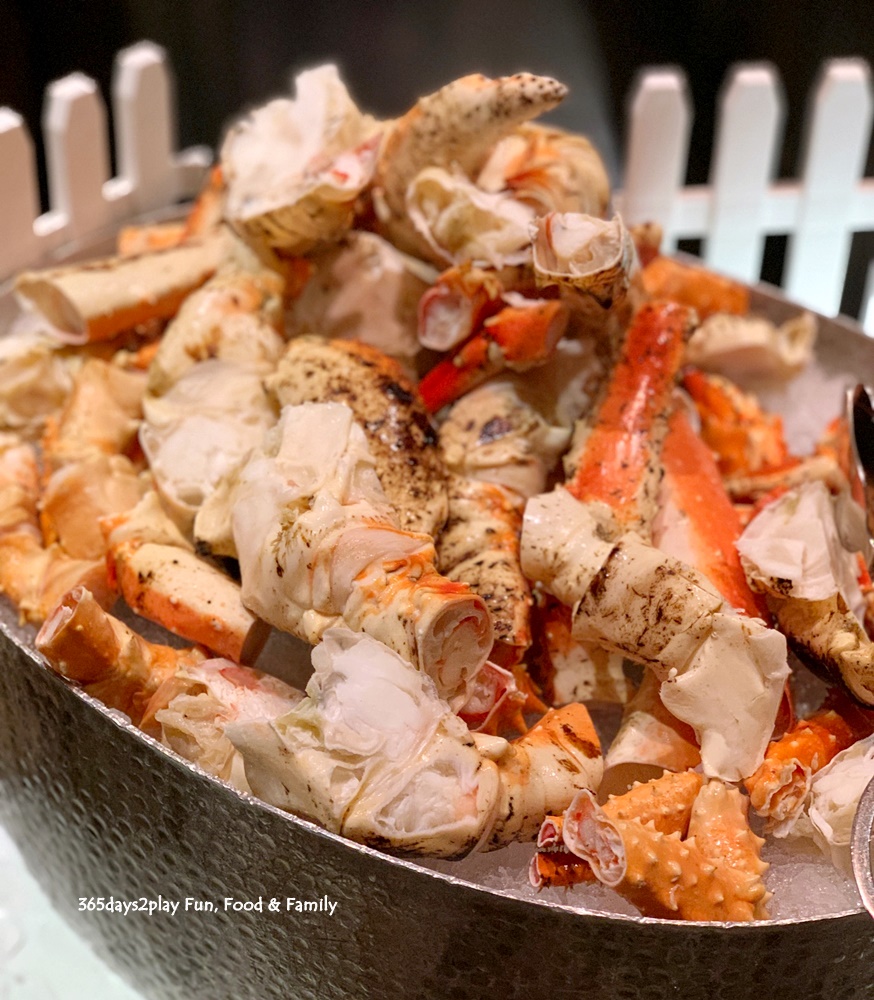 See I kid you not, a whole tray of Alaskan King Crabs!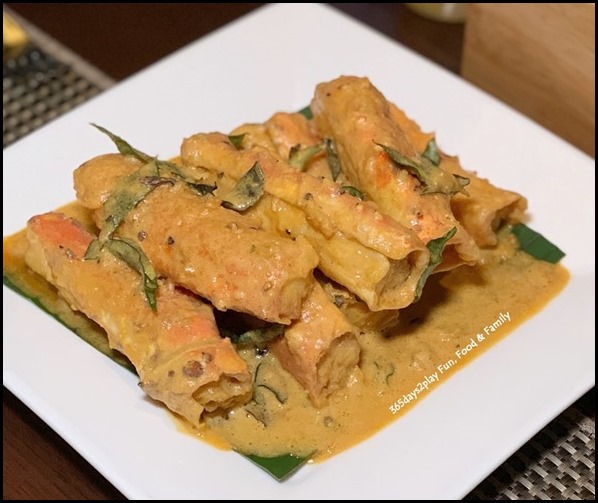 Salted Egg Alaskan King Crab. It does not get more decadent than this. Not sure if this is always available on the buffet as it was served to us, but do not reject it because it is so good. The salted egg sauce is really legit. I ate 3 legs even though I'm supposed to pace myself for other dishes in the buffet.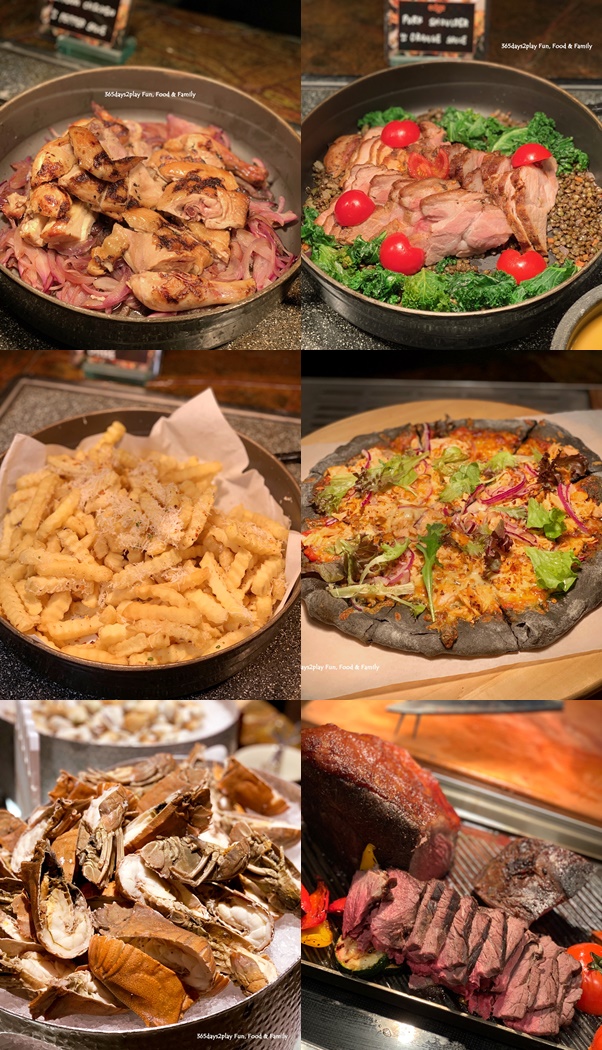 Some dishes from the Western section eg Spring Chicken in Pepper Sauce, Pork Shoulder with Orange Sauce, Fries with Parmesan Cheese, Roast Beef and Spicy Salmon Pizza. Many more that I could not include pictures of.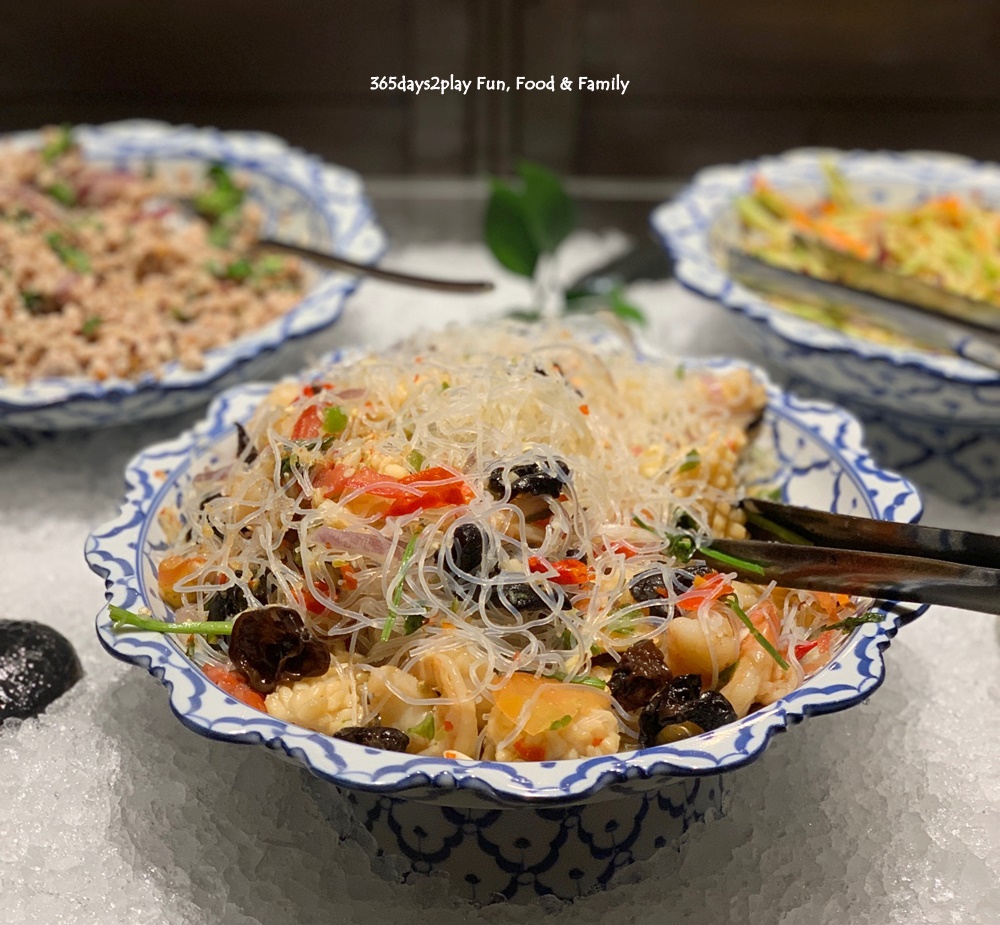 Larb Moo (Pork), Yum Woon Sen (seafood) and Yum Mamuang (green mango salad)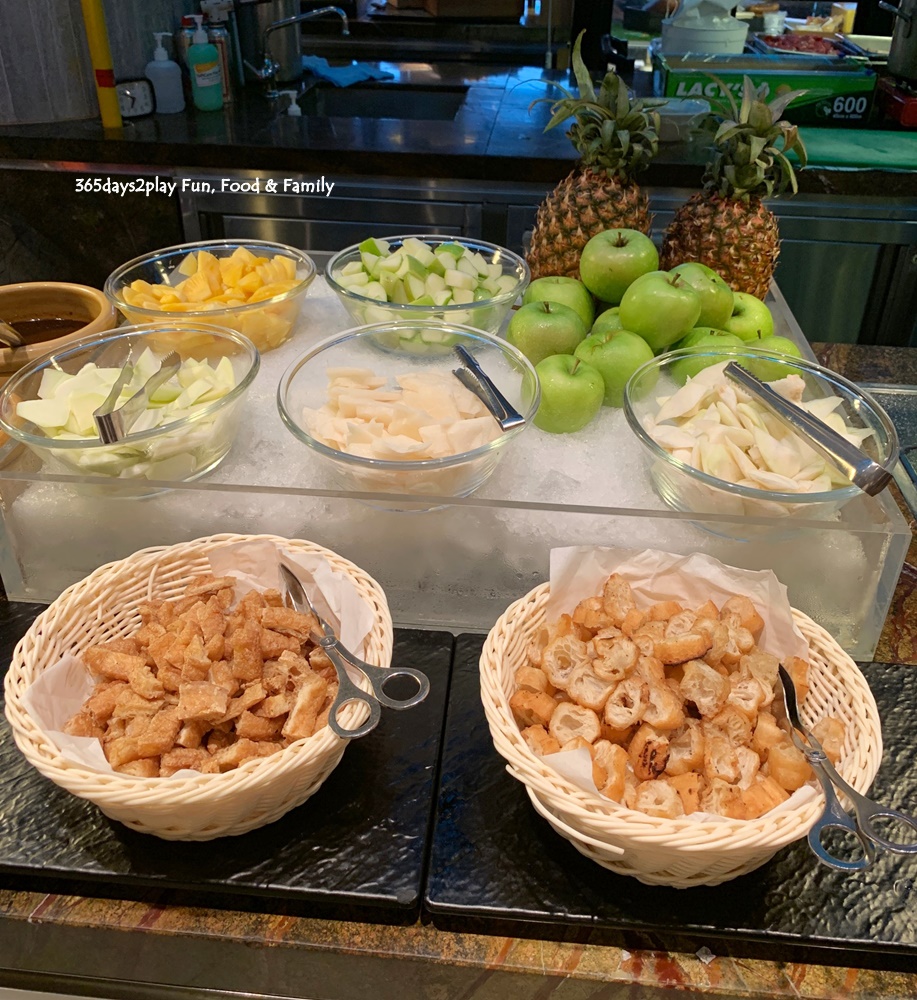 Rojak anyone? I haven't had Rojak in sooooo long.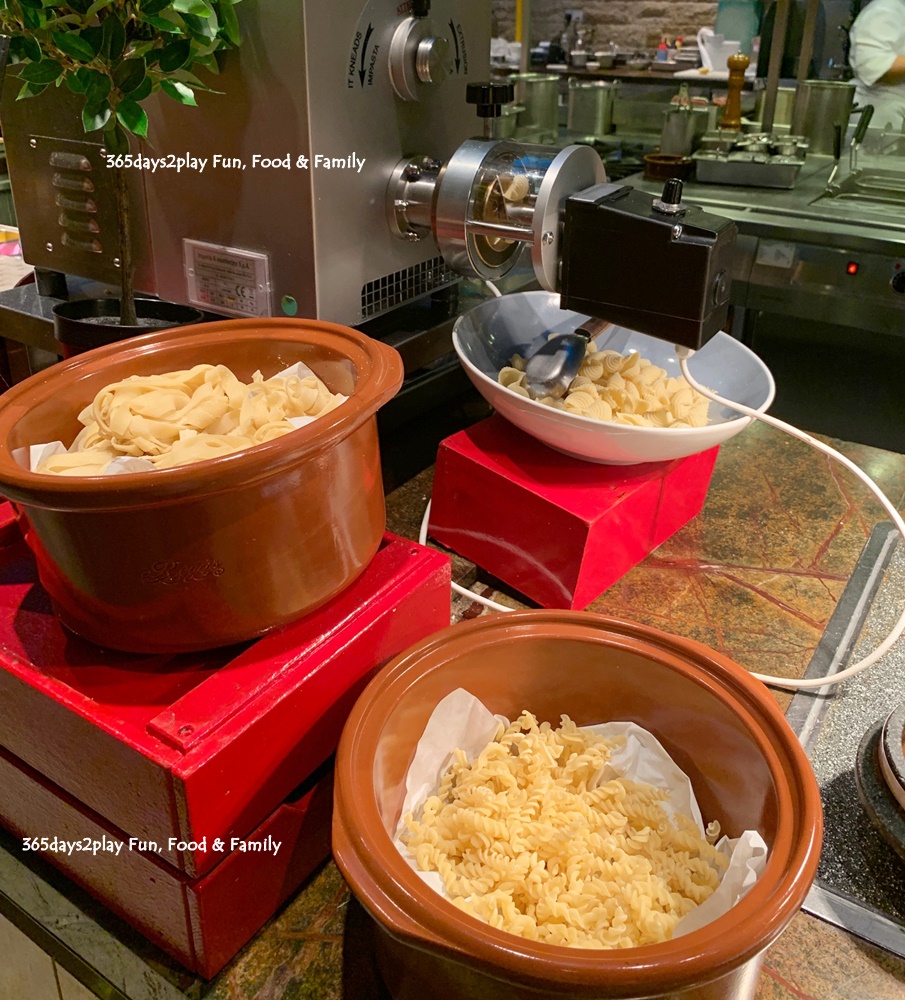 Pan Pacific recently procured this pasta making contraption so that you can have fresh pasta. That's certainly a first for me at a buffet. Even though it's not hand-made, it sure beats dried pasta hands down (pun intended)!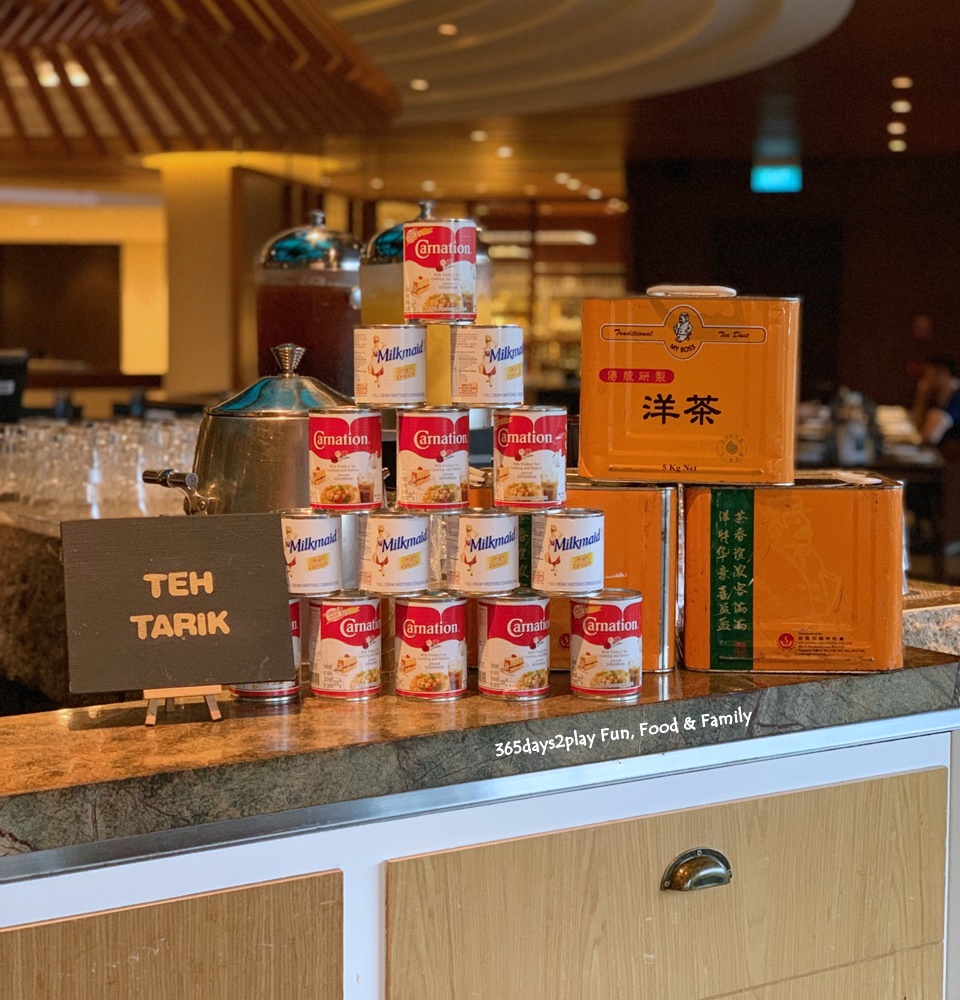 Teh tarik available, as much as you want, or orange juice and ice-lemon tea, complimentary.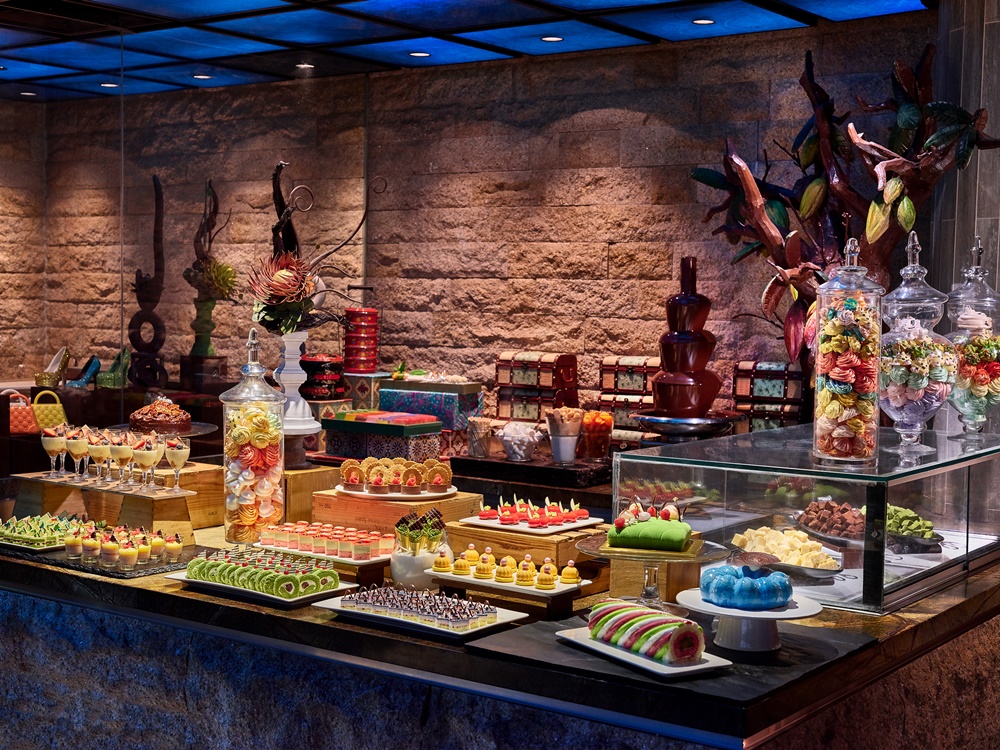 Photo Credit : Pan Pacific Singapore / Edge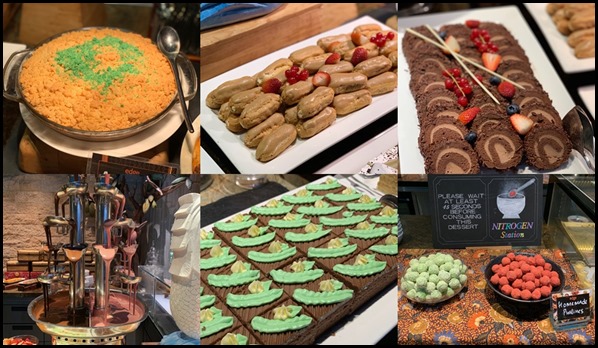 A pretty extensive dessert counter, but the must try are the panna cottas and the nitrogen ice cream. Do leave some space for that!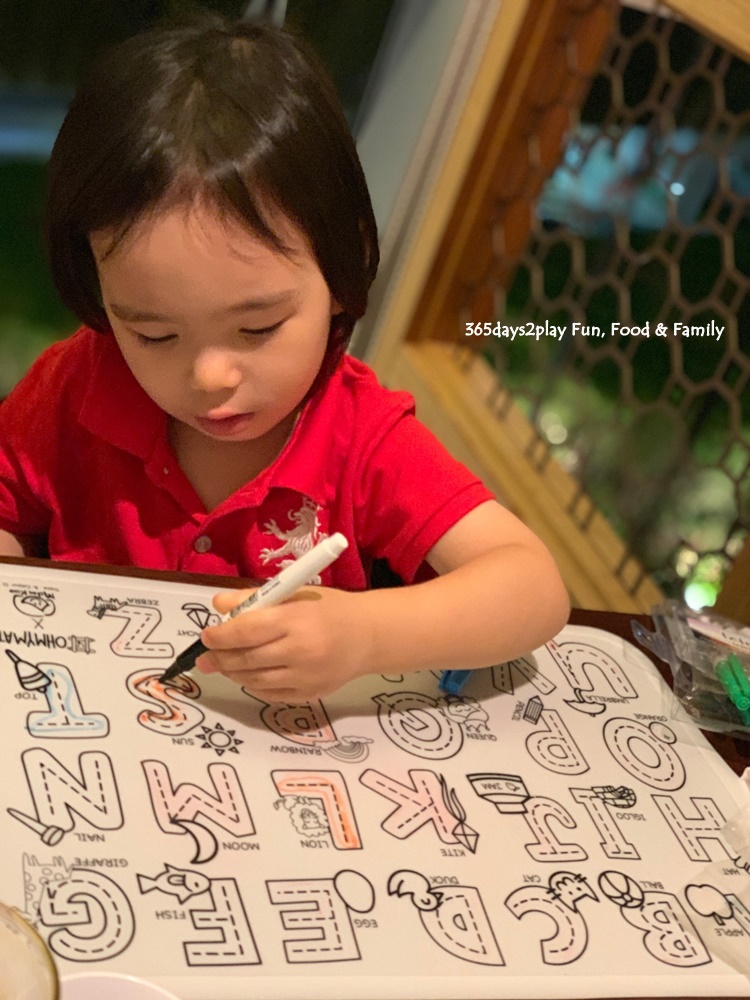 Some tricks of the trade to keep Edward happy while we stuff ourselves. Thankfully he was very interested in the food, especially when he heard the word "Pizza". That kept him occupied for almost an hour before we took this out. If you're interested to get this, it is from Oh My Mats.
---
Add me on Facebook, Instagram and Twitter if you want to be kept up to date with the latest happenings in the food and lifestyle scene in Singapore!
Read about previous occasions to
---
Pan Pacific Singapore | Edge
Level 3 , 7 Raffles Boulevard Singapore 039595    
Dinner Buffet at Edge
Date: Mondays and Tuesdays
Time: 6.30pm to 10.30pm
SGD78 per adult | SGD39 per child (six to 12 years old), inclusive of unlimited servings of teh tarik, orange juice, ice lemon tea, coffee and tea 
Date: Wednesdays to Sundays
Time: 6.30pm to 10.30pm
SGD88 per adult | SGD39 per child (six to 12 years old), inclusive of unlimited servings of teh tarik, orange juice, ice lemon tea, coffee and tea
Phone : +65 6826 8240