[Media Invite]
There may be many seemingly child-friendly eateries around in Singapore, but in truth, one that offers a children's menu featuring healthy food that you would offer at home is a rare gem. Chicken nuggets, fish & chips and spaghetti bolognaise do not maketh a child-friendly cafe, even if the children themselves clamour for that.
At Farmers and Chefs, they take pride in what they serve be it for the children's menu, or the main menu. Here's what they abide by the following rules
No flavour enhancers
No artificial colouring
No Deep-frying
The children's menu features nutritious mini breakfast sandwiches, and mains come with fruit. You can even mix and match items for a customised meal. Things are made from scratch including all sauces. Eg the Farmer's Soy Mayonnaise is dairy and egg free, and made with soymilk, vinegar and olive oil.
Here's another thing I have not seen emphasized anywhere so far…..Baby Led Weaning (BLW) is encouraged here! BLW means that the young baby/child is encouraged to feed himself or herself, even if it creates a mess. It will create a mess for sure, and at many other eateries, parents either have to wear a really thick skin or attempt to clean up the mess themselves. You never know when you will get an evil stare from an impatient staff if were to be some other eatery because in Singapore, most people are more familiar with traditional weaning, ie caregivers feeding the child to minimise mess. Some think that parents who practice BLW are trouble makers! I'm personally not really a fan of BLW for certain reasons, but that's another story for another time. In any case, Edward is fully capable of feeding himself at this age, although he still enjoys being fed!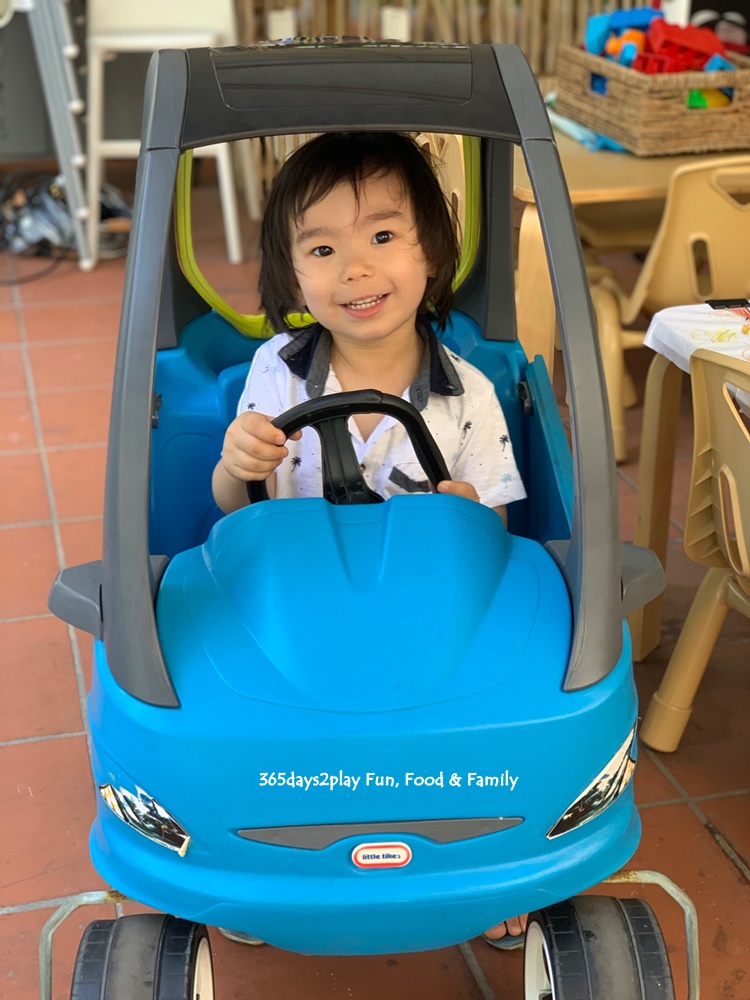 There is also a small play area equipped with a table for colouring work and blocks, as well as 2 toy cars. The two toy cars were a huge hit for all the children who saw them. As the cafe. is on the 1st floor, and not air-conditioned, there was ample space for the children to drive the cars around the cafe.
The husband and wife team behind Farmers and Chefs are also the same people behind the LeClare Preschool. The multi-tasking chef is also the same one that the preschool uses. Now you know why the business is so kid-focussed.
Scroll down to see more photos of the food that we tried.
Children's Menu Mix and Match starting from $3
Edward chose salmon with broccoli, mashed potato and apple slices. Unfortunately, he didn't finish it all because he was busy playing!

We really ought to return again because the children's menu is pretty extensive, and all priced very affordably, most options being $6 or under.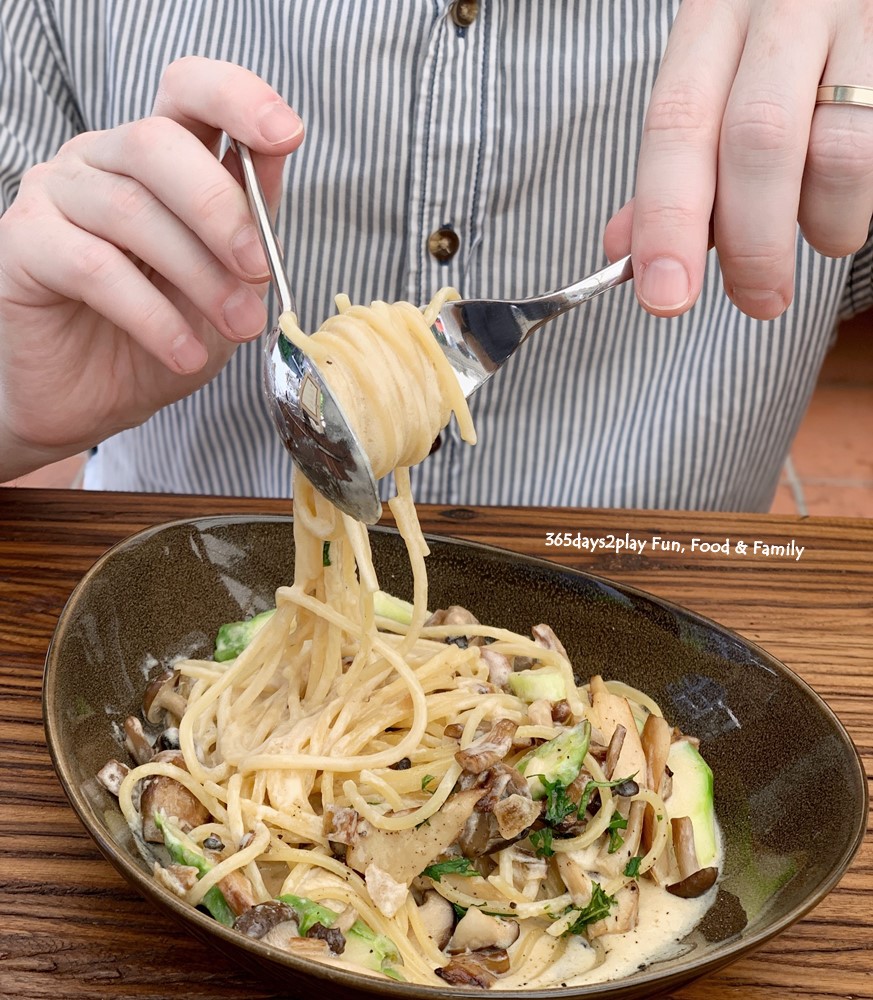 Truffle Mushroom Cream with Asparagus Pasta $14
Loved this truffle mushroom cream pasta. I've always preferred cream based pastas. The cream wasn't overly rich so it was enjoyable, plus I liked the truffle and mushroom flavour.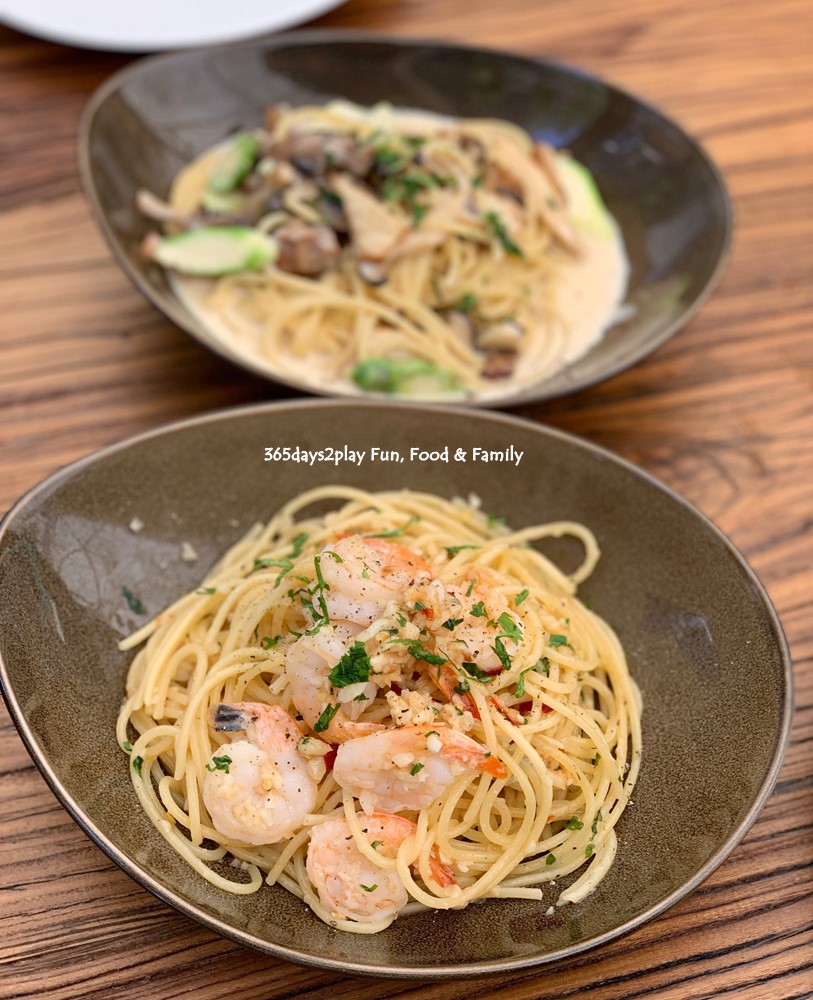 Aglio Olio Pasta with Prawns $13
This was quite plain in comparison to the truffle pasta above. Also the prawns looked a bit small so I would rather have the dish above than this one.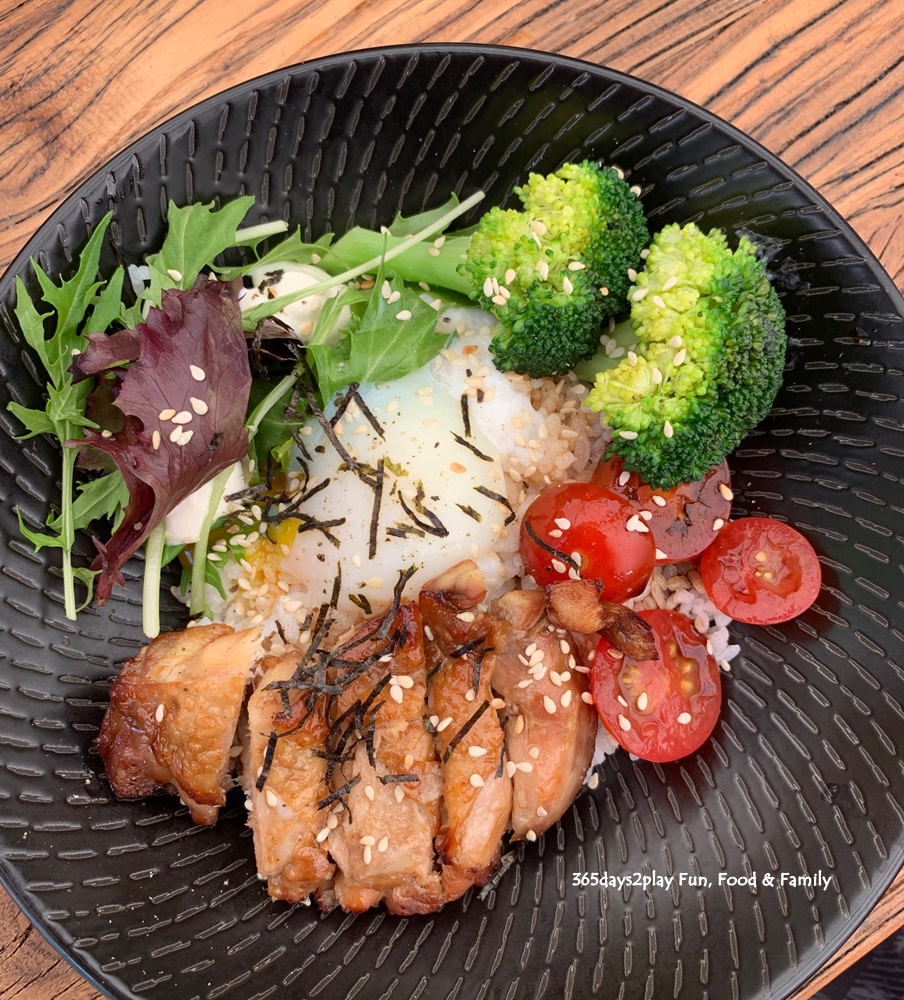 Teriyaki Chicken Rice Bowl $14
Simple and good, always a crowd pleaser. Even comes with an onsen egg although mine seem to have burst upon arrival. 6 lunch bowls are available during lunch time on weekdays ranging from $10-$14. Good for people looking for lunch options in the Shenton Way / Tanjong Pagar area.
Kurobuta Pork Loin $18
Wasn't able to taste this as we sent it back to be cooked longer. But does look promising right?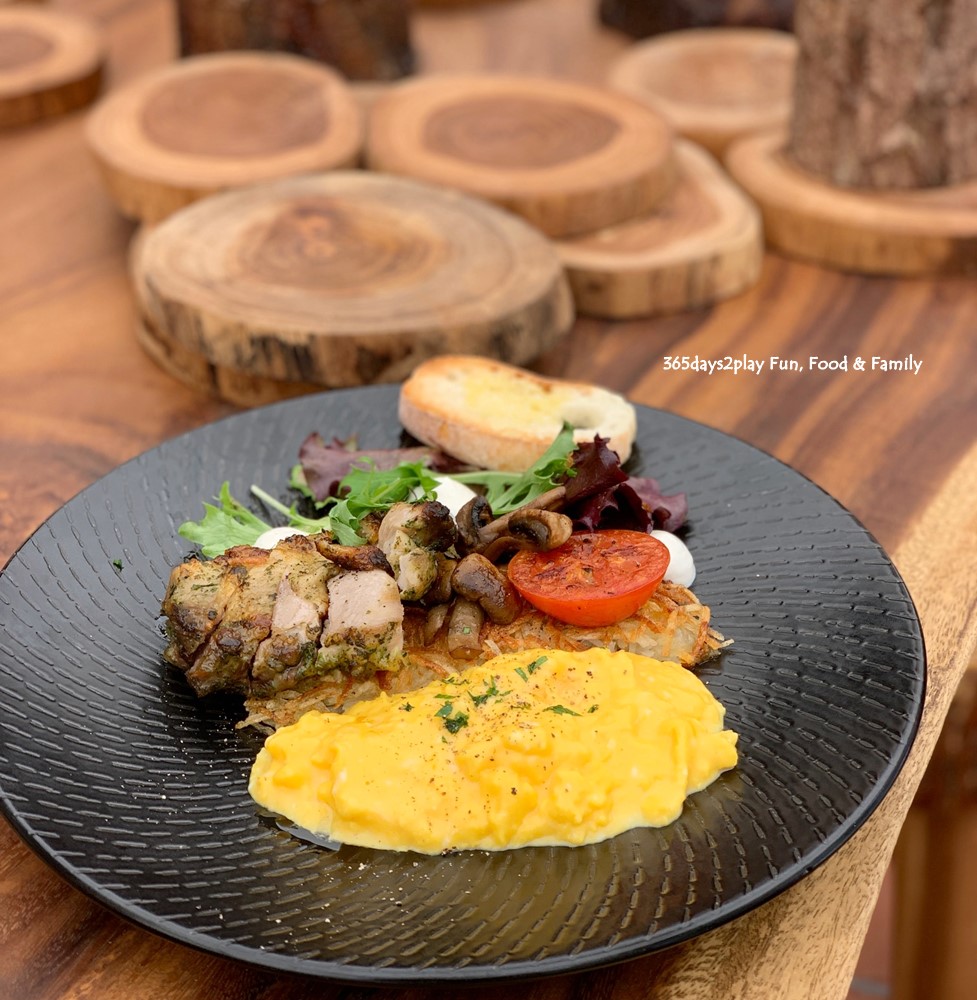 The Farmer's Breakfast $10
One of the most value for money dishes! Has eggs, rosti, meat and veg, this would probably cost you what, at least $15 at other cafes?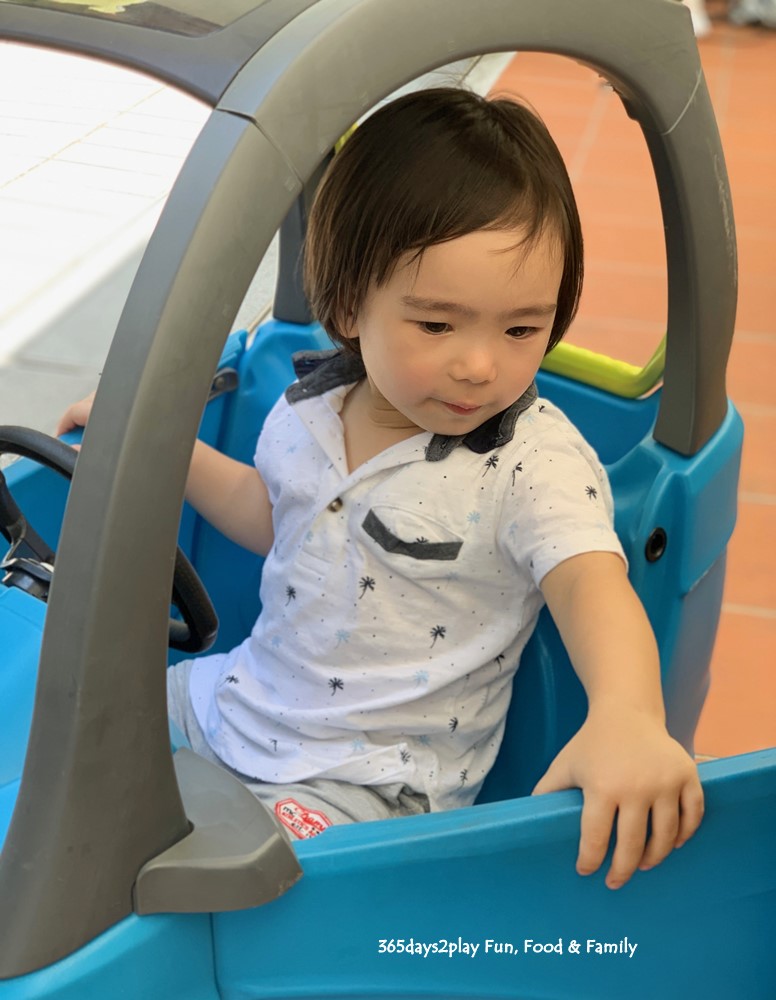 See this naughty boy? He hogged the car the entire time!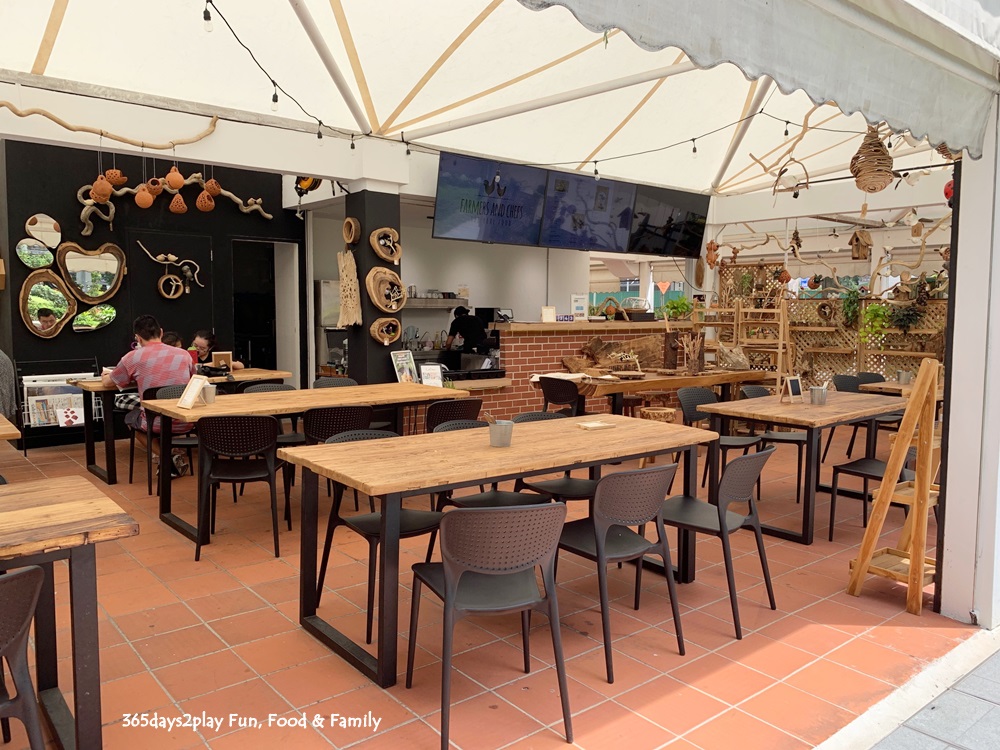 Farmers and Chefs is spacious, and because it is not air-conditioned and there are no doors, the outside space feels like an extension of it. Good use of wood around here. All of the wooden pieces including the dining table are made of treated chamba wood from Thailand. In a bid to help the environment, stainless-steel cups and cutlery are used, while plates and bowls are made with biodegradable rice husk.
We were supposed to have a quick tour of the LeClare Preschool sited next to the cafe before lunch, which turned out to be nearly 1 hour long because the school just looks so amazing.  The school adopts the Reggio Emilia approach, which is why the whole space looks so calming. They do not advocate the use of bright colours as it is too distracting. The school is so well-equipped too. Look at this inviting playground. They also boast an art atelier and music and dance studio! We had so many questions and were busy taking so many instastories. Wonder why we did it, when its highly unlikely that we will be sending our kids here as we do not work in Shenton Way!
If you are following me on Instagram, you would have seen all my instastories. If you aren't following me, well what are you waiting for?
---
Add me on Facebook, Instagram and Twitter if you want to be kept up to date with the latest happenings in the food and lifestyle scene in Singapore!
Other eateries around Tanjong Pagar
---
Farmers and Chefs
Singapore Conference Hall, #01-04, 7 Shenton Way, 068810
Tel : 8535 7555
Opening Hours : 8.00am-8pm on weekdays | 9am-8pm on Saturdays | *Closed on Sundays
https://www.facebook.com/farmersandchefs.sg/