[Media Invite]
There may be many seemingly child-friendly eateries around in Singapore, but in truth, one that offers a children's menu featuring healthy food that you would offer at home is a rare gem. Chicken nuggets, fish & chips and spaghetti bolognaise do not maketh a child-friendly cafe, even if the children themselves clamour for that.
At Farmers and Chefs, they take pride in what they serve be it for the children's menu, or the main menu. Here's what they abide by the following rules
No flavour enhancers
No artificial colouring
No Deep-frying
The children's menu features nutritious mini breakfast sandwiches, and mains come with fruit. You can even mix and match items for a customised meal. Things are made from scratch including all sauces. Eg the Farmer's Soy Mayonnaise is dairy and egg free, and made with soymilk, vinegar and olive oil.
Here's another thing I have not seen emphasized anywhere so far…..Baby Led Weaning (BLW) is encouraged here! BLW means that the young baby/child is encouraged to feed himself or herself, even if it creates a mess. It will create a mess for sure, and at many other eateries, parents either have to wear a really thick skin or attempt to clean up the mess themselves. You never know when you will get an evil stare from an impatient staff if were to be some other eatery because in Singapore, most people are more familiar with traditional weaning, ie caregivers feeding the child to minimise mess. Some think that parents who practice BLW are trouble makers! I'm personally not really a fan of BLW for certain reasons, but that's another story for another time. In any case, Edward is fully capable of feeding himself at this age, although he still enjoys being fed!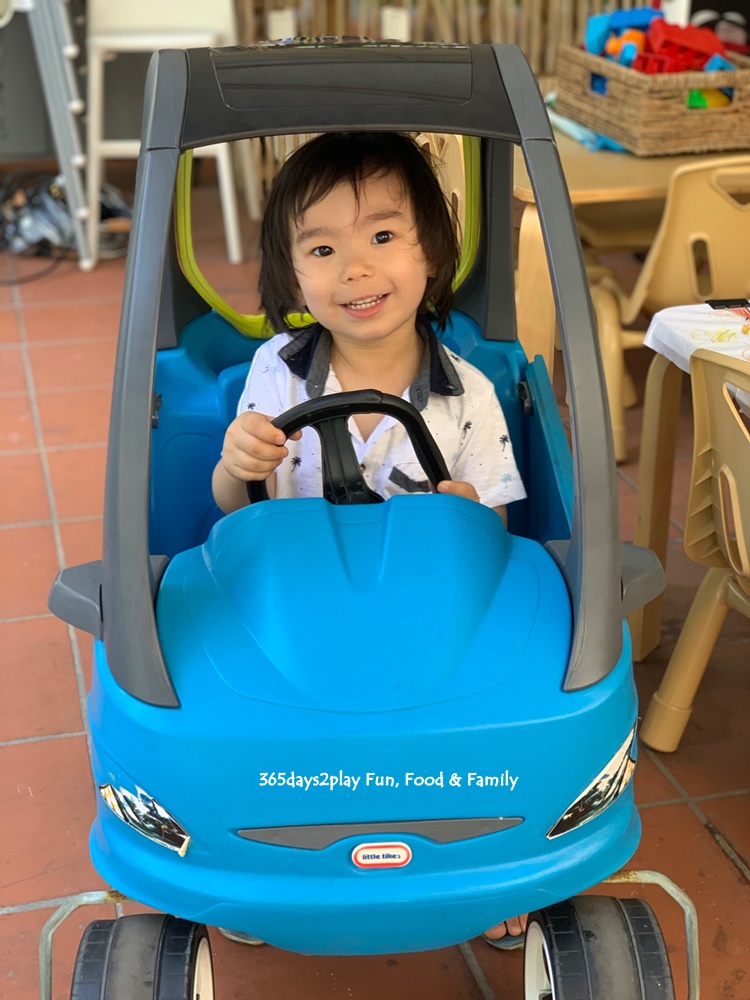 There is also a small play area equipped with a table for colouring work and blocks, as well as 2 toy cars. The two toy cars were a huge hit for all the children who saw them. As the cafe. is on the 1st floor, and not air-conditioned, there was ample space for the children to drive the cars around the cafe.
The husband and wife team behind Farmers and Chefs are also the same people behind the LeClare Preschool. The multi-tasking chef is also the same one that the preschool uses. Now you know why the business is so kid-focussed.
Scroll down to see more photos of the food that we tried.