Here's a list of pretty or unique Christmas log cakes I have come across this year, as well as one that is just over $30! Hopefully this list helps you decide on the best log cake to buy for your party or as gifts for loved ones/friends. Oh do take part in the log cake giveaway, details below! And read all my Christmas recommendations here.
Merry Christmas everyone, enjoy the festive season!
Singapore Marriott Tang Plaza Hotel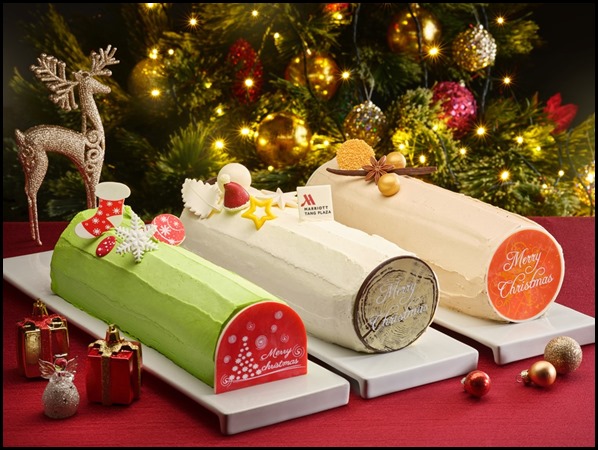 The Peanut Butter Speculoos Praline Log Cake (1kg, $68nett) boasts just the right proportions of peanut butter-infused frosting, moreish speculoos crumble, crunchy feuilletine and luscious chocolate sponge. This will probably please those who always complain that log-cakes are too sweet. Did you know that the savoury-sweet speculoos is a caramelised shortcrust biscuit traditionally enjoyed at Christmastime in parts of Europe such as Belgium and the Netherlands? If you're not flying to Europe this Christmas, then maybe this Log Cake will help you feel better.
Where: Singapore Marriott Tang Plaza Hotel | 320 Orchard Road, Singapore 238865 | Hotel Forecourt Stall (by the hotel entrance)
When: Until 24th December 2019
More information: 6831 4708 or email singaporemarriott.festive@marriotthotels.com
Review: https://365days2play.com/2019/11/09/singapore-marriott-tang-plaza-hotel-a-christmas-to-remember/
Four Seasons Hotel Singapore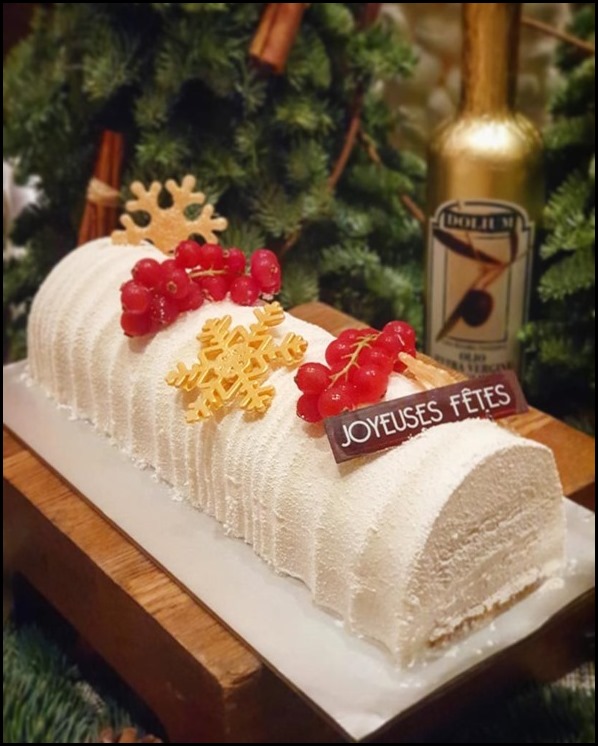 You can have the best of both worlds with this log cake, because this snowy looking log cake that hides a very tropical interior : Coconut mousse with Calypso Mango! $88 for this log cake which weighs 800gms. But if chocolate's more your thing, Four Seasons Singapore also offers the Manjari Chocolate with Amarena Cherry Yule Log at $95.
Where: Four Seasons Hotel Singapore | 190 Orchard Blvd, Singapore 248646 at the Festive Desk (Lobby Level) of Four Seasons Hotel Singapore
When:12 November to 24 December 2019, 10.00 am to 7.00 pm daily
More information : 6831 7253 | festiveseason.sin@fourseasons.com | http://bit.ly/FSSIN-XmasGoodies2019 |
Regent Singapore
Okay this one I have to admit really is quite unique, and I'm saying this after having seen tons of log cakes this year. It's a Golden Delicious Apple Tarte Log Cake with reconstructed Millefoglie Crumble, Almond Biscuit, Tahitian Vanilla Yuzu Mascarpone Cream, Baked Caramelised Golden Apple and costs $97.20. Apple pie in log cake form, anyone? Sorry no picture available here, you'll have to click on the link to see it.
Where: Regent Singapore | 1 Cuscaden Road, Singapore 249715
When: Until 27 December 2019
More information :  +65 6725 3244 | dolcetto@regentsingapore.com.sg | https://shop.regentsingapore.com.sg/festive.html
Pan Pacific Singapore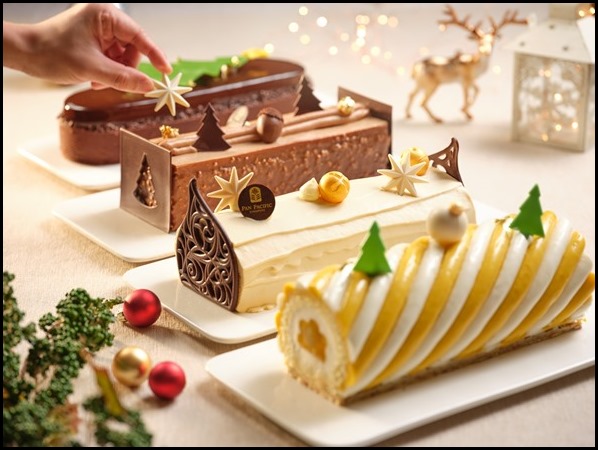 Pan Pacific Singapore boasts three creative versions of the log cake, all priced at $70 each for a 1kg log cake.The decadent Mao Shan Wang and Gula Melaka Log Cake that your guests will either love or hate! Another would be the Jivara Milk Chocolate Pear William and Caramel Nut Log Cake containing a classic combination of pear cubes, pear curd and caramelised hazelnuts for a fruity yet chocolatey option.
Where: Pan Pacific Singapore | 7 Raffles Blvd, Singapore 039595
When: 11 November to 26 December 2019
More information: 6826 8240 | dining.ppsin@panpacific.com| http://pacificmarketplace.sg/
Chí¢teraisé Singapore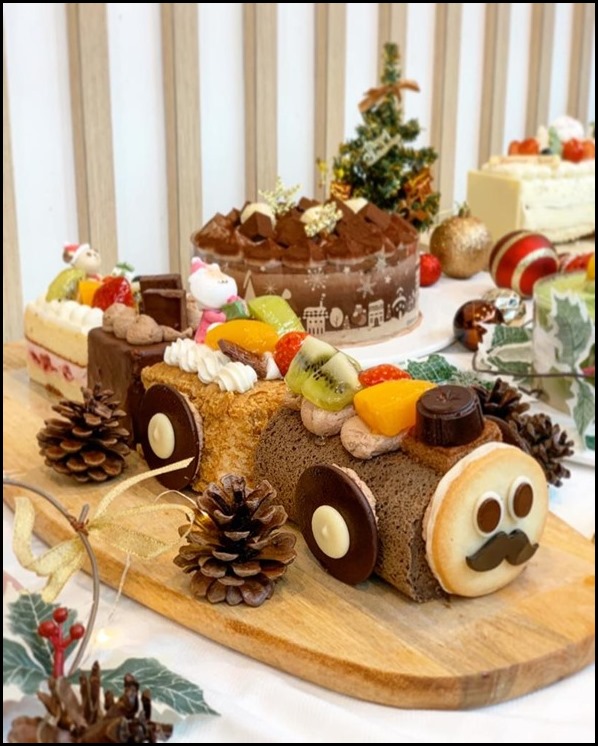 Chí¢teraisé must surely take the cake this year as they are offering a whopping 24 different Christmas cakes this Christmas, all imported directly from Japan. The highlight of the collection is the Xmas Fruits Train (S$90). Each carriage of the train is made of a different confectionery. There are roll cake, strawberry Napoleon pie, Gateau Chocolate and fruit cake. Don't you agree this is so eye-catching and sure to please the various palates, especially train-mad children? I know my son would fall in love with that.
Where: Various outlets.
When: Until 25 December 2019
More information : 6386 5436 | https://www.chateraise.co.jp/shop/list/singapore
BreadTalk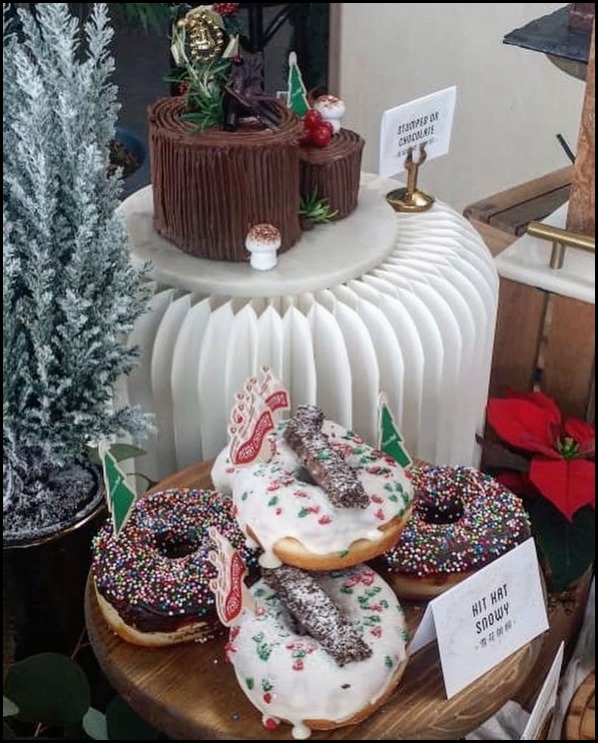 If a horizontal log isn't your thing, why not a vertical one? Try the Stumped on Chocolate cake $46.80 which is a tree-stump lookalike cake. Made with 64% Valrhona chocolate and comes with a crunchy hazelnut feuilletine layer, it is ideal for smaller group parties of 3-4 persons. The two other flavours Breadtalk offers (Nutty Valrhona Log and Rosy Berry Snow Log) also costs $46.80.
From now until 25th December, flash my Instagram post at any BreadTalk outlet to get 20% discount off their Christmas Log Cakes!
Where: Various outlets.
When:  Until 25 December 2019
More information : www.breadtalk.com.sg/
Gokoku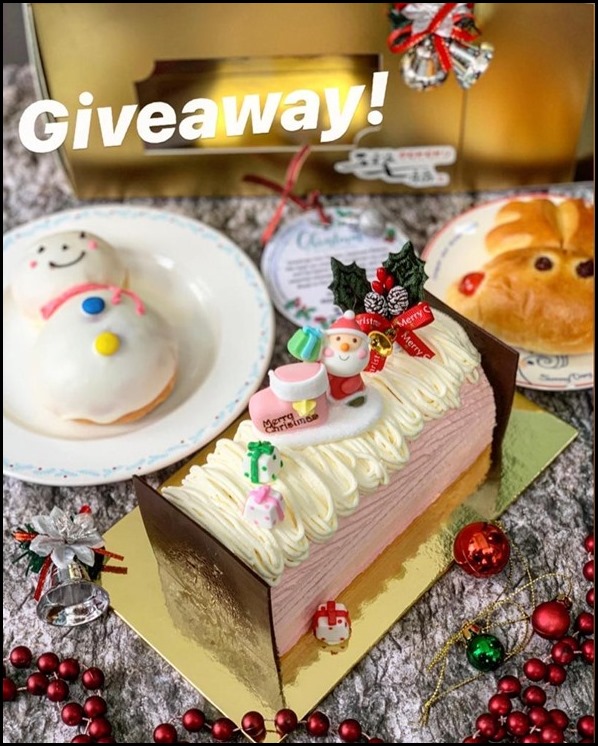 Gokoku's logcakes may be quite common flavours : they offer Uji Matcha, Strawberry or Decadent Chocolate log cakes. However these are the cheapest log cakes I have come across, at $32.90 each. Despite the pricing, they still look festive and taste good. I tried the Strawberry flavoured cake and I must say I am impressed with the light and airy sponge. Had two pieces in one sitting!
And yes, I am having a GIVEAWAY on my Instagram. Head on over to my Instagram account to win for yourselves a Uji Matcha Log Cake! Simple as that!
Where: Gokoku Japanese Bakery | 63 Jurong West Central 3, Jurong Point, #B1-79/82, Singapore 648331
When: Until 25 December 2019
More information : 67956714 | https://gokokujapanesebakery.oddle.me/en_SG/
Fullerton Hotel
The Ondeh Ondeh Lamington Yule Logs showcases the well-loved trinity of flavours — Gula Melaka, pandan and coconut —with Gula Melaka mousse and coconut crí¨me with shredded coconut layered between pandan chiffon sponge cake. There is also the Strawberry Lychee Bandung Yule Log, an elegant twist on another local favourite, the Bandung drink. Here, raspberry chiffon sponge cake is paired with delicate lychee mousse and strawberry jelly gently infused with rose essence. I haven't managed to try this, but as a Bandung drink lover, this sounds pretty enticing!
Where: Fullerton Hotel | 1 Fullerton Square, Singapore 049178
More information : 6877 8943 | fullertonshop@fullertonhotels.com |  shop.fullertonhotels.com
Conrad Centennial Singapore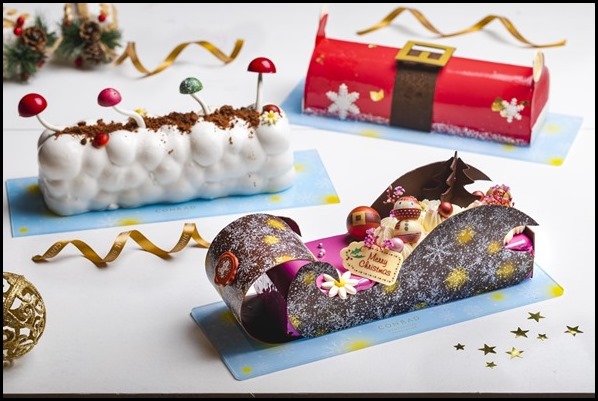 And finally, how about a log cake disguised as a sled? The Briolette Pistachio with Lemon Mascarpone Yule Log captures the flavours of the Mediterranean as it consists of Raspberry and blueberry Jelly, Pistachio sponge, Lemon Mascarpone mousse, Vanilla Crumble Base can complete with a purple glaze. The other 2 in the picture are the Chendol Gula Melaka Yule Log and the Cassis Bitter Sweet Chocolate Yule Log, made with Sacher Sponge! Fans of the Sacher Torte should try this one!
Where: Conrad Centennial Singapore (The Terrace) | 2 Temasek Blvd, Singapore 038982
When: Until 25 December 2019
More information: +65 6432 7489 | sinci.festive@conradhotels.com  | www.connoisseur.sg
---
Add me on Facebook, Instagram and Twitter if you want to be kept up to date with the latest happenings in the food and lifestyle scene in Singapore!
---