Had a cuppa at Laurent Bernard Cafe and Chocolate Bar at Robertson Quay yesterday. We arrived at 9 and were extremely lucky to get the last available seat there. After that, a long queue formed within 5 minutes! It seems like nowadays people have no problems travelling to not so accessible places, just to see and be seen. Dempsey, Duxton, Rochester, Robertson, no problem! As compared to say 5 years ago, choices are so much more varied now. Yet every possible hangout is still packed to the gills during the peak hours. Where do you like to hang out on the weekend?
I love the decor of Laurent's Cafe. They have little lighted lightbulbs hanging from the ceiling and they have shelves of pretty jam bottles. Just the thing that girls would like. The menu however was a little on the pricey side. My hot chocolate cost $8 and the latte my parents had was around the same price.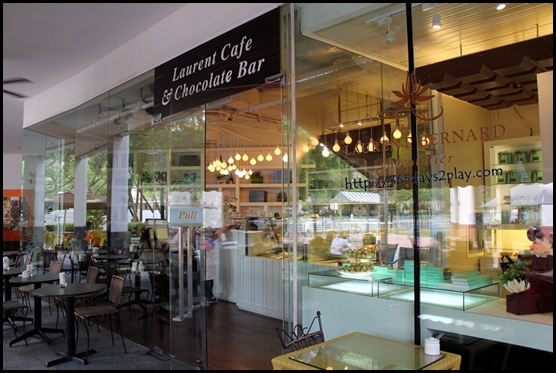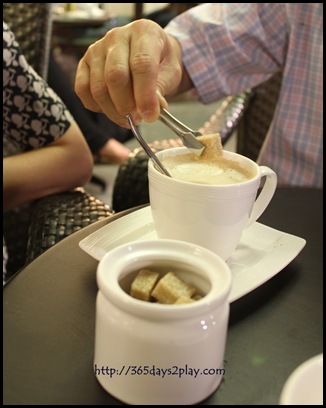 My parents said the coffee was just so-so. Nothing like the likes of Highlander, Dann's Cafe, Papa Palheta.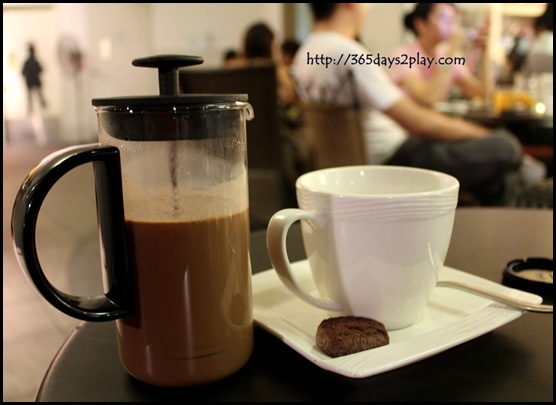 I thought the hot chocolate was way toooooo thick. It was 66% dark chocolate too. When I tried adding a little water to it, the whole concoction became sour! Definitely not going to order this ever again. The cookie was quite nice though. It was pretty crumbly and had a nice salty taste.
Laurent Cafe and Chocolate Bar
The Pier at Robertson Quay
80 Mohammad Sultan Road #01-11 Singapore 239013
Telephone: +65 6235 9007  Fax: +65 6300 0691
Operating Hours :
Monday 6pm-11pm
Tuesday to Thursday 1pm-12 midnight
Friday to Saturday 1pm-1am
Sunday 1pm-11pm
http://www.thechocolatefactoryonline.com/
If you just want to purchase their chocolates, you can get them at Takashimaya basement.