I know Christmas is over but I wanted to share with you all our wonderful Christmas Festive Afternoon Tea at Ritz Carlton Chihuly lounge. This is my second year running having the festive Afternoon Tea here. It can be expensive to eat out for Christmas but yet you feel like you deserve to indulge a little bit given that it's Christmas. My usual practice come December is to go for a festive afternoon tea. That way, not only can I enjoy the festive atmosphere and decorations, the bill is still somewhat manageable. I've always liked the afternoon tea offered by Chihuly Lounge.
Scones! As much as you like, with clotted cream, jams and honey.
I've visited quite a number of times over the years (once was a media hosting, but all other occasions were self-funded) and found their afternoon tea buffet to be very value-for-money. At $56++/pax, they aren't the cheapest in the market, but they are so very creative when it comes to the food spread. They often have themes, with the food presented like artwork. I still remember the beachside theme they had, the chocolate starfish and "sandy beach" made out of crumble were literally too pretty to eat.
Last year was the 1st time I tried their festive afternoon tea, all other previous occasions being during non-festive periods. Before we could get to the food, we were already amazed at the pretty decorations around the hotel. At the Chihuly Lounge itself there is a Nutcracker soldier and Christmas tree with presents, cocooned under a dome of fairy lights. Two armchairs are placed out. A really instagrammable location resulting in a constant stream of people wanting to take photos there. And if that Christmas tree isn't big enough, there is a 2 storey high one at the main entrance and even more gift-wrapped boxes for you to do your thing.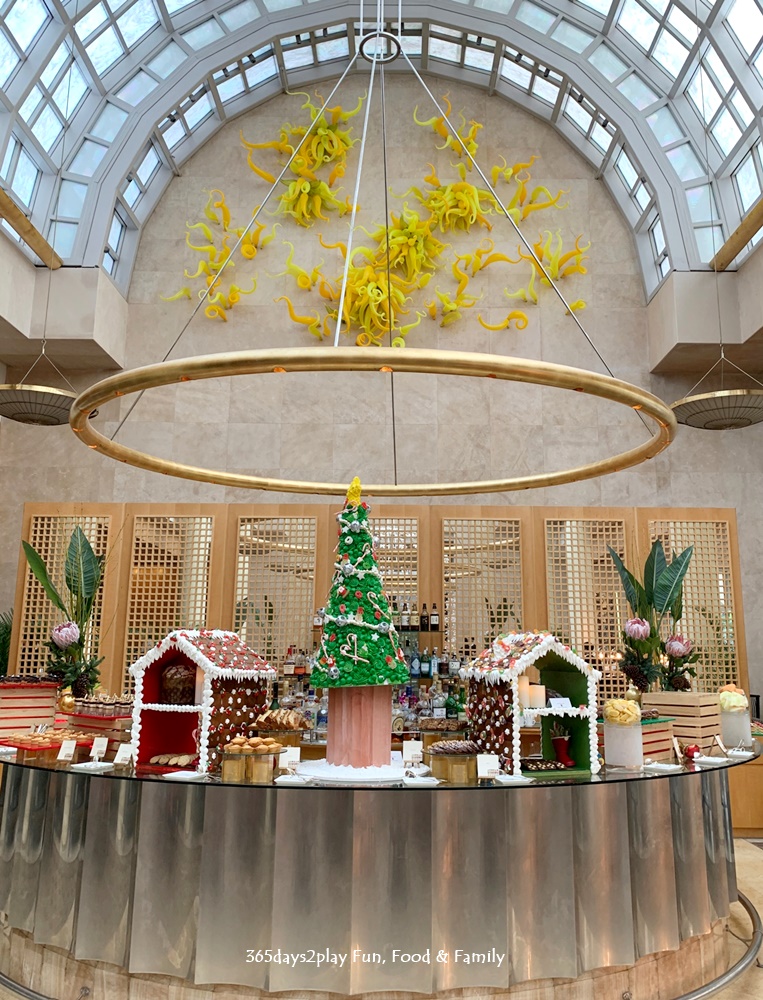 Ok but here's more pictures of the food proper.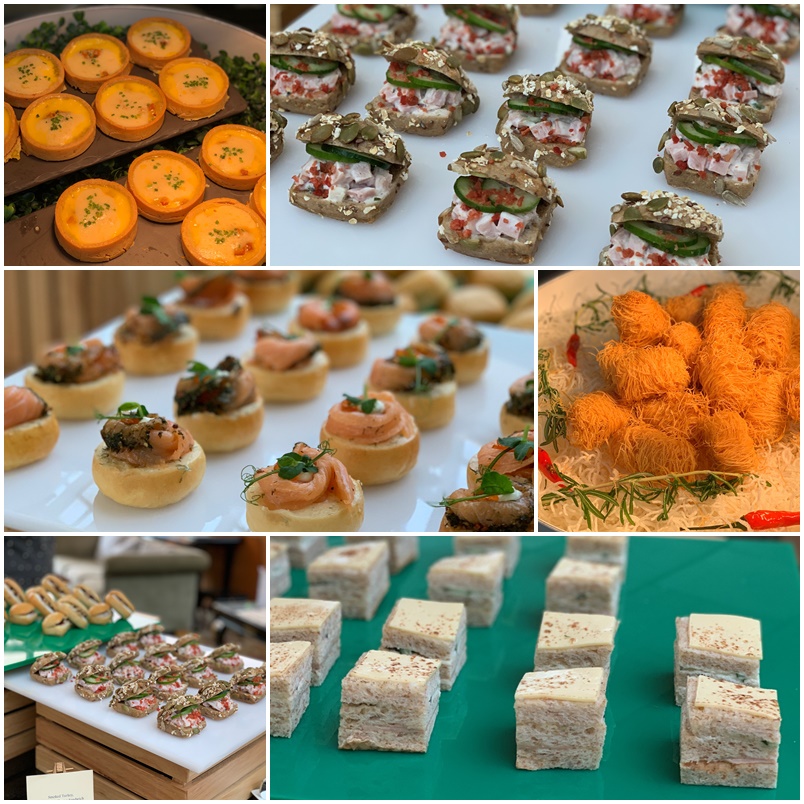 First up, the savouries. Not sure if it's because it's my 2nd time here in a year and the novelty factor has reduced somewhat, but I thought the sandwiches were a little lacking. I basically only went for the salmon brioche. The other 3 sandwich options were just honey baked ham, brie on walnut foccacia and smoked turkey.
The non-sandwich savouries were much more appetising. My favourites were the wagyu beef patty and the baked egg cocotte with mushroom ragout and onion marmalade. In the picture above are also pumpkin quiche and deep-fried shredded filo mango prawn roll, which Edward had about 5 servings.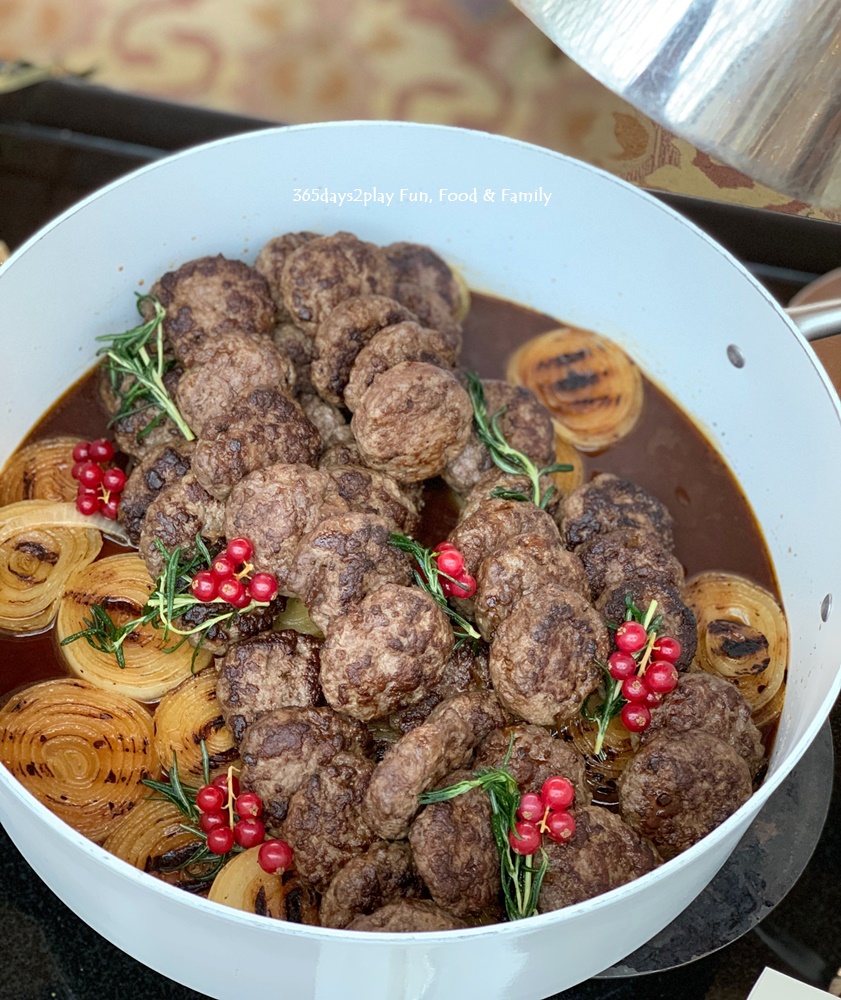 This is the wagyu beef patty
This baked egg cocotte with the mushroom ragout and onion marmalade is something I would dearly love to have triple servings of, if I weren't cholesterol counting. They had this last year too and I was so glad to see it again on the menu. Warm and soft eggs, with additional oomph from the mushroom and onion marmalade. Fabulous.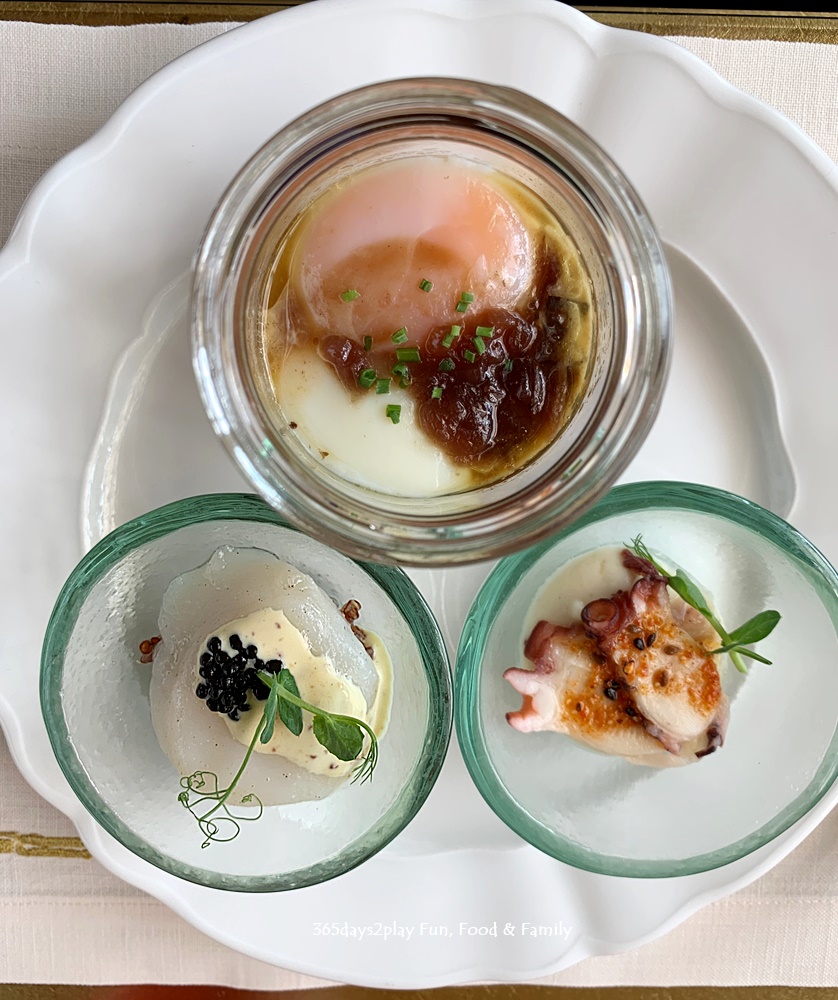 Scallop confit with avruga caviar on the left, and octopus carpaccio on the right.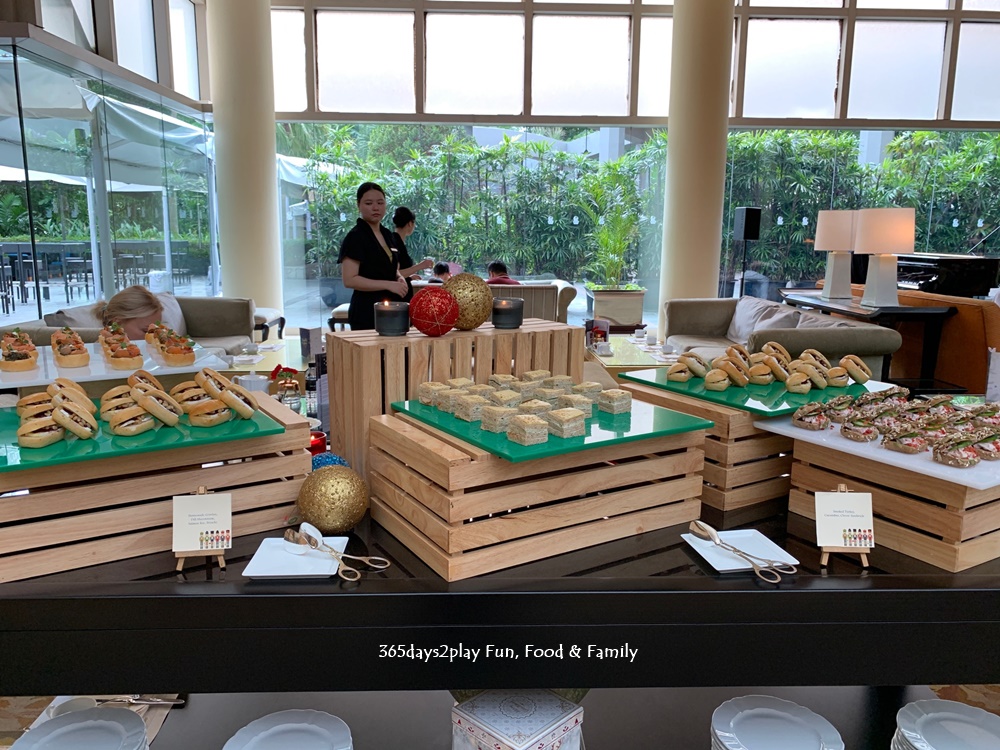 Another shot of the sandwiches table.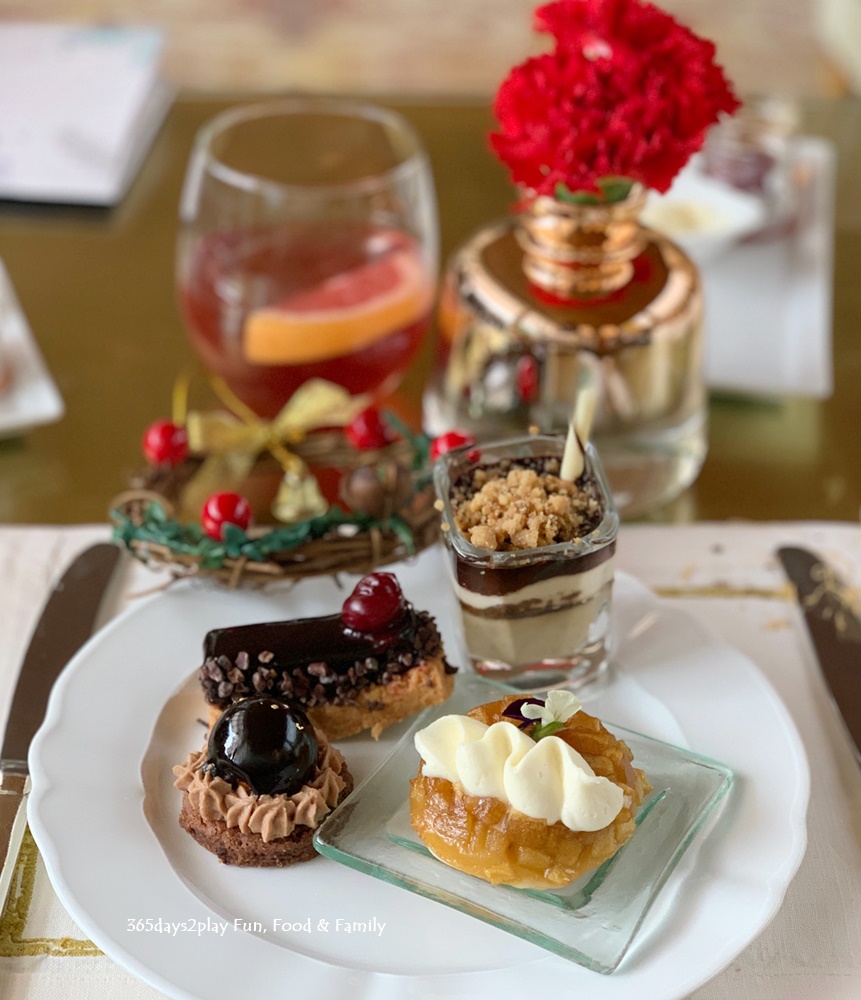 Desserts, a must have when it comes to afternoon tea. Although I am more of a savouries person, I certainly can't resist pretty desserts. And let's be frank, decadent desserts that look pleasing to the eye never hurt anyone. Featured above are Tiramisu Verrine, Apple Tartin, Chocolate sable and Peanut Croustillant with morello cherry.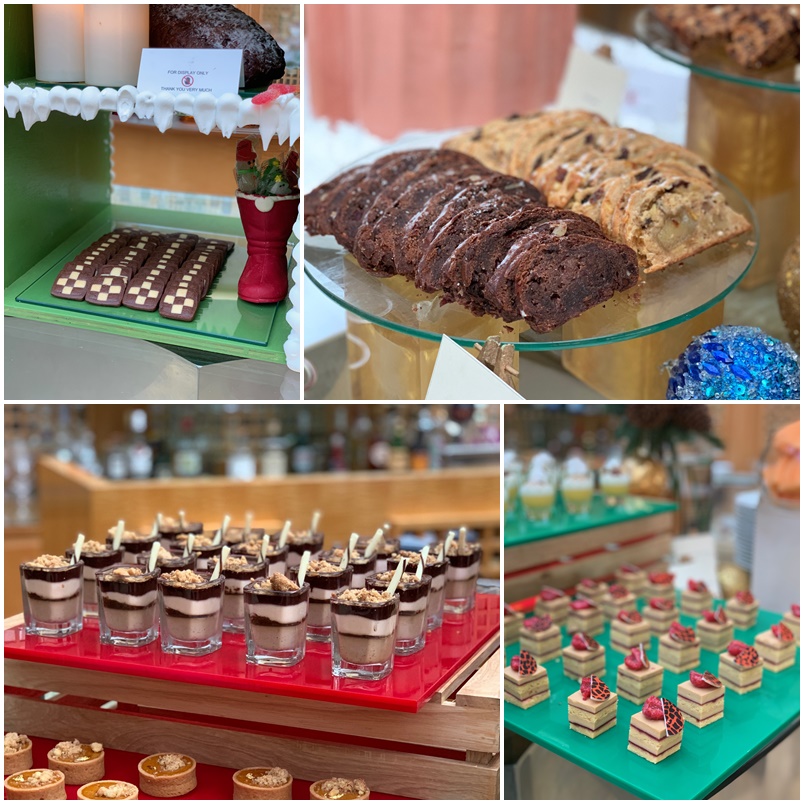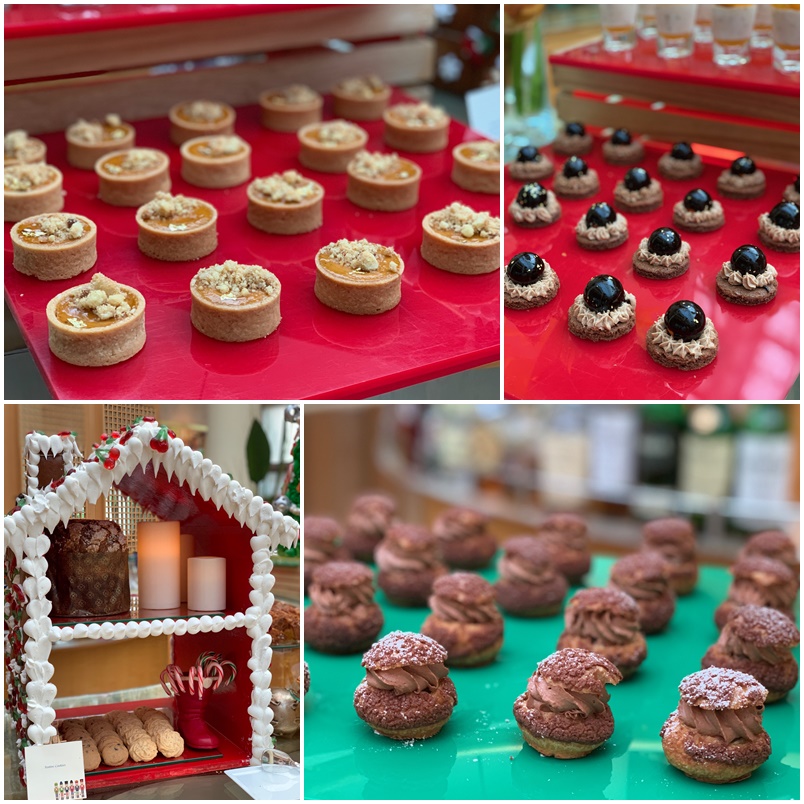 Spiced pumpkin tarts on top left and Nougat Mousse on bottom right.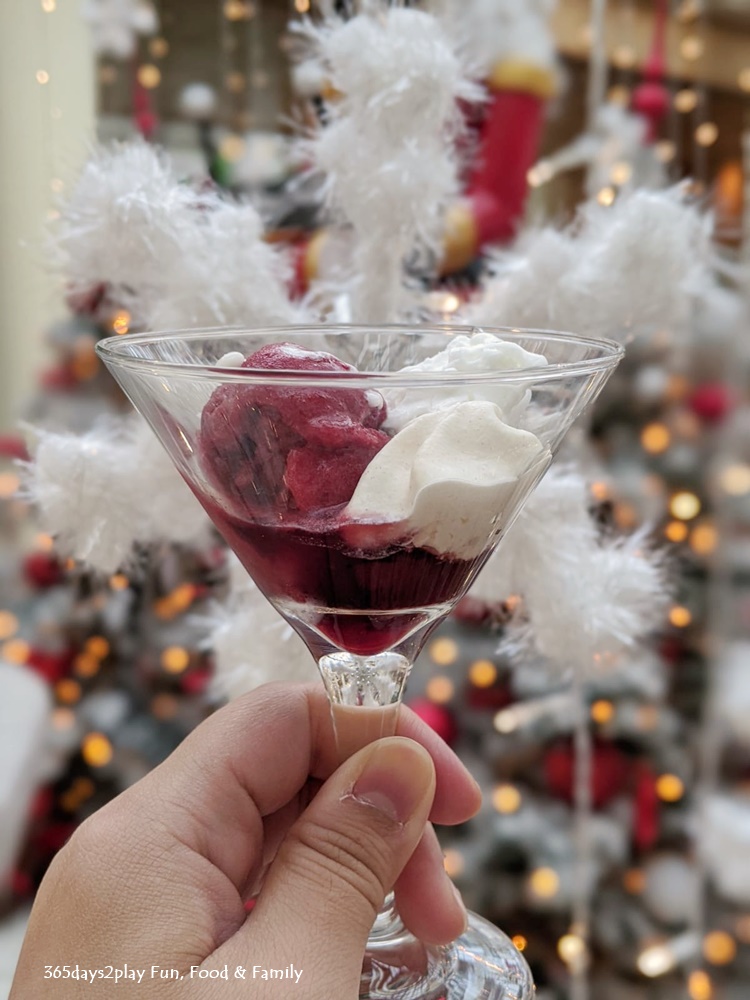 There was even an ice cream counter with nitrogen freezed ice cream.
What is the use of being a parent if you can't make your kid wear cute things???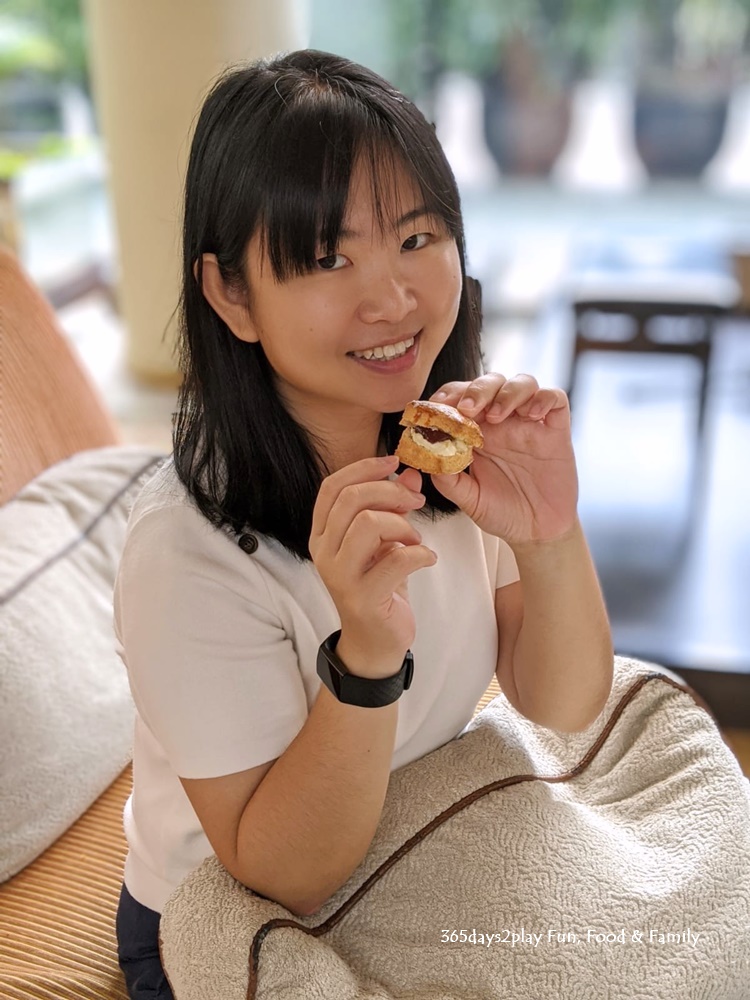 Me and my scone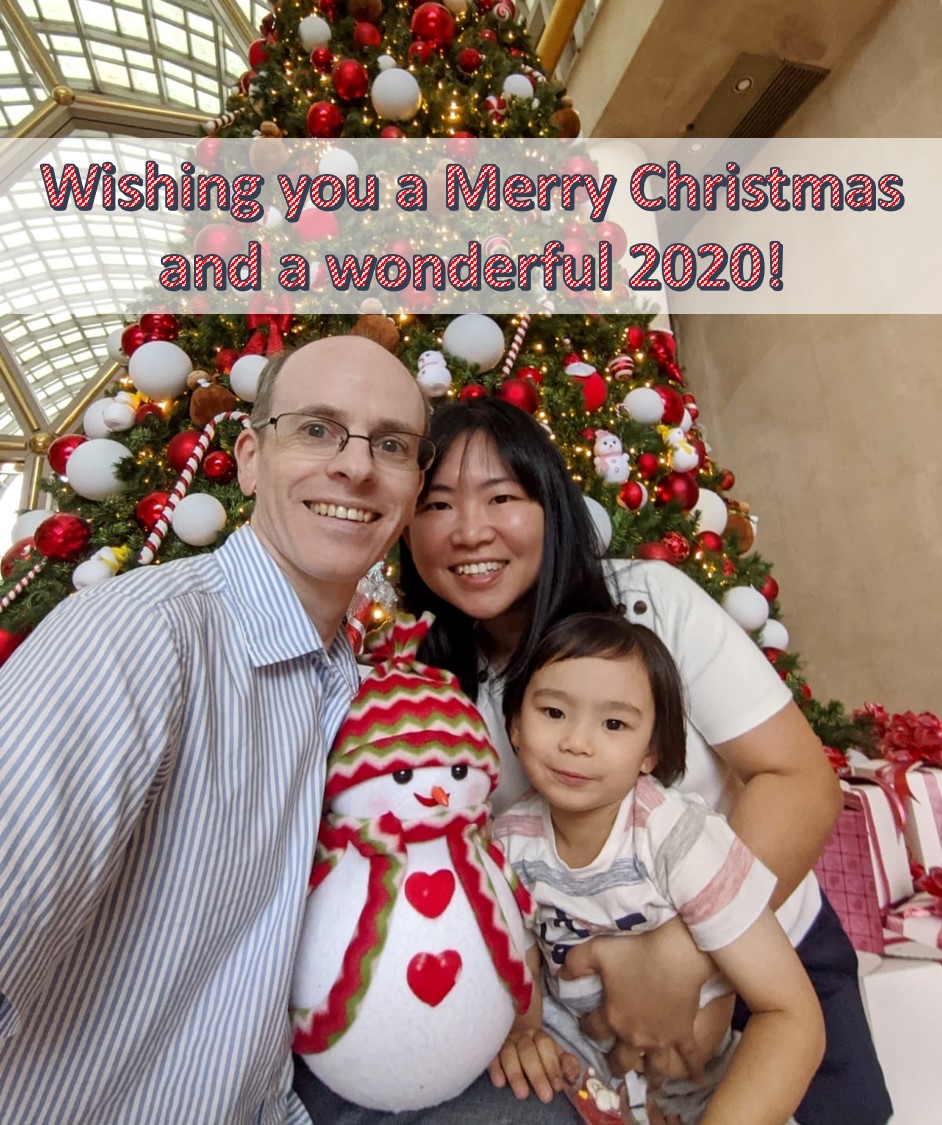 See I told you the space is so conducive for taking countless photos. The last picture was taken at the foyer, and used as my Christmas greetings for 2019. I did the same too back in 2018, with the nutcracker in the background.
Pro tip when going for afternoon teas
There are 3 main types of afternoon teas in Singapore: Fixed set, Refillable set and Buffet style. Fixed set means the restaurant offers you a 3-tier set of teatime items and that's it, whereas refillable, as the name suggest means that you can still as for repeats of your preferred items. All things being equal, I would go for the Refillable set or the Buffet style as Fixed sets are not always cheaper than the latter two.
Oh, I ought to mention the teas. The downside to the afternoon tea buffet at Ritz Carlton is they only allow you to have 1 pot of tea per person. After you've made your selection, that is it. They will top up the pot with hot water periodically. Halfway through the service I complained that the water in the pot was no longer hot and they had no issue to provide me with a fresh pot of tea, but of the same flavour.
Long ago, it was not uncommon to find hotels providing unlimited changes of tea. Shangri-La Rose Verandah comes to mind, and they would even market themselves as having 101 tea selections to choose from. Such a luxurious feeling! Alas, this is no longer the case. Cost cutting perhaps? But the cost price of teas are relatively low! Or perhaps it's labour shortage? Anyway, from a human psychological perspective, I liked the idea of having unlimited selections, and visited Shangri-La many times for that reason, even if realistically I only managed 2 or 3 tea changes per visit. If you ask me, it's a great marketing tool that most hotels have decided to dispense with. 
Another thing you need to consider is the duration of the afternoon tea service. At Ritz Carlton, the afternoon tea lasts for 3 hours, giving you ample time to really relax, enjoy the ambience, nibble on the bites and have real conversation. Some hotels do only 2.5 hrs or 2 hrs, which I think is still fine, although I obviously prefer 3 hours. At all costs, avoid afternoon tea sessions that last only 1.5 hours. That is besmirching the very essence of what going for afternoon tea is all about! It's just plain foolish to pay $50 or more to wolf down your food so quickly, and very disrespectful of hotels who came up with such a thing.
---
Add me on Facebook, Instagram and Twitter if you want to be kept up to date with the latest happenings in the food and lifestyle scene in Singapore!
Where to have afternoon tea in Singapore
---
Ritz Carlton Chihuly Lounge
7 Raffles Avenue Singapore, 039799 Singapore
For reservations, please call (65) 6434-5288 or email rc.sinrz.restaurantreservations@ritzcarlton.com.
View the menu here.
https://www.ritzcarlton.com/en/hotels/singapore/dining/dining-events-and-experiences/afternoon-tea-experiences