I've been a fan of Ritz Carlton's Afternoon Tea for the longest time and after my cousin asked me to recommend me great places to have afternoon tea in Singapore, I started to have cravings again. Yes I know the last time I had afternoon tea at Ritz Carlton was but a mere 6 months ago, but for an afternoon tea lover like me, that just feels like decades ago. Besides, back in December, it was the Winter afternoon tea menu that we tried. It's Summer already for god's sakes!
For the uninitiated, Ritz Carlton Singapore's Chihuly Lounge changes their afternoon tea menu four times a year to suit the four seasons. It's all about getting inspiration from the produce of the season as well as the weather of course. And what better way to celebrate summer than to have a Mediterranean theme for the Summer Afternoon Tea. (I have a good mind to ask Four Seasons Hotel if their afternoon tea is inspired after the four seasons as well, ha!)
The Mediterranean afternoon tea theme is best showcased by their desserts, so let me first tempt you with the dessert pictures. Don't get me wrong though, I was a good girl and ate the savouries first before hitting the dessert table. Actually, I'm the sort who has to have the main course first before dessert. And I can't just have desserts as the main meal. I'll feel as if I haven't had lunch/dinner, even if I'm busting from the cake I just consumed. Interestingly, as long as I've had the mains first, I can go on to dessert and back to savoury again, if we're talking about a buffet setting.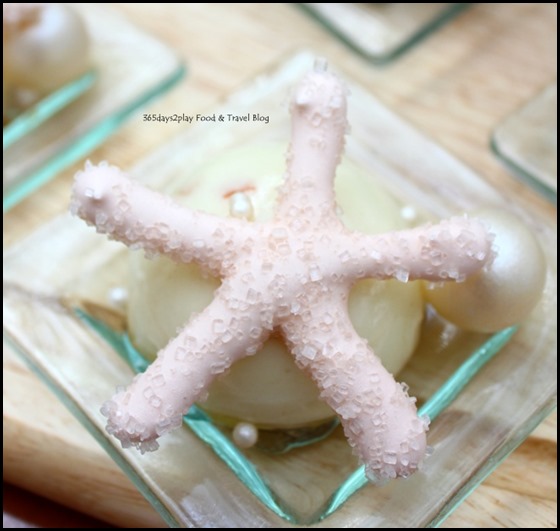 Ivoire Mousse with Candied Orange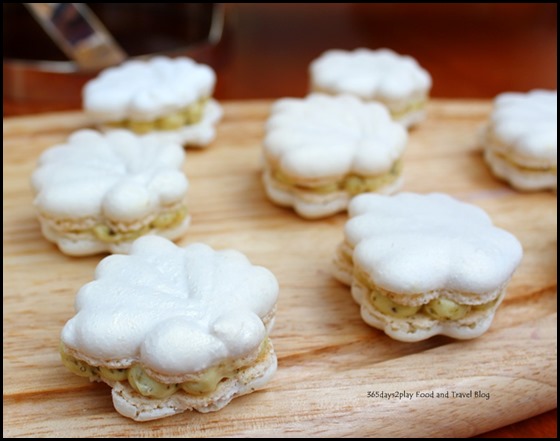 Shell Shaped Macarons with Olive Butter
These were really delicious macarons! Light and airy meringue casings sandwiched together with an interesting olive butter. There was just a tad too much olive butter to my liking but otherwise, the macarons tasted fantastic. Neither were they overloaded with sugar, like how most macarons are. You know what's the best part? You can eat 10 if you want to because it's a buffet!! Probably the most value-for-money macarons ever!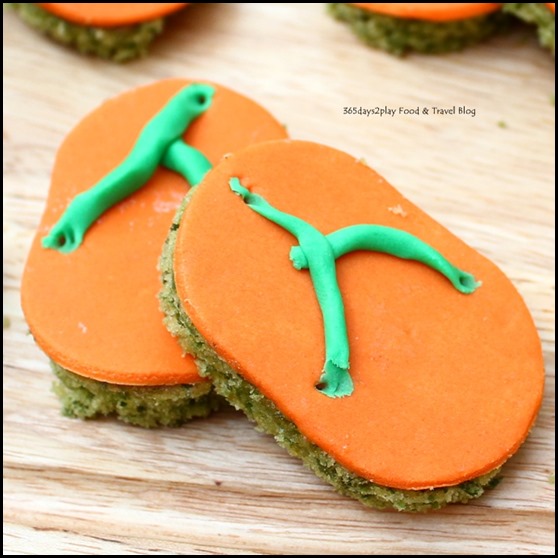 Seaweed Cake
I don't usually eat cakes with fondant, but these were too good to resist. Aren't they cute? I've yet to come across a seaweed cake before. This tasted like a somewhat heavier than usual sponge cake with seaweed flakes all over. Delicious!