[Sponsored Post]
Recently I was gifted a pair of Sudio FEM wireless earphones. Now I actually don't have a habit of listening to music on a regular basis. The only time I ever use earphones is when I'm hitting the treadmill at the gym! On the contrary, my husband uses earphones on a regular basis. Interesting enough, earphones are especially handy in the office to block out noisy colleagues, but anyway….
So the husband kindly volunteered to check out Sudio FEM. Out of the 4 colours available (Black, White, Classic Blue and Pink), he selected Black. But because these wireless earphones look so nifty and cool, I thought maybe I'd like to have them instead, so I eventually put in the order for White. Imagine his initial disappointment because he had secretly intended to keep them for his own usage. But the good thing is, the colour is growing on him because the product is too good to be returned to the rightful owner (me) just because of a difference in colour.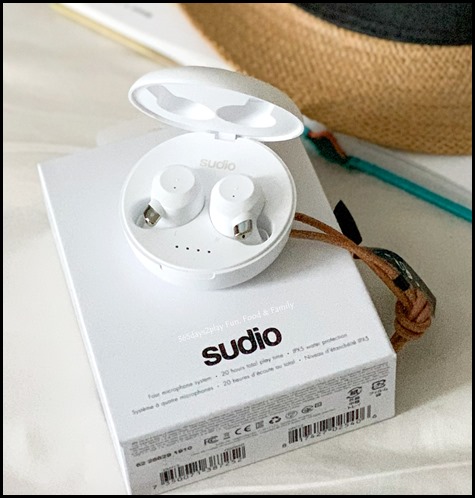 So what's so good about the Sudio FEM wireless earphones?
Looking good
In terms of aesthetics, it's really stylish and sleek. It comes in colours that most people would be interested to get. It's also not as humongous as some that I've seen in the market, making you look like you have things sticking out of your ears. Even the case looks stylish as well, and comes in matching colour.
Easy Peasy
In terms of convenience, firstly it's very lightweight, be it the earphones or the accompanying case, especially useful for those who boast cavernous bags. And very easy to use. Basically out of the box it comes and paired in seconds. No fumbling about or having to read long manuals, it's pretty intuitive from the get go. You will notice that the earphones case doubles-up as an external charger. Every time you place your earphones back into the case, they will be recharged as long as there is still battery life in your case.
The Technical Specifications
20 hours of battery life, 6 hours in a single charge
Real Clear Voice: 4-microphones system
IPX5 – Splash, rain, sweat proof
Touch control
Individual automatic pairing (both earbuds connect directly to the phone)
Graphene driver for a great music experience
Siri & Google assistant compatible
Handy short usb-c cable included so you can charge with your portable charger.
Free worldwide shipping
18-month international warranty
Sound, sound, sound
But most importantly, the music sounds good. Base is good too. Engineered with four microphones that provide ambient noise reduction, this really helps to give a crisp and clear sound. And because it's so light weight and comfortable in your ears, you won't mind having them there for long periods of time. Which is a very important aspect for me as I have had headaches resulting from prolonged use of ill-fitting earphones.
SUDIO has other wireless earphone models which are cheaper, but if you're all about the sound, the FEM model is what you want. Retailing online now at SGD$219.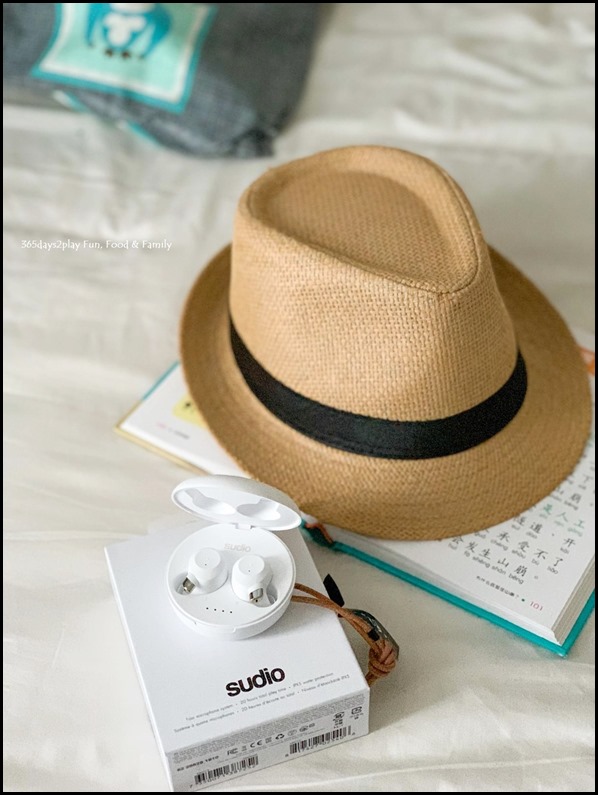 Discount!
Apply the following discount code to get 15% off any SUDIO purchase.
15% discount code: 365days2play
Website Link: https://www.sudio.com/sg/
CNY Promotion: Free special edition CNY gift packaging + crossbody pouch + buy any 2 earphones and get 25% off  (15% from code + additional 10%)
Promo Duration: Now – 14 Feb
---
Add me on Facebook, Instagram and Twitter if you want to be kept up to date with the latest happenings in the food and lifestyle scene in Singapore!
---