You know the Great Singapore Sale that happens every year during June and July, where lots of retail shops offer discounts to reel in shoppers? Well it's happening now for the F&B sector thanks to the COVID-19 situation. Although the crowds have increased somewhat during the weekend, restaurants are still seeing low footfall on weekdays, in part due to the many work-at-home directives currently ongoing.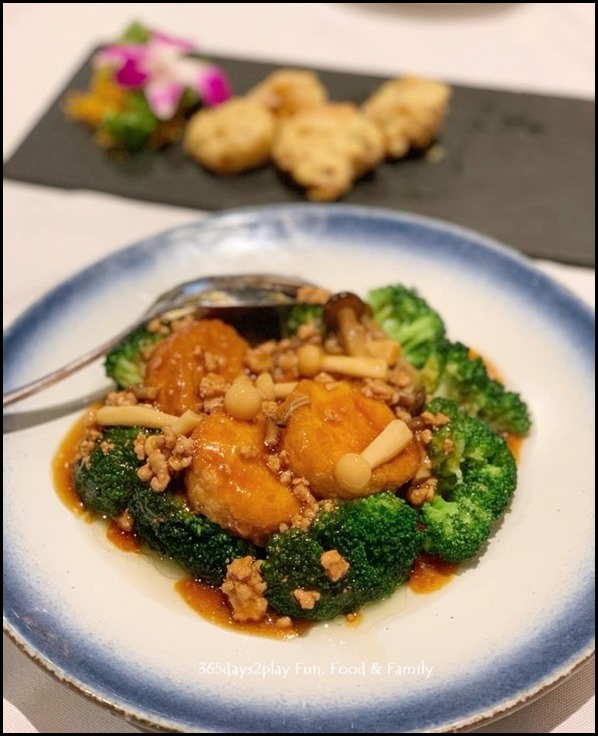 If you are not afraid to dine out, you can enjoy some great deals out there. One of the fantastic deals I enjoyed a couple of days ago was 50% discount on any ala-carte food orders at Peach Garden. They have outlets at Changi Airport T2, Chinatown Point, Hotel Miramar, NTU, OCBC Centre, The Metropolis and Thomson Plaza. We decided to go to Changi Airport due to proximity as well as Changi Airport's own free 3 hour parking promotion for anyone who spends a minimum of $10. This free parking promo at Changi Airport is a real incentive to visit because parking is notoriously expensive at Changi Airport, although I cannot fathom why given they are always doing promos to entice Singaporeans to venture to the far east.
Peach Garden always has some sort of promotion going on, so it would be best to check their website to see what deals you can enjoy. For example, you can order their Signature Stewed Baby Lobster with Ee-fu Noodles for only $1.80++ (U.P $38) or get 30% off for dim sum on weekdays during lunch time. But, if you are able to dine at slightly off-peak timings, you can enjoy even higher discounts of 50% to 60%! This is only if you have the Eatigo App, which is completely free to download. Use my referral code http://refer.eatigo.com/365days-1v9 (365days) to download and you and I both can enjoy a $10 voucher each. Make sure you see that the referral code has been applied, or it means its not successful and you won't get your voucher.
The reason why I'm highlighting Peach Garden in particular is they are very generous with their timings. For example for the Changi Airport Peach Garden branch, you can enjoy a whopping 60% discount on weekends from 11am – 1pm and 5.30-8pm. Now if you ask me, those are perfectly legit timings to be visiting a restaurant for lunch or dinner so if you ask me, it's a great bargain! And if you visit outside those hours, the discount might be 50% or 40%, which is still very generous. For weekdays, the discount is slightly lesser at 40% or 30% during lunch, but outside of that it becomes 50% discount, and even goes up to 60% during dinner time! Like WHATTTTT???
The different Peach Garden outlets offer different discounts for different timings, but in general, it's not difficult to find a convenient timing to enjoy at least 50% discount, notably the weekends or dinner time. Scroll down to see the dishes we enjoyed at Peach Garden Changi Airport Terminal 2.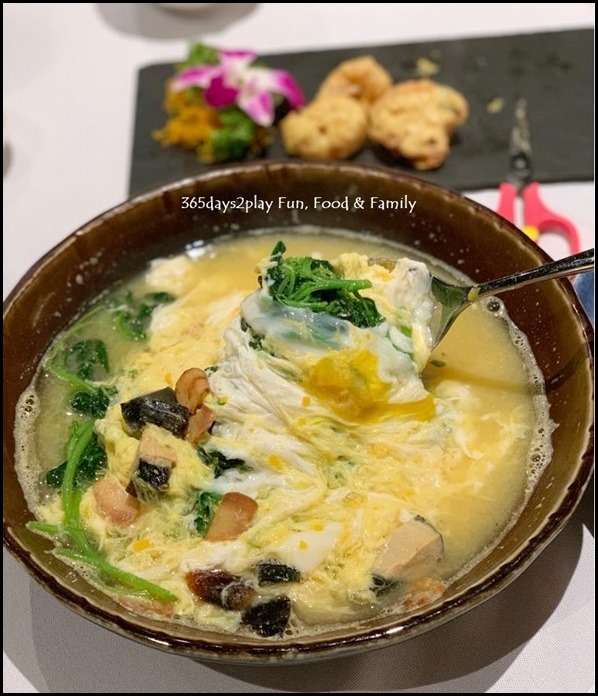 This 3 egg spinach dish (UP $22 if I don't recall wrongly) is one of my mother's favourites. She has to order this at any Chinese restaurant she visits and I must say it's a very worthwhile order. Not only is it tasty with all that salted egg and century egg, there's a lot of greens in it too. Just try not to finish all the soup if you're cutting down on sodium level.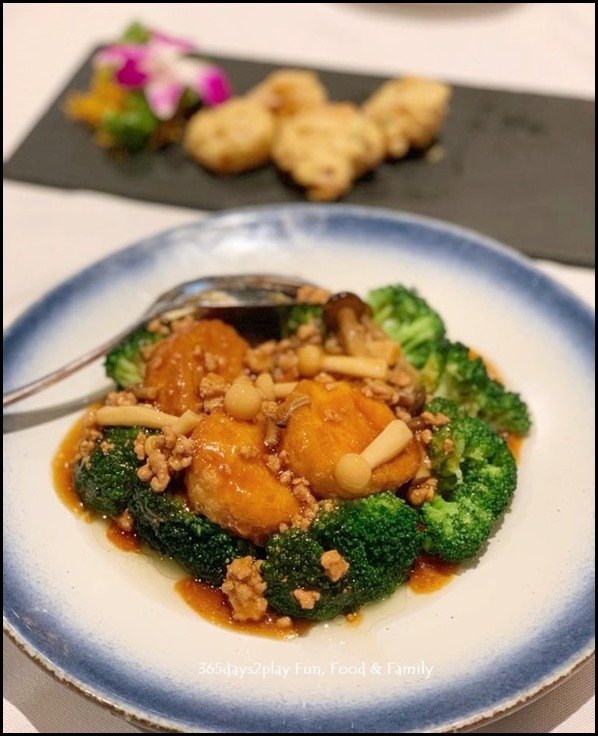 This is another value for money order even without the discount at $22. A healthy dish comprising beancurd, sauteed broccoli, enoki mushrooms and minced meat. Even the veggie hater that is Edward loved this dish.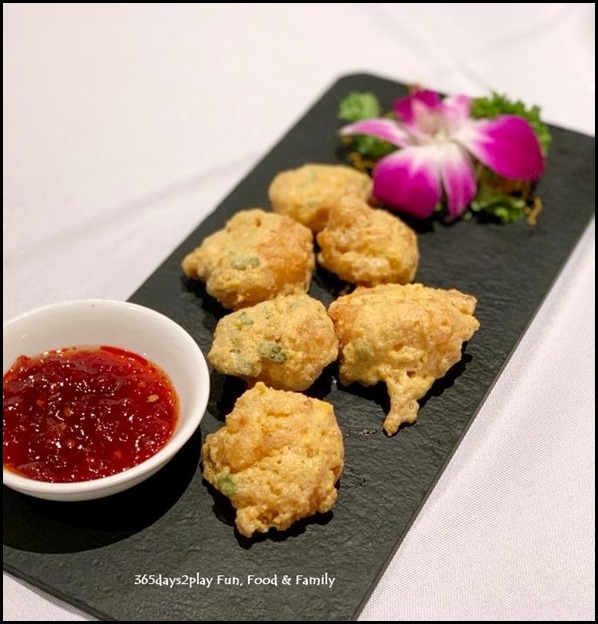 Salted egg prawns at $28. The original dish is 3 wasabi prawns and 3 salted egg prawns but we requested to have only salted egg. Now this one is not worth the money, even with the discount. Although the prawns tasted good and we actually enjoyed them, but for the price, we were expecting jumbo prawns, or more prawns. These were just medium sized prawns, and almost $5 per prawn just doesn't sound right. Also, there was a bit of a crispy batter coating, which while nice, wasn't necessary. We just want the salted egg yolk and lot's of it, we don't need any batter.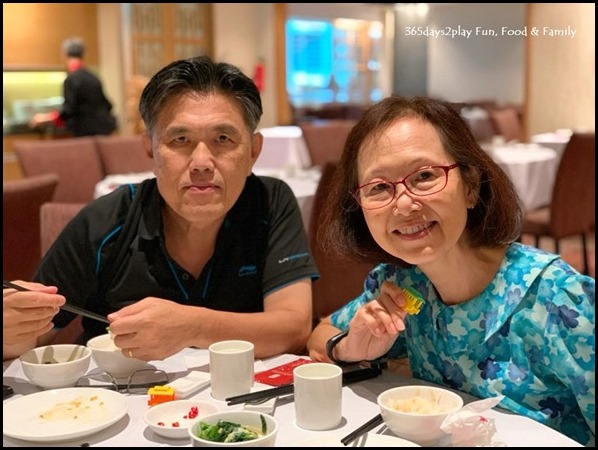 Happy diners
Our total bill came up to just over $44. The Eatigo app gave us 50% discount on the 3 dishes. There wasn't any discount on the rice, which was $1.50 each. Add on service charge and GST and it amounts to $44. Don't you think that's very reasonable for lunch at a Chinese restaurant? Could have been lower too if we had ordered a more value-for-money dish instead of the salted egg prawns.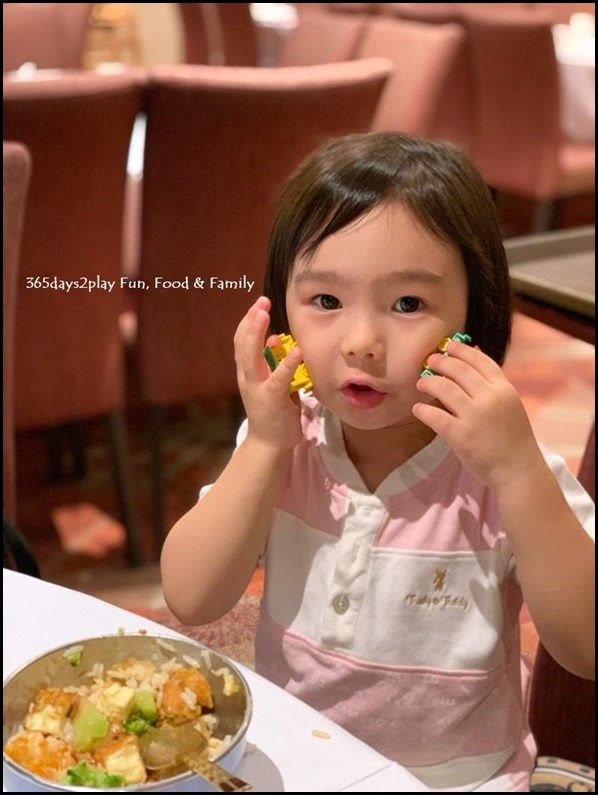 Another happy diner because the food is better than Mama's cooking
There are hundreds of restaurants and even cafes on the Eatigo app. If you eat out often, you ought to utilise this free app to get discounts. Even if it's just a 10% discount for the timing that you want, that's still better than paying full price! And if you can only have dinner late because you worked late in the office, you know that a good discounted dinner awaits you for your hard work.
Don't forget to use my referral code. We each get $10 voucher to use if you use the code. http://refer.eatigo.com/365days-1v9 (365days) to download and you and I both can enjoy a $10 voucher each. Make sure you see that the referral code has been applied, or it means its not successful and you won't get your voucher.
You can also check out the Entertainer App which gives 1-for-1 discounts at many dining, spa, fitness and leisure attractions. This App isn't free, but you can use it anytime of the day. Again, use my referral code 365DAYS2PLAY to get a 10% discount off the checkout cart amount. You can read more about the Entertainer here https://www.theentertainerme.com/products2020
---
Add me on Facebook, Instagram and Twitter if you want to be kept up to date with the latest happenings in the food and lifestyle scene in Singapore!
---
Peach Garden @ Changi International Airport T2
60 Airport Boulevard #036-084 Changi Airport Terminal 2  (Departure Hall) Singapore 819643
Tel: 6386 3033
(And various outlets)
https://www.peachgarden.com.sg/