*Media Invite*
Have you heard of the beer Kronenbourg 1664? It is a premium lager from France, brewed from the Strisselspalt hop, better known as the caviar of hops'. I was totally taken aback by the taste of the beer the 1st time I drank it almost 1 year ago. This beer is totally different from any other beer that I have drunk to date. Okay I haven't guzzled all that many brands of beers, let's see, Carlsberg, Heineken, Erdinger, Stella Artois…they all kinda taste similar.
Kronenbourg really stands out with its citrus, fruity flavour and floral aroma.  I just found out that only the purest waters from the Vosges Mountains in France are used to brew the Kronenbourg 1664 as well as the Kronenbourg Blanc 1664. No wonder it has such a smooth, and easy to drink taste! I know of some people who like to go clubbing but hate the taste of beer, but yet still have to order one to look sociable. Try this beer, you just might be able to enjoy it more as it is sweeter.
A few weeks ago, I was invited to the unveiling of the new Kronenbourg 3 litre Eiffel Beer Tower. Singapore was the 1st place in the world the Kronenbourg 1664 Eiffel Beer Tower was unveiled! The Coastal Settlement, one of Singapore's newest and most charming dining spots set in the lush greeneries of Changi was where the momentous occasion occurred, and I must say the Coastal Settlement was the perfect venue to hold this beer party.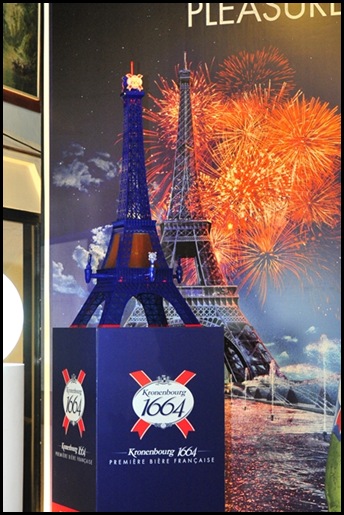 So what's so special about this beer dispenser, apart from it looking like a replica of the Eiffel Tower? Well, unlike other beer towers, the Kronenbourg Eiffel Beer Tower stands at a height of about one metre and has one tap affixed to each side of its base, making it possible for more people to dispense beer at one time. Now you don't have to fight over who gets the beer first because 4 people can do so at the same time!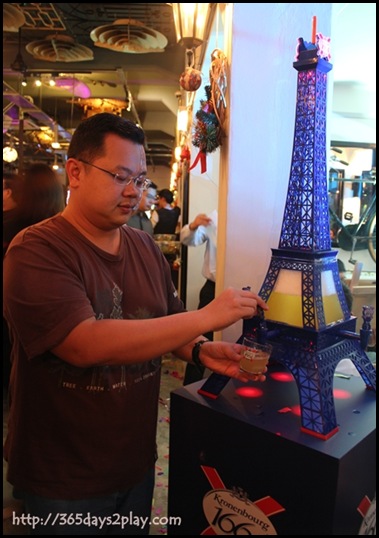 My dinner guest demonstrates how one would dispense beer from the tower…. Okay would this not be a talking point if you unveil this Eiffel Beer tower at your own party?
Those heels are like stilts, the beer girls were towering over the guests as well.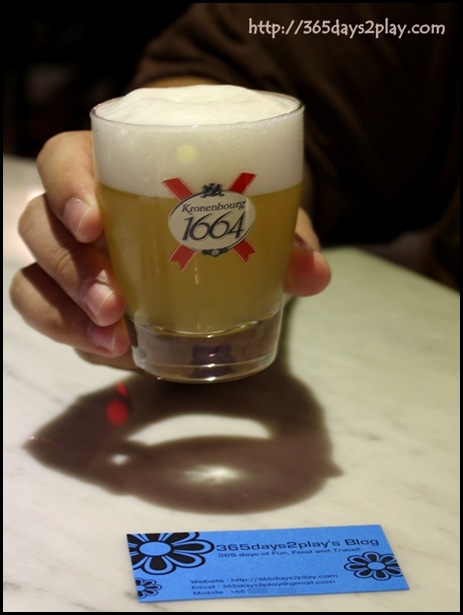 365days2play was here…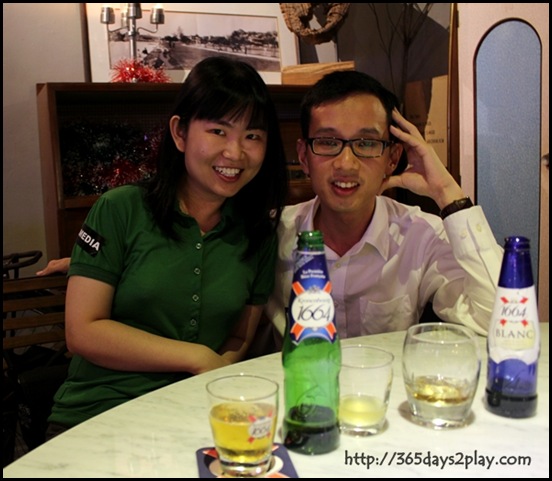 My friend looks like he's about to conk out but actually he was super awake and we even went for coffee at McDonalds after the event!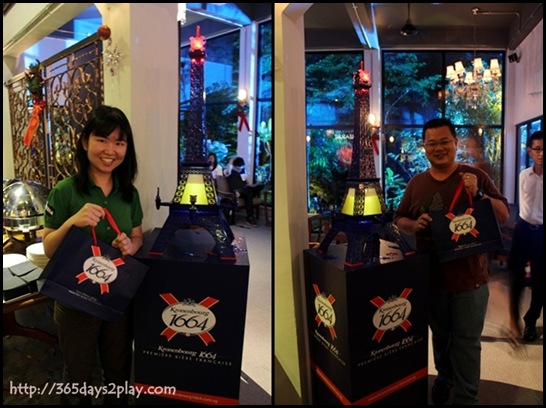 We got to bring back free beer too. Love the red ribbony design. The paper bag looks cute enough to reuse again.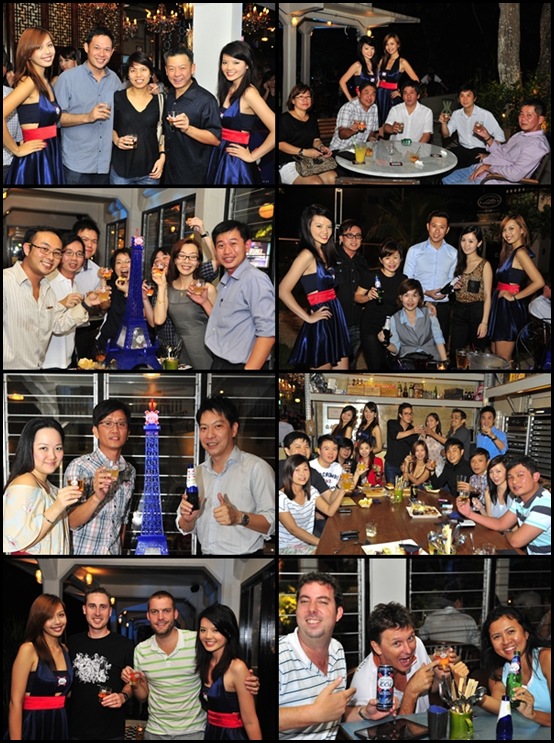 Everyone enjoying the wonderful evening with free-flow of beer and great tasting food
Check out Kronenbourg's Website and Facebook
Check out The Coastal Settlement
*Thank you Communications DNA and Kronenbourg for the invitation!*