Easties can rejoice once again as the much beloved Tiong Bahru Bakery has finally opened an outlet in the East of Singapore, at Siglap. For those who remember, it is approximately at the spot where Pasta Fresca da Salvatore used to be. I say approximately because the entire building (Lodge 77) was torn down to make way for the new 77 @ East Coast condo. A grocery store currently undergoing renovations will be opening soon as well.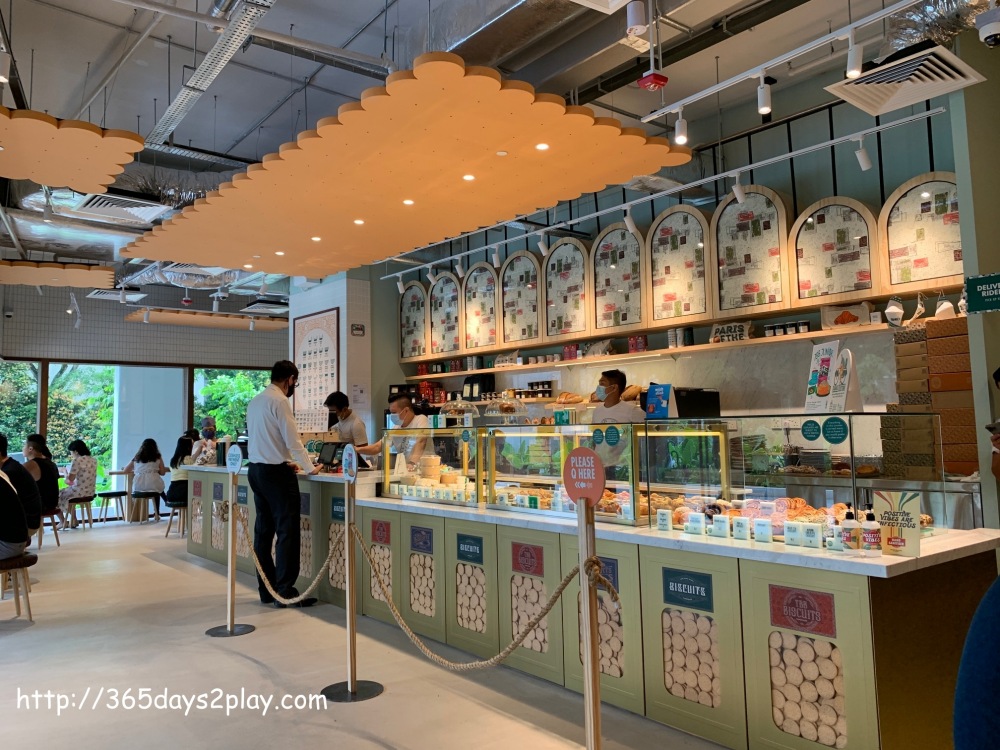 Interestingly, this happens to be Tiong Bahru Bakery's 10th year in Singapore, and the lucky Siglap outlet happens to be their 10th outlet. It is a spacious and comfortable looking outlet. Check out the whimsical biscuit signboard they've put up. Glass walls on 2 sides so ample sunlight streaming in. I love the cosy booth seats suitable for 2 persons, or 3 or 4 extra slim people. But strangely not that many tables, despite the cafe looking very spacious. In any case it was not full when I was there at 4pm on a weekday, although there was a steady stream of customers doing takeaways. Not bad for their second day of business at Siglap. They have kept their quality pretty consistent over the last 10 years, although I would still say their kouign amann now is just not the utter bliss I felt when I had my first bite all those years ago.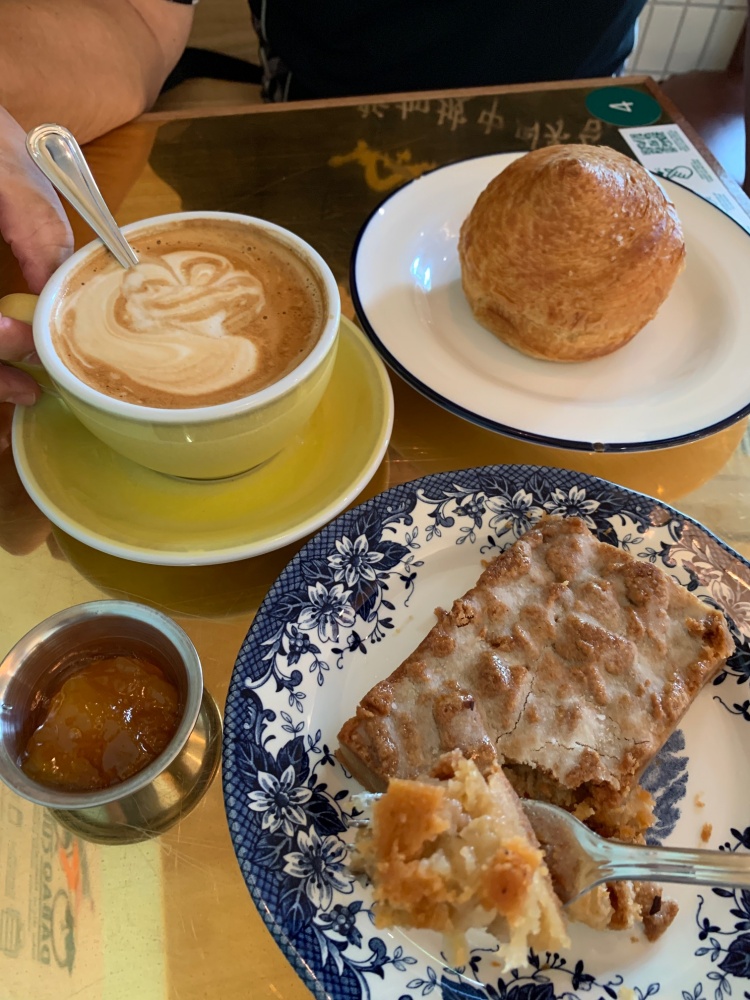 Eating out at cafes is never cheap, but we were still momentarily shocked that our bill came up to $31 for a croissant sandwich, an apple crumble and a large flat white. I checked the article I wrote back in 2012 and was surprised to find that prices have not increase much. For example a small flat white used to cost $5 whereas it is now $5.70. The main difference is that TBB now charges service charge and GST whereas they didn't do so 10 years ago.
Anyway, aside from their ever popular croissants, go for the apple crumble. It's humongous and really buttery. It's a bit on the thick and heavy side, but that's what makes it so pleasurably sinful. I could do with more apple chunks in it though. At $7.80, it's not a bad pricing as it's huge enough to split into 2 respectable portions.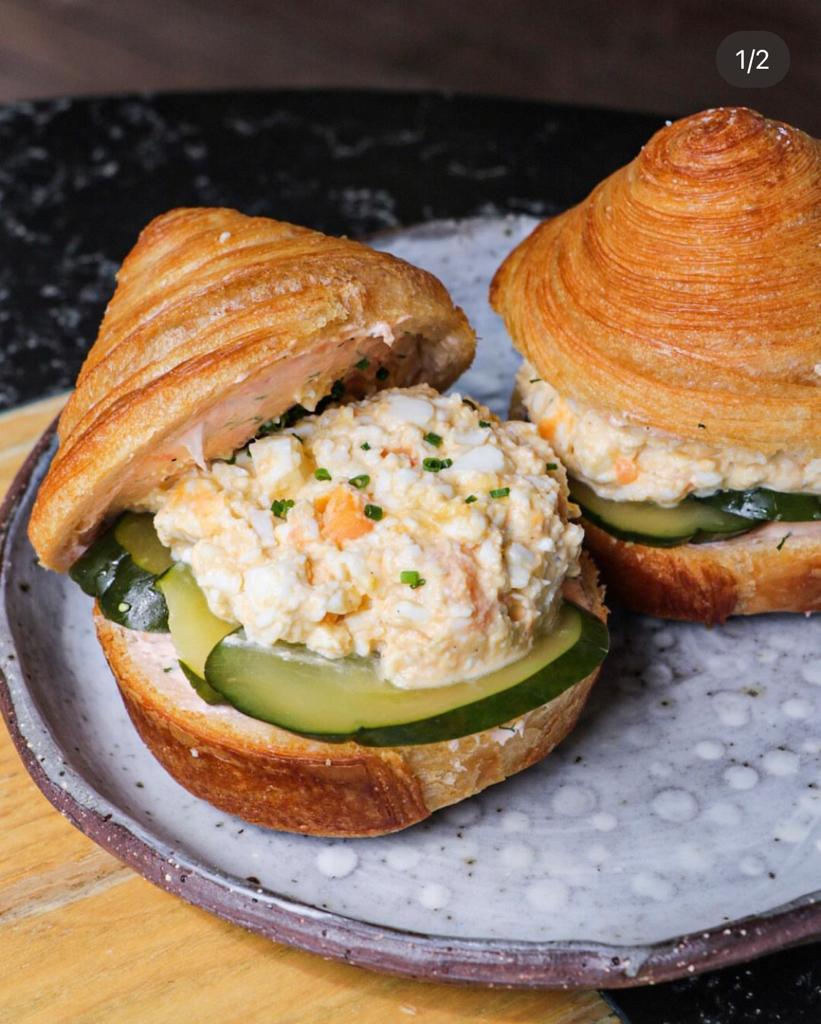 Photo source: Tiong Bahru Bakery Instagram
I thoroughly enjoyed this Egg Mayo and Smoked Salmon Pain Feuillete Sandwich. The pain feuillete is basically like a rounded croissant, all buttery and flaky. Encased inside is egg mayo, smoked salmon spread, Tsukemono cucumber and chives. So good! I just wish it were larger!
And of course, when at TBB, you have to have a cuppa. We went for the large flat white because it costs $7.70 as opposed to $5.70 for a significantly smaller cup.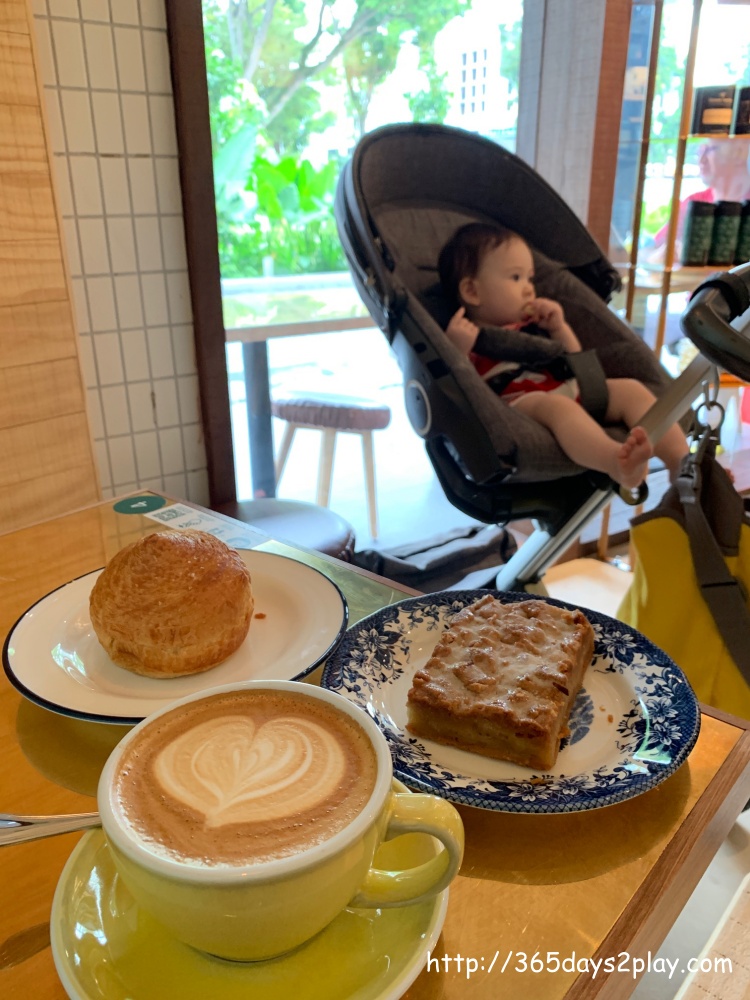 All in all, really happy that Tiong Bahru Bakery has opened at Siglap. I see myself revisiting quite often to enjoy some me time away from the kids! But this time round I'll be smart enough to order the cheaper items so I don't have to rob a bank. The Siglap Park Connector is a couple of steps away. Great for doing some exercise or brisk walking and then rewarding yourself with a cuppa.
And if you were reading this far, here's how to get your free croissant from Tiong Bahru Bakery. Simply order any beverage from now until 31 October, and you will be given a QR code to sign up for their mailing list. That will entitle you to redeem a free croissant!
Did you know that Tiong Bahru Bakery also serves hot food? Not at this Siglap outlet though.
Scroll down to view more photos and a video of the place
Tiong Bahru Bakery Siglap Branch
Address: 77 Upper E Coast Rd, #01-01, Singapore 455218
Phone: 6877 4891
Opening Hours : 7.30am – 8pm
Website: https://www.tiongbahrubakery.com/