Currently, shops selling predominantly beverages are not supposed to be open due to the Circuit Breaker / Lockdown in Singapore. This means that most bubble tea shops are closed, unless they are located in a hawker centre/coffee shop or located within an outlet that also happens to sell food. So I was most surprised to see a queue at the Signature KOI shop at Jewel Changi Airport after visiting Fairprice Finest.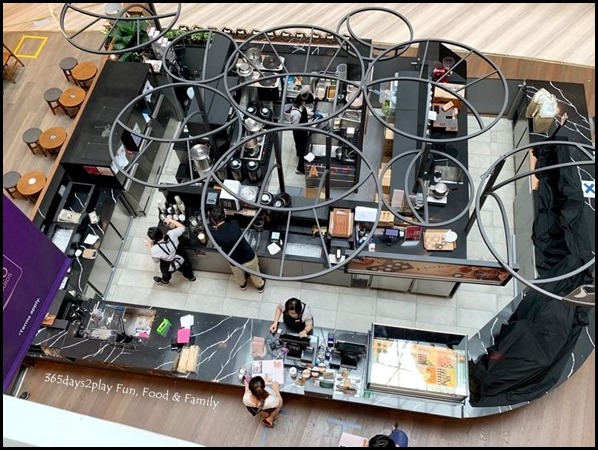 I went closer to check it out and it's true, you can buy KOI bubble tea for takeaway yourself, no need to rely on delivery! That because this is Signature KOI, it means that they also sell other food such as cakes, macarons and pastries. Lucky me too, because it seems they only restarted operations today! If you follow me on my Instagram, you would have seen my instastories about it!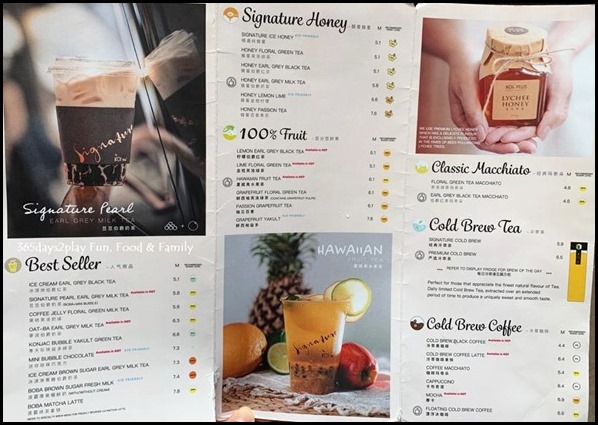 Signature KOI Bubble Tea Menu at Jewel Changi Airport
The bubble tea available for walk-in purchase at Signature KOI is different from the usual KOI outlets. They use premium ingredients and there are only 3 types of bubbles available for selection (mini pearls, normal pearls and konjac pearls). Refer to the above menu for what KOI bubble tea drinks are available.
Since this is a premium outlet, and the only Signature KOI in Singapore currently, the drinks are slightly more expensive than the normal outlets. But make sure you're not paying more for what you don't need. Peruse the menu carefully. For the price stated on the menu, some drinks come with the pearls (for "free"), whereas some don't, which means you will have to top up $1.50 if you want pearls added. For example the one that says "Signature Pearl Earl Grey Milk Tea" for $5.80 includes pearls. The "Honey Earl Grey Milk Tea" at $5.80 does NOT include pearls. Since I can easily add a dollop of honey into my drink at home, I would much rather go for the former drink for a total of $5.80 than to take the latter and have to pay $7.30. But take note, if you don't even want pearls to begin with, $1.50 will be knocked off the price!  This is only for drinks where the price of the drink already includes the pearls.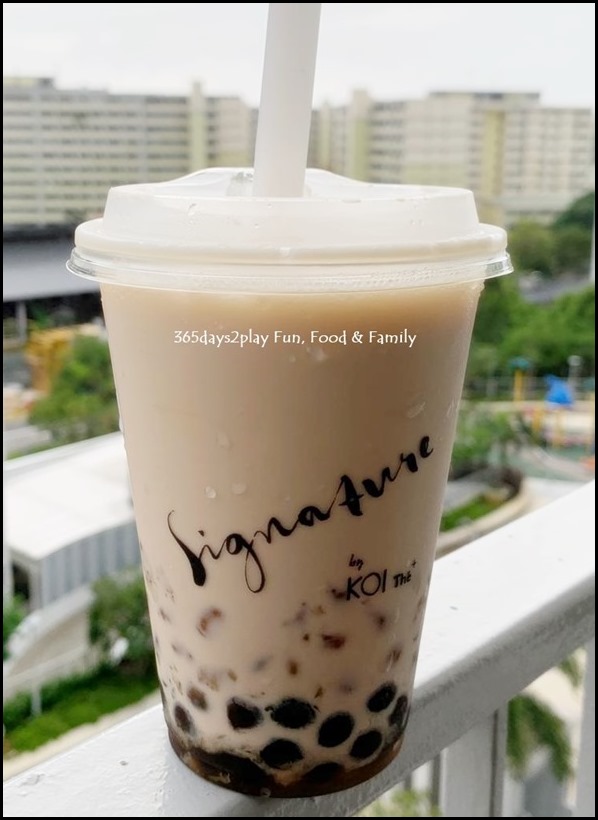 So, how does my Signature Pearl Earl Grey Milk Tea taste? Well it comes in a nicer cup with a detachable lid, great for if you want to add a bit more home-made tea to prolong the pleasure, something I always do because I always have leftover pearls / boba. The downside is the ice seems to melt quicker because it's not air-tight. I can definitely taste the Earl Grey taste in the tea, it's nice and a refreshing change. But it's not 100% necessary as in I would be quite happy with my slightly cheaper Bubble Milk Tea from the usual KOI outlets. Regarding the pearls, I usually go for konjac jelly. They don't have this at Signature KOI but they have Konjac pearl, which I find pretty delightful too. It is Konjac jelly but in pearl shape. I asked for a mix of Konjac pearls and normal pearls. They also have mini pearls but I find mini pearls are too small to give a nice chewy mouthfeel so I didn't take that.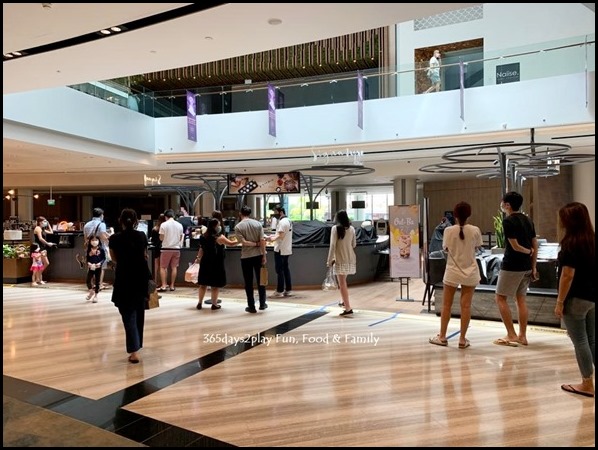 Be prepared for a long wait. Don't underestimate the number of bottles people are buying! Many working at the airport bought additional back for their colleagues. I was there around 12.45pm. Had to queue 5 minutes to order and wait 15 minutes for my order. To avoid crowd, perhaps its best to avoid Friday/Weekends and meal time crowd. Although I have to add that there are not many people in Jewel to begin with. I feel it's far safer here than at a neighbourhood mall with a much larger crowd. That's the reason why I shop at Fairprice Finest Jewel.
Remember to stay safe and keep your distance from other people should you decide to venture out for this bubble tea! If the queue is too long, just come back another day instead of adding to the crowd ok! Follow me on Instagram and Facebook for latest updates!
---
Add me on Facebook, Instagram and Twitter if you want to be kept up to date with the latest happenings in the food and lifestyle scene in Singapore!
---
Signature KOI
78 Airport Blvd, #01 – K206, Singapore 819666
(One floor below Shake Shack, 2 floors above FairPrice Finest)
12pm to 9pm daily (Circuit Breaker Hours)
https://www.instagram.com/signature_by_koi/