The much awaited Jurassic Mile has finally opened on 11 October 2020. If you didn't already know, this Jurassic Mile is part of the Changi Airport Connector, a walking/cycling path which connects to East Coast Park as well as Changi Beach Park via the Park Connector Network (PCN). If you have been following my Instagram (follow me please!), the Jurassic Mile was already ready back in July, and a couple of months ago I walked from T2 all the way to Jurassic Mile just after T4, only to find it was cordoned off. And now it is finally open!
What can you see here?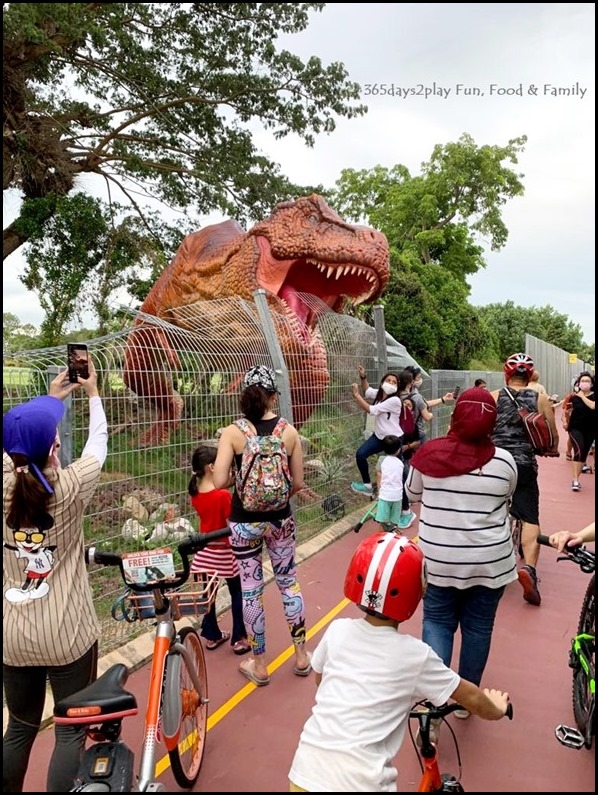 Jurassic Mile is Singapore's newest and largest permanent outdoor display of life-sized dinosaurs. More than 20 different pre-historic creatures from nine different species stretch over 1-kilometre cycling and jogging path. A number are behind fences but there are some that are also not fenced off, and some that tower dramatically over you. Familiar favourites include Tyrannosaurus Rex, Triceratops, Stegosaurus, Brachiosaurus and even T-Rex eggs with baby.
The best part is, Jurassic Mile is completely free! Genius, the people who thought of this!
What can you do here?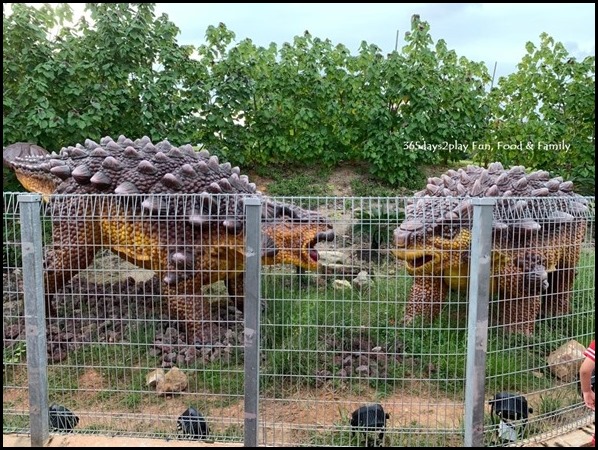 Obviously, a huge photo opportunity at every dinosaur display. However, there are also info boards located at each dinosaur display to let you learn more about the dinosaurs, eg where they came from, what they eat etc. Even if you're not a dinosaur loving person, you'd still find this a fun day out simply because there's nothing quite like this in Singapore!
There are also a couple of speakers to blast atmospheric music. I quite liked that!
How to get to Jurassic Mile?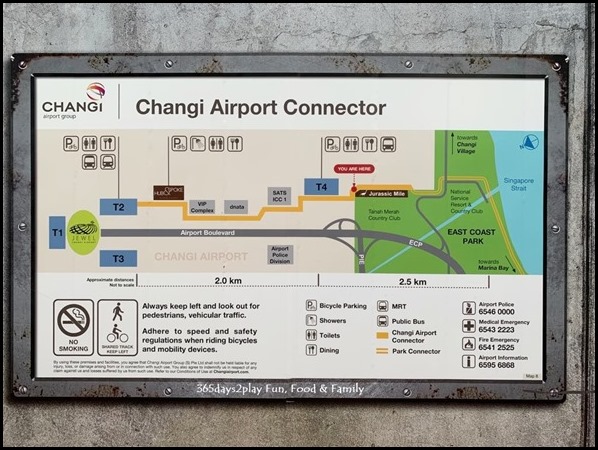 The map above shows that Jurassic Mile is just next to Terminal 4. Terminal 2 is about a 10 — 15 minute walk away.
Park at Changi Airport T4 and walk there : This is the most convenient way as Jurassic Mile is just 200 metres away from the carpark. You can walk the entire Jurassic Mile, and then U-turn when you reach the end. It's about 1km each way, so it'll probably take you about 1 hr or so to complete the Jurassic Mile, including photo stops?
Cycle from T2: You can rent bikes from Go Cycling located at Hub & Spoke Cafe at the far end of T2. Park at Hub & Spoke Carpark (formerly known as South Carpark) or simply take public transport to Changi Airport and walk all the way to the end of T2 and exit it. The bikes can be returned at any other Go Cycling outlet, eg at Changi Beach Park or at East Coast Park C4 (where the old burger king was). It's $8 per hour to rent (pay 1 hr free 1 hr on weekdays, pay 2 hr free 1 hr on weekends).
Cycle from East Coast Park : If you have your own bikes, you may want to commence from East Coast Park. Then you can ride all the way to Changi Airport, enjoy the Jurassic Mile and finally end off at the Hub & Spoke Cafe for a nice meal or a drink. The pricing at the cafe is quite affordable. You can even use the shower facilities there (paid), bike pump and other bike repair facilities. Oh but then you still have to find your way back to where you parked your car… perhaps walking is best but that would take several hours.
Book your slot!
If you are visiting on Fridays, Saturdays and Sundays, you need to book your time slot due to safe distancing issues. Booking is free. Click here to book.
Pro-Tip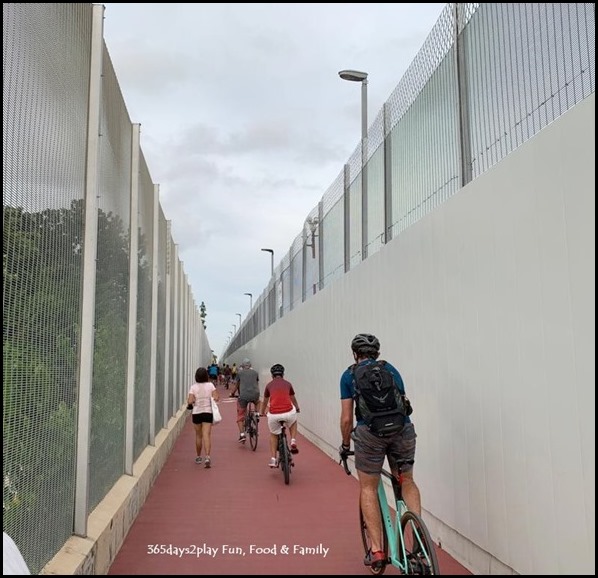 Although the Jurassic Mile is part of the Park Connector cycling network, it may actually be more convenient to do the Jurassic Mile by foot rather than cycling? There are 12 photo stops so it may be a bit tedious to mount and dismount your bike 12 times in that short 1km distance.  Not to mention that the Jurassic Mile is really narrow and crowded? It's hard to even cycle at a normal speed to begin with as you have to keep weaving in and out of human bodies.
Be warned that it is EXTREMELY CROWDED! I was there yesterday evening (12 October 2020, Monday 5pm) and boy was it jammed packed as if it's a weekend! It doesn't help that the Jurassic Mile is very narrow. Basically the width of any PCN path that you may come across, but with 5 metre high walls flanking both sides, ie there are no grass verges for you to jump onto to try and avoid any zooming bike.
Also note, once you are inside Jurassic Mile, you can only exit at either end. It's not possible to jump out half way because it is fenced up on either side. One side being the airport itself, the other side being the Tanah Merah Golf Course. Which does make me wonder, what happens in the event of an emergency…
More photos (all taken around 5-6pm on 12 October 2020 Monday)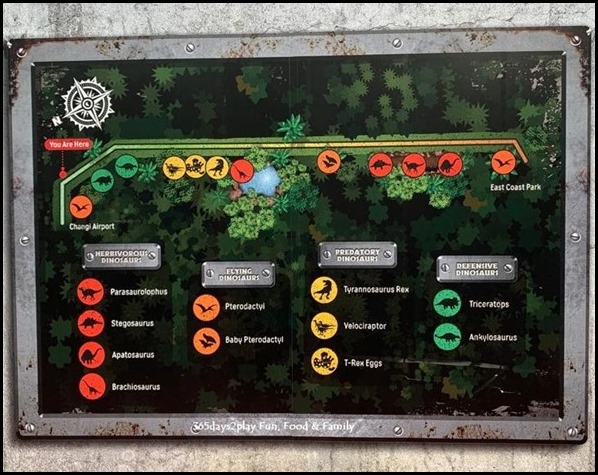 These are all the dinosaurs that you can see. Once you pass the pond/lake, you know you are roughly halfway done.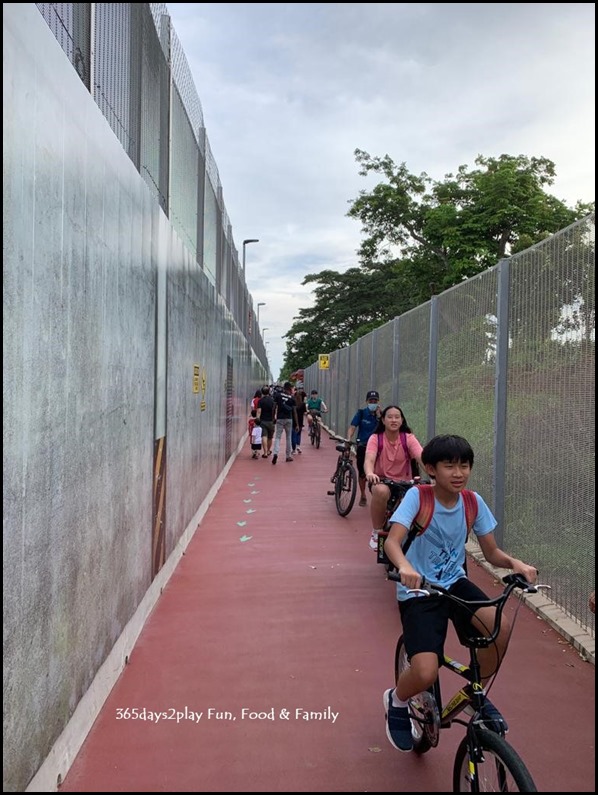 What's up with all that tall fencing, even on the non-airport side?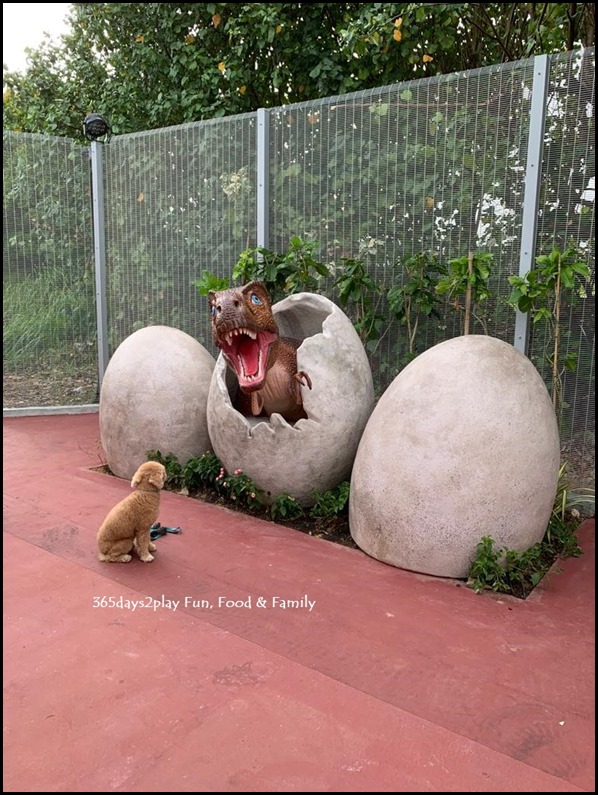 Add me on Facebook, Instagram and Twitter if you want to be kept up to date with the latest happenings in the food and lifestyle scene in Singapore!