Majestic Bay Seafood Restaurant is having a super 1-for-1 dim sum all-you-can-eat deal where 2 diners can eat for the price of $38++. That's $38++/2 per pax! The dishes in the menu include dim sum dishes, small plates, rice and noodle dishes as well as 1-time-order large platters. There are no further hidden charges unless you wish to order water ($3 per pot per table refillable) or tea ($3.50 per person refillable). I was a little apprehensive that they might ask us to pay for compulsory wet wipes or peanut/cold dish appetisers as Chinese restaurants often do, but they didn't. Yay!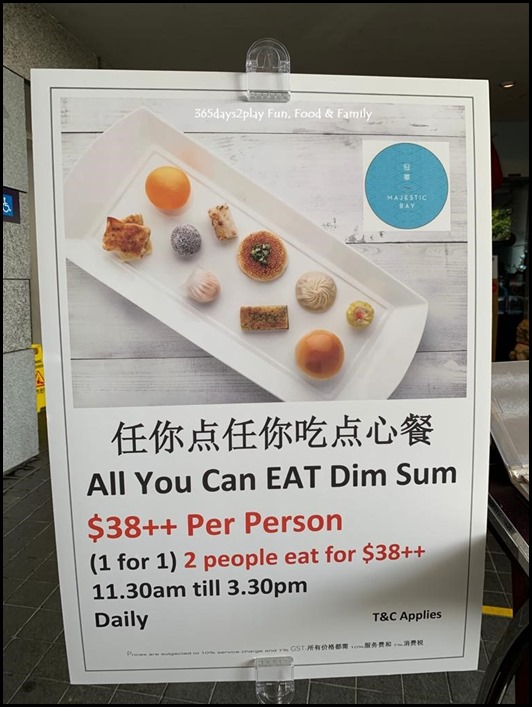 It was too good a deal to miss out so I made a booking immediately when I saw the ad. I've been to Majestic Bay Seafood Restaurant several times over the years and enjoyed the food there. So I knew that this dim sum had to have a minimum standard. Went there today and it was the 1st time since the start of the circuit breaker that I have dined together with my parents!
If there's one catch, it is that dim sum is available only during 11.30am – 3.30pm, in 3 seatings. We took the 1st seating from 11.30am to 1pm. That's just 1.5 hours to enjoy an all-you-can-eat meal which may feel a little short. Also, as is a common practice, wastage will be charged if they deem you have gone overboard. So you don't want to over order at the beginning, and be stressed that you can't finish the food. Yet you need to order in time to leave room for dessert as well. Not to mention your dining companions may not eat the dishes that you want to order. It takes a bit of strategising!
Scroll down to see pictures of what we ordered as well as the menu.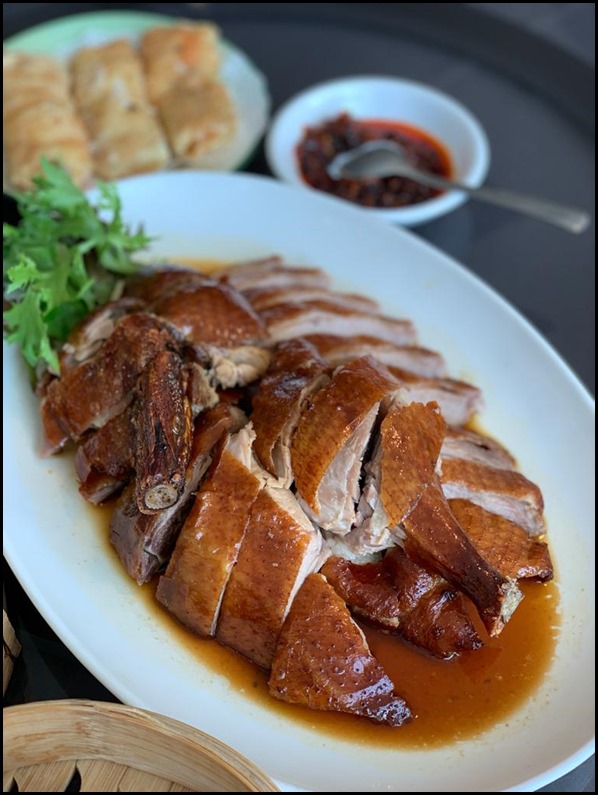 Cantonese Roast Duck
The 1-time order only dishes are very generous. Look at this humongous platter of duck for just the 5 of us. Actually we didn't want so much because we wanted stomach space for other dishes. But none of the dishes at Majestic Bay are customisable in terms of size. We did ask several times. Good luck to you if you are just 2 pax!
Duck wise, was not bad. Skin could have been crispier and more flavoursome, but at least it was tender and not dry.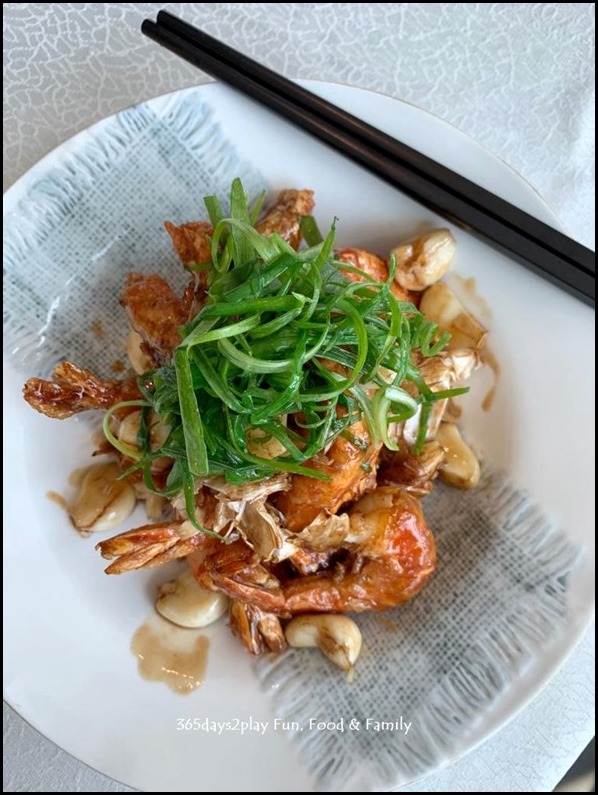 Sea prawn with smashed garlic
Quite a pleasant dish and different from the usual style of cooking. The prawns have a sticky sweet sauce on them, which is nice at first bite but may become cloying if you eat more than 1 prawn.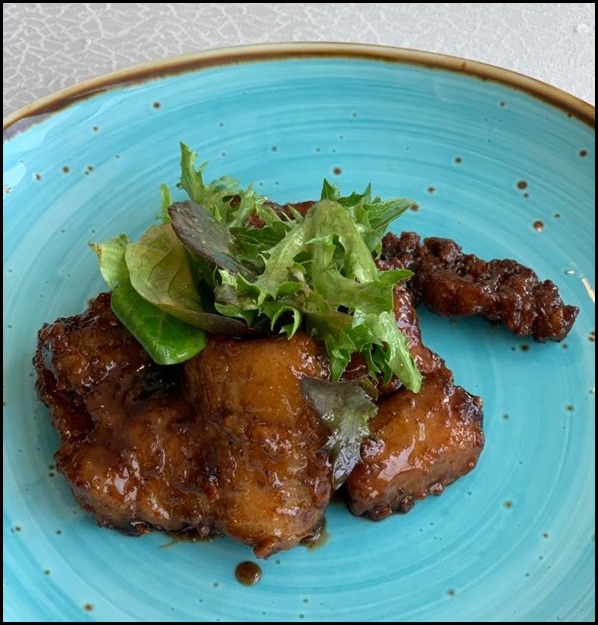 Jiangsu style baby pork ribs
Again another dish that has a sweet covering. These are both meaty and fatty at the same time, and would please the carnivores. Actually this dish and the prawns above would be great accompanied with rice, which we had not thought to order at that time.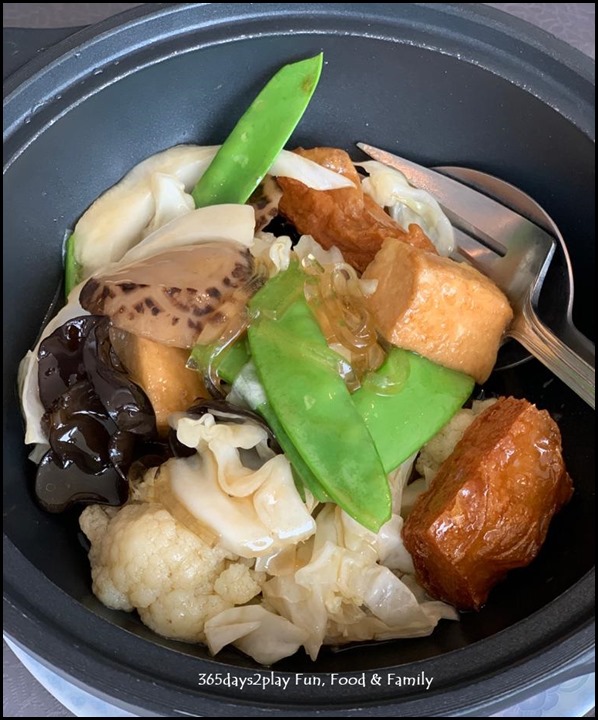 Stewed tofu in claypot
We ordered this at the very last minute, even after we had ordered dessert because we felt we had enough space for 1 more dish. Thankfully we did because this dish was great, in part because it was so well balanced. The veggies were cooked just right, juicy while retaining a lovely crunch. Tofu was tasty too. And the addition of the fat glass noodles added a nice textural contrast.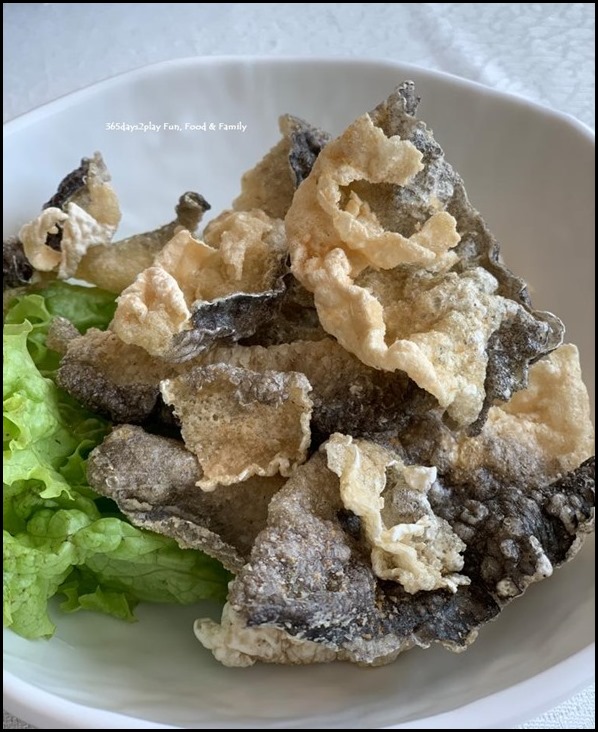 Crispy Fish Skin
Repeated our orders for this because it was so moreish. Plain ole crispy fish skin without other adornments but still good on its own and not greasy nor overly salty. Edward polished off an entire bowl on his own.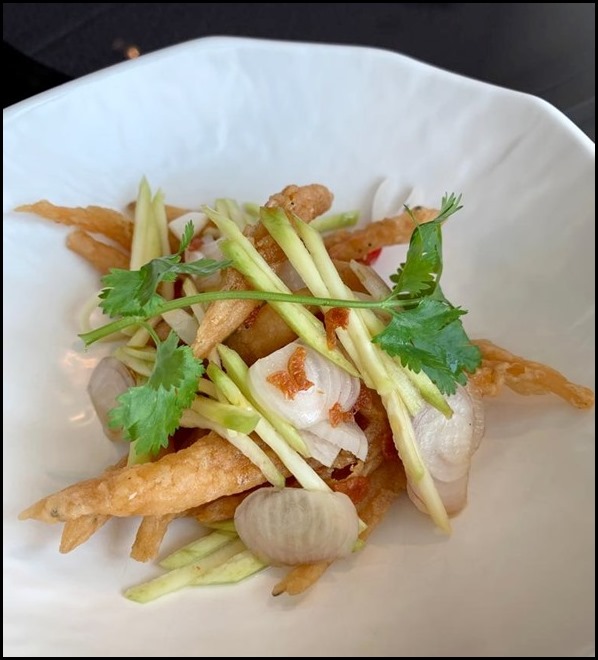 White bait, Thai style
Also very nice to chomp on, especially while waiting for other dishes to arrive The sour condiments whets the appetite.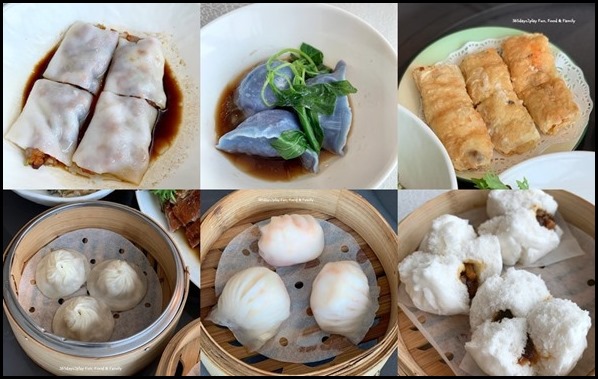 Clockwise from top left: Honey Pork Cheong Fun | Steamed Vegan Dumpling | Crispy prawn bean curd roll | Shanghai Pork Dumpling (Xiao Long Bao) | Fresh Prawn Dumpling (Har Gow) | Steamed Honey Pork Buns (Char Siew Bao)
Too many pictures so I shall just compile the dim sum ones here. The all you can eat menu features all the dim sum familiar favourites like Har Gow, Siew Mai, Rice Rolls, Fu Pi Juan and Char Siew Bao. Nothing too adventurous on the menu except perhaps the Chiili Crabmeat buns? All are not bad, definitely restaurant standard. In particular, we liked the har gow, char siew bao and fu pi juan. Har gow was juicy and voluptuous (although the skin is slightly thick), char siew bao was oh so fluffy and full of sweet savoury char siew. Fu Pi Juan (crispy bean curd roll) was crispy and not greasy. We repeated our har gow order!
The one thing you must avoid is the blue coloured steamed vegan dumpling, which we had the misfortune to order again mistakenly! The insides comprise of a mix of shredded vegetables which tasted very pasty. The vinegary taste to it was the nail in the coffin.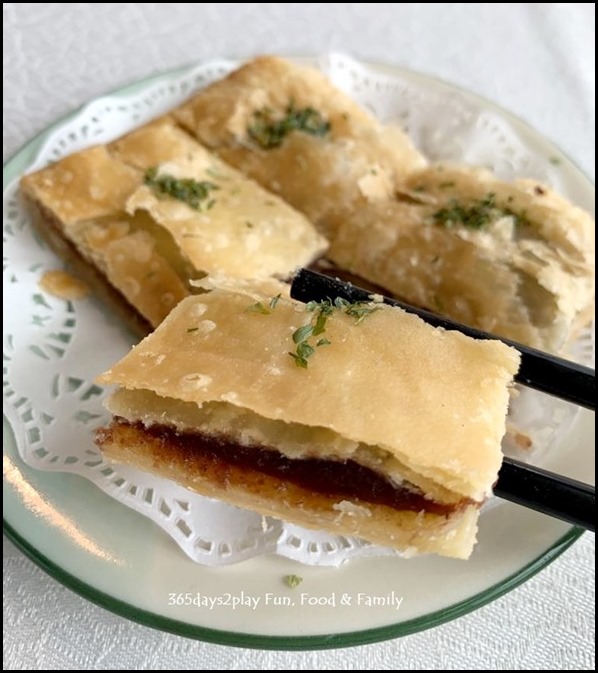 Red Bean Pancake
I love a good red bean pancake. These are not bad. The filling is not too sweet while the pastry is slightly crispy and flaky.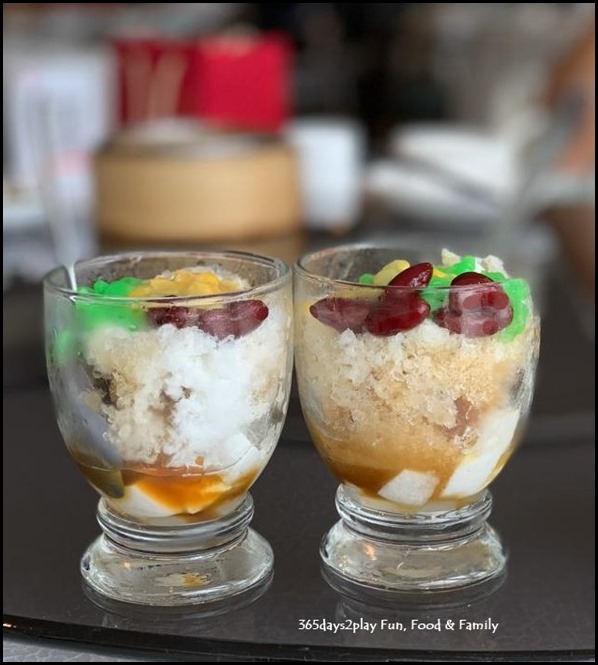 Chendol
The chendol is one of the restaurant's signature dessert. As I said so in my earlier post, it is a modern take on chendol due to the ingredients used. Unfortunately this time round, the shaven ice was really badly done. It was rock solid in some parts, possibly because the ice was shaven a while ago and fused together? If you can get past that, it is still a refreshing dessert after a heavy meal thanks to the gula melaka. We also tried the Lychee sorbet which was also quite refreshing. Comprising sorbet, jelly and a few fruits.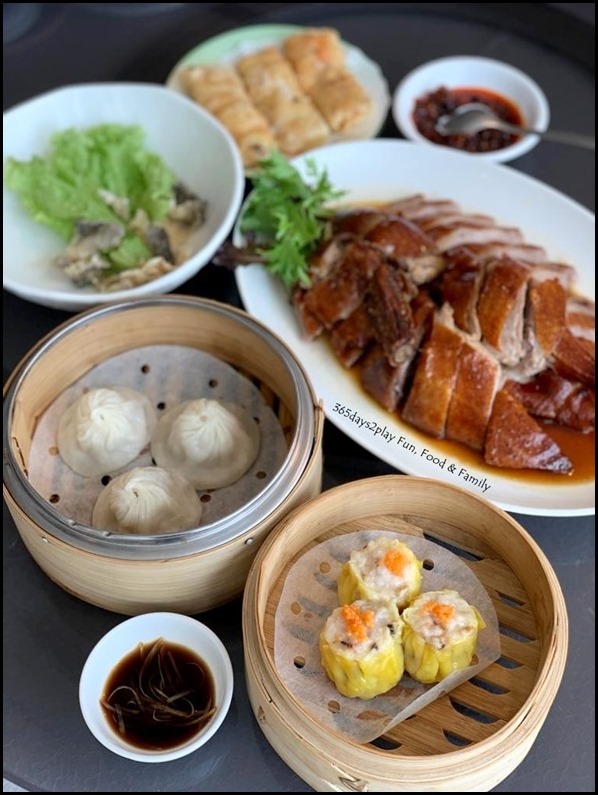 Another shot of the dim sum that we tried.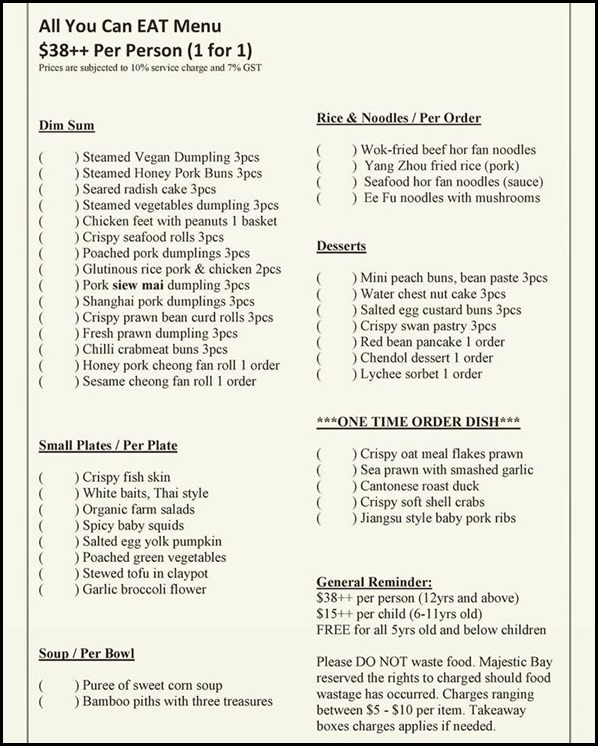 Majestic Bay Seafood Restaurant all you can eat dim sum menu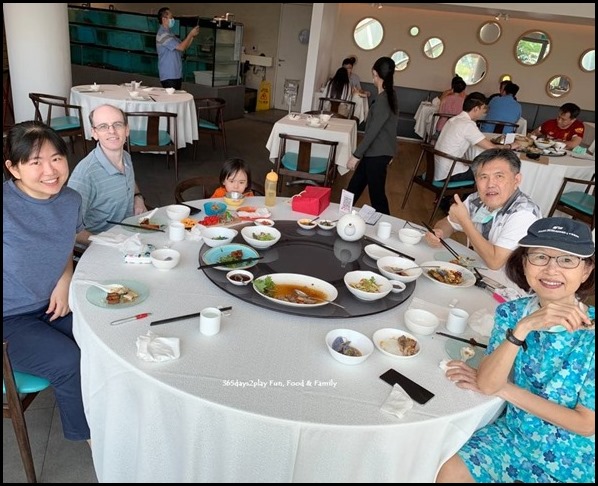 Happy diners. As you can see all tables are spaced more than 1 metre apart to ensure safe distancing. Also you have to use Safe Entry before entering, and your temperature will be checked.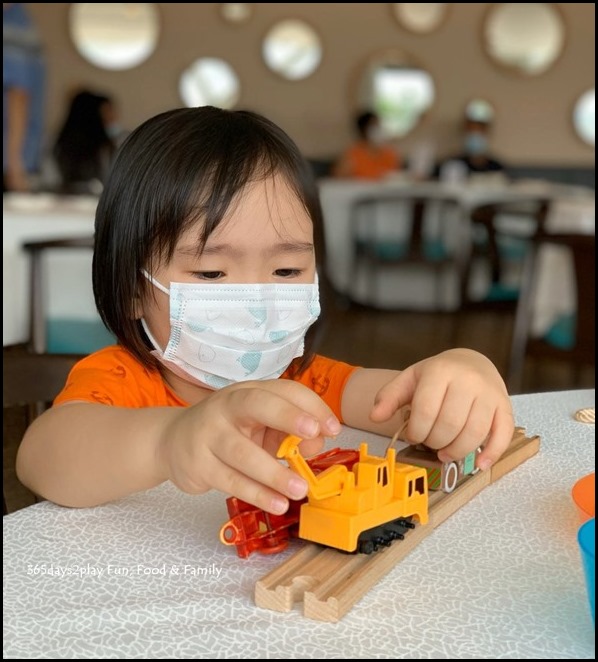 Here's a close up picture of Edward. We had to bring along half the house worth of toys or else we would have no peace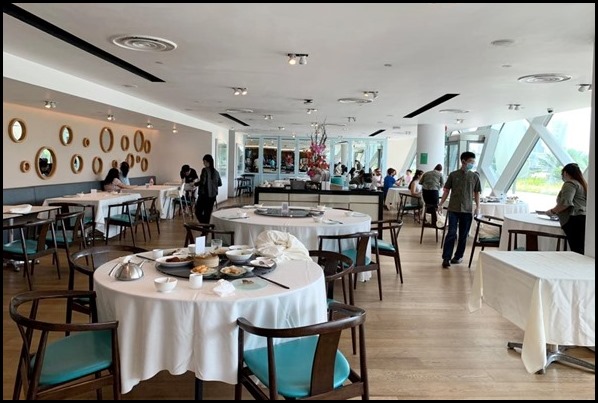 All in all, I have to conclude that this all you can eat dim sum promotion is really a steal. So value for money. Where can you find a dim sum buffet in a restaurant setting at $18++/pax?? And located in our renown Gardens by the Bay to boot. I know a couple of friends have already made bookings after seeing me rave about it on my Instagram. As I write this, I'm already contemplating returning for a second visit! Perhaps without the kiddo in tow so that I can really enjoy the 1.5 hrs of dim sum uninterrupted!
We are in Phase Two post Circuit Breaker at the time of publication of this article. This means a maximum of 5 diners per table for safe distancing. None of the paid areas at Gardens by the Bay are open yet, however you are free to roam the rest of the gardens. I did see a number of joggers go by, otherwise the whole gardens is pretty quiet. A sad sign of the times, thanks to COVID-19. 2-hr free parking is claimable for Friends of the Gardens.
---
Add me on Facebook, Instagram and Twitter if you want to be kept up to date with the latest happenings in the food and lifestyle scene in Singapore!
Read about my previous visit to Majestic Bay Seafood Restaurant
---
Majestic Bay Seafood Restaurant
18 Marina Gardens Dr, Singapore 018953
Tel: 6604 6604
Dim Sum hours : 11.30am – 3.30pm, in 3 seatings due to safe-distancing requirements
Facebook : http://www.facebook.com/MajesticBay 
Website : https://majesticbay.sg/