Awfully Chocolate is a household name when it comes to chocolate cakes. They started out as a hole in the wall shop in Katong Mall, retailing just 3 flavours of chocolate cakes. Sales boomed like mad, probably because the chocolate cakes on offer at Awfully Chocolate were more cake than cream, unlike its counterparts in the market at that time.
Fast forward to today and the Awfully Chocolate Group has expanded into an awfully lot of F&B areas, ranging from small cafes like the one I'm going to review in this post, to full brunch and dinner places like Nine Thirty (previously known as Mooshi Bakes) to even an old-school coffeeshop styled coffee shop called Sinpopo Brand. I really didn't like Sinpopo Brand when I tried it a couple of months back, but when I walked past Sinpopo yesterday on a Saturday night, it was packed to the gills. I've been tracking the growth of Awfully Chocolate over the years because many of their concepts are situated at Joo Chiat and I live near there. It's no wonder Lynn Lee, the owner of Awfully Chocolate is dubbed the queen of Joo Chiat!
Anyway, I was kindly invited by Awfully Chocolate to try out their new Afternoon Tea set that they had just rolled out. The tasting was to be held at the Awfully Chocolate Greenwich V branch in Seletar. A cross country travel for me to be frank, but I am familiar with Greenwich V Mall after having participated in an amazing race kind of contest there last year. It's really a quiet and relaxed mall far away from the hustle and bustle of everyday life, especially since it's mostly landed property nearby. My colleague who lives in Sengkang likes to visit Greenwich V every other weekend or so just to chill. I must admit the bus ride to Greenwich V, although tiring, was interesting because it let me experience a part of Singapore that looks a little set back in time.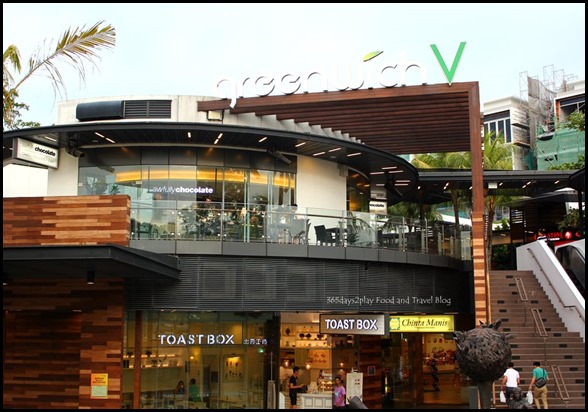 Welcome to Greenwich V, a chill out mall in Seletar! Awfully Chocolate is on the upper level of the mall.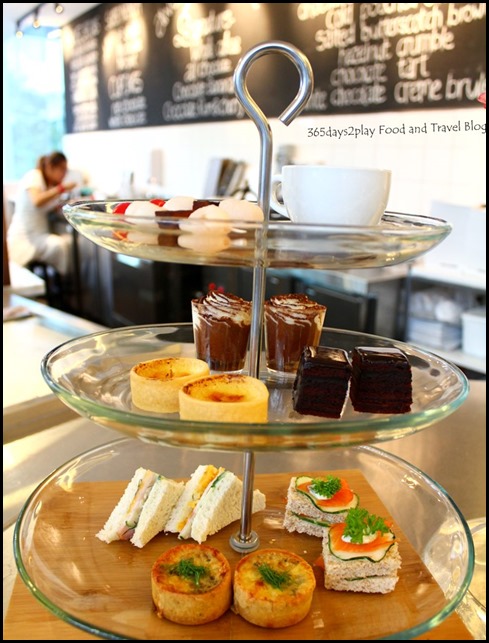 This is the tea set, which includes a choice of house coffee or artisanal teas, as well as a selection of savoury and sweet bites. Also includes scones pictured below. $20 for 1 pax or $36 for 2 pax. This set shown here is the serving for 2 pax.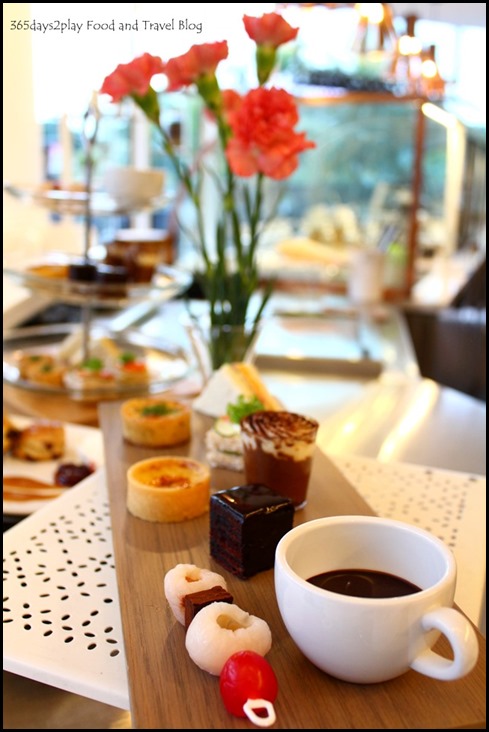 The skewer is of frozen lychees and a small square of the famous Awfully Chocolate chocolate truffle. You are supposed to dip it into the cup of chocolate sauce. I didn't though because it was serious chocolate overload for me by the time I reached the frozen lychee skewer. This set pictured here is the serving for 1 pax.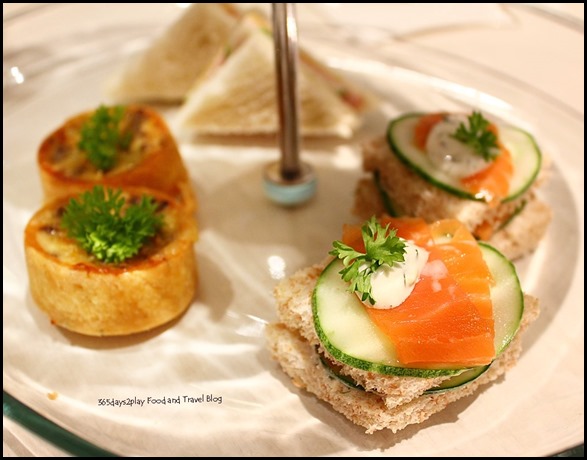 I am definitely one to start with the savouries first.

On the right are finger sandwiches of salmon, cucumber and cream cheese. On the left are some cheesy meat pies and towards the back are ham and cheese sandwiches. I'm feeling hungry as I write this!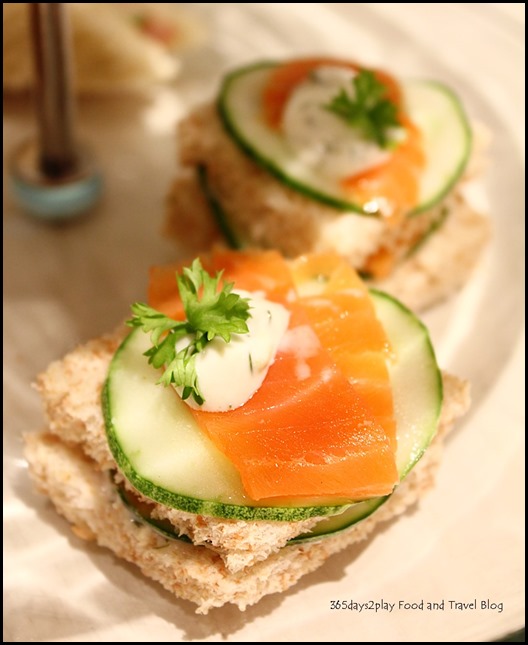 Closer look at the Salmon cream cheese cucumber sandwich.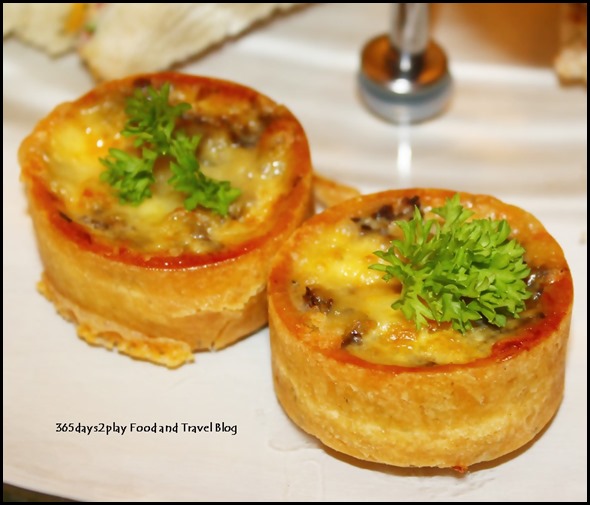 Closer look at the cheesy meat pies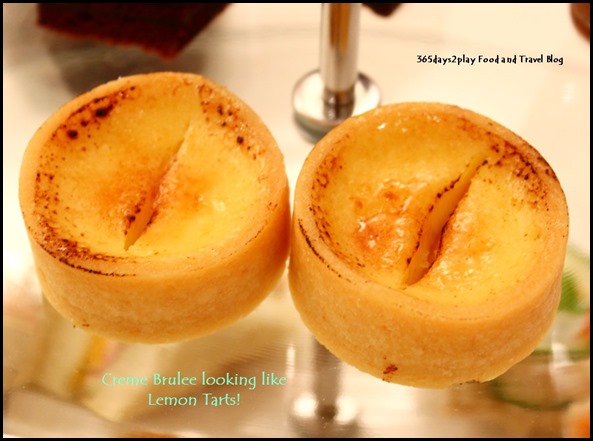 I thought these were lemon tarts at first, and dried out due to the split. Interestingly, they are creme brulee tarts. Quite nice actually, not as eggy as the traditional ones and having a somewhat firmer yet still smooth texture. Most likely it's thanks to the white chocolate that went into the recipe although I don't think I detected it in terms of taste.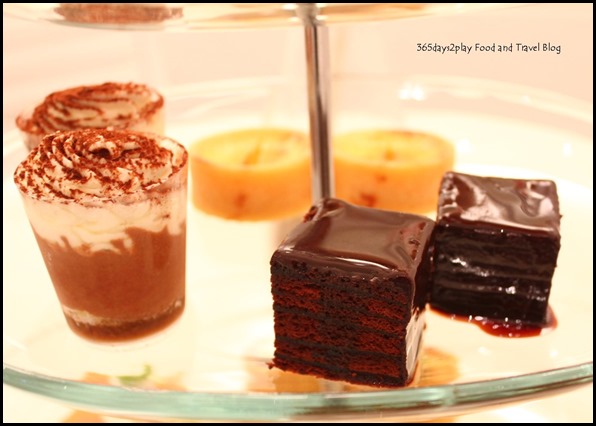 And of course, we must not miss out the super stacked chocolate cake! It is indeed very very chocolaty. Actually the cake layer doesn't have much of a taste, al the flavour comes from the chocolate ganache. I know because I tried eating it layer by layer to savour it longer.

  It sure is an inviting sight to chocoholics though.
The desserts in the shot glasses are tiramisus. We didn't know that at first so we merely ate the top bits of cream. You have to stick your spoon right down to the bottom layer to dig out the alcohol soaked sponge. I personally prefer less cream and more alcohol soaked sponge, so this was kind of wasted on me.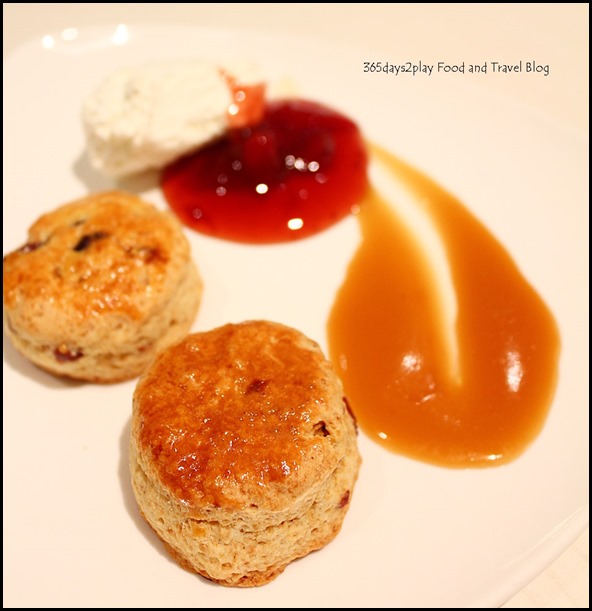 And before I forget to mention, scones are also provided as part of the set. Whipped cream, strawberry jam and caramel sauce are provided to go along with your scones. I like to think I'm somewhat of a scone expert, having eaten scones at most of the major hotels in Singapore as well as a number of cafes. A scone is usually rather plain, so the jams and creams are what makes the eating enjoyable. Unfortunately, the cream provide didn't really taste that great, it somehow just didn't have the milky taste that I am more used to. The strawberry jam was thankfully quite nice, with a few lumps of berries in it too, but the portion for 2 scones was too little.  As for the scones themselves, erm, these were the hardest scones I have ever eaten in my life. I wonder if I should conclude by saying that they were crispy at some parts?
Check out my post on where to find the best scones in Singapore. The post was done a while back, but it still gives you a good idea.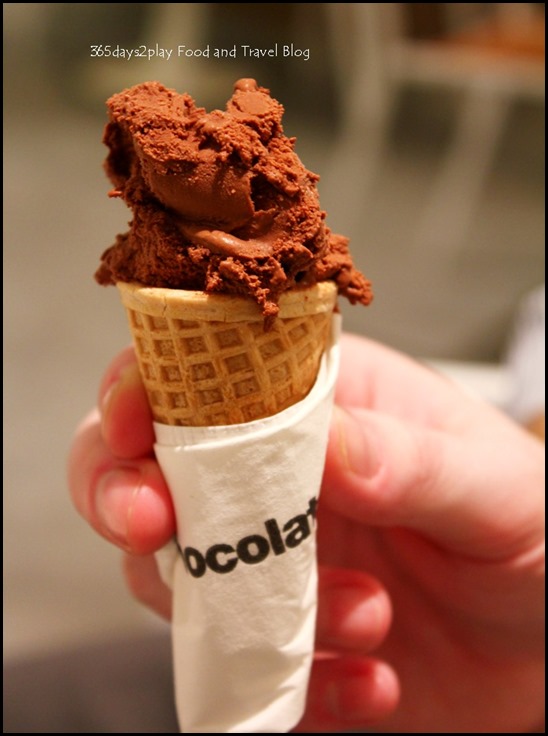 The Hei Chocolate ice cream that is sold in every Awfully Chocolate store. My first time trying it out and I must say it is quite rich and chocolaty. I liked it very much, although the Partner said there was a powdery feel to it. I wouldn't mind eating it again actually.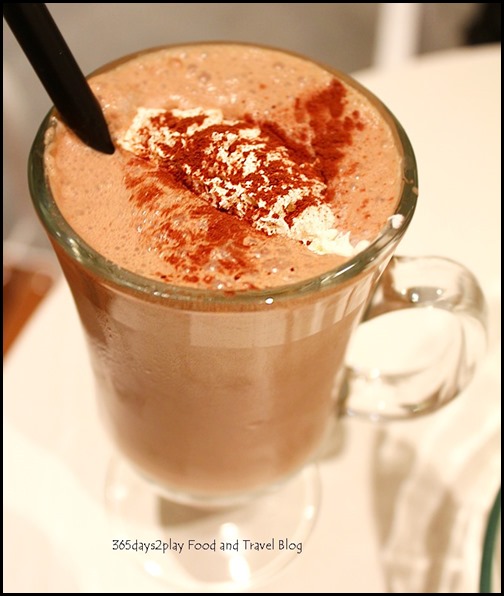 Iced chocolate. This also doesn't come with the set. It is extremely chocolaty and very filling too! I think thanks to this drink and the items in the afternoon tea set, I did not eat dinner that day!!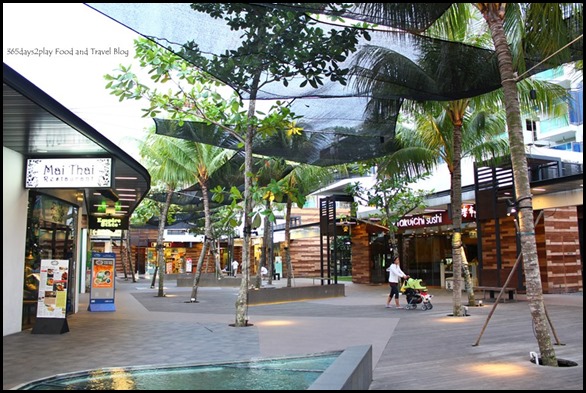 Greenwich V shops on the 2nd level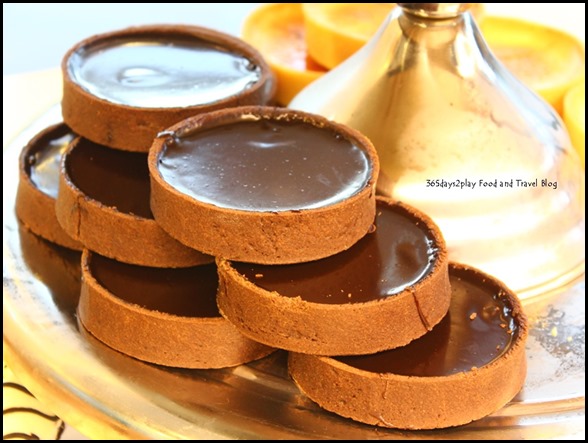 Chocolate Tarts $6.80
Chocolate Truffles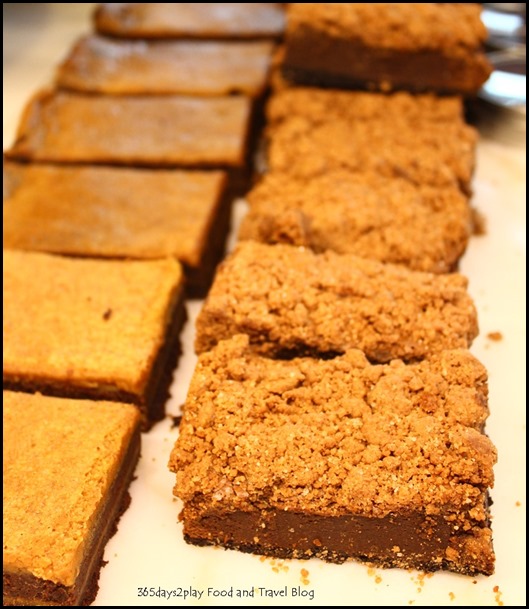 I tried the salted caramel brownies on a previous occasion and they were superb. For some reason, salt sounds weird in desserts but it just works so well! Each mouthful was of decadent pleasure.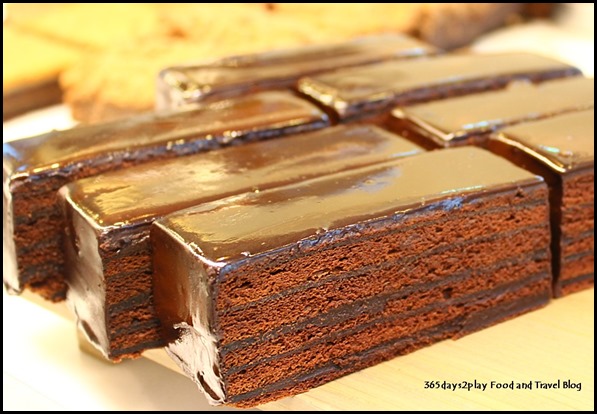 Ending off my post with a picture of the super stacked chocolate cake.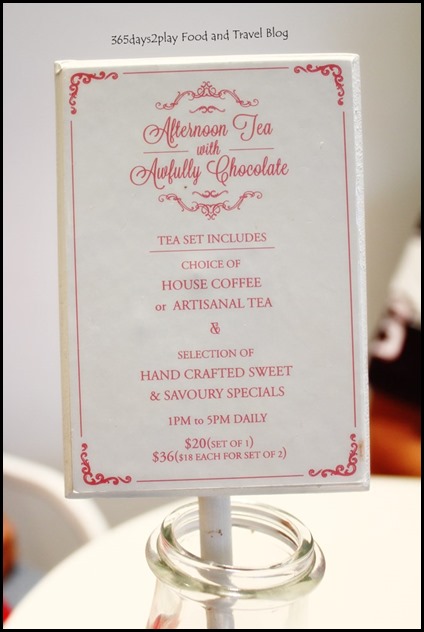 The Awfully Chocolate Afternoon Tea is only available at Seletar Greenwich V and not at any other outlet, so don't go to the wrong one!
For other suggestions on where to have Afternoon Tea in Singapore, check out this link. https://365days2play.com/tag/afternoon-tea
~~~~~~~~~
Add me on Facebook, Instagram and Twitter if you want to be kept up to date with the latest happenings in the food and lifestyle scene in Singapore!
~~~~~~~~~
Awfully Chocolate Greenwich V
1 Seletar Road #02-02 Greenwich V
Singapore 807011
T: (+65) 6556 0656
F: (+65) 6556 0906
Open 10am – 10pm daily
For other locations of Awfully Chocolate Stores, visit their Website