Anyone in Singapore who loves afternoon tea would have heard of the iconic Rose Veranda at The Shangri-La. It has been around for the longest time and is one of the few places with a dedicated afternoon tea space, on an upper floor no less, as opposed to afternoon tea being served at the lobby lounge where a lot of other hotel guests are milling about.
A hybrid afternoon tea
Afternoon tea at the Rose Veranda used to be buffet style, however due to the pandemic, it is now served in a hybrid style. The appetisers and desserts are small bites / canapes, but there is also a small mains comprising of a fish or meat dish (usually), of which you can make your choice out of 3 selections. This is not bad value, especially for those who prefer to have more savoury items than sweet. I tend to find that there are too many sweet items as compared to savoury items when it comes to afternoon tea, so this additional small mains is right up my alley. I won't say no to a steak even if it's afternoon tea time. For the record, I wouldn't say no to a steak for breakfast either!
More value-for-money than many other afternoon tea places
The afternoon tea at Shangri La Rose Veranda costs $98++ for 2 pax, ie $49++/pax. One of the cheaper afternoon teas in Singapore, surprisingly! If you come in odd numbers, the additional person will be charged $54++. Not exactly sure why they have to charge in pairs though, as they are more than happy to accept odd numbered guests, but luckily it is just $4 more and easily split amongst friends. A friend of mine visited back in September 2021, and apparently it cost only $79++/2pax at that time! When I visited during the Christmas period in December, it was $98++/2pax but they threw in a glass of Prosecco each. Now it is $98++/2pax and no free bubbly, alas! Check out other Afternoon Tea promotions in Singapore.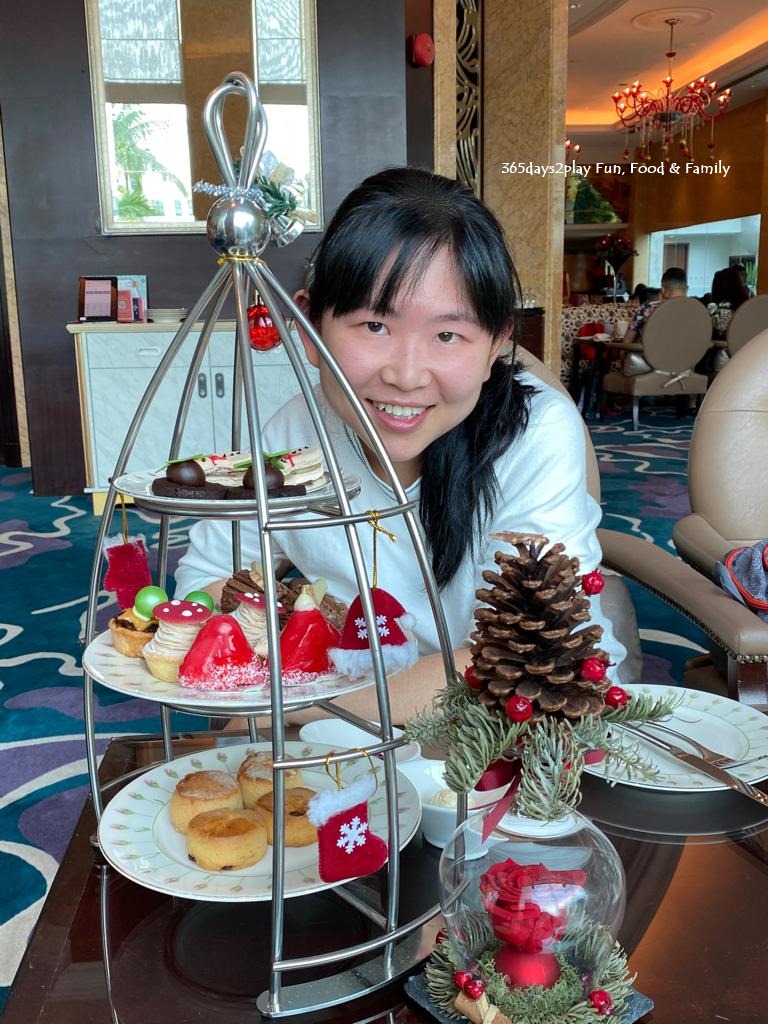 Having a super festive and merry Christmas at Shangri-La….
Add me on Instagram to see more of my foodie escapades!
The Review
food wise, I must say it is pretty good. The starters and desserts were nice and exquisite enough that you don't feel you could have bought them from the neighbourhood bakery (some hotels do feed you what looks like that, unfortunately). The mains, a really welcomed addition. The steak was delicious and tender, despite being medium instead of medium rare. Service was excellent as the staff were insistent on offering a fresh piece of steak upon hearing that there was a mistake. At one point even the chef came out to inquire on our experience.
Ambience at the Rose Veranda was perfect too. Floor to ceiling glass windows, which made for a bright and breezy feel, plus we had a table overlooking the pool area. Tables were very far apart from each other, so it was comfortable and peaceful. It wasn't full on the day that we went, but given the layout and number of tables, I would presume it would still be comfortably pleasant and not too noisy on a weekend.
Oh I must add that if you go on a weekday, you can luxuriate over the afternoon nibbles from 1pm to 5pm. That's 4 whole hours, as compared to the usual 2 hours given on a weekend for most hotels. Two hours is really too short for afternoon tea when the idea is to take things slow. We were still chatting at 5pm and had to reluctantly leave!
Scroll down for more pictures!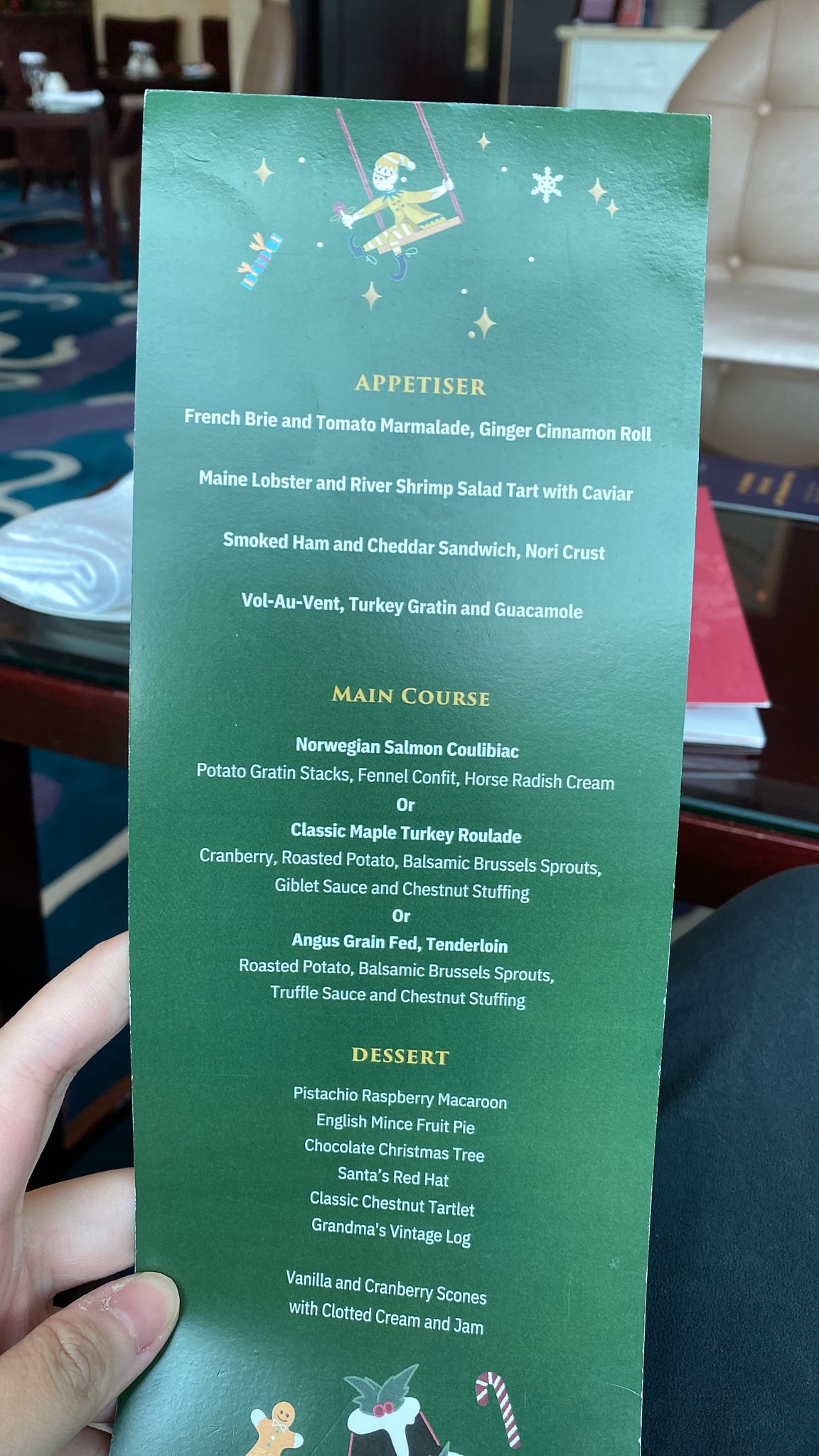 Rose Veranda Afternoon Tea Menu
The starters – French Brie and Tomato Marmalade | Maine Lobster and River Shrimp Salad Tart with Caviar | Smoked Ham and Cheddar Sandwich | Vol-Au-Vent with Turkey Gratin and Guacamole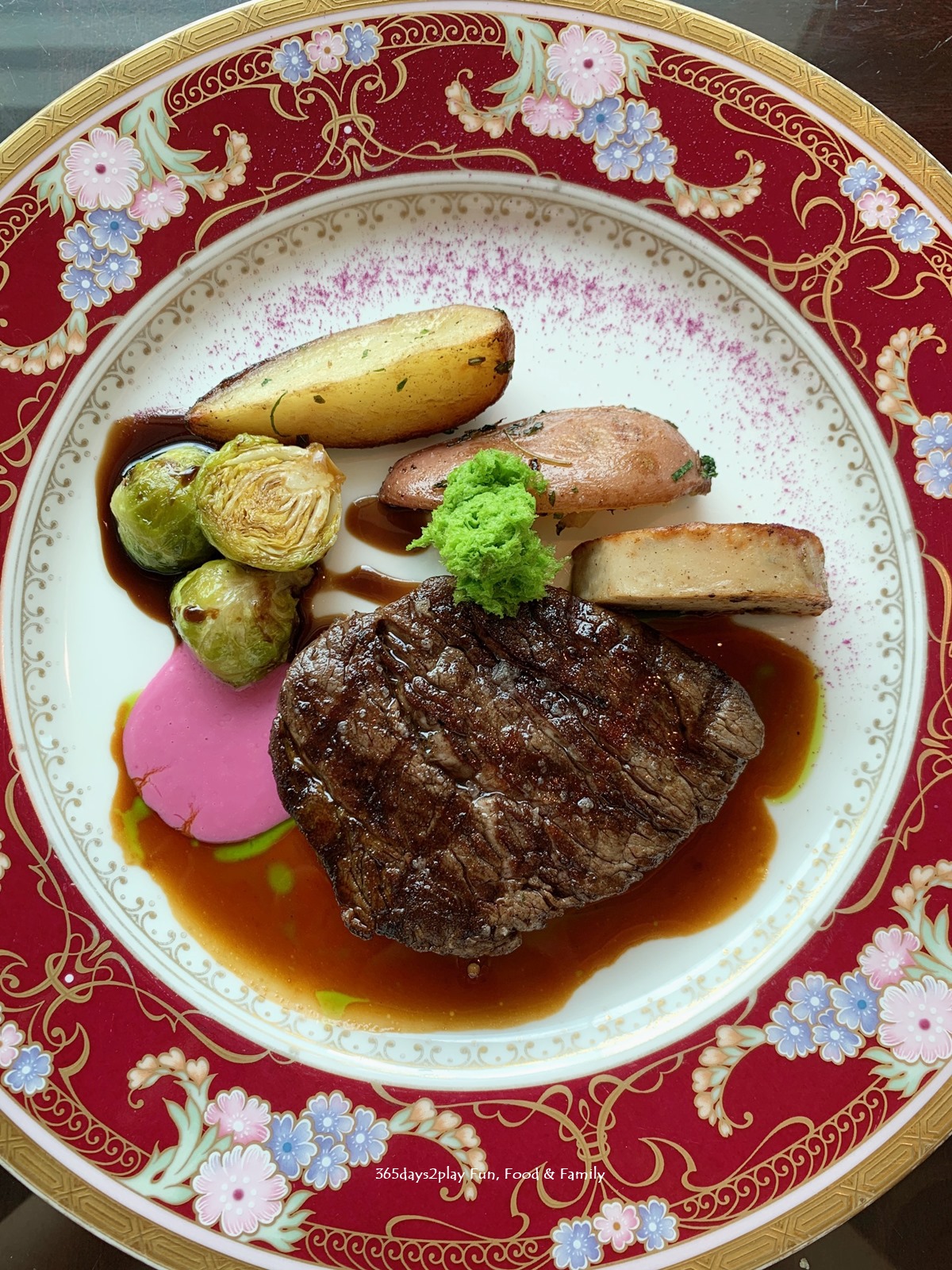 The main course – I chose the Angus Grain Fed Tenderloin, with roasted potato, balsamic brussels sprouts, truffle sauce and chestnut stuffing. The choices that day included a Norwegian Salmon Coulibiac or a Classic Maple Turkey Roulade.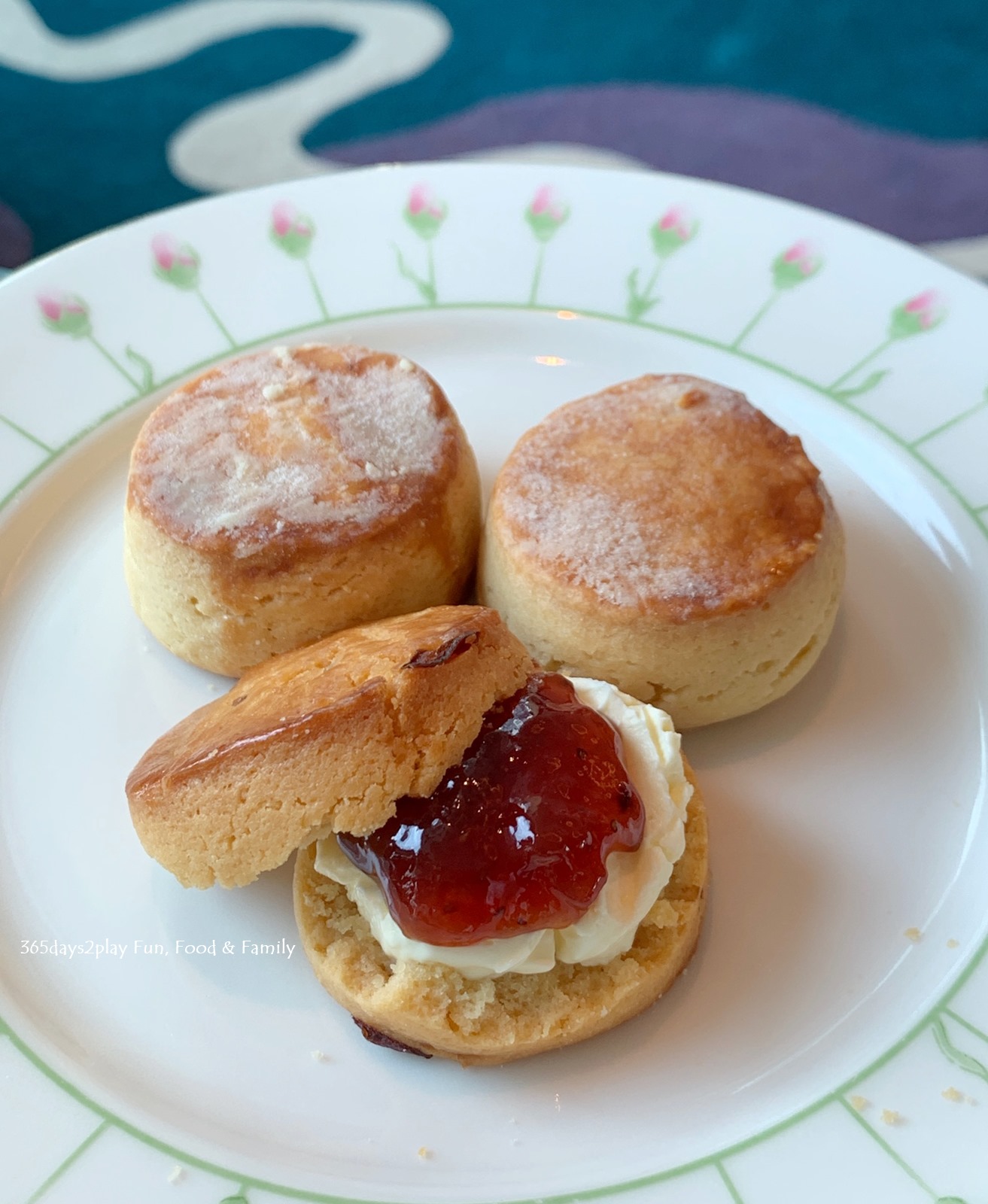 Scones with clotted cream and jam. Clotted cream is a must have for a proper English cream tea.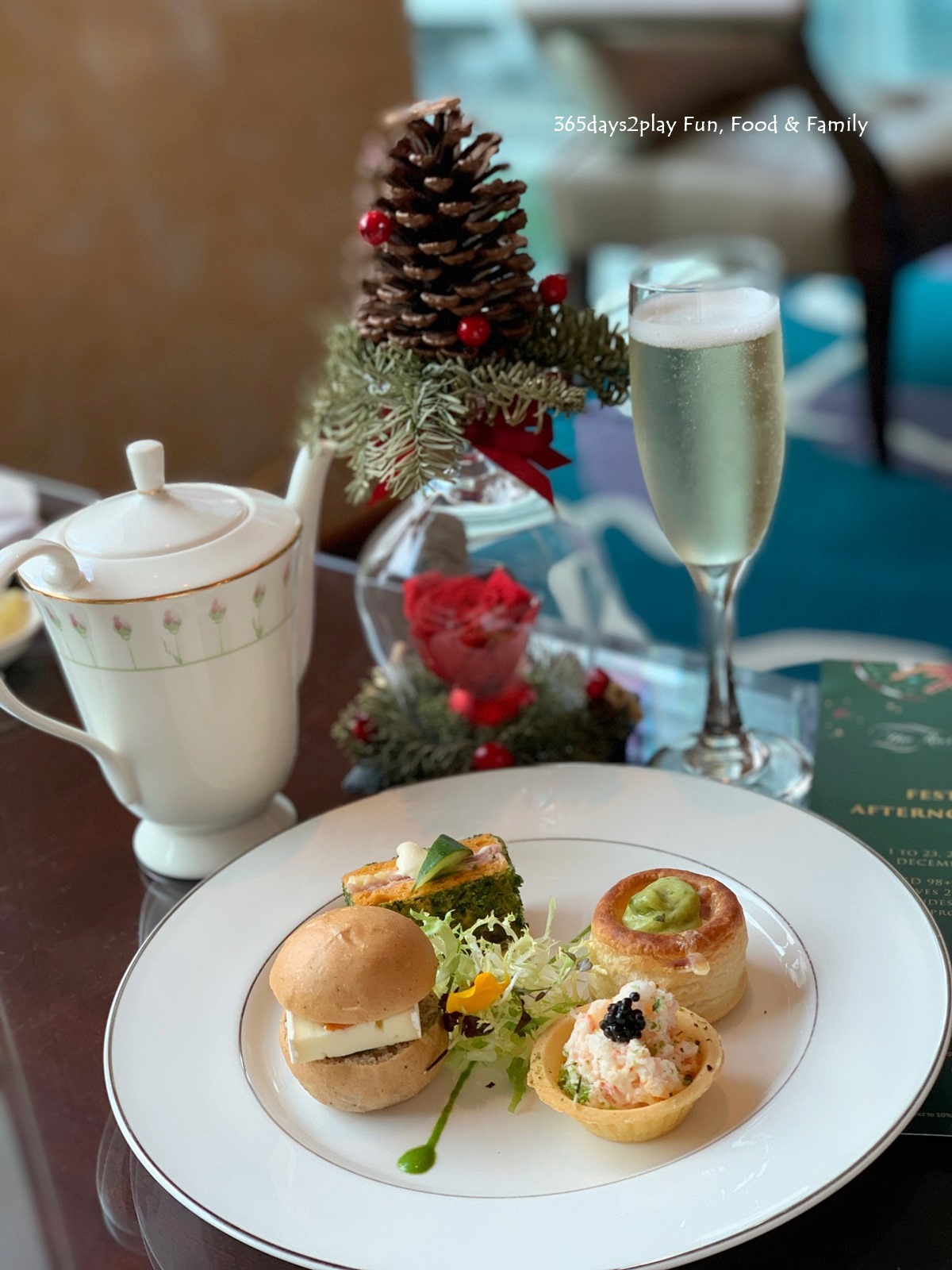 See we had Prosecco to go with our afternoon tea. Such luxury! Unfortunately I don't think they include that anymore for this pricing.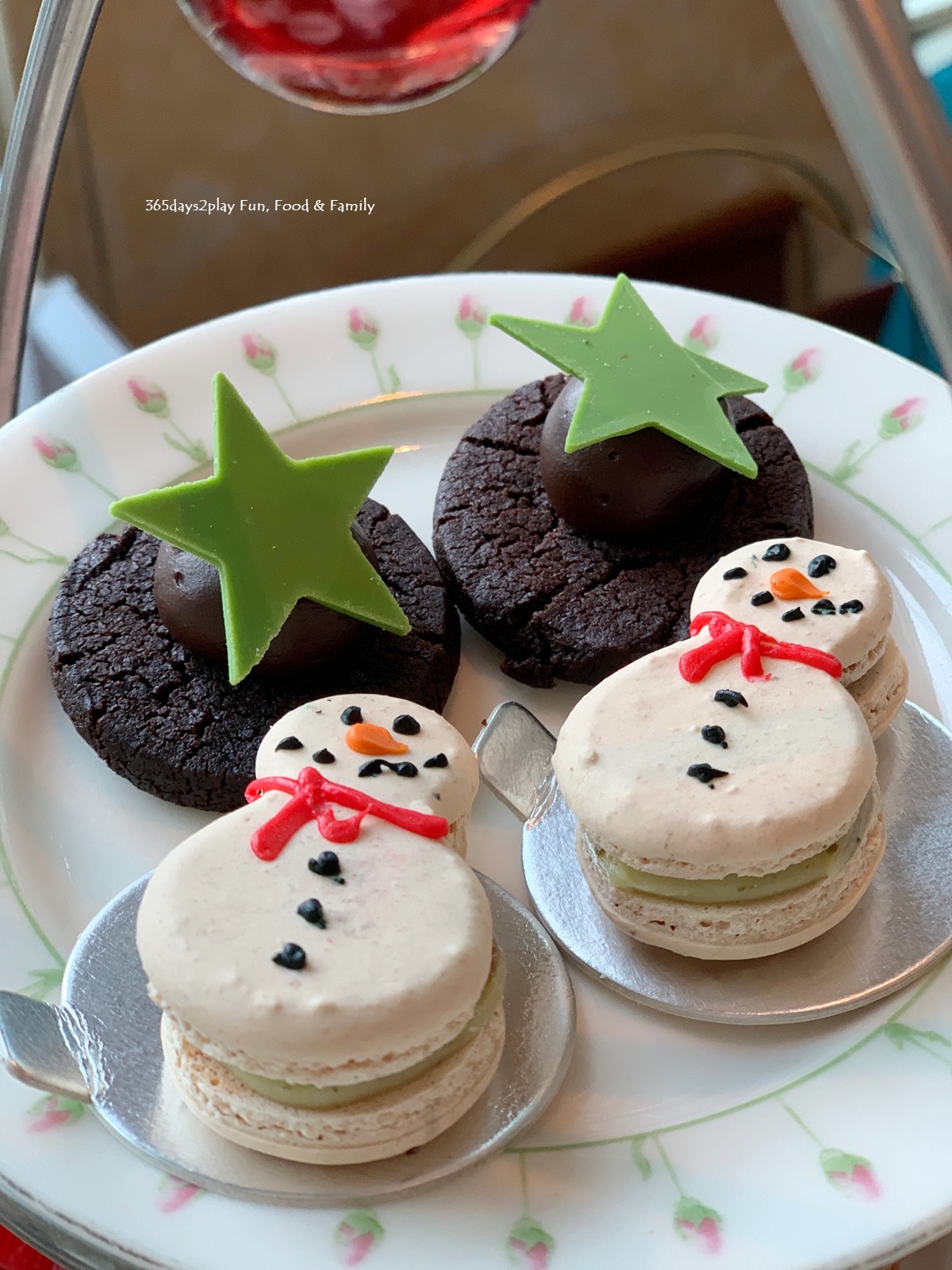 The desserts – Pistachio Raspberry Macaron | English Mince Fruit Pie| Chocolate Christmas Tree | Santa's Red Hat | Classic Chestnut Tartlet | Grandma's Vintage Log – The desserts are a little bit on the simple side….luckily they tasted good.
Other afternoon tea places in Singapore to check out and Afternoon Tea promotions
Shangri-La Rose Veranda
22 Orange Grove Rd, Singapore 258350
Tel: 6213 4398 | WhatsApp Reservation: 9030 0187 (9am to 8pm)
Email: Dining.sls@shangri-la.com
Operating Hours:
Friday 1pm to 5pm
Saturday, Sunday and Public Holidays: 1st seating: 12pm to 2pm | 2nd seating: 3pm to 5pm
Rose Veranda Afternoon Tea webpage
Rose Veranda Afternoon Tea Menu