Super delighted to find that a cafe has opened in the far East! Cafes have been sprouting all over Singapore, but precious few in the far Eastern side of Singapore, ie Bedok, Simei, Tampines and Pasir Ris. Here's a short list though.
If you're looking for the Jurassic Mile article, click on that link.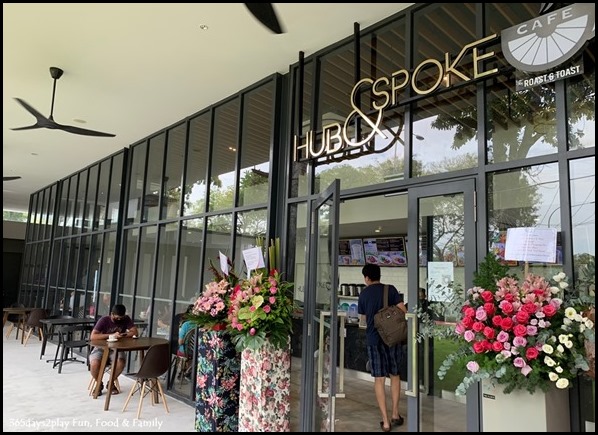 Hub and Spoke Cafe has recently opened at Changi Airport. It's address is officially at Terminal Two, but really it is situated in the outside space between Changi Airport Terminal Two and Jet Quay. It is directly opposite the open-air South Car Park (now known as Hub & Spoke Carpark). If you are coming via the MRT though, you will have to walk through the entire T2, past the entire T2 Carpark and get out into the open. Follow the red bike path, as they say.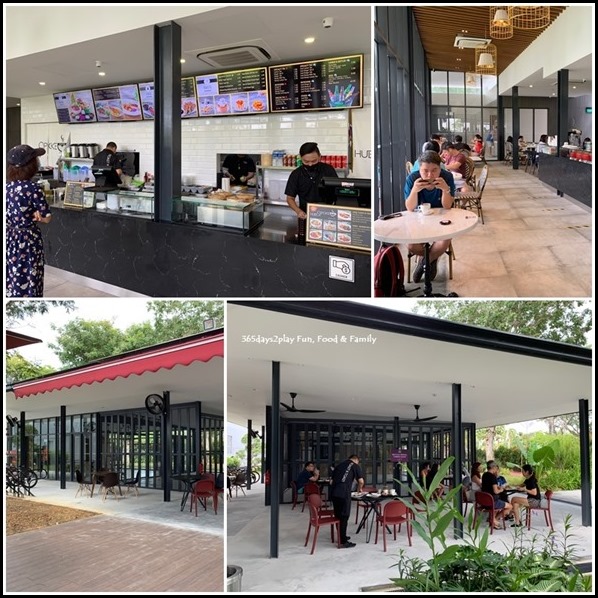 Hub and Spoke Cafe isn't a 3rd wave cafe. You'll know what I mean when you get there. They have a beautiful cafe space with full length glass facade and ample outdoor seating, but you will see they serve a lot of Kopitiam favourites like Kopi/Teh, Kaya Toast, Nasi Lemak and Mee Siam. But they do serve a lot of Western favourites too like Eggs Benedict, Scrambled Eggs, Sandwiches, Salads, Pasta, Grills, and surprise surprise…. bubble tea! In fact the menu is pretty extensive! Click here to view their menu.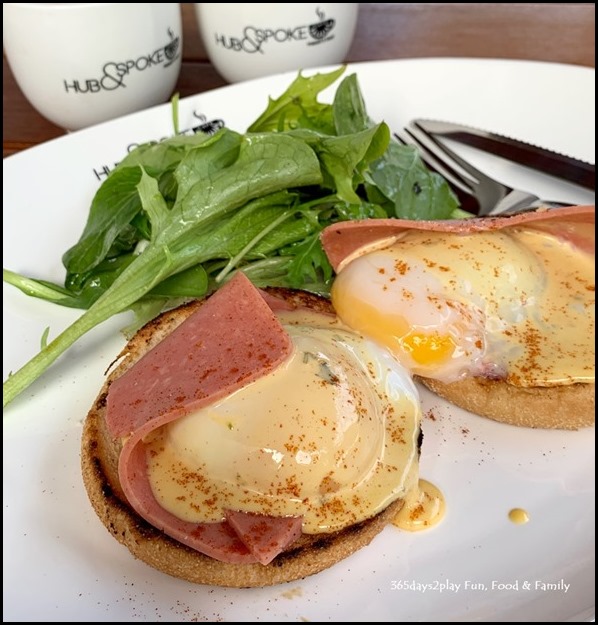 We tried the kopi and teh, mee siam, Eggs Benedict and kaya toast. That only cost us $16.60, in part thanks to the kopi/teh promotional price of $1. In other cafes, an Eggs Benedict could already cost in excess of $16. It felt like we got all these extra dishes and drinks for free. For $7.90, the Eggs Benedict is really not bad value. Granted the ham is of the cheapest type, but the eggs were done perfectly. They were oh so wobbly, when some third wave cafes can't even get their eggs right and end up serving hardened eggs. The eggs were cold though, which was a little disappointing. But not something they can't rectify, given more time to settle down at their new premises. The mesclun salad was a nice touch too.
Edward, would you like tea or coffee?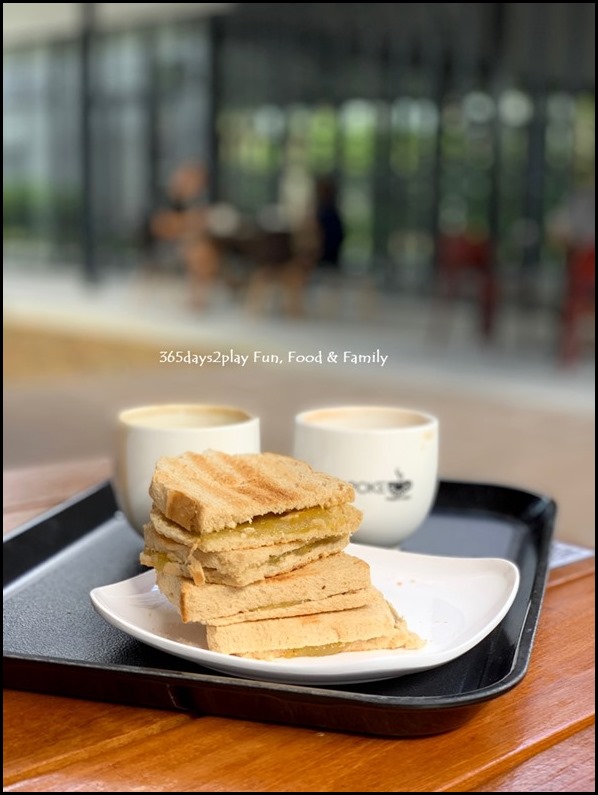 $2.20 for kaya toast. $1 for teh/kopi (promo price)
The kopi / teh and kaya toast were of average quality. That is to say we would probably order those again if we were in the vicinity, but we wouldn't travel across the whole of Singapore for those.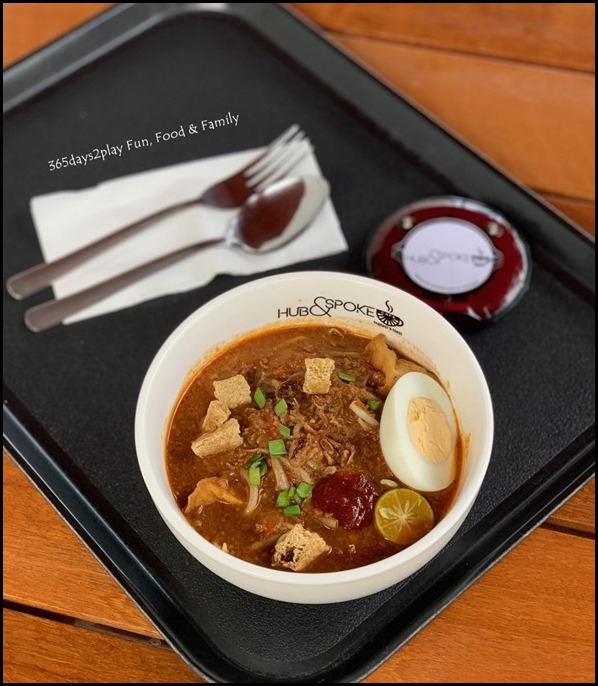 $4.50 mee siam
The mee siam though was pretty good. We finished every last strand. Again, not the best in Singapore, but I would say the gravy was very pleasant tasting, and the noodles had a nice bite.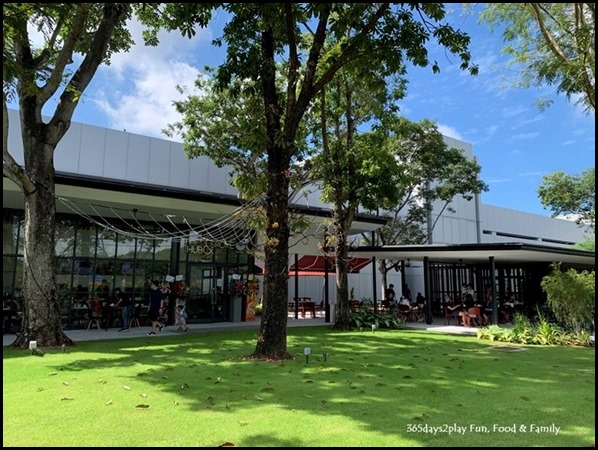 The great thing about this cafe aside from its spaciousness (which facilitates safe distancing easily) is that it is along the Park Connector Network. If you are cycling from East Coast Park to Changi Airport, you could make this your destination point. They have a lot of bicycle racks for you to park your bicycles.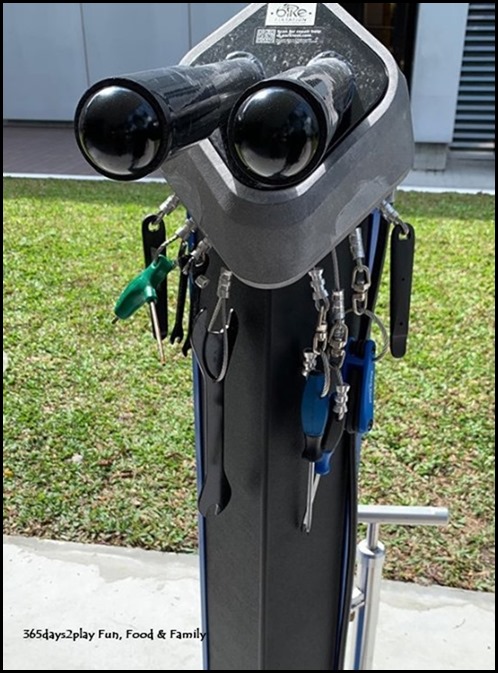 They also have a bike pump plus bike repair gadgets. In the near future they will also provide bike rental. And I am told there will even be a Jurassic Mile. That would surely please the kids!
*Latest update (11 Oct 2020): Jurassic Mile is now open! You can now cycle all the way from Changi Airport T2 to East Coast Park, Changi Beach and even Punggol Park. You can also rent bikes from GoCycle at Hub & Spoke and then return them at those mentioned locations. The Jurassic Mile which is 3.5km long, has a free permanent outdoor exhibit of more than 20 life-sized dinosaur models. Dinosaur loving kiddos will surely love seeing the T-Rex and Diplodocuses up close and personal. A lot of photo opportunities here I sense! If you go on Fridays — Sundays, you have to make a prior booking due to safe distancing. If you just want to see the Jurassic Mile on foot, the nearest parking would be at T4, or you can take a bus to T4, or take the MRT to T2 and take a bus to T4. Click on this link to read more about Jurassic Mile.

The toilets look modern and clean. I didn't go in to check but the exterior looks promising! There will be shower facilities in the future too (paid)! The biking community will be pleased. And maybe even tourists will find these shower facilities near Changi Airport T2 useful, when this whole Covid-19 pandemic is over. It looks like a paid facility though, given the presence of turnstiles.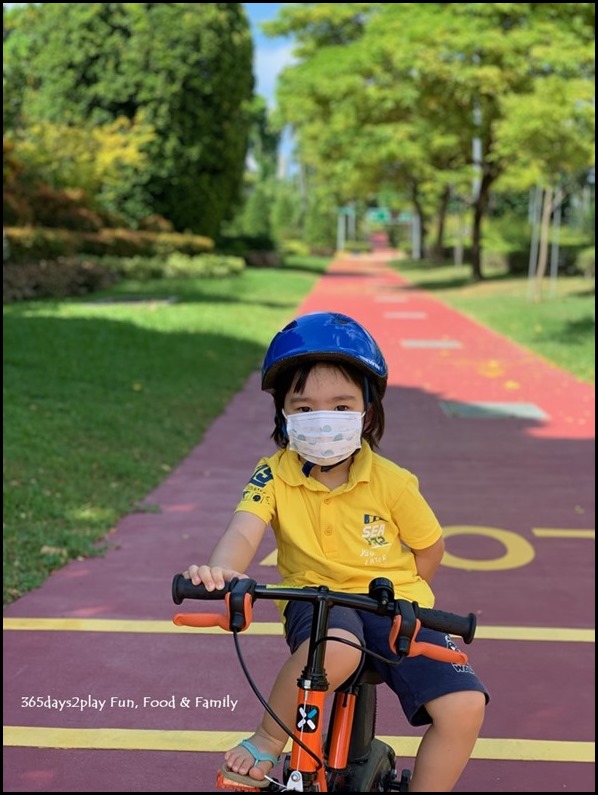 We brought Edward's bike along, knowing that the Cafe is next to the PCN. He had a good time!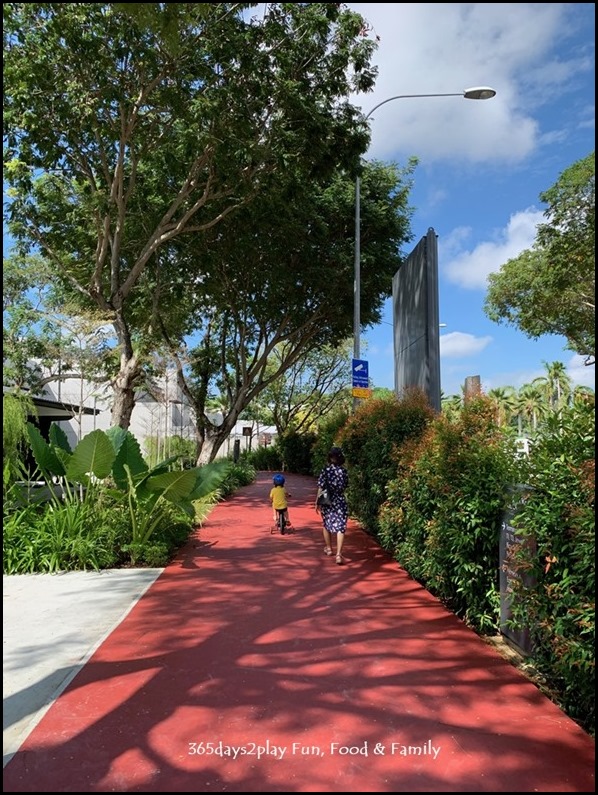 Off they go!
*Edited 17th September 2020: Some pricing adjustments have recently been made. Eg Eggs Benedict now costs $9.90 and Mee Siam costs $5.90.
---
Add me on Facebook, Instagram and Twitter if you want to be kept up to date with the latest happenings in the food and lifestyle scene in Singapore!
Other Cafes at Changi Airport
---
Hub and Spoke Cafe by Roast & Toast
60 Airport Boulevard #01-T2S-02, Changi Airport T2, Singapore 819643 (Directly opposite Changi Airport South Car Park or 2 mins walk from Jet Quay)
⏰Opening Hours: 7.30am — 10pm Daily
Instagram: https://www.instagram.com/HubandSpokeCafe/
Menu : https://drive.google.com/file/d/1X3AzWxf3FNATdJ0r4eb8LyoyKBxBE9mq/view