YJ who shares a similar love for exploring new things recommended that we should dine at Cugini after he had read some positive reviews on the place.  We did so several weeks ago and were not disappointed.
Cugini is a very homely looking Italian restaurant located in Club Street. Unlike some other restaurants there, it doesn't look pretentious at all. This could be a reason why the food they serve is so good. Their energies are focussed on bring out the best in their dishes, rather than being channelled into other frivolous areas.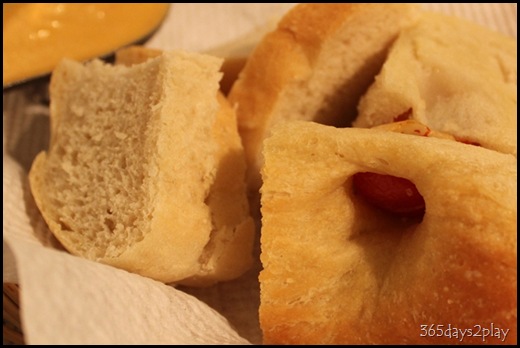 Complementary bread — Seems like a must for Italian restaurants. The orange coloured sauce looked a bit dubious but turned out fine.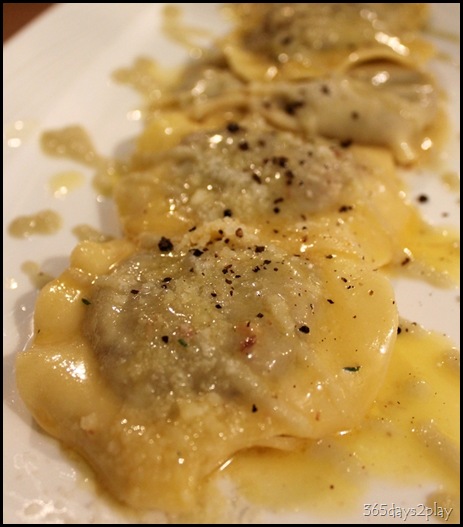 Veal ravioli with green cabbage and Barolo wine reduction $24.90 – Meat wrapped in pasta, how hard can that be to make? Surprisingly, even the best of restaurants I've been to can fail in this aspect. A lot of meat ravioli I've had tasted harsh, dry and cardboardy. I'm glad to say, I've finally found the place to have moist and tender veal ravioli. I snitched a piece from YJ's plate and it was so good. There was a distinctly unique flavour to it, perhaps they added some special spice. The creamy sauce paired excellently with the ravioli and I kinda slightly regretted that I didn't order this myself, given that I'd considered it.
Squid ink fettuccine with seafood, fresh pea and mullet roe $24 — I have to say, this is the best squid ink pasta I have eaten to date, hands down. The seafoody flavours was intense and the pasta was just bursting with life. I was practically eating non-stop, trying to slurp up all the delicious sauce. Even without those prawns there, if you gave me this dish with only pasta and the sauce, I would be supremely happy.
We were both very very satisfied with the food. The food was great and it is without a doubt that I will return again. The prices seem reasonable but the portions are not huge. You could load up on the free bread, or order an appetiser/dessert. The one thing I didn't like were the hard wooden blue chairs, not so good for my achy breaky back.
Cugini Trattoria Pizzeria
87 Club Street #01-01 Singapore 069455
T: (65) 6221 3791
F: (65) 6221 3798
Website : http://www.cugini.com.sg
Menu : http://www.cugini.com.sg/menu.html