After a long hiatus, here's a post featuring Edward. As a stay at home mum, I've always had the idea that a good part of my time would be spent giving Edward interesting experiences outside of school time. Unfortunately COVID-19 hit and there wasn't much opportunity to do for many months, and now I'm trying to make up for it.
For example, he is obsessed with trains and one of the things he likes to do is to take train rides around Singapore! Once, he forced us to make the trip to Tuas Link. That journey nearly killed us (the parents) as it was more than 1 hour each way, coupled with a pit stop for lunch. The journey to Tuas Link was not too bad, as we enjoyed looking at the not so familiar scenery. However the return journey was mind-numbingly boring.
Other kids activities that I would loved to have brought him to include more museums, indoor kids playgrounds, swimming, art and music classes etc. I must admit, COVID-19 has made me enjoy staying in the house too much such that I feel lazy to go out even though I feel it is relatively safer now. I must say we made good progress this last one month. These were the things we managed to cover:
Pasir Panjang Nursery Tour
Science Centre Kids Science Workshop
Changi Experience Studio
Allez Les Petits
Tayo Station Pop Up
Adhoc Badminton training sessions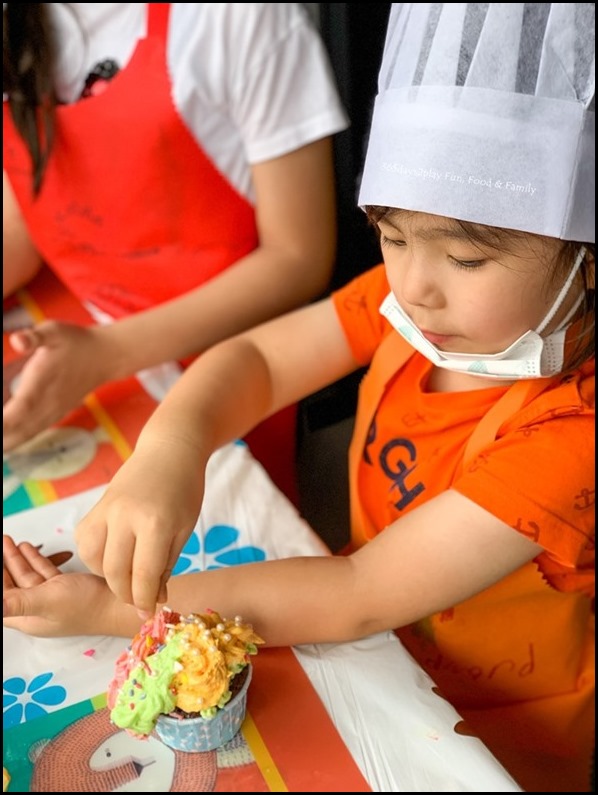 Speaking of Allez Les Petits, a good friend introduced me to this home-based business offering kids classes and workshops. So last week, I brought Edward to Allez Les Petits for a hands on baking class! It's a drop off session only due to safe-distancing requirements, and I was a bit apprehensive whether Edward would kick up a big fuss or not.
To my surprise, he felt comfortable immediately. The class is held at the balcony area. The cosy size and a nice view of the LRT tracks must have helped him feel at ease easily, and of course the fact that he has always liked his cookery classes in school.
The interesting thing is, even though he loves baking, he was not that interested during the Circuit Breaker when I baked several times a week. He would come by to take a look once in a while but he wouldn't be interested in helping. I was half expecting him to ask me to take over his tasks in class (as he often dictates at home), but he didn't! He was completely absorbed in the entire process.
In the 1 1/2 hr session they made cookies from scratch, followed by decoration of ready-made cupcakes. I saw him watching the mixer with great interest, and he was really absorbed in pushing out numerous cookies in various cookie cutter shapes. I think he made more than 20 cookies! The cupcake decoration part I knew he would be interested, especially with all the piping bags of colourful frosting plus lots and lots of sprinkles! This is the one job he will help at home! You should have seen my instastories of him, so happy!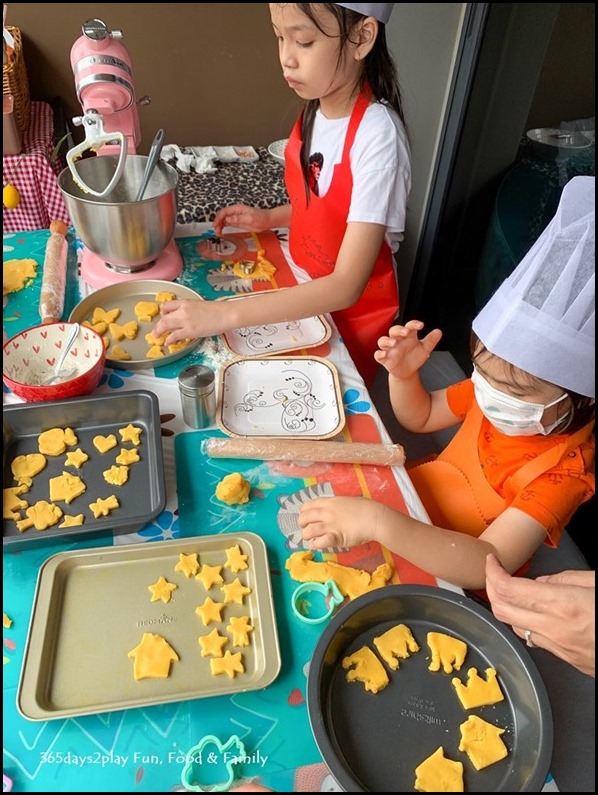 On hindsight, I realise I've never actually given him his own fun baking project. All my previous requests for him to help with baking was to help me make MY bakes, with limited room for error or creativity. He must have felt it was a chore instead!
So happy to have been able to give him this experience. And the best part is, classes only cost $20 for now. That is a really attractive pricing as most baking classes are in excess of $50! Those commercial baking schools probably have better equipment or a bigger space, but they are also more expensive. I just need a comfortable, fun and friendly environment for Edward and that's really all that matters at his age.
Allez Les Petits are also doing French classes for children as well as deportment classes for girls. The owner used to be an SQ flight stewardess who flew the Singapore-Paris leg, hence the offerings. You can check out Allez Les Petits via their Instagram account or whatsapp 90700782.
Looking forward to signing up Edward for more exciting kids classes and activities for the December school holidays! Now if anyone knows of a survival boot camp to toughen up children, please let me know!
Look at the happy boy! Pictures taken before the baking session started.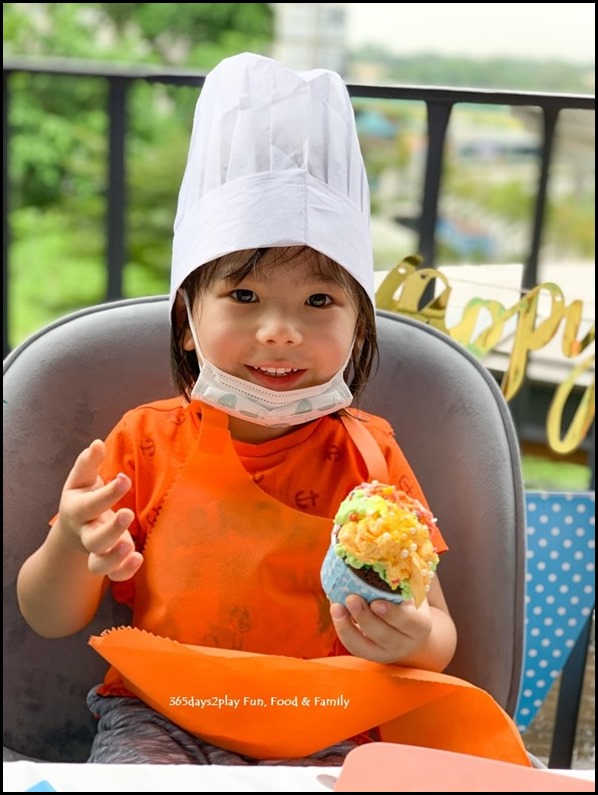 Super happy with his masterpiece, the cupcake with the most frosting.
---
Add me on Facebook, Instagram and Twitter if you want to be kept up to date with the latest happenings in the food and lifestyle scene in Singapore!